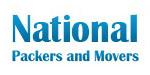 National Packers and Movers
Quick, Safe and Cost effective Transportation
node
1796
National Packers and Movers is a deep-rooted and most commonly known Packing & Moving company in Bangalore. National Packers and Movers was established in the year 2010, Bangalore. After having all these years of experience in the moving field, today we are one of the most praised packers and movers in India. Our range of services includes Household relocation, Workplace shifting, Goods Transportation and Warehousing. Over the years we have gathered some of the well-reputed clients by offering them our quality services. Being a reputed logistics company, National Packers and Movers Bangalore is known for fast, safe and cost-effective Transportation. 
We offer you a team of expert logistics professionals, brilliant transportation and state-of-the-art storage facility in Bangalore. With years of involvement behind them, our staff has become specialists in providing relocation services. Whether the article is an appliance, CPU, furniture or a treasured painting, our people know how to take attention of them. We have appropriate packing materials for each item. While disturbance in the family's routine is unavoidable, we always focus on our best to see that the inconvenience caused to our customer is minimal. At the destination, customers can make use of our unpacking facilities also. The clients can avoid stress, especially when large items are involved. And the removal of used packing material in an urban setting can pose difficulties. We are a client-oriented company who always effort on understating the customers better and helping them accordingly.
Our Services:
•    Loading & Unloading
•    Packing & Unpacking
•    Household Shifting
•    Commercial Relocation
•    Industrial Relocation
•    Car and Bike Transportation
•    Warehouse services.
Why hire us?
We provide you with an effective move at an inexpensive price, and we also offer top edge technology and high-quality guarantee standards to manage your relocation efficiently. Our experienced staff will load and unloads your goods with attention and security. We also have different equipment's to make loading and to unload fast and risk-free without any extra expense. We provide all your relocation needs at your doorstep, which saves your lot of precious time and energy.
"Our main motto is to provide one of the best services in the country with care for all types of goods and cost-effectively maintain expertise."
 
National Packers and Movers Reviews
National Packers and Movers
Excellent service
Packed, loaded and unpacked things perfectly
National Packers and Movers
Really nice
Usually we see the movers and packers are drunk and not professional. But, I had a very nice experience with national movers and packers were really calm and punctual. They came on time. Before confirming them I checked with others movers and packers but the price was really reasonable.
National Packers and Movers
Very good and reasonable
National Packers and Movers
Great Experience
Luggage and utensils were nanded with care and no damage occurred during the move
Contact National Packers and Movers
Oops!! No match Found. Visit some time Later.