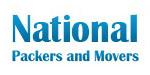 National Packers and Movers
Quick, Safe and Cost-effective Transportation
node
1796
About Us
National Packers and Movers is a deep-rooted and most commonly known Packing & Moving company in Bangalore. National Packers and Movers was established in the year 2010, Bangalore. After having all these years of experience in the moving field, today we are one of the most praised packers and movers in India. Our range of services includes Household relocation, Workplace shifting, Goods Transportation and Warehousing. Over the years we have gathered some of the well-reputed clients by offering them our quality services. Being a reputed logistics company, National Packers and Movers Bangalore is known for fast, safe, and cost-effective transportation. 
We offer you a team of expert logistics professionals, brilliant transportation, and a state-of-the-art storage facility in Bangalore. With years of involvement behind them, our staff has become specialists in providing relocation services. Whether the article is an appliance, CPU, furniture, or a treasured painting, our people know how to take attention of them. We have appropriate packing materials for each item. While disturbance in the family's routine is unavoidable, we always focus on our best to see that the inconvenience caused to our customers is minimal. At the destination, customers can make use of our unpacking facilities also. The clients can avoid stress, especially when large items are involved. And the removal of used packing material in an urban setting can pose difficulties. We are a client-oriented company who always effort on understating the customers better and helping them accordingly.
Our Services:
•    Loading & Unloading
•    Packing & Unpacking
•    Household Shifting
•    Commercial Relocation
•    Industrial Relocation
•    Car and Bike Transportation
•    Warehouse services.
Why hire us?
We provide you with an effective move at an inexpensive price, and we also offer top edge technology and high-quality guarantee standards to manage your relocation efficiently. Our experienced staff will load and unloads your goods with attention and security. We also have different equipment to make loading and to unload fast and risk-free without any extra expense. We provide all your relocation needs at your doorstep, which saves your a lot of precious time and energy.
"Our main motto is to provide one of the best services in the country with care for all types of goods and cost-effectively maintain expertise."
National Packers and Movers Reviews
National Packers and Movers
Nice Service
Good experience Moved from Bangalore to Delhi Your moving team is very attentive and patiently performing the shifting work. They have wrapped all the precious glass hold dining table and crockery items with best wrapping materials. My household goods reached the destination safely and securely with their utmost care. I really appreciate the National Packer and Movers Team for the excellent shifting solution and i also recommend to all my known ones without even a second choice
National Packers and Movers
Professional services
Punctuality, responsiveness, value professional service, and on-time delivery. I have moved my things from Bangalore to Hyderabad. During this Covid-19 situation, they have supported me well and they picked my things and delivered them on time. Thank you for bringing my things safely. Wonderful packing I recommend National Packers and Movers.
National Packers and Movers
Happy with the services
I had a great experience with them, especially during these covid times. As I'm stuck in my hometown, I booked their service to pack all luggage and my bike, they did a video call and packed the things, and delivered it safely. I would really appreciate the way they packed my bike, it arrived without any damage. Their service is quite expensive when compared to other packers but it's worth the price. #Stay#Safe#
National Packers and Movers
Very Nice
Quite satisfactory Very happy with the overall service. Especially the layers of packing and level of detailing were exemplary! Not to mention the diligent the follow up by Mr Kumar who ensured that I get best of the experience and service so was quite satisfied my decision to go with National movers and packers. Just one suggestion to National PnM is to provide online payment facility to end customers in this tech savvy world as I found it challenging to do money transfer to their specific account.
X
Raj International Packers & Movers
Shortlisted, Get Quote from them and Similar.
Contact National Packers and Movers