Local Home Shifting Tips & Checklist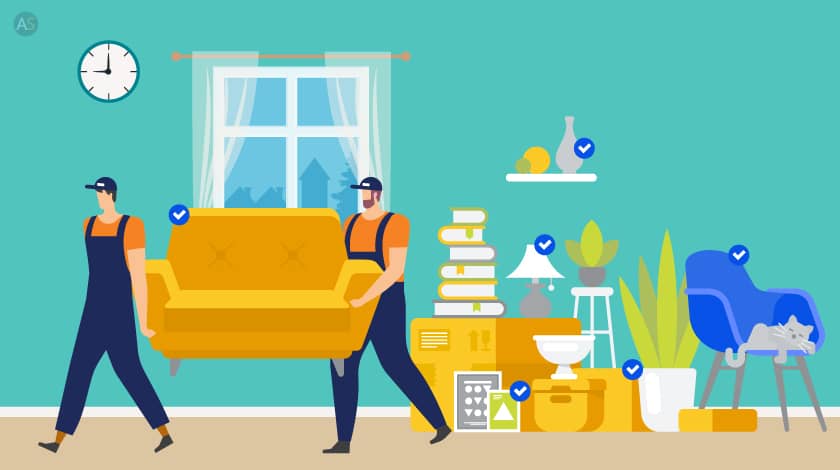 Home shifting can be emotional and extremely stressful, where you have to leave the comforts of the known and get adjusted to the strange surroundings. The stress of relocating and remembering everything adds to this. Moving within the same city or to a neighbouring town takes considerable preparation and organisation.
We've simplified the moving process in this blog, by breaking it down into phases which you can follow and track, and we've organised them by your move's timeline.
Importance of Planning and Preparation
Moving requires strategy and preparation. Start early to reduce last-minute stress and guarantee a seamless transition. Planning ahead also helps you identify any potential issues or obstacles, making it easier to address them in a timely manner.
The guide is divided into six sections, each focusing on a specific time frame leading up to and following the move:
1 Month Before
1 Week Before
1 Day Before
On Moving Day
1 Day After
1 Week After

Things to Do Before 1 Month of Moving into a New House
Here's how you can prepare perfectly with these moving made easy tips:
#1 Create a moving checklist
When relocating, there will be hundreds of tasks to do, and you cannot always rely on memory. Make a list of pre-move and post-move tasks to be accomplished before and after the move as soon as you know you're relocating.
#2 Search for movers and get quotes
Finding professionals to pack and move your complete household is the greatest way to relocate fast. However, choosing a qualified shifting company from many possibilities isn't as straightforward as it sounds as the wrong movers can ruin your relocation.
You have to research and find at least two or three local movers. Gather quotes and service details. This will let you compare and choose the best option. Also enquire about insurance, packaging, and furniture disassembly.
#3 Declutter your belongings
Go through all your belongings and identify any items you no longer need or want. This is an excellent opportunity to donate, sell, or discard items that will only take up space in your new home. The fewer belongings you have, the easier and more cost-effective your move will be.
#4 Take inventory of all your things
After decluttering, make a detailed list to keep track of all the things you're planning to move.
#5 Request for pre-move survey
Once you find a couple of suitable movers, request for a pre-move survey to see your belongings and discuss shifting requirements in detail. You will be given more accurate shifting charges in writing and you can clarify your doubts about the move.
#6 Compare and hire movers
Once you get actual rate lists, compare them along with the company profiles, read online reviews, and ask for references from previous customers and reviews to ensure you're hiring a trustworthy moving company.
#7 Select the right moving day
Packers and movers charges will vary during weekends and month-ends since moving companies are in high demand as many people prefer shifting in this time.
Schedule your move on the right day during the weekdays and mid-month when the movers charge lesser prices and you may even get a discount.
#8 Deep clean the new house
Previous tenants may have left behind a lot of dirt and grime, and the place may also be home to creepy insects and pests. Set aside a day or two to thoroughly clean and prepare your new home, so that you have a hygienic environment to live in. Also, check the house for the proper working and repairs required for plumbing and electrical.
#9 Take measurements at both homes
To ensure the loading-unloading happens smoothly on moving day is to take measurements of the furniture, doors (or all the large goods), and stairways to make sure they'll fit comfortably.
By doing so, you and your movers will have enough time on your hands to come up with an alternative strategy to guarantee the safe shifting of your furniture and appliances.
Things to Do Before 1 Week of Moving into a New Home
#1 Update address
Before moving to a new house make sure you update your new address with the banks, utility providers, financial firms, Insurance firms, employer, post office, educational institutions, magazine subscriptions, clubs, online shopping sites, family/friends, and so on.
#2 Organise Items by Categories
As you declutter, sort your belongings into categories like clothing, kitchenware, electronics, and so on. This will help you to streamline the packing process and make it easier to locate items during and after the move.
#3 Confirm Details with the Moving Company
Date and Time of the Move: Touch base with the moving company to confirm the date and time of your move. This will help avoid any misunderstandings or scheduling conflicts.

Payment Terms and Insurance Coverage: Discuss payment terms and insurance coverage with the moving company to ensure you understand the costs involved and what protection is provided for your belongings during the move.
#4 Prepare Overnight Moving Bag
You won't be able to unpack everything on the first night since you'll be exhausted after moving, so make sure to include in your relocation tips a point about preparing a survival kit containing all your essentials.
Some of the things that should be packed in your overnight bag are extra pairs of clothes, laptop, medications, cosmetics, toiletries, and other such items which you need right away.
#5 Organise important documents
Papers scattered about the house make relocation more complicated. Sort through papers and documents, discarding unwanted ones, and keep all your important documents in your overnight bag (educational and birth certificates, passport, tax papers, insurance papers, financial papers, government-related documents, etc.). Don't send these documents with the movers to avoid losing them.
#6 Pack valuables carefully
Another thing you need to remember is to keep your precious and expensive ornaments safely and keep them along with your survival kit so there are no chances of misplacing them.
#7 Manage utility services
One of the easy moving tips and quickly forgettable things to do is disconnect and transfer (or re-connect) your utility services at both homes.
You should contact the concerned utility departments for LPG Gas, Electricity, Water, Internet, TV, Milk, and Newspaper and give the exact date on which the services should be transferred to your new location; and, services which can't be transferred, you should request re-connection.
#8 Pack cleaning supplies
Cleaning the new residence before and after unpacking will be challenging if you can't find the supplies.
Therefore, bring a cleaning kit with a broom, mop, paper towels, old rags, and other items, as well as a toolbox with the necessary equipment for a rapid fix at the new house.
#9 Stop buying groceries
To avoid wasting good food, you should stop buying groceries at least a week before moving day and use the remaining vegetables to prepare meals.
Things to do Before 1 Day of Shifting of House
#1 Finish Packing and Labelling
Tape all boxes. Double-check that everything is packed and that boxes are labelled with their contents and room.
Verify the inventory list to make sure you didn't overlook anything. This list will ensure your goods reach your new home securely.
#2 Disconnect and Prepare Appliances
Ensure your appliances and electronics are cleaned and prepared for the move. Defrost the fridge, AC, and other appliances the day before relocating.
Use original boxes of the electronics, and take pictures of the connections before unplugging them so that re-connecting at the new house can be done quickly. Pack and label these wires in Ziploc bags and attach them to the device it belongs to.
#3 Confirm Final Arrangements with the Moving Company
Contact the moving company to confirm their arrival time on moving day. This will help ensure that you're prepared and ready when they arrive.
Also provide the moving company any last-minute instructions or special requests, such as the handling of fragile items or the order in which you'd like your belongings loaded onto the truck.
#4 Take photos of the goods
Take pictures of all your belongings before packing them. It becomes easy to cross-check for damages or missing things, and you'll have proof of your belongings initial state if you uncover any.
On Moving Day
At Old Home
#1 Clear the pathway
To ensure damage-free and safe loading, clear the path from doorstep to vehicle, and remove anything that may hinder smooth movement. You should make sure that neither your goods are broken nor the movers get injured.
#2 Check proper disassembly and packing
The movers will follow the correct procedure to dismantle each item; also they'll pack everything according to your requirements and based on the sophistication of goods.
It'll be sufficient for you to check if the disassembly and packing have been done correctly and if they've used the right packing quality as required by you.
#3 Guide movers during loading
Movers may not know every corner of your home as you do, so when they are loading goods into the truck, you can guide them through every corner to ensure it happens smoothly and without problems.
#4 Double check all the rooms
Before getting ready to lock the house and leave, walk through all the rooms and check the cupboards, drawers, and shelves to make sure you haven't missed anything small or significant. Also, turn off the switches before walking out.
#5 Guide movers to your location
Discuss with your movers about the best route to take to the destination; or, you can also guide them to your location, and ensure your goods get there without confusion.
#6 Arrive early and prepare your new home
Alternatively, you can also provide them the location and landmark of your new home, and get there earlier to clean the home before goods arrive.
At New Home
#1 Guide the movers during unloading
Guide the movers into your new home and instruct them where to place the unloaded goods. This will help you save time and energy.
#2 Check for correct unpacking and assembly
The goods will be unpacked and assembled by the movers quickly and efficiently. You need to check and make sure that proper care is taken during assembly because the goods may get easily damaged if the parts are forced into place.
#3 Inspect goods for damages
Once the goods are unpacked, assembled, and placed in their respective spots, you should check for damages while movers are still there. Also, plug in the appliances and check for proper working conditions.
If you find damages or missing items, directly speak to the movers about it and file for an insurance claim immediately.
#4 Keep refreshments and cash ready
Movers must work tirelessly and accomplish all relocation services flawlessly. Provide snacks and cool bottled water during the trip to keep personnel energised.
If you were happy with the move, tip the movers. Also keep some cash handy so that you won't have to run to the ATM keeping the movers waiting.
1 Week After the Move
#1 Complete the Unpacking Process
Now that you've settled into your new home, continue unpacking and organizing your belongings. Set up furniture, hang photographs, and decorate your living area to make it seem like a home.
After unpacking, properly dispose of boxes, bubble wrap, and packing paper. If possible, recycle or reuse things and offer extra packing supplies to friends or neighbours who are about to relocate.
#2 Update Your Address with Any Remaining Parties
Update Your Driver's Licence: If you haven't already, update your address on your driver's licence to ensure compliance with local regulations and avoid potential fines.
Inform Any Missed Contacts: Reach out to any contacts you may have missed during your initial address update, such as doctors, dentists, or other service providers, to ensure they have your correct address on file.
#3 Review the Moving Company
Share Your Experience Online: Take the time to review the moving company online, sharing your experience on platforms like Google or social media. This will help future customers make informed decisions and also provide valuable feedback to the moving company.
Provide Feedback for Improvement: If you have any suggestions for improvement or specific feedback about your moving experience, consider contacting the moving company directly. Constructive feedback can help the company improve its services for future customers.
#4 Plan for a housewarming party
Planning to host a housewarming party, even though you may not have completed the unpacking, will help speed up the process and make your house ready ASAP. You can also use the party as an ice-breaker to mingle with new neighbours (if you haven't yet met them) and to catch up with old pals.
Conclusion
Moving can be a challenging and stressful experience, but with proper planning and organisation, it can also be an exciting opportunity for a fresh start.
From beginning the process a month in advance, to the final stages of settling into your new home, this guide provides a comprehensive checklist to ensure a smooth and organised move. Phew! That was long! We're exhausted but glad you were able to go through it all. We hope our house shifting tips for moving into a new home provided you with the ultimate help you required.