The Ultimate Guide for Address Change Before House Shifting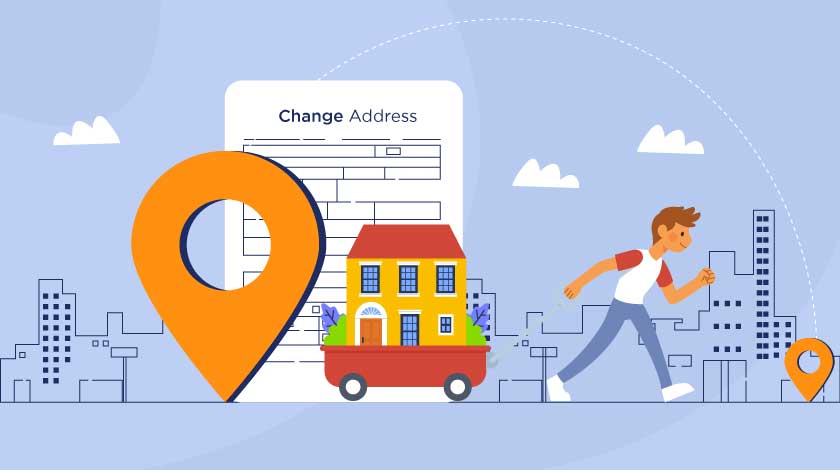 Moving to a new place can be due to various reasons like a new job, studies or any personal reasons. Shifting can be hectic and time consuming as there are multiple tasks to be taken care of. 
One of the most important tasks to be carried out during the moving process is changing your address. It would be better to create a checklist for address change so that you can keep track on how to accomplish them before the move. 
Still confused about the steps involved in address changing? No worries, this guide will aid you to collect the details you require and lead through all the steps for updating your address successfully and in a stress-free manner.
When & How to Update your New Address
4-5 weeks before your moving day, start gathering all the necessary information like account numbers, legal details, passwords, and other personal details required for completing the change of address. 

Make sure to cancel subscriptions you on longer wish to receive. The fewer mails you receive, the more convenient it will be for address change. 

2 weeks before the move, start the actual process of changing the address. You can begin with the Post Office & Banks as it will take time for the change to be reflected. 

Inform utility service providers about your moving date so that you don't have to spend your night at a new place without water or electricity. 

After moving in, update online services and memberships like online shopping sites, streaming sites, magazine subscriptions and so on. 

Also, if you have moved to a new city, make sure to update the address for vehicle registration.
Checklist: 14 Most Important Places to Change Your Address
Before beginning the process of address change, keep a few details in mind:
Keep exact details of new postal address with pin code ready

Type of address change: temporary or permanent 

Is the address change only for you or your whole family
Once you are ready with these details, let's begin the real process of address change.
Government Agencies
#1 Post Office
The first step of changing your address is ensuring that your mail also moves with you. You can easily update the address by visiting the local post office 2 weeks before your moving day and request them to update the new address. 
#2 Vehicle Registration
One of the important tasks to be taken care of is the transfer of vehicle registration. You have to obtain a No Objection Certificate(NOC) from the RTO office and submit other important documents for verification. 
Utilities Service Providers
#3 Electricity & Water
This is the one of the necessary tasks you must do as soon as you get to know what your new address will be and the actual date of your shifting. You can inform your service provider of disconnection for these utilities on the actual moving day and reconnection at your new place before one day (if they provide service at your new destination).
#4 Phone & Internet
It would be very difficult to start your day at a new place without a phone or internet. 
If you have a landline or postpaid connection at your old home, you need to inform your service provider about your new address. So that they can re-provide your old connection at your new home, and also send the bills on time without any difficulties.

If you have Broadband internet connection, you will have to inform your internet service provider 2-3 days before your actual moving date for disconnection and reconnection of your internet connection, to spend the best quality time at your new home.
#5 Gas Agencies 
It can be a challenging moment for you when you enter your new home and find that you have forgotten to request your gas agency for reconnection at your new home. So, it's always the best option to inform your gas agency 2 weeks before your moving date, so that you can prepare delicious food for your beloved ones in your new home.
#6 TV Cable Connection
Don't forget to inform your cable TV service provider for reconnection at the new address so that you can have a good time with your family with complete entertainment. 
Financial Firms
#7 Banks
It's important to inform your bank about your relocation and request them to update your address for getting all necessary information on time. You can also update your address using the online website. You can update your address by yourself if you are using online banking via the bank's app.
#8 Insurance Firms
Remember to notify your Insurance provider agencies in advance (if you have taken any insurance services) about your new address. So that they can easily contact you to deliver any important information.
#9 Tax Agencies
If you are a taxpayer, you must inform both the central revenue agency and your state tax agency about the change of address. It will minimize your stress as it's an easy way to stay connected with your tax agencies and pay the tax on time at your new home also.
School, College, Work 
#10 School/Colleges
If you have kids going to school, you should let their schools know that you are moving to a new house so they can update your contact information. It's a good idea because shifting your home to a new place can make your kids tensed, how to manage their school, so it's important to inform their school about your change of address.
#11 Employer
Don't miss informing your employer about the address change to keep the records updated and to be able to get in touch with you/ your family in case of emergencies.
Personal Interests 
#12 Online Shopping Websites 
If you are a regular user of the shopping websites, update your new address immediately so that you can continue shopping all your necessary things at your new destination without any headache.
#13 Magazine & Subscription Boxes
Be mindful to update your address of subscriptions so that you never miss it. You can change your address online. 
#14 Friends & Family
Never forget to inform all your close friends and families about your new home address, so you can organize a surprise party at your new home and spend time with them.
---
Changing your address can be chaotic and does require a lot of planning and preparation. Following this complete guide for address change can make your tasks easier and can help you update your address on time so that you will not face any trouble after shifting to your new home. Also remember to start early so that you can stay comfortably and stress-free at your new home.