How to Prepare Your Electronics and Appliances Before Moving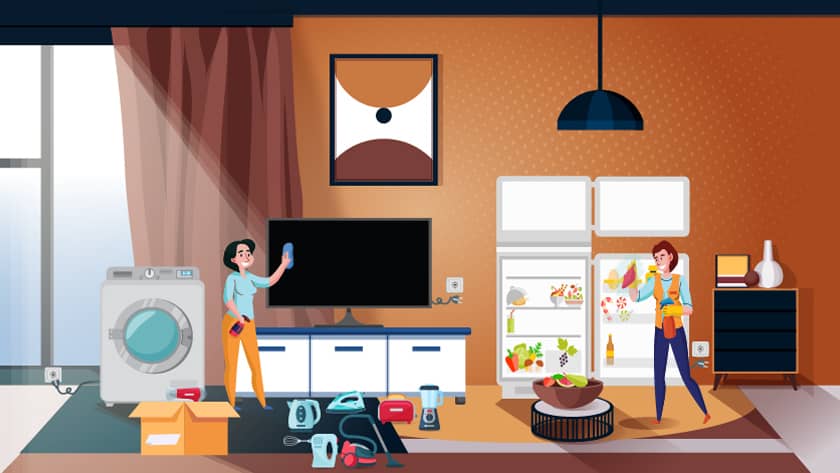 Electronics and appliances appear less vulnerable to damage as compared to artwork and furniture. But they come with their own set of liabilities which should be addressed, especially while packaging and transporting them to a new home. Taking care of the appliances while shifting is important as the risk of damages is high during each step of the move, including loading, transporting, or unloading the gadgets give a good service when they are used at the new home.
The expenditure over repairing or replacing the gadgets will be lower or null, as resulting from the damage incurred along the way. In case you avail of the services of professional movers and packers, they will also recommend some best practices for packaging appliances and electronics, such that they keep working in a prime condition at your new home.
Let us look at a few of the best practices to keep in mind for packaging and transporting electronics and appliances when you move to a new home:
Preparing Electronics
Backup your Important Data
While packing and moving electronics, you should keep in mind the unforeseen circumstances that can be faced during transport such as bumpy roads and accidents.
To ensure your computer and other electronic devices remain in proper working condition and prevent loss of valuable data, make sure you backup all data present on electronic devices. Download your data to an external hard drive, or take a cloud backup over DropBox, Amazon, or Google Drive.
Use Appropriate Packaging Materials
Usage of appropriate packaging materials make a difference and ensure that your electronics do not shift around inside the boxes during transit.
Packing tapes are tougher and should be preferred over any other alternatives. Anti-static peanuts are then primed to deliver the best results for the transportation of electronics. Soft linens, moving blankets and bubble wraps should similarly be used. Use the original packaging for electronic items, if available, it works the best when it comes to packing the electronics.
Disconnect all Electronics
Not disassembling the devices will let you use them right out of the box. But disassembling them keeps them physically safer, as they will then not bend, shift or breakaway.
Similarly, when batteries are left in the devices, they may leak acid and damage the electronic. It is best to go by the manual instructions when disassembling electronics.
Televisions are most likely to reach safer when they stay upright through the transit. Also, when it comes to packaging, it is easy to pack the TV in its carton by stuffing them safely with thermocol and plastering it properly.
Protection from Climatic Extremities
Excessive moisture will be an issue during the transit, using silica gel for absorbing condensation can help in minimizing the moisture content inside the carton. Similarly, applying tape paper over slits is a potent safeguard against dust.
Keeping Cords Organized
Cords are best wrapped around themselves while packing for transit. The cords might break or get entangled with each other making it difficult to detangle them. You can group the cords and put tape between them to prevent them from getting tangled.
If you mark electronics boxes as fragile, it adds to their safety during transit. Marking each box with a list of contents will help while unpacking the items.
Preparing Appliances
Unplug & Clean the Refrigerator
It is preferable to unplug the refrigerator at least 24 hours before transit. The fridge should not have any perishables within. It is better to clean up the fridge well before the transit. Remove the racks to prevent them from shifting/breaking during transit.
You are likely to pack the refrigerator crisper separately. A fine idea is to stuff the crisper with items such as pillows, cushions, blankets, and bedsheets, snugly. Take a large polythene bag, put the cushions, etc. into the bag, and stuff them in the crisper. This will render additional protection for the crisper in transit.
Empty the Dishwasher
Before you pack the dishwasher for transit, you should try and ensure that the dishwasher units are empty. The utensil holder or rack should similarly be removed and packed separately. Clean the unit in case you feel the need to do so. First, run a cycle, then, let the unit dry, before using a tape over the door, to close it.
Special Handling for Washer and Dryer Unit
The owner's manual will deliver a fair bit of idea about how the washer and dryer should be managed for transit. Generically, the hoses should be removed and packed in a separate box, which is marked.
Secure the Cords in Ziploc Bags
One may secure the cords and the plugs by wrapping them around themselves and then attaching them to the appliance using packaging tape. Try to make sure that the cords stay protected in the position where you tape them and do not dangle.
Wrapping it Up
Moving electronics and appliances during relocating to a new home could be complicated. To ensure their complete safety, let the packaging and transit be taken care of by the movers & packers. They add value to your relocation by ensuring that they deliver prime services once you reach the destination. Moving experts will unload and place all your goods from the truck inside your house, quickly unpack all your belongings, and help set up all your electronics perfectly including checking if they are in the right working condition. Professionals will ensure that all aspects of packing and moving are under the best practices. There would be no damages on the way, and your appliances and all related accessories will be easy to locate at your new home.
Just make sure to keep all your appliances & electronics ready before moving day. Remember to take a complete backup of your data and defrost your refrigerator one night before. Leave the rest of the packing and moving jobs to your relocation service provider and enjoy a stress-free and smooth shifting!