The Ultimate Guide To Unpacking Like A Pro: A Room By Room Checklist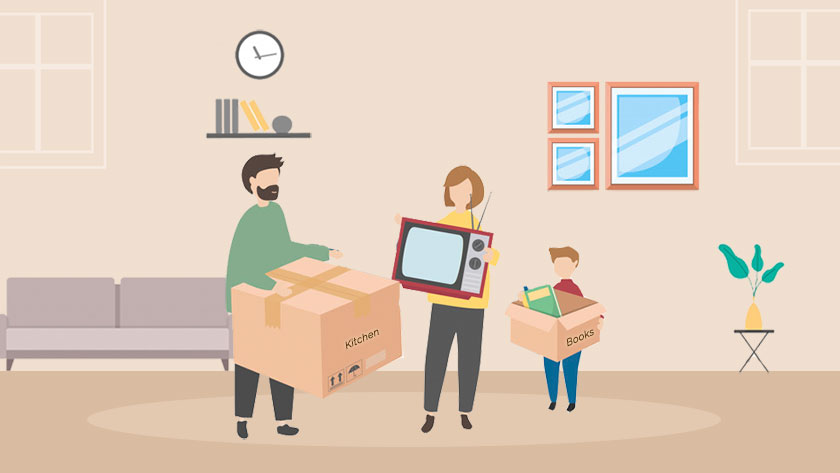 Moving homes is an exhausting time as it is since you have to complete 100s of tasks before moving, prepare yourself and your family to leave the comforts of your old home, and anticipate life in the new place. Added to this is the stress of packing your life's belongings and moving them, only to spend more time and effort to unpack and set up your new home.
Since moving can't be a complete success without unpacking, it's time for you to figure out exactly how to unpack and organize your new home. The best method for a quick unpack is to plan beforehand about how you want your home to be arranged.
Discussed below are some of the best tips on how to unpack and organize after moving, like a pro.
How to Unpack after Moving – Which Room to Begin with
One of the most popular questions asked by people after moving is about 'where to start from' and 'which room to unpack first'. The answer is: there's no firmly set right or wrong answer.
If you think about it logically, the best way to unpack after a move is to do it room by room according to the importance of usage. Based on this idea, we would recommend unpacking your home in the following order:
Bathroom: Setting up the bathroom first is the most straightforward task which can be completed in minimal time; it'll help you feel accomplished almost as soon as you start unpacking the home. It's pretty straightforward to unpack all the necessary towels, body-care products, toiletries, shower curtains, and any other bathroom items.
Also, being one of the most used rooms in the house, making it fully-stocked and ready-to-use will ensure that you have a neat and clean place to wash away your stress at the end of the day.
Bedroom: The next room to unpack will be the bedroom, as it's a place of rest and one of the most valued rooms of the house. Preferably, the bed should have been placed by the movers during the unloading process; if not, you could put it in the ideal place as required. After that, you just need to lay down the mattress, pillows and bed covers, so that the major part of setting up the bedroom will be done.
Once the bed is all set, you need to unpack clothing and arrange the cupboards; but, you don't need to organize all the clothes at once, you can begin with just the ones which you will require for immediate use and arrange the rest later. Any decorative items you want to add in the bedroom can also be done slowly with time.
Kitchen: Some may say that the kitchen should be unpacked first as it's an essential part of the house. However, when you actually think of it, being the most vital part of the house, the kitchen should be unpacked with care to ensure proper placement of things. Moreover, the kitchen requires a couple of days to be completely set up and fully operational. For the moment, you can set up the absolute essentials and organize the rest of the kitchen bit by bit every day after the rest of the house is ready.
So, first, connect the main appliances like refrigerator before plugging in the smaller appliances like microwave oven, toaster, etc. Next, set up the gas stove, and unpack the utensils and cutlery which you will require immediately.
Living Room: One of the last places to unpack and arrange in the house would be the living room. Although some may consider it as the most important (above all other rooms) since that's where your family will spend the most time, it's better to set up the living room in the end so that you don't get distracted or carried away while unpacking.
Although the moving guys may have already placed the furniture as required, you can position them properly according to your liking. When you pack unpack, make sure you plug in the TV, PlayStation and other entertainment devices in the end.
Kid's room: When you've moved with children, it would be a good idea to set up their rooms ASAP (preferably before you set up your bedroom). It will ensure they spend lesser time outside their comfort zone and settle down sooner. Also, they get to have their own space while you do the rest of the unpacking and home-arrangement.
Tips for a quick and easy unpacking
Inspect boxes for damages: As soon as your goods are delivered by the movers who pack and unpack, one of the first things you should do is to check all your delivered boxes and ensure they are not damaged. If there are any damages, you should raise a complaint with the moving company without any delay.
Sort boxes into respective rooms: If all boxes and luggage are placed in one big pile in the living room, you would be confused about how to unpack after moving. Ideally, it would be best if you labeled your boxes while packing them so that it becomes easier to unload and unpack them. During unloading, guide the movers to place the boxes in their respective rooms directly.
Unpack necessities first: It's better to start unpacking the basic stuff which you will need to ensure your daily routine is not disturbed. Unpack clothing, toiletries, few essential kitchen items, and laptop, etc. which you may need right away and keep them in the accessible places.
Make a priority unpack list: Generally, there is a deadline within which you should finish packing so that you are ready to move; but, there's no urgency to unpack your things immediately after moving. So, making a priority list of what to unpack first will be helpful. However, it would help if you did not put off unpacking for a very long time since you would have boxes are lying around the home, and you wouldn't be able to find necessities.
Map out a floor plan to place furniture: Before moving in, you should have planned the layout of all the rooms. This will make it easier during unloading so that you can direct the movers to set up the furniture in their respective places. That way, you can make sure that you don't have to do any of the heavy liftings and also, the furniture will stay out of your way while you quick unpack the rest of your items.
Make arrangements for kids and pets: Having kids or pets running around the home while you're unpacking will make your work much more difficult, increasing the chances of hurting themselves or you while you're moving things around. Therefore, it's better if you can drop them off at someone's place so that they stay out of harm's way; or, you can involve your kids in the process and give them the responsibility of setting up their room.
De-clutter while unpacking: You can sort and set aside unwanted things when you pack unpack, so that you can make more space for new things to come. Unpacking gives you another chance to de-clutter and get rid of stuff you don't require. You can give away or sell the things which don't really go with the look of your new home and replace them with new items.
Keep essentials close by: Make sure you keep all your essentials where you need them, like keys, phone, chargers, cleaning supplies, few kitchen items which you may need when you take a snack break and other such things.
Set up the music for entertainment: It's natural to feel stressed-out and uninterested halfway through the monotonous task of unpacking. So you can keep yourself entertained and your with some music. However, avoid switching on the TV or laptop which may distract you during your work and slow down the process if you sit down to watch for a minute or two.
Wrapping up
Or should we say 'unwrapping' of all your things should be done systematically and with a proper plan. Unpacking may have seemed unbearable until now. However, with the help of this guide, we hope you now have a better idea of how to unpack and organize after moving process without becoming overwhelmed.
However, don't be worried about how long to unpack after moving or expect to finish and be done with it all at once; be patient and understand that it will take a few days or weeks before for you completely settle down in your new place of abode. Just remember that half the victory is in the planning; so make sure you have a plan ready with an 'unpack list' and stick to it without getting carried away.