How To Declutter Every Room In Your Home: The Ultimate Guide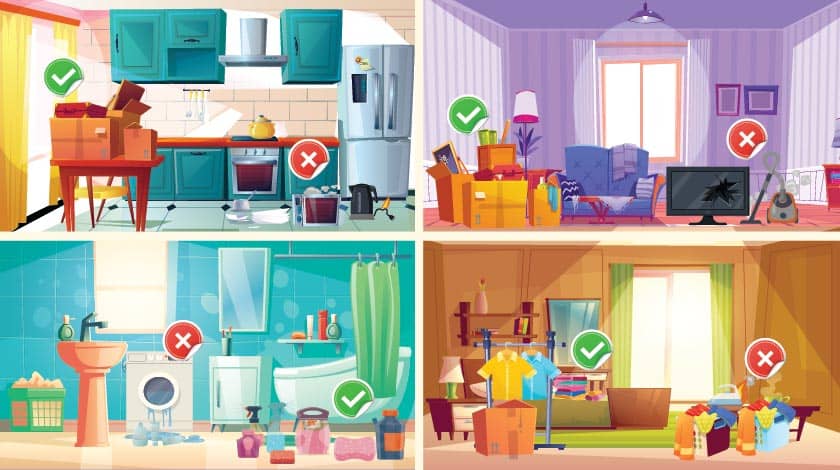 Everyone has some clutter in their home and the majority of us have a lot of it. Many people find the idea of a simple life with less stuff attractive. But often, the idea of a minimalist life may make you feel overwhelmed and anxious. Decluttering your home and cleaning up the mess is a great way to look after yourself.
Clutter in the home seems to be relatively ignored compared to other things. However, many people feel overwhelmed and as if their lives are out of control because they are surrounded by more things than they can handle. For all such cases, decluttering your home is the way to go.
Decluttering not only helps in cleaning up your living space but also reduces the financial burden of maintaining unnecessary items. You can get rid of things that aren't needed or haven't been used in a long time; if you have any items that you simply cannot discard, you can safely store them elsewhere to keep your home organized. Mentioned below are some of the advantages of decluttering, and how to go about the process
Get a free quick quote from Top packers and movers for professional and secure shifting services
Advantages of Decluttering Your Home
Learning to declutter your home is not as painful as some think would be and there are many advantages associated with it.
Easy to clean your home: Cleaning is always a difficult task but having to clean around items to which you have no use adds to the tension. Decluttering helps to clear unnecessary items making it easy to clean.
Finding stuff becomes a lot simpler: Once you declutter your home, finding stuff becomes a lot simpler. Once all items are neatly organized post decluttering process, you can easily find them.
Utilization of available space: Instead of going around items that are in the way, you can walk around your home and enjoy the space.
Less stress: When your home has become too cluttered, looking around is not a pleasant sight and may create tension in your mind. An organized home always helps to calm your mind.
Decluttering Process of Each Room
We'll show you how to begin the decluttering process of your home. With these unique ideas and decluttering tips, you can clean up any room very easily.
#1 Living Room
One of the hardest rooms to make clutter-free on a daily basis is the living room. This is because it is having the maximum usage, and most living rooms don't have a lot of storage. You may have a few bookcases and a television console, but they don't conceal anything.
Newspapers and books- For the living room, you should all old newspapers and unwanted books from the surrounding environment. The key is to create permanent storage spaces for frequently used things like newspapers and books. Bookcases, consoles, and side tables are a good place to start.
Entertainment center - Your TV and AC remotes should be kept at a place where it is easy to locate. Then move on to your coffee table. Remove all items and check the contents. You should throw away all unwanted items. For all usable items, you should place them back where they belong in an organized way.
Electronic gadgets - Now it's time to talk about products related to technology. Remove anything from your television or home theater device that isn't related to it. Chargers, gadgets, and gaming devices should all be kept close to where you need them.
Toys - Finally, it's time to deal with the toys. Examine each toy for signs of wear and tear. Is it still operational? Is it still being used by your children? Each toy should be recycled or stored based on its usage.
#2 Bedroom
The bed - Decluttering your bedroom starts with the bed. It's difficult to make some progress decluttering a bedroom while you're staring at an unmade bed.
Nightstands - The next step is to check the nightstands. You should remove things like books you've already managed to read, damaged sunglasses, pens and pencils, and correspondence. Throw out or recycle something you don't use, such as empty tissue boxes, dry pens, or dead chargers.
Drawers - You should check all drawers of your bedroom. Remove any items that are no longer in use and put them away. Fold and pack everything you want to keep. If you have a desk or a vanity table in your bedroom; you should look into that as well. You should throw away all needless items rather than placing them back into drawers. You should discard or recycle something you haven't used in more than 6 months. Return all essential products to their original locations.
Wardrobe - Now, it's time to start cleaning out your wardrobe. The simplest way to declutter a closet is to sort your clothes by style first. That means you should start with your tops, trousers, skirts, jeans, and so on. When you're looking at your whole jeans inventory at once, it's far easier to determine whether to hold or toss a pair of jeans. So start digging out various styles of clothing and deciding what you'll hold and what you'll discard. You should put everything aside that was in the wrong place.
Cabinets - De-cluttering your cabinets start with going through your medicine cabinet. Remove all from the medicine cabinet and throw out any expired drugs, cosmetics, or skincare items. Put everything you're holding back into the cabinet right away, with the ones you use the most at eye level. After that, go through each cabinet drawers. Remove all and make a fast assessment of what you need to hold and what you need to toss. During the reorganization, you should keep the most common items on the top of your drawer.
#3 Kitchen
Cooking, dining, and socializing are all things that take place in the kitchen, making it difficult to keep it clutter-free. In addition, the kitchen has a wide range of items. You can either focus on one type of item at a time or go through each zone to declutter your kitchen.
Storage units - Start with the main storage areas, like the wardrobe and the upper cabinets. Then work your way down to the lower cabinets, drawers, and the area underneath the kitchen sink. You should thoroughly clean each space, evaluate each object, and return it to its proper place.
Counters - You should pay attention to your counters. Remove as many objects from the counters as possible and position them in storage. Keep only the things that you use every day on the counters.
#4 Bathroom
Shower & tab - Carry on with the same procedure in the shower or tub for decluttering your bathroom. Declutter the unwanted things under your bathroom sink by pulling everything out. Remember, anything that doesn't have any usage can be easily set aside without any further delay.
In Conclusion
De-cluttering an entire house, as a part of a downsizing initiative or only to simplify your life, is a major task. You should concentrate on one particular area, then room, and then zone while carrying out decluttering of your home. As you achieve measurable success at each level, you will gain trust and will be motivated to do more.