Wrap it, Box it, Tape it: A Complete Guide to Types of Packing Materials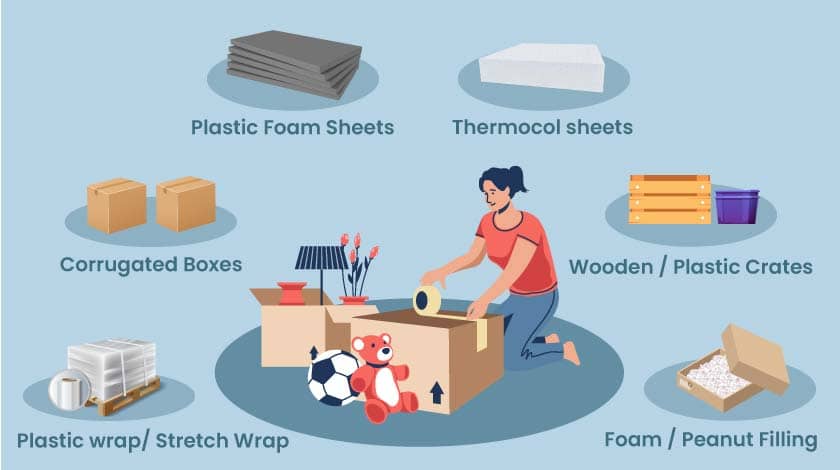 A lot goes into packing your household goods and vehicles while preparing them for a move. Each item has different requirements and need to be packed differently using a variety of materials.
Professional relocation companies pay a lot of attention to the packing of goods as it yields great results in their pursuit to keep them safe. They have specific materials for specific types of goods and use them well to keep your items safe. Delicate items need specific packing materials, while electronics need something entirely different.
So, here are some of the high-quality packaging materials that ensure your goods remain secure from start to end of the move; these materials are also used by professional moving companies based on the type of items being moved.
#1 Corrugated Boxes
Corrugated boxes are cardboard boxes that come in numerous shapes and sizes. They are perhaps the most common packaging material used by movers around the world. They don't damage the surface of the goods inside and can be folded and kept when not in use, saving valuable space in the house.
What it does: Protects items packed within.
What it is used to Pack: Books, clothes, kitchen utensils, groceries, etc.
#2 Plastic Foam Sheets
Foam sheets are thick plastic sheets with padding within them. They are used mainly for packing furniture, electronic items and windshields of cars, they provide cushioning and protect the items from scratches and dents. 
What it does: Protects against scratches and dents.
What it is used to Pack:
Furniture - Sofas, almira, bed parts, dining table
Appliances - Refrigerators, washing machines
Breakables - Mirrors, car windshield, etc.
#3 Bubble Wrap
This is another common packaging material that is widely used by relocation companies worldwide. It is among the most versatile packaging materials on earth. Wrapping enough of this can virtually protect anything.
What it does: Provides an added layer of protection to fragile items.
What it is used to Pack: Crockery, glass artefacts, fragile materials, electronics, etc.
#4 Foam / Peanut Filling
Peanut filling is a type of foam that is packed in a box along with the item. They provide excellent protection and are widely used by movers to protect delicate items.  
What it does: Provides extra protection for fragile items.
What it is used to Pack: LCDs, dishes, artwork, wardrobes, glasses, glass items, kitchen crockery, and small, antic items.
#5 Inflatable Packing Material / Air Bubble Pouch
This is a high-quality packing material usually used by reputed relocation companies. It's basically a plastic pouch filled with air. Although it is quite expensive, it is very effective in giving that layer of protection fragile goods need.
What it does: Protects highly fragile materials from damage.
What it is used to Pack: Highly fragile items like china, TV,  and computer screens.
#6 Packing Paper
Packing paper or brown paper is a packing material usually used as the first layer of protection. Generally, porcelain and glass items are first wrapped in packing paper before being placed in a box or wrapped in bubble wrap.
What it does: protects from dirt and dust.
What it is used to Pack: Glass, porcelain, ceramics, and other fragile materials.
#7 Nylon Strap
Nylon straps are rope-like materials used to tie firmly. They are usually used to tie packing blankets or industrial boxes. They are extremely strong and are rarely used for household goods.
What it does: Ties packing blankets and sheets firmly.
What it is used to Pack: Anything packed in packing blankets.
#8 Stretch Wrap
Stretch wraps are plastic sheets used to waterproof the items that are being packed. It's basically a thin layer of polythene which stretches and has self-adhesive quality. It is used to pack items tightly, thus saving space.
What it does: Waterproofs the goods and protects them from moisture and dust.
What it is used to Pack: All goods.
#9 Packing Blankets and Pads
Packing blankets are cloth blankets that are used to pack plush furniture like sofas and couches. Pads are also used to provide extra protection to furniture to prevent scratches.
What it does: Protects items from dust and cuts.
What it is used to Pack: Clothes, furniture, mattresses.
#10 Thermocol sheets
Thermocol sheets are, as the name suggests, sheets made from thermocol. They are one of the most common packing materials used for protection against rain, shock and any other external element.
What it does: Provides extra protection, shock resistance and waterproofing.
What it is used to Pack: Electronic items like TVs, computers, ACs.
#11 Wooden / Plastic Crates
Wooden and plastic crates are not usually used unless there is a very specific requirement for them. They are usually used for packing extremely valuable materials like paintings, antiques and sculptures.
What it does: Provides a solid and stable frame.
What it is used to Pack: Electronic items, fragile cargo, expensive items like fine art and antiques.
#12 Specialised Boxes
Specialised boxes or speciality boxes are corrugated boxes made for a specific item or a set of items in mind. They increase convenience while keeping the items safe. Some examples of speciality boxes are electronic boxes, wardrobe boxes, cell kits and heavy-duty boxes.
What it does: Makes it more convenient to pack certain items without compromising protection.
What it is used to Pack 
Wardrobe Boxes - Clothes in their hangers.
Heavy Duty Boxes -  lampshades, Showpieces, plants, glasses, glass items, kitchen crockery, and small, antic items.
Electronics Boxes - LCD, LED TV, computers.
Conclusion
As mentioned before, a lot of effort goes into packing and preparing your goods for a move. Movers ensure the right materials are used for the right items so that there are no damages to any of the goods being moved. If you have picked a renowned relocation company known for their quality services, then you can be assured that your goods are in safe hands.