11 Essential Loading & Unloading Equipment for Secure Relocation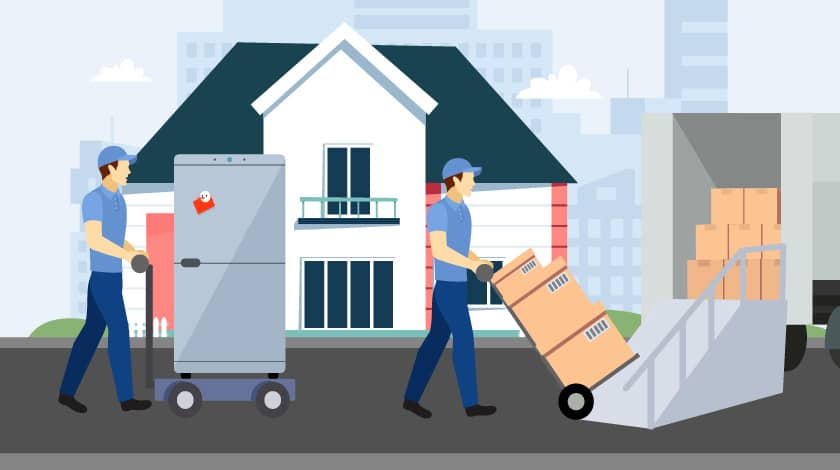 When it comes to relocation within the country or overseas, the most important thing that should be taken care of is the loading and unloading of heavy goods and furniture. Loading and unloading is a tiresome process included with lots of risks. Whether you are going to shift your home, office, or want to transport commercial equipment, there is always a need for specialized equipment which will help you safely load and unload the goods ensuring zero-damage and prevent major self-injuries.
Equipment like forklifts, hand trucks, furniture sliders, ramps, and many more are essential to shift any type of goods from and to the truck. Without proper knowledge of how to use the specialized equipment and techniques, you may end up with severe physical injuries or permanent damages to your belongings. Therefore, professional assistance is much needed especially during loading; hire reputed packers and movers to make your relocation simple yet effective, as their crew is well trained and experienced in the moving field.
Here is a list of loading and unloading equipment that are recommended for moving large and bulky household items like refrigerators, sofa, bed, etc.
Also read: How to pack and move your bed
#1 Hand Trucks
This is also known as a two-wheeler or a stack truck that comes in an L-shaped metallic frame and a toe plate. The hand trucks are especially used to ease the transportation of bulky or heavy-weight goods.
#2 Panel movers
The panel movers are ideally designed to carry the office partition panels, bed frames, banquet tables, etc. these are skid resistant and mainly used by professional shifting companies to load and unload the goods in the process of shifting.
#3 Furniture Sliders
The demand for furniture sliders is very high while relocating your home or office. Whether you are going through a DIY move or hiring a professional moving company. The furniture sliders are necessary to move and transport the furniture without any damage. The sliders are placed under the furniture and easily carried out to another place. So it provides injury-free yet effortless moving.
Also read: How to pack and move a sofa
#4 Pallet Jacks
A pallet jack is also known as a pallet truck or pallet pump. This equipment consists of two forks that work on a hydraulic action to lift the pallets that enable transportation. The pallet jacks are mostly used to move goods for small distances also used to move goods within the warehouses. This is the basic form of a forklift.
#5 Stackers
A stacker is a large machine used to carry tons of bulk material at a time. These are especially used in warehouses and also used to carry heavy-weighted goods in the shifting process.
#6 Slip sheets
Slip sheets are thin corrugated sheets that are made up of paper, plastic, or solid fiber. These are used to place between the goods and pallets or even used as a replacement to pallets. Using the slip sheets instead of pallets reduces the entire container weight as they weigh 20 times less than pallets.
#7 Forklift
It is also known as a lift truck used to load and unload the merchandise or packed goods into a truck for transportation. This machine is especially used to transport goods for short distances and can handle heavy-weighted items that are placed on two forks of the machine. These two forks are in a horizontal way that can move up and down as operated by the operator.
Are you planning for relocation soon? Get a Free Quote Instantly from our Top 3 Packers and Movers near you.
#8 Side Loader
Side loaders are used to load and unload the goods from the side of the machine. In side loaders, the forks are placed on the side of the machine instead of the front as a standard forklift. So that the side loaders don't need to turn sideways, they can directly drive up to alongside the truck and can place goods on the truck easily.
#9 Liftgate
It is a motorized platform that can be attached to the backside of the truck helps you to load and unload the goods into the truck easily. The liftgate can be lowered from the ground level to the height of the truck bed. These types of equipment are especially used by professional packers and movers to transport goods for home relocation or office relocation.
#10 Conveyor belts
These are especially used to transport bulk-packed items. This reduces the risk of damage and being dropped by the moving staff as they are being carried by the conveyor belts. The conveyor is best suitable to load and unload the bulk cargo and parcels.
#11 Ramp
A ramp is especially used to load and unload the goods from the truck. It is placed from the ground level to the truck or container so that the goods that are carried by the forklift are directly carried up to the container easily. For smaller ramps, there no resistance to carry heavy weights so that you can carry goods through dollies instead of forklifts.
---
The above-mentioned tools are the best loading & unloading equipment used by professional moving companies. When it comes to loading and unloading, it is always recommended to find the right packers and movers who can ensure safe and damage-free relocation of your goods rather than doing it yourself and ending up with great losses. The professional moving companies always give proper training to their crew, how to use all the specialized equipment and also train them on how to use the loading and unloading techniques for successful and damage-free relocation.