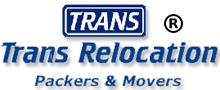 Professional Company with highly dedicated Team
Get Quotation
Visit Site
About Us
Trans Packers & Movers is a premier service-providing firm that deals with the packing and moving of household items. We are a professionally managed company with a team of highly dedicated, specially trained, experienced, and competent staff who religiously work for the satisfaction of your needs. As a pioneer in the field of packing and moving, we shift and relocate household goods to your destination, as required. We at Trans Relocation Packers & Movers have a huge warehouse for the storage of household goods to ensure their protection.
For further security and foolproof protection of the goods, we take utmost care to handle your belongings till it reaches safely at your doorstep. All fragile items are handled with utmost care. We have a team of supervisors as well as packers who manage the whole operations efficiently. At the same time, we also ensure that all the transported goods and items reach their target destination on a door-to-door basis with the best packaging material used by us. Moreover, we as a service organization also look after the unpacking and rearranging aspects of the whole operation to satisfy your needs and essentialities.
We handle the sensitive assignment of electronic and software packaging, which is one of the special areas of our focus. Another thrust area of our set-up is localized relocation, car carrier transport & warehousing. Our strength lies in our all-India and international network.
Contact Us