Packers and Movers Thane Reviews
Thane Packers and Movers Hiring Guide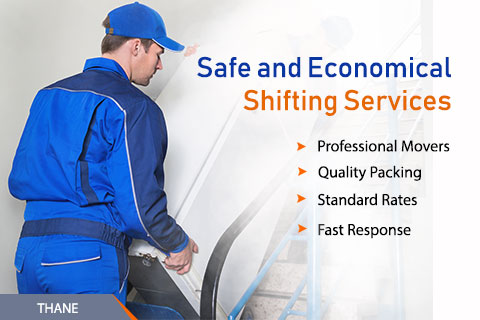 Wahoo! You finalized your dream house in Thane, which is one of the most popular residential suburbs of Mumbai where you can get all the modern facilities at affordable rates. The quickest and easiest way to reach your new home is by hiring the cheap and best Packers and Movers Thane who can perform your relocation by providing good moving services in Thane at least expensive charges.
However, finding the best rated moving company in Thane has become one of the most complicated tasks due to the presence of several fraudulent Movers; therefore, you should be careful while hiring relocation companies. But, you can quickly get rid of all the relocation stress by contacting AssureShift as you can hire pre-verified packers and movers in Thane. Without wasting much time and money, you can compare and get in touch with high-end movers after checking and comparing the necessary details of their legitimacy. They will provide end-to-end stress-free relocation within or outside Thane at quite competitive rates.
Packing and moving your complete household is one of the most hectic tasks which can give you lots of mental, financial as well as physical stress, since you will have to pack goods, lift and move large items alone, find a reliable transport service, and many other tasks. But, you will be amazed to know that you can avoid all these tricky situations by hiring professional packers and movers Thane who are experienced and skilled to pack and move various kinds of items. They take extra precaution by using suitable packing supplies and modern equipment which help shift your belongings without any damage.
To get in touch with best-matched moving companies in Thane, you can take suggestions from your family/friends, or you can search for 'packers and movers near me' on the Google search engine. However, the main problem of hiring through unknown sources is that you will not be able to differentiate between fake and genuine moving service companies in Thane. You'll have to invest extra time to research the legitimacy of shifting companies since fraudulent movers offer low quotes to trap customers before finalizing the deal, and then start charging extra halfway through the move; they may also steal the goods with no further contact again. That's why it's essential to do a broad verification about the moving service provider in Thane.
AssureShift provides you complete details of best and cheap packers and movers in Thane within few minutes after getting your exact shifting requirements. We do in-depth verification of the company documents, office set up, transport arrangements, and their performance history. We regularly take feedback from our clients who hired one of our genuine Movers and Packers in Thane, to keep a check on the service quality provided and ensure to continue it at standard level. All you need to do is share your exact shifting requirements and we will provide you references of the 3 top-rated moving companies in Thane near you. You can compare the estimated rates quoted by the Movers and Packers along with their company profiles and hire the most-suitable Relocation service provider who can ensure safe and timely delivery of your belongings.
Our partner Thane Packers and Movers are expert in providing a wide range of moving services such as complete home shifting in Thane, local shifting in Thane, relocating the entire office, domestic shifting, packing and moving your bike, car relocation services in Thane, cargo shipping, warehouse, and many others. If you're relocating within Thane, you can get trusted services at reasonable rates; but, for shifting outside Thane, the best option is to hire a domestic moving company in Thane who must have proper office at your origin as well as a new destination, so that you get safe and on-time doorstep delivery of your valuables.
If you are relocating to Thane, also called the "City of Lakes", has more than 30 beautiful lakes located within the northwestern side of Maharashtra. This makes it the more preferred residential area, especially who loves to live in the lap of nature. You can also enjoy monsoon weather during summer which makes it possible to provide agricultural main crops like rice, millet, vegetables, fruits, etc. for Mumbai city. We hope you enjoy life in your new city with all the daily life requirements available near your residence at an economical price.
---
How Packers and Movers Thane will help you
We have seen several scenarios, where people make the mistake of thinking that hiring Movers and Packers means that they will only assist in packing and moving household items. But, the fact is if you select trustworthy moving service providers in Thane, they will help you in plenty of ways like they providing pre-move survey, safe packing, disassembling heavy items, careful loading, reliable transportation, and so on. These are some of the advantages of hiring the best movers and packers in Thane.
Help you to save your money and time
If you plan to handle the entire relocation by yourself, you will have to do everything from planning, packing and moving goods, transport arrangement, unloading and unpacking. That why it's good to plan your shifting at least one month before and try to arrange free and suitable packing material before you start the process of packing your things. You will have to separately hire a parcel service in Thane to relocate the stuff to your new residence, and you'll have to load and unload all the things by yourself.
But once you hire full-service movers and packers in Thane, you will be free from all these complicated situations, as they will complete care of your moving tasks from planning to packing, unpacking your things until you get settled in your new home. They plan your shifting tasks properly and bring all the necessary packing supplies and moving equipment to pack and relocate your things carefully.
No hard work for you
The best-rated relocation companies in Thane takes the entire burden of packing and moving your valuables from one location to another within the estimated time. They work hard to provide you the best shifting service without leaving any tedious tasks for you.
They will not only pack and move your possessions, but they will also help you to unpack and arrange them in your new home, and you will be free from dealing with any hard work during the entire relocation process.
Extra safety with insurance
One of the main advantages of hiring the trusted moving service providers in Thane is that they provide insurance coverage for double protection of your items; in case they get damaged due to unforeseen situations like accidents, bad weather, etc. But after hiring popular house removal companies in Thane, you can have complete peace of mind, as they will compensate you in case of any damages during the entire moving process.
---
Services provided by Packers and Movers Thane
Economical Home Relocation: the moving packers and loaders Thane are expert in packing and shifting your entire household from one location to another. They are always fully prepared to pack, load, transport, and unload your goods with 100% care; they ensure complete safety of your things and provide best home shifting services in Thane.
Local Shifting within Thane: local movers and packers in Thane will efficiently help you move within your city in minimum amount of time at affordable rates. They will take complete care of your move from the time you will share your shifting to end by unloading and rearranging them according to your requirements. They even provide you special moving services with proper arrangements such as shifting fragile items, pets and plants.
Outside city Moving from Thane: Trustworthy long-distance movers in Thane are capable of packing and moving your belongings over long distances form Thane with extra care by following standard methods to provide you on-time and hassle-free doorstep delivery. They ensure proper packing, careful loading, reliable transportation, and also offer insurance coverage in case of damages during transit so that you can have secure domestic relocation in Thane.
Secure Bike Packing and Moving: Bike movers and packers Thane are expert to pack and shift your bike from one place to another within and outside Thane without a single scrape. They will pack your two-wheeler using bubble wrap and corrugated sheets before moving them in bike carriers, to provide extra safety so that they remain unmoved and undamaged while conveying and they will deliver your precious bike at your new doorstep.
Affordable Car Relocation: Reliable car transport in Thane will deliver your treasured car at your new address safely within the scheduled time. They will guarantee full protection of your vehicle by moving them through specialized carriers or trailers. You can get trusted car transport in Thane at reasonable rates.
Logistics services: Relocation services in Thane also provide bets and quick logistics for businesses which require shipping of goods from warehouse to the clients safely. They manage an entire organization to ensure items are delivered correctly and on-time.
Commercial movers in Thane: Office relocation movers in Thane will ensure secure and smooth relocation of your workplace at a competitive price. They will follow standard measures to pack and move your office goods with extra care.
Safe Warehouse/Storage: Movers and Packers Thane provide reliable and economic warehousing/storage services so that you can store your belongings until you find a place to move them. They take inventory of all the stuff before storing them, and they provide full security measures to make sure that any of your stuff does not get damaged or misplaced.
Shifting IT Equipment: To pack and move your IT equipment at any new location, you need to take the help of cheap moving services in Thane who are experienced to relocate your IT equipment in a secure and timely manner.
---
Why is AssureShift best platform to hire Moving Company in Thane?
AssureShift is a trustworthy online reference portal which helps you get in touch with popular moving service providers Thane on whom you can trust to have the best packing and storing services for your upcoming move at your pocket-friendly price. Our primary mission is to make sure any innocent customers should never get in touch with scam Movers who have established their business to make easy money by making wrong promises. They confuse customers by providing cheapest quotations while finalizing the deal and they end up charging additional hidden costs or start increasing the shifting charges on the day of the move. They may deliver poor services that may result in damaging belongings or may even run away with your goods.
Below mentioned are some of how AssureShift makes it possible for you to hire trusted packing and moving specialist in Thane:
We perform an extensive background investigation of the relocation companies in Thane before listing them. We check their registration documents, transport arrangements, office set up, owner identification proof; we also check their background history before approving them to list with us.
Apart from verifying essential documents, we frequently check the quality of service provided by them by encouraging our customers to give us regular feedback about the Shifting service provider whom they hired through us.
We take strict actions against the movers if we receive any complaints from our clients about dishonest and corrupt behavior from any of our recommended shifting service providers to stop it from repeating. We'll either temporarily suspend or forever block their profile from our website because we work to provide trouble-free shifting at any cost.
Once you share your relocation details, we quickly refer you three top-rated relocation companies in Thane according to your requirements and budget. Our expert movers in Thane contact you directly with their estimated moving rates, and you can quickly compare their price along with company profiles and hire the best-suited and economical removal company in Thane.
We are dedicated to provide you with the best customer support you throughout your relocation from the time you share your shifting details with us until your move is completed successfully. In case you face any trouble with the packers movers Thane, you can be sure we'll resolve your issue quickly by speaking with the movers on your behalf.
---
FAQ's
Should we book different Relocation companies for packing and moving my household items separately?
If you hire different companies for packing and shifting your things, in case of any damage occur during transportation, none of the companies will take responsibility, and you will have to face huge loss.
That's why, experts suggest hiring full-service packers and movers in Thane, who can do both the jobs for you by packing and moving your entire goods with complete care. They take 100% responsibility to transport your goods safely to your doorstep within the estimated time and budget.
Which packing supplies will be used to pack my goods?
Our professional packers and movers Thane will always use standard quality packing materials like sturdy carton boxes, bubble sheets, packing tapes, etc. to provide you safe packing and transportation of your household as well as commercial items.
Is it compulsory to purchase Insurance?
Although purchasing insurance is never enforced, but we recommend our customers to protect their things during relocation as sudden accidents can happen at any moment. That's why it's always good to purchase insurance so that you can remain calm as your possessions will be safe from any loss.
What will the final delivery date of my goods?
Delivery time of your belongings depends on numerous factors like total distance between origin and your new destination, the volume of your items. We try our level best to transport and deliver your goods at your doorstep within the discussed time so that you can quickly be settled in your new residence.
Who are the top Packers and Movers in Thane?
Supreme Packers and Movers: Borivali (East), Mumbai - 400066
Max Packers and Movers: Kandivali East, Mumbai – 400101
Adore International Packers and Movers: Sakinaka, Mumbai – 400072
Dolphin Home Relocation and Logistics: Airoli, Navi Mumbai – 400708
Rising India Packers and Movers Mumbai: Kandivali East, Mumbai – 400101
Metro Logistic Packers Movers: Ghansoli, Navi Mumbai – 400706
Instead of becoming stressed due to your upcoming move, hire reliable relocation expert in Thane to pack and move all your goods efficiently. You can trust AssureShift to help you get in touch with the best Packers and Movers Thane as we accurately verify their details and find out from our customers about the service quality they received. Our partner movers and packers in Thane provide standard relocation services at reasonably priced rates. So, you can be free from all the hassles of moving and settle down in your new home quickly and peacefully focus on the other essential tasks.