Room by Room Guide: Tips To Pack Your Home Efficiently For Moving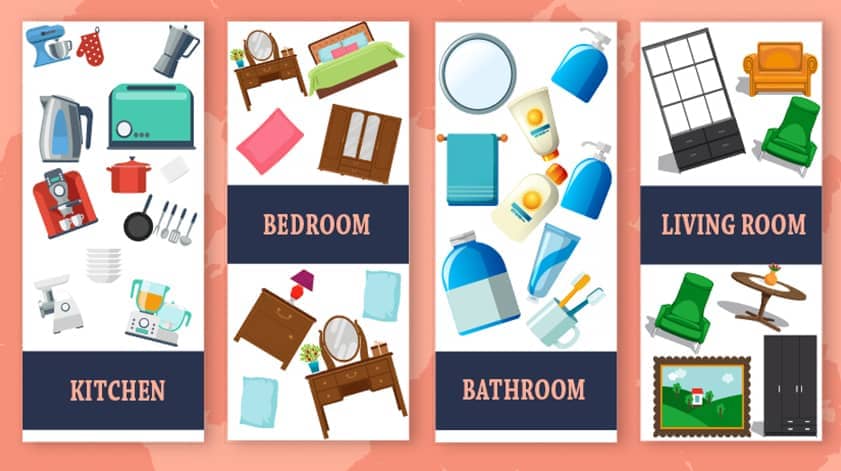 Home shifting is anything but an overnight process; you need to have a proper plan and prepare well before putting your hands on your shifting process. Moving to a new space must be exciting for sure, but the burden of packing has to get off to enjoy your new home!
Packing your complete household is a daunting task and will take much time; so, make sure you begin the task at least 3-4 weeks prior to your relocation date. Like every room in your home gives you different vibes, similarly, each of them needs a different approach to pack them up. Therefore, you need to also know the different packing materials and methods required to pack household items securely. One of the most effective ways to complete the job is to stay organized and pack one room at a time.
Here are some tips to pack each room of your home to ensure it's done neatly and comfortably: 
Living Room
Bedroom
Kitchen
Bathroom
Pre-packing Tip
Before you begin packing up all your things, it would be a good idea to keep your personal essentials close by since you would not prefer unpacking immediately after a long tiring day of moving.
So, make sure you pack an overnight survival bag containing essentials like a pair or two of nightwear, kid's items, toiletries, towels, basic bedding & kitchen supplies, electronics, their charges, and other things that you will need to ensure a comfortable stay for the first 24-48 hours after moving in. 
A living room comprises a variety of items such as furniture, lamps, electronics, decoratives, artworks, etc., which would require different kinds of packing procedures.
The best way to start packing things properly is to create an inventory. Inventory will help you in arranging things properly from packing to loading and unloading and rearranging things at your new place. 
Tip #1: Sort things out
Separate out things that you have in your living room, group them into electronics, breakables, wall-hangings, rugs, furniture, etc. you intend to move them with you. Once they are grouped, you can divide them and start packing them individually. 
Tip #2: Electronics
Let's start with the most fragile things in the living room. Electronics require proper disassembling and secure arrangements. Before you unplug the accessories, click pictures, it helps in connecting the cables after the transit.
Wrap the electronics with bubble wraps and secure the cables with twist ties. As you wrap the items, ensure the lighter ones are on the top and are secured with anti-static materials. Pack the sensitive hardware like TV, monitors with towels. Put the remote of TV, DVD, CD, or mouse of PC in a separate box and seal them, so that you don't misplace them during transit. Pack the speakers in hard cardboard boxes or use their original boxes as they are meant to protect them.
Mark the cartons with electronics as FRAGILE.
Tip #3: Furniture
The living room is the space where you place your lavish furniture like sofa, chairs, coffee tables, or upholstered pieces, and the furniture needs dismantling of the parts and empty the drawers (if any). Wrap the furniture/parts of furniture with bubble wraps to ensure the surface of the furniture is not damaged or scratched. As you pack the parts in the carton, you can secure them with cushions and pillows. Also, do not forget to collect all the screws and pack them in a zip pouch and place it safely inside the carton. Furniture are large in size and there are chances you might hurt yourself when you move them, hiring packers and movers might help in making relocation easy and simple. 
Tip #4: Rugs
Rugs do not mostly require much attention during transit. Get the rugs cleaned by professional cleaners before packing and moving them. Wrap the rugs with opaque material to ensure they are safe in case of sun exposure anyway. Alternatively, rugs can also be used to wrap and protect fragile items from breaking.
Tip #5: Fragile Items
Fragile decoratives, artworks, mirrors, and lamps, or light decorations need special care. Wrap them with bubble wrappers, or old tees or tank tops or towels, also double wrap them if required. Remove the bulbs from the lamp.
Place the well-wrapped items in the cartons and fill the empty space with papers and packing peanuts to ensure they are safe inside. You can also read about how to pack your books properly for shifting here.
Now that you have ticked off all the list of to-do's for your living room, let's move on to the super special yet most hectic part of packing, i.e., the BEDROOM.
Let's start with the most filled and huge part of the bedroom, i.e., the WARDROBE.
Tip #1: Wardrobe 
The first and foremost thing is to ensure that your clothes are clean and well-arranged in the wardrobe. There is absolutely no need of removing clothes from the dresser. The wardrobe can be shifted as it is, it helps in reducing extra stress of unpacking the clothes after shifting. 
Remove the drawers and secure them with paper and tapes to make sure the clothes are safe and clean. The clothes that are hanging around in the wardrobe can be kept in a laundry bag and you can arrange them as you reach and unpack your things. 
Tip #2: Accessories
It is always advised to pack your pieces of jewellery and keep them with yourself while moving as they are expensive and there are chances of misplacing the small ornaments or losing them or being stolen.
Other accessories like shoes, hats, or other valuable pieces like watches, etc., can be bubble wrapped and secured in the cartons. While you pack the hat, stuff the crown with tissues or paper or tees so that they do not get crushed during the move.
Tip #3: Photo frames / Fragile Items
Your bedroom walls are mostly adorned by the lovely and special moments that you have spent with your family or loved ones, to secure them and move them safely is one of the major concerns. Pack the fragile photo frames with bubble wraps, tees, or tissue papers and put them safely in cartons using the packing peanuts and mark the cartons as FRAGILE.
(Note: Ensure you always keep the light items on the top.)
Tip #4: Bed and Bedding 
Pack all the bedsheets, linens, blankets, and bedding materials you might not need before shifting. Put all of them inside a suitcase so that they do not get misplaced or dirty during the move. If there is time do give the bedsheets and pillow covers a wash before packing them. In the case of mattresses, pack them to protect them from getting dirty. 
The kitchen is one of the tiniest places in the home but packing the kitchen during home shifting and can drive you crazy. However, here are some pro-tips that might help you buck-up during the move!
Tip #1: Declutter, organize and sort 
Plan out your meals for a day or two and start packing the rest of the items you might not need urgently until you settle at your new place. Sort out the pots and pans you will move to your new home, buy cartons accordingly that would fit the utensils. 
Tip #2: Prepare your kitchen before shifting
Your kitchen will be filled with various dry and wet edibles which would need attention when you pack. Ensure you pack the dry items in poly bags, tighten it with rubber bands or zip locks. It is always better if you finish off the wet edibles before shifting, in case they are left make sure they are securely packed in air-tight containers that avoid the risk of leakage.
Tip #3: Kitchen Electronics
Defrost your refrigerator at least 48 hrs before shifting. Remove all the edibles, pack them separately or throw which you won't be using further. Clean your micro-oven, OTG, and mixer grinder and pack safely in the original cartons as they are always safe for electronics.
Tip #4: Pack glassware in separate boxes 
Undoubtedly your wine glasses and beer mugs would be dear to you, so would be the amazing glass culinary that you got to add to your collection. Now that you are shifting, securing these things will freak you out, ensure you pack them separately in another box with separators so that they don't collide and break. You can use your old tees and towels to secure them from breaking due to movement. Do not forget to mark "FRAGILE", "THIS SIDE UP" on the cartons. Convey the same to the packers and movers. You can quickly and easily hire top packers and movers by simply submitting your shifting requirements.
Tip #5: Make bundles of silverware
Silverwares are hard and there are chances they can hit and break the delicate goods of the kitchen. Bind the spoons, forks, spatulas, etc. into bundles and pack them in a small box or wrap them with an old towel and place them at the bottom of the box. 
Note: Do not forget to add a double layer of bubble wrappers in between the utensils and delicate kitchen items. 
Your bathroom consists of plenty of things that perfectly fit in your bathroom. Once you start to pack them you realize the huge number of items you have in that tiny room. 
Follow these tips that can help you out in sorting and packing your bathroom:
Tip #1: Make a list of "To-Keep"
As you know, more items can increase the expenses of house shifting as you have to invest in cartons, tapes and also for transportation. So, it's a good idea to make a list of things you can let go and things you want to shift. 
Tip #2: Toiletries and liquids
Bathroom liquids like body showers, shampoos, lotions, etc. have a high chance of leakage and spilling over that might spoil other materials. Ensure you wrap the openings of the toiletries with tapes and put them inside a clean grocery or garbage bag to keep them safe. For toiletries, also make sure they are packed separately and with double covers in order to avoid any chance of getting wet during the move. Add proper fillings in the boxes like packing peanuts, bubble wraps in between the layers and anti-static wrappers inside the carton. 
Tip #3: Pack bathroom electronics separately in a carton
Electronics like electric razors, hairdryers, clippers, etc. should be packed separately and also make sure the wires/cables are attached or sorted with twist wires to avoid damages.
Tip #4: Tubed and make-up products 
Tubed products like toothpaste, hair gel, etc. are denser, so the chances of spilling out are very less. You can pack the make-up products and tubed products in a plastic bag and place them in a small carton separately. You can also place the bathroom floor mats at the bottom of the carton.
---
Woah! We hope you are sorted with your packing! 
You can read some more packing and moving tips here and ace your home shifting like a pro!