DIY Households Packing Tips: The Right Way to Pack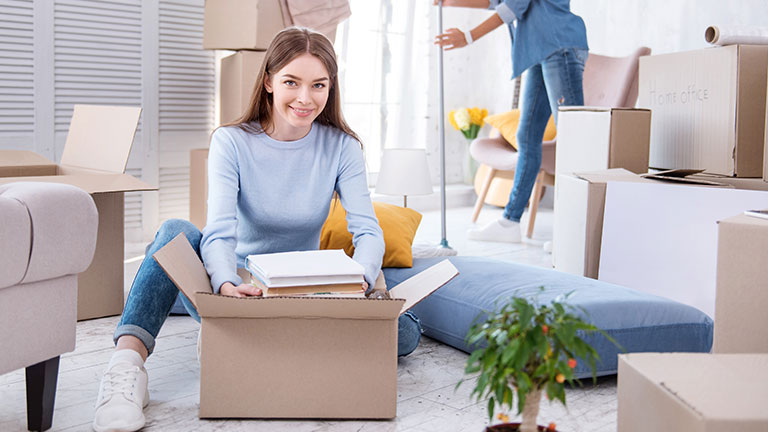 Packing your household belongings alone is one of the greatest tasks in the complete relocation process. A good quality packing involves proper packing, a neat cushioning and safety for your precious valuables. Do not worry about any damage that generally occurs while you are moving your items. But, you should plan your shifting, a month or at least three weeks before your moving day.
There can be some risks in not hiring packers and movers but, you can perform your own packing job without any doubt by following the below-given ideas.
Plan and make a note on things you want to pack:
First, plan regarding what households you want to pack and move, to make your packing job easy.
Make a list of large and small items separately in a sheet of paper to plan about buying packing boxes for packing.
Look around your house to check out for a number of cartons or packing boxes you already have and what other materials would be needed to pack.
Plan on the moving truck you would require for your move, based on the goods you have and pack.
It is also necessary to check for an electrician or a carpenter to detach any furniture, light, antennae, air conditioner or any other electronic device.
If possible, make a list of your delicate and valuable goods that require special packing.
Collect all your packing requirements for packing:
Try to gather all your packing supplies from your home and buy those materials which you don't have at home.
Buy standard quality packing materials and strong packing cartons or boxes of varied sizes to pack your goods perfectly, without causing any damage or trouble while moving.
Make sure you have all these packing supplies such as wrapping sheets, newspapers, bubble wraps, padding materials, heavy-duty packing tapes, markers, labeling stickers, scissors, etc.
Do not get compromised on the quality of packing materials as low-quality boxes and tapes could cause damage to your items spoiling your moving experience.
Want to hire packers and movers in India?
Save money on wrapping and packing your items:
By performing DIY packing, you can save some costs during your packing task by arranging the packing boxes or cartons yourself.
If not, you have to pay the whole packing charges for your goods to the moving company.
Sometimes, you can also save your money by arranging the cartons or boxes from your nearby grocery stores at low prices.
Even, you can save money by using your old clothes for padding and cushioning of your items, instead of buying bubble wraps or packing peanuts.
Collect some old clothes for padding:
Instead of getting handfuls of packing peanuts and more feet of bubble wraps, gather some of your used clothes and bedsheets to provide padding to your households inside the boxes.
Cover your glassware and fragile items with socks and place them inside the box along with your towels to provide cushioning for your items.
Also, you can use your jackets or bedsheets to provide cushioning for all your delicate goods.
How to get your things packed:
Packing your household belongings on your own can take more time and work, so that make a pre-plan to pack your items without any mental pressure.
It is good to pack your things as early as possible to do your packing according to the rooms and things you have at your house.
Goods that are not much important or you don't require them for your daily living should be packed first.
Take pictures using your camera, before disassembling some of your furniture, electronics, kitchen appliances, etc., to re-assemble perfectly or to refer later without any doubt.
Some moving companies will not disassemble your large appliances to protect themselves from causing damage to your products.
It is better to disassemble your appliances yourself such as refrigerator, dishwasher, aqua guard, antennas, computer, etc. before the movers arrive at your home for loading.
Moving companies will not move living animals such as pets. But, they will move your plants, and they will not take any responsibility for their safety.
If you want to move your plants, place them safely in a box and pack them properly for the move.
Movers will not allow you to move hazardous materials like motor fuels, oils, explosives, flammables, bottled gas, ammunition, firearms, varnishes, paints, thinners, solvents, etc.
Forget not, to remove the petrol from your two-wheeler/car or from any other machinery that you are moving, as they can cause a major problem even during any small accident.
If possible, prepare an overall list of your packed goods in the boxes and place them all in a room which is near to your front door, so that the movers can perform your loading task easier and more efficient.
Pack your small things:
Keep in mind that it's comfortable to handle a few numbers of packages than many.
Try to pack a minimum number of boxes, doing it systematically by wrapping smaller things inside the larger ones.
Then, wrap the larger ones and place them inside the boxes to save more space within the boxes.
Be alert about not to overpack any carton box, because it could not bear the weight, and your things would get damaged by dropping down.
Delicate things should be wrapped properly using packing paper, bubble wrap or tissue paper if required.
Using old newspapers should be a good choice to wrap your fragile items, as it acts as a cushioning for your belongings.
Start packing your goods that is lying down for a very longer period, or you don't want to use them anymore.
Items you will be using should be packed at the end of your packing task.
Smaller kitchen and home appliances should be packed with their original boxes, if available or wrap and pack them neatly in suitable boxes, labeling them as fragile.
Pack your large items:
Packing your heavier items such as your refrigerator or a dining table could be the most challenging job for you.
Wrap them by using bubble wraps, carton sheets, and very strong tape.
If there are detachable parts in your furniture such as glass top showcases or center tables, pack the glass separately and keep the bolts and nuts along inside the packings safely.
Washing machines have to be packed intelligently by putting some clothes inside it to balance the weight so that the drum of the washing machine will not move during your moving.
When you are shifting a wardrobe, ensure to empty it fully.
Leave your small things within the drawer itself and do not forget to seal the drawer using packing tape.
Pack your clothes, curtains, and bedsheets:
Pack and stack your folded clothes in the strong cartons and do not forget to check the weight of the box while stacking.
Sofa covers and curtains can also be packed inside the carton boxes but, don't over pack the boxes.
Fold your carpets and beds with a rope and tie them safely.
Using cartons and plastic sheets wrap your mattresses and tape properly.
These things can be used to offer to cushion on the truck during your moving task.
Pack an essentials box or a bag without fail:
Until the date of your move and for few days after you have moved, you would require some necessities such as soaps, toothbrushes, toothpaste, disposal razors, towels, toilet papers, night wears, changing clothes, etc.
Pack these essentials in a separate box called 'essentials box' or 'open first box' and place them far away from your packing goods.
It's better to place this essentials bag in your car, as you can carry with you while you travel.
Also, you can add some kitchen utilities like pans, pots, cups, plates, stirring utensils, forks, bottle openers, plastic papers, washing sponge, lighter, etc.,
Complete your packing work
Keep the stacked boxes in a room after you have finished packing all your small, large and other items.
Pack your important documents, Jewells, valuables, etc., separately in a bag and keep it inside your suitcase, as movers won't take any responsibility for your valuables.
Pack your grounded adapters and extension cords in a specific box, as it would be easier for you to get it later.
Then, label the extension cord box and the hardware box using bright colored tapes or use labels like red and yellow.
Number your boxes according to the order of items you have packed and keep track of them.
Check all the packed boxes are labeled and colored based on the size of your belongings.
Then, go to each room and ensure that all your items have been packed and nothing has been left behind.
Finally, make sure that all the rooms are cleaned and it's your time to move without any trouble.
Even though this packing process involves more time and work, there is a certain limit for anyone to get irritated soon. Patience is very important, as packing is a very hard job to pack every item you want to relocate safely. It will be more easy when you find it how to perform the job, and you have all the needed packing supplies.
Are you planning for relocation soon? Get a Free Quote Instantly from our Top 3 Packers and Movers matching your needs & nearest to you.