How To Pack & Move Your Precious Books – Do's & Don'ts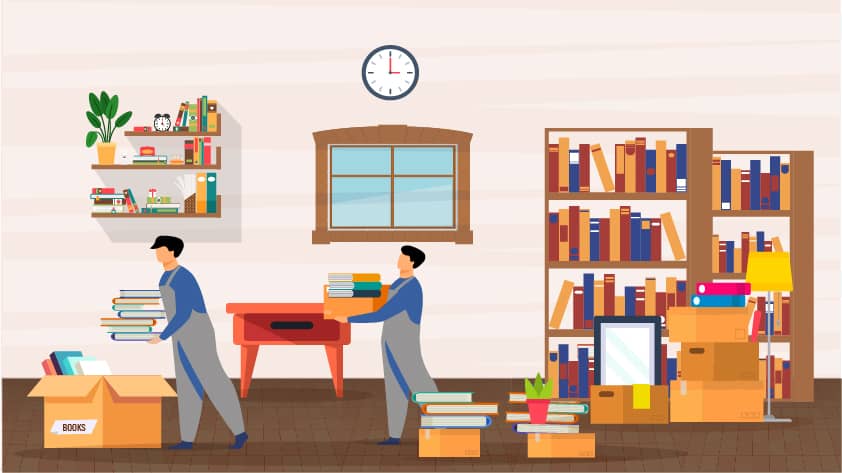 When we consider pre-move preparation, sorting through your belongings & packing them makes it to the top of the task list that needs to be done on priority. While this initially sounds simple, it may end up being a time-consuming affair, and slightly tiring as well.
When moving to a new home, secure packaging of your belongings ensures safety during loading, unloading, and transit. There are many delicate items like electronics, appliances, kitchen crockery, and many more which invariably need to be packed with great care. However, most of the time, regular items like books are overlooked because they seem easier to pack and less vulnerable to damage.
But books are fragile, and precautions need to be taken care of while packing and moving them to ensure zero damages during relocation. Moreover, shifting your book collection could also lead to personal injuries if you don't lift the packed boxes properly. So, make sure you're fully prepared in all aspects before packing and moving them. To help you get started, let's take a look at the important do's and don'ts for moving your books.
---
DO's
Do Sort Books into 'Wanted' & 'Unwanted' Piles
Make sure you sort through all your books & take the ones you plan to read, or which mean a lot to you. Let go of the books that you have finished reading or the one's you are not attached with.
Gift the books you plan to leave behind to a friend or donate them to a charity like schools, local libraries, and nursing homes. Similarly, recycle any old/tattered books if they are worn out, damaged, or illegible. Sorting will not only reduce your load but also help others get a chance to read.
Do Use Quality Packing Supplies
Place a sheet of clean packaging cover on the bottom of the boxes to safeguard against the cover of the books and save them from any sort of damages. Similarly, when you pack valuable books, wrap them in soft packing paper before putting them into the boxes. Use good quality packaging tape for sealing the boxes.
Do Use Small Cartons for Packing
Books should ideally be packaged in smaller sized cardboard boxes in which many books can be stored safely without making the box too heavy. Invest in fresh cardboard boxes that have dimensions of at least 12" X 12" X 12" to ensure that the package is easy to carry and does not wither under its weight.
Do Pack Books in the Right Way
Stack your books flat along the sides of the boxes to ensure their safety and damage-free shifting. Also, remember to place heavier books first, followed by lighter ones for easy lifting and moving.
It is also preferable to separate columns of books using packaging paper to prevent pages of books from rubbing against each other and getting damaged. All empty spaces should be filled up with crumpled packing paper or bubble wrap to prevent books from moving while in transition.
Do Label your Packed Boxes
Remember to label your packed books using a marker, preferably black to ensure that finding them poses no difficulties while unpacking at your new residence. If you keep different books in the living room, office, bedroom, or at the coffee table, make sure to label your cartons accordingly so that you don't spend much time later.
Do this for Moving Heavy or Old Books
Books that have a high sentimental value should be carried with you in your vehicle rather than sending them with the movers. Wrap them in packaging paper & polyethylene bag and place them with your luggage. For packing extremely heavy books, use large travel suitcases, preferably those that have wheels so that you would not be required to physically lift the suitcases.
---
DONT's
Don't Use Old Cardboard Boxes
Avoid using second-hand cardboard boxes for packing your books which will be difficult to clean and possibly spoil your books while moving them as well. Prefer to recycle second-hand or packaged food cartons rather than reuse them. Use only clean and damage-free cardboard boxes to pack books and it it always smart to label the boxes as not to get confused
Don't Pack Books with Spine Facing Up
More often than not, books are packed upright, or spines down within the boxes, leading to damages to the pages or binding. Spines are tougher than other edges of the books and are better placed to take the weight of the books when in transition. Ensure that books are not packed with their spine facing up to safeguard the books.
Don't Arrange Books Too Tightly Against One Another
This is a potent safeguard against damaging adjacent books when you extract them at your new residence. Similarly, avoid packing your books at odd angles.
Don't Make the Boxes Too Heavy
Books can easily add up in weight when stored in a tight place for shifting. Make sure the net weight of the boxes used to carry books is not over 8-9 kg (20 pounds). Make sure you carry one box at a time, when loading or unloading them to safeguard yourself from back sprains and boxes falling.
---
In the End
Packaging books for safe transit shouldn't be too difficult unless you are relocating a mini library (read, a huge collection of books).
In this case, it would be best to take the services of an experienced moving company who is capable of packing and moving not only your complete household items but also book collection of any size. They use the best quality packaging material and robust carton boxes to ensure the complete safety of your books. Additionally, they also offer insurance cover so that you need not be stressed about the security of your books until they are finally delivered to your new home. So, hire the best relocation services and sit back and relax!
Spend some time with your books and decide which ones you want to take & which to leave behind. Also, plan for how you would like to display your book collection at the new place.
Happy Moving & Reading!!