How to Pack Jewelry for a Move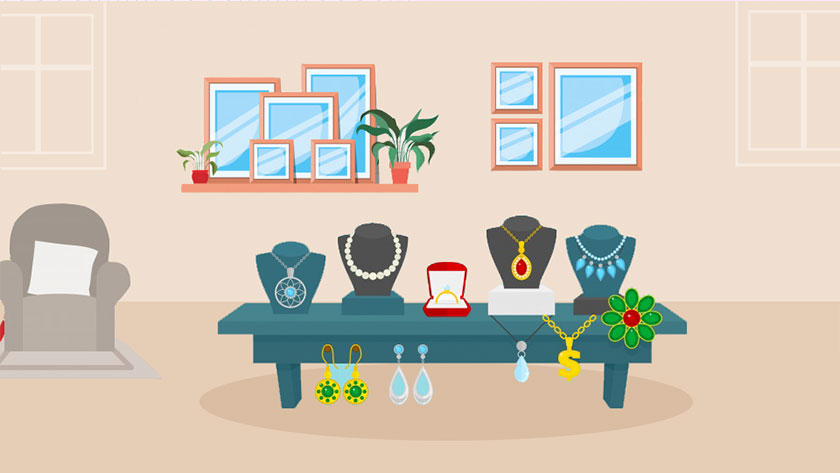 Packing jewelry is one of the most overlooked and forgotten aspects of moving since there are many things to handle and take care of, like finding a reliable relocation expert, planning when and how to complete all the pre-move tasks, and so on.
However, you cannot ignore the importance of packing your jewelry pieces properly simply because you are held up with other things. You should spend a few minutes of your time to pack (or learn how to pack) all your ornaments and move them safely considering the sentimental value you hold for the jewelry.
If you have no idea what is the best way to pack jewelry, we have presented the complete guide on how you can pack and move different pieces of jewelry, and what types of packing material you can use to pack and move them.
Of course, if you already have a jewelry box which houses all your precious ornaments, then the task of packing the jewelry becomes very simplified as explained below.
How to pack jewelry in your jewelry box
The jewelry box has separate compartments for each piece and built in a way to safeguard every piece of jewelry. The box is lined on the inside with thick and soft cloth material, while it is covered from the outside with sturdy material made of metal or wood.
The packing process is pretty basic:
Wrap each ornament with plastic wrap or soft packing paper for extra protection.
Place all the pieces of jewelry in the box and arrange them neatly in their respective compartments.
Once all jewelry pieces are appropriately set, fill the empty spaces with cotton or bubble wrap so that the ornaments are immovable during transit.
Finally, properly close the box and wrap it in a few layers of packing paper or plastic wrap until it is completely cushioned from any harm.
---
What to do before you pack jewelry?
Sort through and group jewelry
Put down a large piece of paper or cloth on the bed, table, or preferably the floor, and spread out all the jewelry. Arrange the ornaments by type in separate groups, i.e. necklaces in one group, earrings in a different group, bracelets together, and rings in another group. Also, remember to separate the costume jewelry from the valuable ornaments.
Take inventory of jewelry
Make a list of all the pieces of jewelry and take photos so that you have a proper record of them. Whether you are moving costume jewelry or valuable jewelry, it's essential to keep track of all the pieces so that you don't lose or damage them. Taking inventory also helps while unpacking them at the new home, where you can directly cross-check the list to your current jewelry items.
Keep packing material ready
Packing material is absolutely essential while packing the jewelry for a move since they get easily tangled when you put all of them together in a single box.
Here are the packing materials you need to keep prepared before packing the jewelry; some of them may seem unusual, but that's okay since creativity during the move makes it fun and exciting.
Packing paper
Bubble wrap
Plastic wrap
Ziploc bags
Card boards
Drinking straws
Tissue paper rolls
Egg cartons
Sunglass cases
Rubber bands
Packing tape
---
How to pack different pieces of jewelry
Throwing all your ornaments into a single box is not the right way to move any of the jewelry pieces. The necklaces will get tangled with each other and may end up breaking as a result of the entanglement; the back-piece of the earrings may get lost or hooked on to other pieces of jewelry; the gemstones on rings may fall off or get scratched, and so on.
To avoid damaging your precious and expensive jewelry, learn the best ways to pack different pieces of ornaments:
Necklaces & Bracelets
One of the main problems faced while moving chains is that they get tangled easily and may end up breaking or getting damaged; the case is the same with bracelets. Because of this, it is important to pack the fragile necklaces and bracelets in such a way that they do not get intertwined.
Here's how you can pack the necklaces properly:
Drinking straws: Open the clasp of the chain or bracelet, slip it through the straw, and close the hooks. If the chain is small, you can cut the straw according to the chain's length and then slide it in. Using straws is a fail-safe method to pack and move thin necklaces or elegantly designed bracelets – they don't get twisted.
Tissue Paper Rolls: The method to be followed is exactly as you did with the straws, i.e. open the clasp, slide the jewelry through the roll, and close the clasp shut. Larger or thicker necklaces with pendants and big bracelets which can't fit into straws can be packed using tissue paper rolls.
Plastic wrap: Now that the chains are in place, you should wrap each straw or roll with soft paper, like a transparent plastic wrap which provides cushioning to the jewelry and protects the chains during a fall. Remember to avoid using newspaper since it may lead to ink stains on the jewelry or they may even get ruined due to less cushioning.
Bubble wrap: As a final protective layer of cushioning, wrap the packed jewelry rolls with bubble wrap, especially if your necklaces and bracelets are expensive and delicate.
Rubber bands: Secure the bubble-wrapped jewelry items with strong rubber bands, so the packing doesn't open up and expose the jewelry to harm during transport.
Ziploc bags: Finally, place the fully packed jewelry items into Ziploc bags to properly seal them from moisture.
Cardboard boxes: You can place the bundled Ziploc bags into cardboard boxes of a suitable size so that all packed jewelry items can be put together in a single place.
Earrings
Moving earrings is exceptionally challenging since they are the smallest and most fragile pieces of jewelry. You need to pay special attention when moving studs having stones, long earrings, and earrings with back-pieces which may get lost easily.
Make sure your earrings don't get entwined or hooked together, by packing them in the following ways:
Method 1: Cardboard cut-outs
This method is best suited for packing long earrings with hooks; it can even be used for packing the stud earrings as well.
Cardboard cut-outs: You will have to cut the cardboard pieces to the size of business cards, or you can simply use business cards directly if you have any lying around at home. Each cut-out or business card will be used for one pair of earrings.
Make holes: Use a safety pin or needle to poke a set of holes into the cut-outs or business cards, one for each earring to fit into. Slide the earrings into the holes and fix them there – if they are studs, put the back-piece from behind the card.
Plastic wrap or packing paper: Secure each card by wrapping them in plastic wrap to keep the earrings in place.
Bubble wrap: Add another layer of protection by wrapping each card in bubble wrap, especially if the earrings are incredibly delicate or expensive.
Packing tape or rubber bands: Secure the bubble wrap with strong packing tape or rubber bands to prevent it from getting opened during transit.
Ziploc bags: Place the wrapped cards into Ziploc bags to seal them from the moisture and for doubly-guaranteed safety during transportation.
Cardboard boxes: Keep these Ziploc bags into the cardboard box in which you put the securely packed necklaces and bracelets.
Method 2: Sunglass cases
The hard case in which sunglasses come is ideal for moving small, fragile items like earrings.
Plastic wrap or packing paper: Wrap each pair of earrings in soft packing paper or plastic wrap so that you have all the sets ready to be packed.
Sunglass case: Place the packed sets of earrings in the sunglass case; if a single case is not enough, you can make use of another one or find a similar box.
Plastic and Bubble wrap: Protect the entire case by wrapping it with plastic wrap first and then an additional layer of bubble wrap.
Cardboard box: Transfer the packed earring boxes into the cardboard box in which the rest of the packed jewelry is placed.
Note: Use the sunglass case to pack your earrings only if you have a spare one; make sure you do not risk any damage to the sunglasses to pack the earrings. There is more than one way to pack the small ornaments but not many to keep the sunglasses safe from damage.
Rings
When it comes to moving rings, you should be especially careful with the gemstone rings since the stones can get easily damaged or broken during the transport.
Follow the below-mentioned steps to pack rings safely:
Packing paper or Plastic wrap: Cover each ring with soft packing paper or plastic wrap.
Bubble wrap: Gemstone rings get damaged very easily, so it's vital to secure them in bubble wrap.
Egg carton: Take an empty egg carton, and place each of the wrapped rings in each cup; fill up the remaining empty spaces above and around the rings with cotton or paper. You can also safely place many small rings in the same cup since they are already packed securely with packing paper.
Plastic wrap: Use a stretch wrap or plastic wrap to envelop the entire egg carton once all the rings are placed inside correctly to keep them in place.
Cardboard box: Finally, place the packed egg carton in the same box in which you put the rest of your jewelry.
Note: You can also use a sunglass case to pack rings in, just as you did with the earrings (if you have a spare).
---
Keep jewelry with you while moving
Most relocation companies will not agree to move jewelry, but even if they did – It's not a wise decision to let them move it, no matter how trustworthy they are or how many star ratings they have.
Some of the jewelry, like family heirlooms, maybe much more valuable than their monetary value, and are practically irreplaceable and have a lot of sentimental value associated with them. Therefore, it's better to pack all your jewelry by yourself and store them away from the regular household items which will be shifted by the packers and movers.
You can keep them in a separate room of the house or your bag before the movers arrive on the moving day. Or, you could directly keep the packed jewelry boxes inside your vehicle along with the other things which you plan to take with you in your vehicle. This way, you can make sure that your jewelry kit is not moved (even mistakenly) with the relocation companies and it will be completely safe with you.