A Bachelor's Guide to Settle in a New City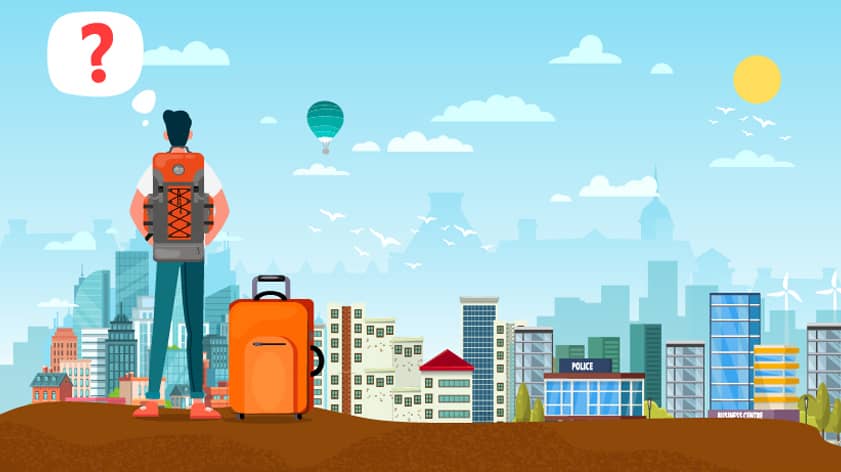 The corporate culture in present-day life sometimes calls for relocation from one city to another and opens up new horizons for career success. Living in a new and alien city can be a bit of a risk, but with the right approach, it can become the reason for your growth, personally, professionally, as well as spiritually.
But, planning the entire move and ensuring it goes according to the plan can be a daunting task, especially when you have to do it alone! However, it doesn't have to be that scary as all you need to do is simply become more organized, make the necessary preparations, and enjoy the thrill of going on this adventure all by yourself.
Let's take a look at a few of the top ways to ensure the transit to a new city becomes a smooth and hassle-free experience.
Before the Move
Research About the City
The first step to being sure about any decision you take is to do thorough research. And, when it comes to shifting base to a new place, it's important to learn about and know your way around the city.
Whether you're moving in pursuit of a new job or for further studies, you should be able to figure out which is the best place to live, commute times, best mode of transport to go from point A to B without too much hassle, and so on.
When looking for a home to rent, make sure to find out about the neighborhood's safety and location from your work/college.
Pack Light! (and Take Inventory)
Packing and moving to a new place can be stressful as it is. One of the easiest and sure-shot ways to experience simplified moving, and also save some money in the process, is to carry only what you absolutely need! There's no use in lugging every single piece of household belongings all the way to your new place just to put them away in a corner until you have to move again.
So, sort through your complete home goods and get rid of the items which you haven't used in a long time and may not use any time in the near future. Also, make a plan for your furniture – sell it for extra cash or lend it to a friend/relative if your move is temporary.
Once you finalize the items you will be taking with you, make a list of all belongings and go about it room by room. This way, you need not be stressed and confused about the items you carried and it becomes easy to get more accurate moving charges.
Keep Your Essentials Easily Accessible
It is a good idea to pack essential items separately, in case you arrive at the new city before your boxes do or if you decide not to unpack as soon as your boxes are delivered.
Pack an overnight survival kit with basic necessities such as extra pair of clothes, hand sanitizer, first aid box, toothpaste, toothbrush, soap, shampoo, and other toiletries, laptops, other electronics, and their respective chargers. You can pack these items in a regular shoulder bag to carry them easily with yourself or you may use a well-marked smaller box for packaging these items.
Hire Packers and Movers
Packing and moving is complex work and it may be difficult to finalize where to start; the job is definitely tough to accomplish by yourself. On the other hand, professional packers and movers can pack your belongings in a way that they stay safe during transit and deliver prime services at your new residence. All you need to do is, look for a good and trustworthy moving company and get an estimate of how much their relocation services will cost, including packing and transit.
Transfer Your Utilities & Clear Dues
Contact your respective utility service providers and get the connections transferred or disconnected and reconnected on a date specified by you. Make the call at least 1 week before your moving date to utility departments like Water, Electricity, LPG gas, TV/DTH, Milk vendor, Newspaper, Garbage collector, and so on.
Also, make sure to clear any dues you may have left pending before moving out to avoid unnecessary bills and penalties later on.
Note: for transferring the LPG gas connection from one agency to the other in a different city, essential documents will be required for the same, i.e., ID proof, address proof, gas book, gas regulator and gas connection voucher.
Get Your Vehicle Registered
Different cities may have different rules for vehicle registration, so do some research beforehand to avoid any problems after moving. If you're planning to take your car/bike along with you, check if your new city requires you to have an No Objection Certificate (NOC) to be able to use it there. If yes, get it registered in the city you are shifting to.
After Moving In
Get Your Apartment Cleaned
This will make the stay more comfortable. You could go ahead with the clean-up by yourself. If this seems overwhelming, you could hire someone to do it for you.
Ideally, you could request your new landlord to have your residence cleaned or you can deep clean the home by yourself before you move in. If you have seen the new residence before shifting, shift only to a residence that is clean and presentable. Moreover, if pest control services are called for, go for them.
Check Working of Major Appliances
Check the functionality of all installed appliances, if any are available at your new residence, including TV, fridge, and washing machine. In case of any discrepancies, inform the landlord or get them repaired.
Unpack & Set Up Your Home
The easiest way to unpack quickly is to do it room by room; so, make sure you unpack each box in the room it belongs to and set it up completely before moving on to the next. Properly labeled boxes will prove to be handy at this stage.
It is preferable to first set up the kitchen, followed by the bedrooms, and then the remainder of the house. In case you arrive late in the evening at your new residence, the essentials bag should be handy for use, which will include toiletries, medications, digital devices, and some basic items for cooking, like a toaster and a coffee machine.
Decorate your new home with pictures, showpieces, and lighting arrangements, you'd get a knack for living in the new place.
Make Yourself Comfortable!
Maintain Your Old Routine!
To ensure you don't feel completely out of place in a strange new place, try to keep doing the same things you did at your old home. Maintain your daily routine or establish one so you have something to look forward to until you familiarize yourself with the place. Whether it is the time you wake up, exercise, have breakfast, and so on, following a fixed routine will help add predictability and comfort to your life.
Be a Social Bee!
Socializing is going to bring simplicity to the move-in process.
When you're a bachelor moving into a new city, being social is going to make your life more comfortable and interesting. Whenever in a new neighborhood, start meeting people, usually starting with your neighbors, and get to know the people living around you. Over time, you may just become friends, although some may simply stay acquaintances. Eventually, you will come to feel that you are becoming much comfier and things are turning out to be just fine.
Get to Know Your New City!
Moving to a new city is always a stressful experience for a bachelor. To simplify the situation, perceive the experience as a new adventure. Be prepared to step out of your comfort zone and try out new things, so that you get to know more people and try out new places. Make it a point to show up at all events and places and ensure your stay in the new city is exciting with something to look forward to every day.
Explore your new place well, and you will come to see that you adore your new living environment. This will make you better prepared if you intend to stay over at the site for a long haul.
---
If you're not the type to make plans or set goals for what to do when you go to a new place, it's time to try it out. It's easily one of the best ways you can make yourself excited and less stressed about shifting to a strange new place. So, make a list of things you want to do in the new city, things you want to buy, foods you want to try, places to visit, and so on.
While there are no shortcuts to ensure secure moving, there are many simple things you can do to make the process much easier and simple. Keep these simple tips and tricks in mind when you are planning to move next, and you'll be good to go!
Happy Exploring!