Truck Rental vs. Hiring Professional Movers: What To Choose?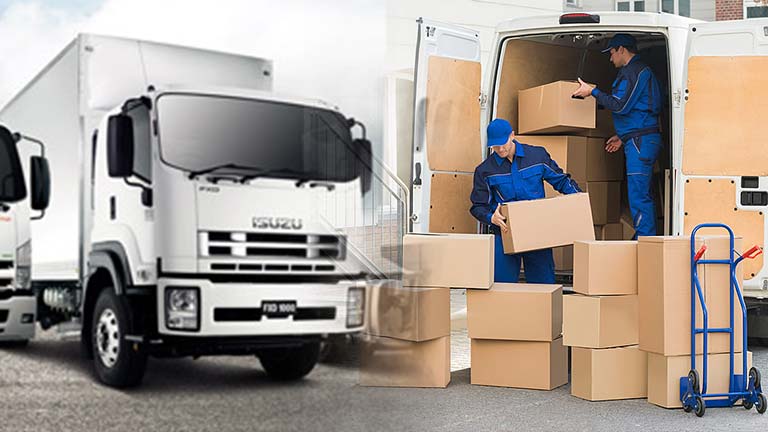 The two most common choices faced by people when getting ready to move are: "Should I pack and move by myself? Or, should I hire a professional moving company?"
These questions can put you in a dilemma and waste precious hours at a crucial time when you're supposed to be preparing for your upcoming move.
That's why we've presented a complete comparison of what to expect, the advantages and disadvantages, and the associated costs of both the options, i.e. doing it yourself by just hiring a truck vs. hiring professionals who can take care of your entire move.

Hiring a Truck
What to expect?
If you decide to hire a truck for moving your household goods, you should be prepared to take on the entire burden of relocation. The truck service will only allow you to rent the transport vehicle for the duration of your move but will not provide any other additional services for loading, unloading, and so on.
You'll have to do everything from properly packing goods at origin to loading them into the truck to unloading and unpacking them in your new house. In case you have large furniture or appliances which can't fit through the doors properly, you'll have to spend extra on hiring professionals who perform disassembly and assembly. Moreover, if you can't manage lifting and moving the heavy and bulky goods, you will have to hire men who are capable of loading and unloading your items carefully.
Along with managing all these tasks alone, you'll have to make proper transport arrangements to move your goods and look for a dependable truck booking service.
What is the process of hiring truck?
To hire a truck, you have to first look for a good transport company or truck booking service near you. You can find dependable truck services either through your acquaintances or through the Google Search Engine. The method of hiring, services offered, and charges may differ from one company to another, so find out these details including what kinds of facilities are provided by each company.
You should have an idea about the required truck size for transporting your goods, or you could tell them all the items you have to move so that they'll be able to suggest a suitable truck. Further, you have to give them the time and duration during which you want to hire the truck. Some truck service companies will calculate charges based on the Kms, so you will have to also tell them the distance from your origin to destination.
Based on the information you give them, the transport booking services will provide you with estimated truck rental charges. If you contacted more than one transport company, get the quotes from each of them and compare carefully before hiring the one who fulfills your budget.
Also, make sure you read reviews about any truck service you come across before hiring a particular one so that you have a better idea about how trustworthy the transporter will be.
Pros and Cons of renting a truck
Packing and moving by just hiring a truck will give you complete control over your move, including how you want to pack your goods and how much time you want to spend.
You can also get a bunch of your friends or relatives to help you out in packing, lifting and moving all your goods in and out of the house, which may help speed up the process and also make it a lot more enjoyable.
Also, you get to follow a comfortable timeline without taking much stress or be in a hurry to finish everything. However, you may get carried away and end up spending a lot more time to complete your relocation.
Moreover, you would have to do much planning and execute everything by yourself including finding a reliable transport option to move your goods. You also need to spend a lot of time and money to buy plenty of packing material; without prior experience, you may not be able to bring the right stuff or have the knowledge on the right way to pack which may lead to damages.
Although you request or invite friends/family to help you out, they may not always be available, and you'll find it extremely difficult to manage everything on moving day all alone.
While it's okay to consider packing and moving by hiring a truck when you have fewer goods or if you're moving over short distances; it's not advisable to use this option to move outside your city or over long distances since the risks involved are higher.
Pros

You can have total control over your move
You can pack however you want using sufficient packing material
You can follow a comfortable timeline
Costs less than hiring a moving company
You can get friends to help you and have a fun time together
Will be easy for local shifting when you have fewer goods

Cons

Requires a lot of planning to pack and move by yourself
Goods may get damaged due to improper packing
May take longer than expected
Overlooked costs may add up along with paying for damages
They may not always be available and can't depend on them
Not advisable to choose this option for domestic relocation
How much will it cost if you hire a truck?
At first look, it may seem like you'll save a lot of money when you do all the shifting work yourself and hire a truck to transport your goods. That's mainly because while moving yourself you may overlook many costs, either due to inexperience or being stressed.
Don't forget to consider these costs while making your decision:
Truck Rentals: The charges of renting a truck for your move will depend on the size of the truck required for your goods, the entire duration for which you need the vehicle, the distance to be traveled, and the fuel expenses for the distance to be covered, and also including the driver charges for transporting your goods from origin to destination.
Packing Material: Since you have to pack everything yourself, you will have to buy the packing material and spend separately on cardboard boxes, bubble wrap, plastic wrap, saran wrap, corrugated sheets, and so on.
Also, as you don't have an idea of the appropriate quantity of packing material required to pack your goods, there are chances that you may either buy too less and run out of wrapping paper in the middle of packing, or buy too much and waste not only packing sheets but also your money.
Hiring helpers: When you need help with all the heavy lifting, you can either ask friends for help or hire moving helpers who have prior experience in doing such tasks.
Depending on whom you ask for help on moving day, you can show your appreciation for their efforts in different ways. If your friends helped you out, you can be a good host and treat them with food and drinks; or, if you hired helpers, you'll have to pay labor charges, and also provide additional tips as a way of appreciating their hard work and job well done.
Cost of Damages: When moving everything by yourself, the chances of damaging your goods or hurting yourself are high, since you wouldn't be able to manage such heavy lifting. Moreover, the walls, door frames, or other parts of the house property may get scratched easily when you're shifting items out of or into the house.
You'll have to consider the costs of replacing broken items or repairing damaged property (especially if you're moving out of or into a rented property). Although the cost of damages may not be realized until the end of the move, it should be calculated into your total moving expense.
Insurance: You will have to take insurance on the rented truck, especially if you're moving over long distances, which is another bill to pay. However, the insurance of your goods should be managed by yourself, considering that the risk of damaging your items during the long distance move is higher.
Toll Charges: There are a few things to know before moving to a different city, that you will have to pay additional toll taxes for crossing city and state borders. Even though the amount may be small, it's still a factor that affects and may increase your shifting charges depending on where you're moving to.
---
Hiring Movers
The other option to move your goods is by hiring professional packers and movers near your locality. They simplify your move from point A to point B and take complete responsibility for all the major tasks of your relocation.
What to expect?
When you hire packers and movers, you can completely forget the stress of relocation since they will handle every single shifting job efficiently. They will:
Bring the appropriate packing material, moving supplies, and suitable transport vehicle;
Pack all your goods at the origin according to the packing quality required by you;
Disassemble any large furniture or appliances following proper guidelines;
Load the goods into the truck using the correct moving equipment;
Transport your belongings safely to your destination doorstep;
Unload the boxes with expertise and place them in their respective places;
Unpack all the things before helping you set them as required;
Re-assemble the items which were taken apart before moving;
Since everything is handled by the professionals, you can focus on the other important things you'll have to do before moving out of your home like updating your address, managing utilities, preparing your new home, and so on.
The only job you have to do by yourself after hiring a moving company is to be prepared on moving day before the movers arrive and make necessary arrangements to ensure a smooth relocation.
What is the process of hiring movers?
There are many ways to find relocation service providers:
Ask family/friends for trusted suggestions;
Search on the Google search engine or online directory websites;
Get references from a reliable reference portal like AssureShift;
If you try to find movers by yourself, you need to do thorough research and select a well-experienced and reliable moving company. Due to the presence of fake movers, identifying a trustworthy relocation service provider is difficult, hence the need for proper verification. You should double check the moving company registration documents, office setup, and customer reviews and ratings to find professional and reliable movers.
Alternatively, you can find a list of pre-verified movers on a reliable reference portal like AssureShift. We do thorough background verification of the packers and movers before making their profile available to customers. We also take regular feedback about the moving companies to understand the provided service quality and to learn about any complaints or issues faced by customers.
Share your requirements and get references of 3 best-matched packers and movers providing good services within your budget. You'll be able to save the time of researching about the moving companies and find a reliable relocation service provider within a couple of minutes.
Pros and Cons of hiring movers
When you hire packers and movers for relocation, they will take care of everything from planning your move to buying the appropriate packing material for packing your goods to moving them and unpacking your belongings at your new home.
Also, they will ensure that you don't have to do a single thing as they will take care of the complete lifting and moving of your large and bulky furniture and appliances.
However, the only disadvantage of hiring movers is that you are expected to work according to their timeline and you'll have lesser control over the whole process. But, even this disadvantage works out for the best, since following a strict schedule means your move will be completed quickly and you'll get more time to unpack your things and settle down.
By hiring a relocation company, the entire shifting process will be divided among you and the movers, making it easier for you to concentrate on critical pre-move tasks while the movers handle the problematic tasks of your relocation. That way, you'll be less stressed and have a smooth moving experience.
How much will it cost if you hire professional moving companies?
The cost of hiring professional packers and movers will seem extremely expensive at first. However, when you look into the total amount of money you'll be spending, you'll realize that most of the expenses will be calculated together and it's the safest option to move your goods.
The cost of packing material, transport vehicle, labor charges, and service charges for any additional services requested will be calculated in the overall packers and movers charges. Also, the toll charges and the cost of insurance taken on your goods will also be included in your rate list, if you're booking moving companies to shift outside your city.
As explained above, the costs included in the packers and movers charges are:
Packing material cost
Transportation charges
Labor charges
Additional service charges
Toll charges
Now that you've read and understood the details and differences of hiring a truck and hiring movers, and you've seen how your expenses will vary in both options, what you should choose is completely up to you.
Hiring a truck will give you more freedom concerning the way you want to pack, follow a comfortable timeline to complete the move, and get friends to help you out and make your move a fun experience. However, you may take longer to complete all the work; you may get stressed if you're not able to find a truck, if you can't get people to help you out, or if your goods end up getting damaged while moving them. Also, there are many costs associated with moving yourself which you may not see up front, but you may end up spending later on. The entire DIY move may just end up costing you a lot more than you can afford.
Hiring professional packers and movers to complete the job may seem expensive at first, but when you consider the extent of safety measures they take and the quality of services provided, it will be definitely worth your money. You may not get the same level of freedom with movers as you do when you're moving yourself, but they'll make sure your relocation is completed in the least amount of time and expenses.
In closing, you can choose to hire a truck and do it yourself if you have very few goods or if you're moving short distance, since the risk of damaging goods is not that high and a small move is do-able all by yourself. However, if you're moving outside your city or you have many sophisticated items or huge number of goods, hiring moving companies is the best option for you, since the risk associated with moving over long distance is much higher and you can't trust an unknown truck driver to safely deliver your goods.
If you've planned to hire packers and movers, don't delay any further. Contact AssureShift and share your requirements, and get references of 3 best-matched relocation service providers along with their quotes. Compare the various rate lists obtained and hire a reliable moving company which fulfills your shifting requirements and provides good services within your budget.
Make a wise choice.