Moving Day Checklist: What To Do On The Shifting Day?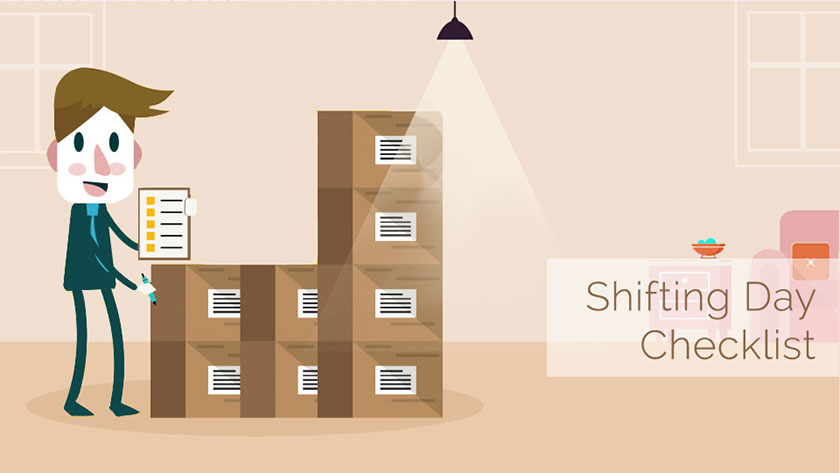 Whoa! Moving day is almost here; just a few more days to go!
So, are you excited about moving into your new place or worried about how to manage everything on the day of the relocation? Don't worry; we have laid out a detailed plan to show you what all you can do to speed up the process and make things easier on yourself.
First of all, congratulations! All the hard work you put into searching for the best packers and movers has finally paid off. Even though the moving company you've hired may be fully capable and efficient in handling everything from packing the first box in your old home to unpacking the last box at the new house, you should do your part to make sure everything goes smoothly.
It would be best if you made a clear plan of all the things you need to do on D-Day to start off your moving day on the right foot and make your relocation less messy and stress-free.
While the packers and movers can quickly and expertly handle the laborious tasks of packing and moving, you can put forth your exceptional organizational skills and make sure your shifting goes according to plan.
Before we get into the details about your responsibility on moving day: you should prepare new home before you move in and make it ready-to-live, so that unpacking and settling down becomes much easier.
Read on to learn about your role on moving day and use the below checklist of 25 essential things you need to do during your move. We have categorized the entire to-do list according to the timeline of your move so that you know exactly when to do what:
Just as hiring professional packers and movers is the right decision to ensure the safe moving of your goods, it's also the right thing to be prepared for them before they arrive on the day of the move.
Here are some simple things you can do to be ready before the pros turn up:

1. Get rid of useless items
The total shifting charges to move household items largely depends on the quantity and volume of goods. Moreover, it doesn't make sense to pay for packing and moving the things which you would again store away in the new home. So, sort through your belongings and remove unnecessary items which you haven't used for a long time.
Decluttering items will not only simplify your move but also help you spend much lesser. You can sell the things which have good market value, give away usable items to family members/friends, or donate to a charitable organization.
2. Pack essentials and keep it aside
You would need a day or two to stop and catch your breath before beginning the daunting task of unpacking. So, before all your items are put into boxes and wrapped, you need to pack a survival kit containing all your essentials (extra pair of clothes, toiletries, medications, etc.) to survive the first 2 – 3 days without any issues.
Moreover, the overnight bag gives you a reason to keep your valuables close by (which are priceless and can't be sent with the movers). Essential documents, laptop, jewelry and ornaments, and financial life-savers (wallets, cards, and purse) must be kept with you so that you don't end up losing them during the move.
3. Make an inventory of all your things
Once you have finalized the items you're going to move (after decluttering) and packed the necessities (overnight bag), you'll now be left with the belongings that will be packed by the movers.
Create a detailed inventory list of the moving items so that at the end of the move, you can cross check the delivered things for missing or damaged objects and also, claim insurance against any damaged or missing items.
4. Prepare appliances and furniture
Packers and movers will ask for extra money to handle unclean and leaky appliances. More importantly, such devices can completely ruin the other items which are new or in good condition.
So, it's always better to defrost and wipe down the fridge, AC, and other such appliances; remove the batteries from electronic devices before sending with the movers to avoid leaking batteries.
Prepare the furniture before the movers arrive for easy and quick disassembly and packing. Remove the linen, bed covers, pillows, cushions covers, and other things from the furniture and wipe off dust.
5. Establish a NO-PACK zone
One of the top priority tasks on your to-do list should be to separate the items you're going to move with you from the regular things which you'll send with the movers. Pick a different room in the house where you can keep your essentials bag, important documents, electronic devices, and other things.
Clarify to the movers that they do not need to pack the items kept in that particular room; or, to be on the safer side, put up a DO NOT PACK sign outside that door. (If you don't have a spare room, keep all these things in a different corner of the same room with a clear indication that they shouldn't be packed).
6. Prepare and protect both houses
No doubt, movers will take care of your goods as well as house property while moving them, as they have years of experience in doing that. However, it's better to be prepared for the worst, whether it happens or not.
You can take measurements of the furniture, doorways, and stairways to ensure they'll fit through without any problems. Doing so will help your movers understand the challenges of moving the large furniture and appliances, and they'll be able to find an alternate plan.
Also, make sure you put some protective padding around the house so that you do your bit to protect the goods and home. Use:
doormats (prevents dirt and works as a good grip while stepping in or out);
blankets, old clothes, old sheets, or bubble wrap on walls and corners (to protect them from scratches);
foam padding and old garments on door frames (to protect them from getting chipped);
While you're planning to prepare your old home, you can do the same in the new house so that you don't damage the walls before moving in. So, take a day off to visit the place and thoroughly clean the new home, and check for necessary repairs to be done around the house.
7. Take photos of goods and house
One of the fun things you can do on the morning of the move is to take pictures of everything before you move out. Take pictures of goods before they get packed so that you have proof of the initial condition of home goods and property, in case you may need to claim insurance. Also, they will be an excellent way to remember your old place and the memories you made there.
8. Plan for the safety of kids
If you're moving with kids, make sure they stay out of the way of the movers since it'll not only make the movers' task much more difficult but also increase the risk of hurting themselves.
It's advisable to drop them off at a friend or relative's house where they'll be safe; or, you could hire a babysitter who can take care of them while you concentrate on other important things to make your move a success.
9. Keep refreshments and cash for tips ready
You can keep some snacks and clean bottled water in stock before the moving crew arrives so that you can help them recharge their energy levels for a more efficient and quick job.
Although it's not compulsory to tip the movers, it's a nice gesture to show your appreciation for their efforts and hard work at the end of the move. Decide how much to tip packers and movers crew and keep the cash ready in hand.
---
The moving crew will get down to business without wasting much time as soon as they come, and perform a safe and speedy packing. The movers remain with you from the time they reach your home for packing and loading to transportation to delivering your goods and unpacking them in the destination.
We've categorized some of the important things you can do, when the movers arrive, as follows:
1. At your old home
Guide them according to your requirements
These guys are professionals and will not need you breathing down their neck while they work. So, instead of supervising over them, be friendly and guide them through your requirements, and they'll be able to do the job much better and quicker.
Disassembly – tell the movers about how to correctly disassemble the furniture to avoid damages since the same dismantling strategy can't be used for all pieces of furniture.
Packing and handling – you can tell them about specific handling instructions for sophisticated and fragile items; also, you can tell the movers the quality of packing you require to be done.
Apartment rules – if you live in a society, you'll be bound by some rules which you should communicate to the moving crew; it may be about packing moving timings, parking spot, or anything else that the movers ought to know before moving day.
Instructions about using the lift – whether you have an elevator available in your building or not, you should inform about it to the movers, and also let them know if any items are not allowed to be moved through the lift, etc. so that they make a plan to shift the goods out of your home.
Check all the rooms properly before leaving
Before you move out of the old home, do a final walkthrough of all the rooms and check the cupboards to make sure you didn't leave behind anything small or significant.
Also, don't forget to switch off the light and fan switches in each room before bidding goodbye to your old home.
2. During the transport
Guide the truck through the best route
You should have discussed with the mover about the best route from the origin to destination; if not, or if you have a better idea about the simplest way to get there, you can ask them to follow you. Guide them to your new location so that you can begin experiencing the new home soon.
Arrive ahead and clean up the new home
If you have a couple of friends helping you out or if the movers can reach your place correctly by themselves, you can take a head start and get there first. Arrive early to clean up and prepare your new home before the boxes are delivered so that unloading, placement, and unpacking of goods will become easier. Make sure that none of the rooms are occupied by cleaning supplies which you may have left behind when you were there the last time for a deep-clean.
3. At the new home
Unpacking and Assembly
Now that the boxes have arrived, the movers will start unpacking your goods and re-assemble the items which were dismantled at the old house. Unpacking and assembly of goods must be done with care since damages can easily happen during this process.
Check for damages
After all the goods are unpacked and assembled, remember to inspect the boxes for damages and go through your inventory list to check if any objects are missing. In case of damages or missing items, you can claim for insurance immediately without wasting time further.
Tips and Refreshments
Depending on how you feel about the service provided at the end of the move, you can tip the movers an amount that you're comfortable with and according to the level of service performed.
---
If you think it's time to kick up your heels now that the movers are out of the house, you're partially right. It may be okay to take a breather, but you still have many things to do before settling down in your new home.
Here's how you can manage your tasks smoothly after the movers leave:
1. Organize your post-move time
If you sit back and procrastinate about completing your post-move tasks (unpacking, arranging everything properly, cleaning up), it's going to take a really long time to settle down, and you'll feel 'out of place' the entire time.
Take a sheet of paper or open the calendar app on your phone; start assigning different tasks for each day to complete the entire unpacking and home-arrangement within a 2-week window so that you can settle down quickly.
2. Write a review for your moving company
The movers work extremely hard to provide you with good and satisfactory services, and the least you can do for them is to spread the word about their performance. Leave an honest review about your shifting experience with the moving company who helped you relocate. Also, if you were delighted with a particular crew member, you could drop their names in your review, and it will make a huge difference to them for being recognized.
3. Arrange your home
The quickest way to settle down and make yourself 'feel at home' is first to make your home a comfortable place for you to live in. And, that begins with home-arrangement. You may already have an idea about how to set up your new home; if not, think about it and begin the process of 'making your home yours.'
The most effective method to unpack without wasting much time is making a priority list to unpack room by room. The movers may have set up the large furniture and appliances in their respective positions, but the rest of the things are up to you to set them up according to your liking.
4. Clean up again
No matter how many times you clean up your new home, it's never going to be enough; stray dirt is always going to turn up even from the smallest work you do. It's going to take sometime for the dust to settle, so keep calm and clean the house after you unpack and arrange all your things.
You can clean the rooms in any order you feel fit since it'll mainly depend on which room you'll unpack first and set up.
5. Check security measures
One of the vital things you should check at your new home is if there are security systems installed at the home. Take a call on whether you need additional security measures; if yes, you should decide which is the best security system for your home. Also, you can change the locks since you can never know who has an extra set of keys for your home.
6. Change address
Ideally, you should have completed this task before moving out of your old home. However, if you were not able to do it for whatever reason, you can do it now as soon as you possibly can. You may miss out on essential mail communications, and there's also the risk of security concerns related to your financials. So, make sure you update your new address in important places like Banks and Credit Card Company, Post Office, Educational institutions, Insurance Firms, etc.
7. Explore your locality
While you are working hard to complete the unpacking and home-arrangement, you can take a break during the evenings to explore your new locality. The more familiar you are with your new surroundings, the more comfortable you'll feel about living there.
8. Make new friends
When you and your family move to a new home, it's tough on everyone since there are strong feelings of home-sickness and discomfort. To come out of these sad feelings, making new friends can help you settle in quickly.
Introduce yourself to the neighbors; they're the best people you can depend on when you're new to the locality. They can guide and show you around the neighborhood and give you the entire scoop on the activities of the area. Also, you can help your kids make new friends by taking them for a walk around the neighborhood to a park where they can play with other kids.
9. Time to Celebrate!
You definitely deserve to let your hair down after all the hard work you put in throughout the move. What better way to get into a joyful mood than host a Housewarming party. You can invite your new friends, and use this opportunity to get in touch with your old pals and have a gala time.
Let the celebrations begin!
---
We hope our checklist was able to end your woes about managing your moving day.
Now that you know how vital your role on D-Day is, ensure you get proper rest and a good night's sleep on the previous day. Make an early start on moving day and get ready to hit the road ASAP so that you can begin rejoicing your success sooner.