How Much Should You Tip Packers And Movers: The Complete Guide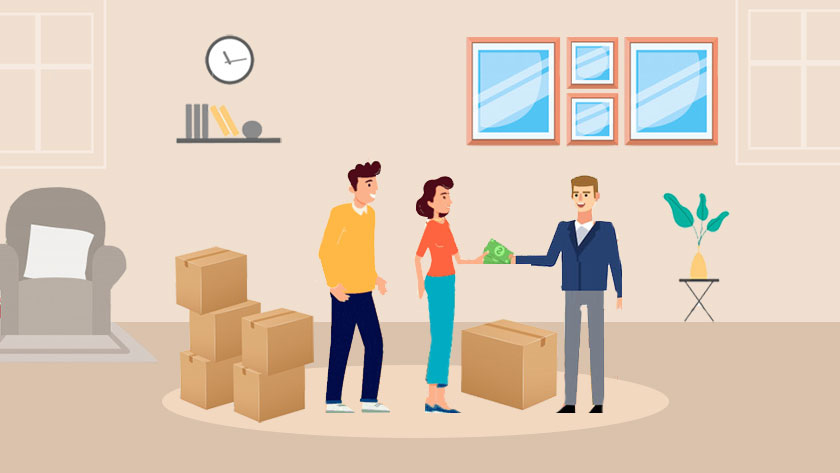 Moving is a stressful task that tests your physical strength and requires you to pay close attention to small details. The best way to ensure a smooth and stress-free move is with the help of a professional moving company. Your movers take care of all the labouring tasks of packing and moving, and put in a lot of effort to shift your household according to your requirements. A common dilemma faced by people at the end of the move is, "Should I tip the movers? And if yes, how much should I tip them?"
Tipping the movers is a sensitive subject, and deciding on a proper amount is not easy. For one thing, you don't want to look cheap or unappreciative; at the same time, you wouldn't want to over-tip them because every Rupee of your hard-earned money counts. Therefore, you can decide whether or not you should tip your movers depending on the quality of service you receive and the way in which they care for your things. 
We've made this 'Tipping Guide' to answer all your questions, and if you keep the following suggestions in mind, you'll be able to find a good solution to your tipping problem.
Should I tip the movers and packers?
First, we want to clarify one thing: You're not under any obligation to tip the movers. But, moving is a lot of hard work and when your movers get tipped at the end of it, they feel appreciated and satisfied that you were happy with their work. Movers are also part of the service industry, and as with most services, tipping is a way of showing your encouragement and appreciation for a job well done.
You may feel, "I'm already paying them for the relocation services so what's the necessity to tip them?" In reality, these tireless and hard working movers earn a small income that's next to nothing for the back-breaking work that they do. So, whatever tip you provide them with, it's just a little extra cash in their pockets and makes them feel recognised for all their hard work. Therefore, if you're pleased with the service they provided, it's a lovely gesture to reward them for their efforts.
However, there may be some situations when it's okay not to provide a tip to the movers. Suppose, the movers didn't do a good job, they didn't care for your items as they were supposed to, they arrived later than decided, or they were rude or disrespectful during the move, then its okay if you don't tip them.
If you hire a reliable and professional packers and movers company for your relocation, you don't have to worry about such unprofessional or bad behaviour. So, find the best and reliable packers and movers through AssureShift and have a good moving experience.
How much should I tip movers?
How much you want to tip the movers depends on what you're comfortable with. There's no hard and fast rule that you should tip the movers a particular amount of money. Depending on the complexity of work involved and effort they have to put in to shift your things, you can adjust the amount accordingly. But, if you do decide to tip, a minimum acceptable amount nowadays will be around ₹ 100 – ₹ 150 per mover, for the most basic work they do.
One important point to remember while calculating the amount to tip the movers is, you only need to consider the amount of time they spend in doing the physical work. This means, you can leave out the time spent in travelling from origin to destination, and only consider the time taken to pack, disassemble, load, unload, unpack and re-assemble.
To help you decide how much you should tip them, here are a couple of points to consider:
1.How big is the home you're shifting?
The amount of work to do will depend on the size of the house you're moving and you'll have to alter the tip accordingly. If you're moving out of a 1BHK, the number of items may be less, and the work to be done will be lesser. However, if you are moving out of a 2BHK or 3BHK, the movers would have to pack and shift a lot more things.
2.How many items did they have to pack?
If you're shifting fewer things, there's much less work to do while packing and moving them. However, if you're moving a large number of things, there are more items to pack and the number of people required to do the job would be more. Also, the time taken to pack and unpack all the goods will matter when deciding the tip amount as the movers are physically exerting themselves during this time.
3.How many bulky or heavy furniture and items did they have to shift?
Another task that requires the movers to use all their physical strength is while moving your bulky furniture and appliances. The packing has to be done correctly to ensure no damages occur to the furniture or appliances.
4.Did they disassemble and reassemble your furniture?
The mover's job becomes more complicated if they have to dismantle and reassemble your furniture or appliances. They must make sure they follow proper guidelines and do it carefully. These are the additional tasks that they're supposed to do upon your request, so you could reward them if they do a good job.
5.How did they handle your sophisticated items?
While moving your prized possessions, the movers have to be extra careful not to damage or break them. You should make sure you check the condition of your valuable items after they pack and unpack them before deciding whether you should tip them at all or not.
6.Over how many flights of stairs did they have to shift your items?
Moving your items through the staircase is a much more difficult job as the safety of the property, goods and movers has to be taken into account. If you're shifting homes on the ground floor at both origin and destination, it's a much easier task as the movers will have to move your things from doorstep to the truck.
However, if you're shifting from a higher floor, the work of moving your things out of or into the house will become much more difficult, especially if there's no lift available. Accordingly, you'll have to adjust the tip amount.
7.How long did it take for loading-unloading?
During loading and unloading the movers have to work the hardest and ensure your items are completely safe. The total time taken to load and unload the truck will depend on:
How many things you have,
Which floor you are shifting, and
Whether the movers had to shift through the staircase or lift.
How much do you tip movers when they load or unload will depend on how well they did the work without damaging any of your items or the house property.
8.How was the quality of service they provided?
The main deciding factor of whether you should and how much to tip your movers will depend on the quality of the service you receive. It's a good indication and deserves recognition if the movers arrived on time, shifted your things with care, handled fragile items correctly, and were professional and friendly throughout the move.
Based on your answers to the questions mentioned above, you can decide on an amount which you believe is fair, using this simple Tipping Pattern:
Big Tips – if your move was a big one (big house, moving many things or managing staircases and other such challenges), and the movers did a remarkable job, tackled tough situations properly and satisfied all your requirements completely.
Standard Tips – if they did a good job of handling your things with care or if moving your home was not that big or challenging a task.
No Tips – if the movers did a poor job, damaged your goods, or did not behave professionally and were rude or disrespectful.
Based on this Tipping Pattern, how much should you tip the movers in your moving situation?
How much do you tip local movers?
When you're moving a short distance (within your city), you can consider tipping your movers based on the amount of work involved in packing, disassembling, loading, unloading, unpacking and re-assembly, and the care with which they handled and moved all your things.
You can decide the amount depending on the factors mentioned above and using the Tipping Pattern; roughly stated, your tip amount can be anywhere between ₹ 100 – ₹ 150 per mover or any higher amount you're comfortable with and which you feel is worth tipping.
How much to tip movers long distance?
When you're shifting over a long distance (outside your city), you may feel more confused about how to tip the movers since there are 2 sets of movers who'll be working for you:
At the origin – to pack and load your items;
At the destination – to unload your goods;
So, do you tip the movers on both ends?
1. Movers at Origin
When your goods have to travel over a long distance, their safety depends on the way they are packed and loaded into the truck. So, it's vital that the movers at the origin take extra care while packing your goods at the origin. To ensure this, you could encourage your movers by promising them a generous tip after the packing and loading is completed. Just remember and make sure you keep up your promise in the end so that they take extra care during the travel as well.
Since the majority of the work is done at the origin, you can tip these movers around ₹ 200 - ₹ 300 per mover or any higher amount you're comfortable with, depending on the amount of work to be done and quality of service provided.
2. Movers at Destination
During a domestic relocation, moving companies only unload your goods from the truck to the house; they usually don't provide unpacking and reassembly services. You should request these services if you need them and they will make alternative arrangements.
If you haven't requested for unpacking and reassembly, then the movers only have to unload your things which doesn't require too much effort. So, you can decide to provide them with standard tips if you're happy with the way they unload your things. However, if you requested these services, depending on the way they unpack, assemble and handle your goods, you can decide on a decent amount to tip them.
These guys have to carry and safely transport your life's belongings from one place to another, and make sure you're happy at the end of your move. So, please tip your movers generously if you feel they went above and beyond to ensure the safety of your things. It's an excellent way to let them know their hard work was worth it in the end.
When and how to tip your movers?
When you have decided to tip your moving guys, make sure you're not scrambling around in the last minute to pay them. Although tipping movers is a pretty simple task, you should make sure you thank them in the right way and at the right moment. Be prepared and avoid awkward situations.
When to tip movers?
It's a better idea to check the condition of all your things before you tip the movers. You should ensure everything was done as required – packing your items, moving your furniture correctly, carefully handling your sophisticated items, etc. If you have opted for the additional services, you should oversee all these processes and then only tip the movers at the end of the move. But, make sure you run to the ATM before moving day and keep the cash ready in hand.
How to tip the movers?
Divide the tip amount equally according to the number of crew members; hand over the money and appreciate each mover's efforts individually. Keep the cash in ₹ 50 or ₹ 100 notes so that you can tip them one by one and in equal amounts. If you feel one of the movers worked extra hard or put in a little extra effort, you can add a small additional amount to his tip.
A tip about tipping the movers: Do not give the total amount in the hands of the supervisor or company foreman and tell them to distribute it among the movers; some unethical men will end up keeping the entire money to themselves. So, make sure you give it individually to each mover.
It's not always about the money
To motivate the movers and keep their energy levels high during the move, you could also offer refreshments like cold drinking water and snacks.  After all, they are doing the labouring work of lugging your goods around from one place to another. Also, doing so shows you're a good host and that you care for their well-being; they'll feel more positive and take extra care while moving your goods.
If you're satisfied with the quality of service you received, then please take out a few minutes of your time and do the moving company a favour. Spread the word about how your shifting experience was with your hired movers by writing a review about the moving company. You can even praise the efforts of the individual mover who you noticed to have worked the hardest.
Expressing your gratitude in a simple word at the end of the move will surely bring a smile on their faces. Remember to say 'thanks' to each of them to show you appreciate all their hard work.
---
When it comes to tipping service providers, there's no right answer to the questions: "Should I?" and "How much?" It completely depends on how you think and feel at the end of your move. The simple way to decide is by asking yourself, "Am I satisfied and happy with the move?" and to determine "How much should I tip the movers?" well, that depends on what you're comfortable with.
The movers will not stand in front of you with their hands stretched out demanding you to tip them. Any amount of money you give them will undoubtedly be appreciated, and everyone goes home happy.
Get Quick Charges Estimation