Things to Know Before Moving to A New City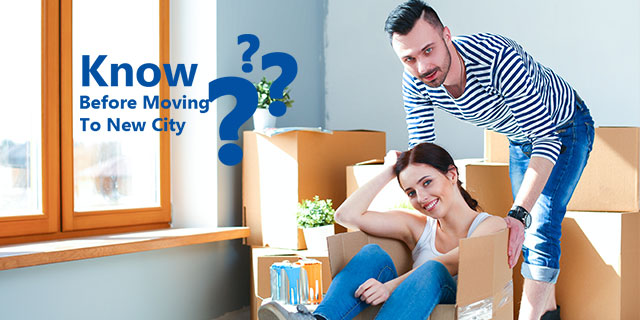 When you are moving to the new city alone you are going to face the biggest challenge of your life. Moving to a new city is quite tough, so you are going to notice a big change in your life on your own; many things become harder in the beginning.
There are many reasons for shifting to a new place, Maybe got a job or Maybe you have always dreamed of moving to a new city, or Maybe your family is shifting to a new place. Whatever the reason is the Moving and Shifting always becomes hectic. The one most important thing is time, it will tell you the correct thing whether you are truly been ready to move in the new place or not. For now, your first priority when you are moving to a new city is to do the immediate post-relocation without making any major mistakes.
Moving to a new place alone or whether with your family will be easy if you will be true with your personal choices who you are and what you like the most. With the relation of this, we are providing you with some details which you should keep in mind at the time of moving.
Select a Perfect Home for Yourself
Before shifting from the old house you should search for a new place where you can directly go and shift. In most of the cases, it happens that peoples searched the place before they move. But at the time of selecting a place to live you have considered many things in your mind like, how is the environment of the place, locality of the place you had selected, the crime rate of that place, also how your neighbors are? Also, you can ask about the neighbor person before hiring or buying a new place.
Now the question arises what question you can ask from your neighbors? For this, you can go through this entire detailed information based on "Questions to ask neighbour when moving to new home" query.
If you want to know other things like moving tips or having any other query related to relocation services just visit Assureshift.in.
How to Pack and Shift Your Belonging to Your New House
Whether you are shifting within the city, nationally or internationally relocation with goods become tricky. Packing and shifting is the most essential step for shifting from one place to another. Or if you are wondering if doing Packing and moving by yourself then it can become difficult and can be tricky as well. For safe and easy move just verify and hire a qualified moving company.
Nowadays, Packers and movers are the safest way to pack and shift your luggage without any damage. Now you might be thinking how you can search a Professional relocation company.
Take help from this detailed article on "How to Find Best Packer Movers from Available Options?" I hope you will get the proper knowledge from the above-mentioned information. Also, you can refer the information through wikibooks.
Find a Job and Concentrate on it
Before moving to another place a one should find a job as this is the prior option for one. Normally peoples are shifting or moving from one place to another for a job only but if you don't have the first of all you should find one as soon as possible.
Hunting a job is the biggest factors to consider in your finances. If you have saving or cash reserves then it is ok otherwise you should start looking for a job before you move. For hunting a job making a plan which type of jobs you want to hunt and get prepared to conduct a job search. Before planning to hunt a job give yourself plenty of time. Try to get a job locally which will save your time traveling much. You should get a local address on your resume which will help your application get selected. Or for searching for a job you can also visit online job markets or portals. For detailed information please click here.
Get instant quote from top packers and movers for smooth and safe shifting services.
Try to Make New Friends
Living alone is quite difficult in a new place as you don't have close family members or friends to support you out whatever happened to you need help. But you have some good opportunities to meet new people and make new friends.
For making new friends you can guide yourself and have the patience to make a relation from a new person and like this very soon you will get one good friend. Meet with your new neighbors or your colleagues and try to build up a relationship with them. Share your hobbies and interests with them. Take every chance you have to meet with new peoples and try to build up a strong relationship.
Manage Your New City Budget
As you have shifted to the new place you might don't know about the market prices or fare prices so, you should know how expensive your town is? Which will helps you to adjust your budget when you are new in a new city. As money matters are a very important thing for each and everyone after moving to a new place. If your budget is continuously stressing out it means it will become difficult for you to there anymore and you can't afford to be there anymore. Also, you may face difficulties to fulfill your daily needs. So before moving at an expensive place like this, go and see how expensive it is. Also by roaming around for stores, restaurants or searching for a job where you can also get an idea of fares. How the city will move around you when you will shift there.
Moving to a new city can be a new change for you or for your family but it is not a decision you can take lightly whether it is halfway across the country or outside your city. So before moving to a new place think whether you had done your homework and made a perfect plane for your move.