Questions to Ask Neighbor When Moving to New Home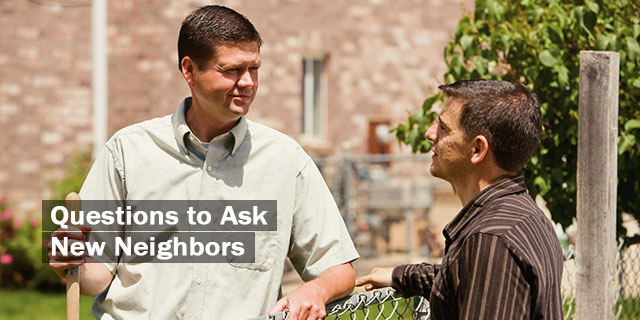 While moving or shifting home peoples have many dreams to decorate their house in their own way, they want to make it unique in their style and that's what is the best thing of own house, making things according in your style and make it happen.
As you select a place as per your requirements to shift, you also look after the other requirements also like how the locality or society of that place is? Is it as per your requirements or not because these are the factors which will affect you after shifting to that place. Also, these factors will affect your lifestyle, for example, if you are currently living medium class peoples and the place you select is behind or beside the slang area and peoples are fighting their daily, you can't be able to survive in that environment. So please consider these factors important at the time of selecting the place to be a part of your life.
We believe that you want to make a house, as your home, dream home!
But to make it real you first have to select a place with full of comfort to live with your family and a space full of life, which is not an easy task to do? Because you are not only going to live there with your family but you also have to see the locality where you are going to shift like how your neighbors are?  Schools hospitals and other local amenities are nearby or not. And if you get the place of your dream and requirements in your budget, then also you can't buy that property without knowing about the surrounding of the environment.
Now Question Arises How You Can Get The Best Reviews Of The Place?
Very simple, the best way to know about the place and surrounding where you are going to live is to go talk to the neighborhood, you just have to tell about yourself first and then you can ask the require question which you need to know about the place and the environment of that place. These questions will help you to get the complete picture of the surroundings and help you to make a perfect plane to move and shift.
And yes if you already moved in, still you can go to your neighbors and get the information about your surroundings and environment.
But, what are the questions you can ask from your neighbors?
Whether you are looking for a commercial or corporate place because of the perfect location, social structure or market area) you need to know more about it before you perfectly shift there because you do not know exactly about your neighbors and also patiently you can make a bonding with your neighbors. 
So here are the few questions which will help you to know the place easier and best way;
How safe is the locality and surrounding of your new place?
These are the information you can easily find the crime rates and the number of incidents happen in that area, from the online or nearby police station. But mostly a good neighbor is the way to know how the locality is and what actually is going on that locality because they know it well. You can pleasantly ask your neighbors is they feel safe to send their kids outside or is there any incident happened related to the kid's safety also you can ask in which parks or schools are goods to send your kids in that locality.
As we said before just by introducing yourself to the neighbors you can ask about how long they are residing theirs? How is the place or ask them whether they are happy with the surrounding or how they like the neighborhood?
What is the community like?
Maybe your new neighbors are visiting few place frequently like schools, society or nearby visiting parks, hospitals, banks, local shops, restaurants etc. which will help you to know about their likes and dislikes and you can ask about your favorites places too.
What are their views about the place you are going to buying?
Many peoples are hesitating to tell directly about anything which you want to know, so you can ask them how they feel when they are going to take the same place in spite of you. A person can easily tell his/her feeling if they will be on the same place and then you can easily get to know about the exact feeling for your neighbor about the home or place you are going to buy. What is going on there is nobody knows better than a neighbor. Only you have to ask and you'll get to know every detail that there is to know about the place considering buying- before you who are living there, how they are living there before, if there has been any recent accidents or hazards.
How did they know about the society people?
You can also ask your neighbor that is he/she feels any people is suspicious nearby your place or they have to make tight security for themselves. Also by asking these questions, you can check how your neighbors are? Are they judgemental or polite or they are aggressive on your questions, by their expressions and behavior you can get to know how they exactly are?
Talking to neighbors before buying a place to live could be the lifesaver. Those conversations might save you from making a huge mistake and moving into a neighborhood where you could be sad.