How To Shift Your Kids' Room? The Ultimate Guide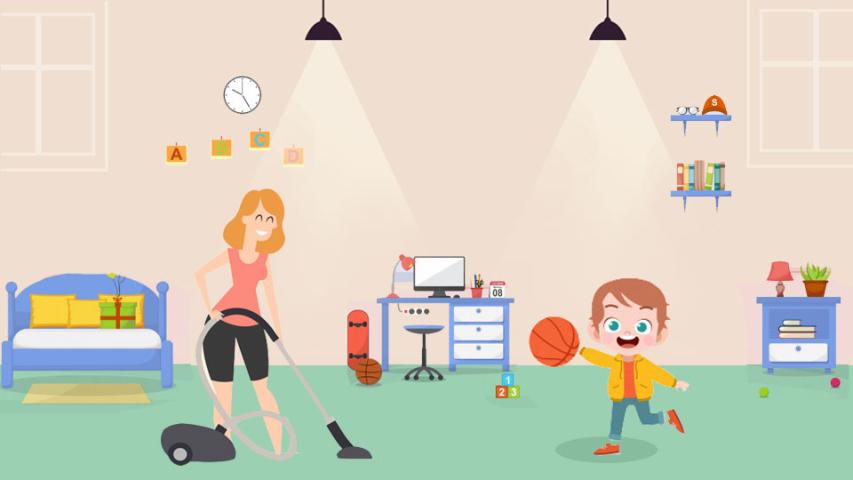 Relocation is a very tough task as it drives you to adjust with your environmental changes and totally create new routines. Elders can learn to adapt to almost everything, but, not your children. Generally, kids take longer time to adjust with new changes and mostly they might feel upset regarding leaving their house and room behind.
Your children could have created deep connections with their old nursery and suddenly shifting into a new room in the new home could be strange and unfamiliar to them. The main idea is to prepare your kids for moving and to make them involved in shifting their nursery.
On being involved in this process, your children feel that they are also a part of the moving team. With a little attention to detail, you can help make their new room look welcoming as their old nursery at their new home.
As your kids might take some time to get adapted to their new environment, there are some ideas that would help you to speed up the move and make your children love their new room.
How to prepare your children for the move?
Before moving to a new home, it is essential to discuss regarding the move with your kids. If your children are toddlers, they would have some knowledge of what is going on. If your kids are younger, they get worried and become anxious about leaving their nursery. If possible, take your kids to your new home to show them their new room and to discuss some interesting things about the move.
Tell them the benefits they would get from the move and even ask them what they expect from the shift. The fastest method to make your children adjust with their new room is by always focusing on positive things and by creating some excitement about their relocation. As a parent, you should take time to explain to your kids about shifting to a new home that needs temporary packing and moving.
Try to include phrases and words by which your children would understand and remember better. This would make your kids get more adapted with the situation and to move as quickly as possible. This same kind of situation occurs when you shift to a new city or when you move your children to a new school within your city.
How to prepare your kids to move their nursery?
Go through your kids' room along with them to help them determine what to give away and what to keep. If you have older kids, provide them the measurements of the room so that they can plan about placing their things in their room. Allow them to imagine the design of their new room and this would help them choose things they want to keep in their new room.
If your kids are below 5 years
Go through their items like clothes, books and toys to decide what things to 'sell or donate' and what things to 'keep for packing'.
If your kids are between 6 to 12 years
Go through their room along with them to provide instructions and allow them to make their own decisions on keeping and donating their belongings.
If your kids are above 12 years
Let your older children to sort and pack their nursery by themselves and also try to tolerate and respect their decisions. Allow them to donate their unwanted belongings to a local charity or to sell them online.
What preparations you should do before packing your kids' room?
Collect all the non-essential products available in your children's room and try to de-clutter them before you begin packing up for their new nursery. The non-essentials might involve things such as toys, books, mirrors, picture frames, extra diapers and clothes that can't be worn before or during the shift. Wait until the moving day to pack your kids' essentials like clothing, bibs, diapers, medicines, etc.
Tips mentioned below are about making arrangements and buying packing supplies for packing both non-essential and essential items in your children's room.
De-clutter your kids' room together
De-cluttering your children's room always helps in separating their non-essential and essential items before packing in individual boxes. You still might have some clothes, toys, books and other products that would no longer fit or interests your children. Removing these goods during the de-cluttering task will not only make your relocation cheaper, but, simpler to pack and organize as well.
Also involve your kids in this process to make them interested and let them perform more effectively. Ensure that you teach them the idea of donating and make them to donate their non- essential or unused items to poor children or to any charity.
Clean your kids' belongings
Clean your children's belongings such as their toys, toy boxes, nightstand, dressers to remove all dirt and crumbs by wiping and washing with soap water. Make sure to clean and wash off the outside of your kids' furniture which could be covered by smudges and dry finger prints. Use a normal cleaning wipe to clean your children's furniture and finally, use a disinfect cleaner suitable for your kids to clean their whole nursery.
Visit a stationery store
Take your children to stationery or an office supply store to have some packing supplies and fun materials for packing their belongings. Buy some packing boxes, colored tapes, colored markers, stickers, bubble wraps, packing paper, packing pads, etc.,
Use plastic or paper wraps to cover boxes
Your kids are particularly vulnerable to infections and it's essential that all their items should be kept clean during packing and moving. The dirt and dust accumulated while shifting their items would only spread germs and increase allergies in them. Covering or lining all bins and their items with plastic or clean paper wraps would prevent your children from getting sick. Then place the items inside the box with padding and line them with an extra layer of packing paper.
Utilize plastic containers
It is better to use clear plastic containers instead of card board boxes for packing their items, as you don't have to open packages which are well packed and sealed to find the item your kids want. So, avoid such troubles, confusions and more time consumption in finding your kids products.
Use telescope boxes
Telescope boxes are typically created for packing delicate and thin items like mirrors, large prints, framed art and televisions. These boxes are normally tall and have individual tops and bottoms to completely cover your items and to protect them from breakage during relocation.
Create an essentials box
Prepare to pack some essentials your children would require during the move and for few days after the move. Essentials boxes should be prepared and packed according to your kids' need and age.
If your kids are babies or a toddlers: Their essentials package should have diapers, wet wipes, powders, feeding bottles, baby food, small toys, etc.
If your children are middle aged or preschoolers: Their essentials package should contain toys, games, high tech gadgets, portable game consoles, music players, tablets, etc.
Also, you could take some snacks, books, puzzles, diaries; address books, etc., and pack all those items in an individual box or bag to take with you in your car. Ensure that their essentials box should also contain their prescribed medicines as well.
How to pack your children's nursery?
As your young ones depend on the routine and consistency, your kids' room is one of the rooms that should be packed finally during a household move. You can also involve your children in your shifting process, particularly when packing their own room. Packing together with your kids is the brilliant method to reduce their stress and to keep them involved in the process.
By this way, your children feel happy about performing something useful for the success of moving their nursery soon. You can still make your kids' packing, labelling and decorating tasks filled with fun by turning their packing process into a game. This task could be carried out more effectively by including some good fun ideas like playing music, dancing, playing games and offering rewards.
Things you could pack together with your kids using packing materials are:
Pack your kids bedding and pillows with plastic wraps.
Pack your print arts and mirrors using telescope boxes.
Pack your crib and crib mattress with a cover.
Pack your area rugs with stretch wraps.
Pack your kids' books in plastic bins.
Pack your children's clothes in boxes.
Pack your kids' toys in plastic containers.
Pack your children's furniture using cardboards and bubble wraps.
Pack your screws and bolts in an individual bag.
Label and decorate the packages.
How to move your kids' items to a new room?
Before making a move, make preparations to shift your kid's items by yourself. When you have decided to move things on your own, it would become very hard and stressful for you to execute the task. Therefore, it is smart to hire a trusted relocation service provider to move your children's belongings without any damage or loss.
If possible, book a reliable moving company at least before a week, sign a contract with them and fix a right date for shifting your goods and your kids' items to the new nursery in your new home. When the moving day comes, keep all your packages or boxes ready in your hall room and tell your moving staff to collect and load them into a moving truck.
Then, your moving company would carry all your belongings along with your children's items and it would reach your new home safely without any trouble during the relocation. Therefore, the moving staff would unload your kids' items along with other households in their relevant rooms of your new house with full care.
How to unpack and organize your kids' new room?
Unpack and arrange your children's new nursery
After unloading all your households and your kids' belongings by your moving staff, unpacking and arranging things in your children's new nursery would be the first task you should perform. Start unpacking your children's items one by one, carefully, together with your kids. It is good to unpack your kids' belongings yourself instead of calling the moving company to provide the service.
By this way, your children would feel free from stress and more interested in the performing their task. After unpacking their items safely, it is your job to arrange their things in the appropriate places, without spoiling their familiarity and routine. Making more changes in their new room makes them look strange and unfamiliar about their environment.
Maintain your kids familiarity and routine
Try to maintain your children's familiarity by placing similar things in their new room like their old room, to adapt your children with the surroundings. It is better to make your kids spend some time in their new room for few days, before the actual move, as they would become familiar with their environment.
Keep your kids' usual bedroom and bedtime related routines un-disturbed. Maintaining the same bedtime with stories in their new room and a routine could help your kids feel familiar also in the new environment. Try to reduce more changes in their surrounding and give them the freedom to setup their belongings would help them to adjust and feel comfortable about their room.
Involve your children in decorating their nursery
Allow your kids to design and decorate their new room by asking them what color they prefer to paint their room or they have favorite color on their mind. Also, you can join with them for discussing on the colors for painting their walls. If you have any plans on buying new furniture, help them to pick out the one, they like. Let them to decorate their room by adding their personal style and flair to make them get excited about their new environment.
Clean your kids' room
Finally, it is smart to clean your kids room after all their belongings are setup according to their taste and interest. Even though, the whole house is cleaned before the move and it's free from pests, it is good to clean your kids' room, once again. This would allow your children to feel fresh and have a peaceful sleep in their nursery.
Therefore, this complete guide for moving your children's room gives you the idea to help you and your kids to move their nursery to a new nursery. This guide also gives tips on how to prepare for packing, what things to pack, how to move, how to unpack and how to setup your kid's new room in your new home