Home Inspection Checklist: What to Look Out for Before Moving in?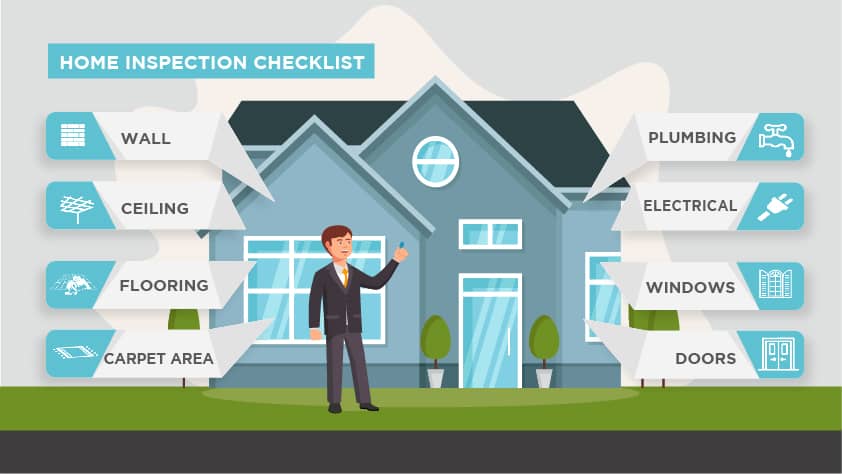 Before moving into a new home, it's important to inspect it well even before you sign the rental agreement or purchase papers.
Generally, buyers and renters are invariably more concerned about metrics such as the location, amenities available, house size, and pricing, but tend to forget about the quality inspection. Examining each and every corner of the home before moving in is an unavoidable part of investing and it greatly helps mitigate the repairs costs that may have to be made later. It also lets a buyer or renter, be more confident of his decision and this will further ensure that the stay is comfortable for one's family and oneself.
While a home inspection is often visual, it delivers a fair idea of the condition of the property. Let us take a look at the checklist for a home inspection which covers the most important areas you should be looked at before moving in.
Get quick free quote from top packers and movers for easy and swift relocation
Checklist for Walls and Ceilings
A homebuyer should look carefully at the walls, ceilings, and plaster.
Check for any cracks developing in the walls or ceilings, which may be a sign of structural issues or workmanship errors. (hairline fractures may be allowed to pass which may have been caused due to cosmetic reasons)
Major underlying issues like cracked walls, or unleveled doors & window frames shouldn't be overlooked.
Loose or hollow plaster is another point that to look out for; there are odds of the plaster collapsing if not repaired.
It's also important to check for water stains over walls or ceiling to get an idea of the situation during rainy seasons.
Checklist for Flooring
Flooring and tiling form the basis of a beautiful home and should be inspected before a buyer moves into a home.
It is a fine idea to check for any hollow tiles in floors or moldings, as they are vulnerable to cracking or falling with regular use.
The slope of flooring in bathrooms should be proper to ensure safety during use.
Tiles should be even, and any unevenness should not exceed 1 or 2 mm; beyond aesthetics, this also affects their safety.
Also Read: Tips for Settling in your New Home After Move
Checklist for Plumbing
Leakage causes further cosmetic damage to a home. Checking fixtures and plumbing should necessarily make it to your home inspection checklist. This is a potent safeguard against repairs to be undertaken at a later point in time.
One should lookout for blocked or clogged outlet pipes, especially when buying a new home. Construction waste sometimes clogs outlet pipes and may result in minor cracks or bursting.
A buyer should similarly look for any leaks in the concealed fixtures, fittings, or pipelines to prevent mold growth later.
Inspect inlet and outlet valves, taps, sink, washbasin, shower, water closet, and flush for proper functioning, improper fixing, or visible damage.
Checklist for Electrical Fixtures
A correctly working electric system keeps a home healthy.
Buyers should check if all outlets and light switches work well.
Buzzing or crackling sounds shouldn't be overlooked, as they may result from short-circuiting inside the switch.
It should also be ensured that RCB/MCB and DB are not outdated.  
Buyers should also ensure that each room has a sufficient number of well-spaced electrical points.
Checklist for Doors
A buyer would prefer doors to have good functionality as they are involved with a home's security.
To start with, buyers should check if the main door of a home is strong and functioning well.
It is preferable if none of the doors have cracks, sapwood, shaky operation, decay, or door knots, in the main frame or the door itself.
Aesthetics also play an important part in the checklist for doors. The main door of a home and bathroom door should be made using waterproof adhesive.
Checklist for Windows
Inspecting windows is an important measure to keep a check on energy bills and conserve energy. Any gaps in a window's frame or sliding will cause energy losses.
A buyer should similarly check that the windows and frames are not misaligned, as this could potentially damage the internal fixtures when used iteratively over time.
Gaps between the window frame and sill should be proper to prevent hassle during the rainy season.
The frame or gasket seal of windows should not be damaged, and locks should be fully functional.
Checklist for Carpet Area
It's best to avoid paying for more floor area than one gets which may potentially be a sizable amount.
Room sizes ought to be cross-checked by measuring the length and width of a room. Compare your data with the ones furnished in the brochures and make sure you're paying only for what you get.
---
Before finalizing your home purchase, or signing lease agreements, implementing a home inspection checklist is a precautionary measure to undertake. It helps you stay aware of the house condition, safeguards you and your family against a range of hassles that may bother you after shifting, and make you feel more confident about your decision.
The easiest way to get rid of the stress of packing your existing household items, transporting them, and moving into a new home, is by hiring reliable moving companies. They not only ensure safer relocation of your belongings but also guarantee smooth moving and timely delivery.