The Ultimate Packing Checklist For College Students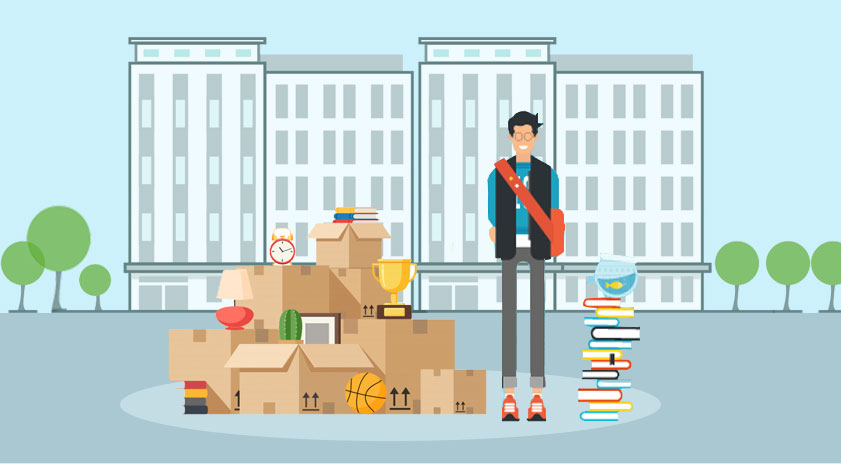 Are you all set to move to your new college room? You must be excited to experience life outside home for the first time, but at the same time, saying goodbye to your parents and your old room can make you feel sad and home-sick. No matter what, you will have to sacrifice your comfort zone and take on responsibilities to get a proper education and be successful in life.
When I first moved into college, I had a challenging and stressful move. I had packed a lot of heavy cartons and ended up packing many unnecessary items without knowing how much space I was going to get in my new room at college. I realized later on that if I had known this information earlier, I could have planned the relocation in a much better way. That's why I've prepared a complete packing checklist of all the things you need to take with you so that you can enjoy a comfortable stay in your home away from home.
When to get started?
As soon as your admission is confirmed to your desired college and you finalize a date to move there, it's time to start planning your move to avoid chaos at the last minute.
First, think of all the things that you absolutely need to take with you and note them down; your personal items will help you in the transition of moving out of home, but you'll need more than bedding and a laptop to survive throughout the year. Simultaneously, you should also make a separate list of all the things that you don't need immediately and can purchase later on when required
Alternatively, before you buy or pack anything for college, you can also check with the concerned department about what items they allow and what they don't, because universities are usually very cautious about health and safety regulations, which may vary from place to place.
You can also take help from the students who are currently living there to get the complete information about the rooms; this smart step will give you a good idea and help you pack only the required items to have a stress-free daily routine.
If your new college is located out of state, pack only your necessary items primarily based on the current and upcoming season. Packing and moving your entire wardrobe can make your move difficult as you may not have enough space in the room; you can save time, money and a lot of space by just taking things that are needed for your daily survival; additional items can be bought or carried with you later on when you visit home next.
Get quick quote for top packers and movers for easy and successful shifting
List of Essential Items to Take with You
College Necessities
Whether your college is located nearby or far from your home, you must always be ready with the college supplies.
Backpack for daily use;
Course/syllabus books;
Notebooks or Binders;
Scientific Calculator;
Books or E-reader;
Desk Storage;
Three-hole punch;
Computer and accessories;
Blank discs or drives;
Important Documents
Remember to keep your necessary documents close by, as you will need them at any moment of time when you are moving into an independent and responsible life.
ID Proofs;
Bank details;
Rental agreement;
University documents;
Electronic Items
Its time to sort out and pack up your electronic items, but always remember and be careful to take those items only, which you know you'll use, and you're sure your college will not provide you.
Laptop;
USB stick;
Extension cords;
Bed lamp;
Coffee-maker/hot pot/iron (if allowed);
Small table fan;
Laundry
It's a great idea to have your own in-unit laundry because it's not necessary your college will provide you laundry services; you may have to wash and clean clothing by yourself.
Laundry basket;
Laundry detergent;
Laundry bags;
Ironing board;
Stain remover;
Sewing kit;
Clothing
Not just in college life, but always, you must make sure to wear the right clothes that make you look professional. So, make sure you carry adequate and appropriate clothing, including seasonal garments.
Casual clothes;
Undergarments;
Formal wear;
Winter wear;
Sportswear/swimwear;
Dressing gown;
Footwear;
Shoes;
Bedroom
To make your college room feel homey, decorate your bed such that you would feel less home-sick and more comfortable to sleep in after a long day of studying. Before packing these items, check with the college if they provide bedding or if you can bring your own.
Mattress and pillows;
Bed sheets and blankets;
Hangers;
Mirror;
Alarm clock;
Trash can;
Cushion covers;
Bathroom
Once you have planned to arrange your bedroom, it's time to prepare all the things you need to have a refreshing shower in your new room. You will have to take complete care of yourself every day, as your parents will not be with you at the college to remind you every time.
Soap/ Shower gel;
Shampoo and conditioner;
Toothbrush and paste;
Shaving kit/ cosmetics;
Hair/ beard grooming kit;
Large bath towel;
Deodorant;
Hand towel;
Hairbrush;
Toilet roll;
Furniture
If the distance between home and college is within 20-30 km, you can think of taking small furniture; but, if you are moving to a different city, then the best solution is to rent furniture to save the efforts to pack them and moving expenses.
BookCase;
Small size study table;
Chair;
Shoe rack;
Health
You will have to take care of your health to avoid falling ill when you're staying away from your caring parents.
Medications and prescriptions;
Multivitamins;
Cold and flu medication;
Antibacterial lotion or spray;
Pain relief tablets/ balm;
Protein drinks;
Other Essential Items
Other than the things mentioned above, there are certain essential items that students always forget to take with them, and then find it difficult; that's why it's a good idea to pack these to have hassle-free college life.
Headphones;
Umbrella;
Sports equipment;
Books for personal reading;
Rubber gloves;
Food storage containers;
Curtains;
Band-aids;
A small toolkit;
Items To Never Take With You
Expensive jewelry;
Unwanted clothes;
Things available at university;
Things that can be rented;
Unnecessary decorative items;
---
So, there you have it! The complete college packing checklist with all the essentials you'll need in your new room at college. We hope this packing checklist will help you plan carefully and have a smooth and successful move. What you pack in your bag is up to you, but be careful with what you take and make sure you're not stressed out with all the packing and moving.
Instead of taking the complete responsibility of relocating your things, hire the right moving company that can handle your move. Just spend a little time on making a full list of what you want to pack and move and enjoy the rest of your time with family before moving out.
Wish you a fun college life! And, Happy moving!