How to Prepare Household Items Before Warehouse Storage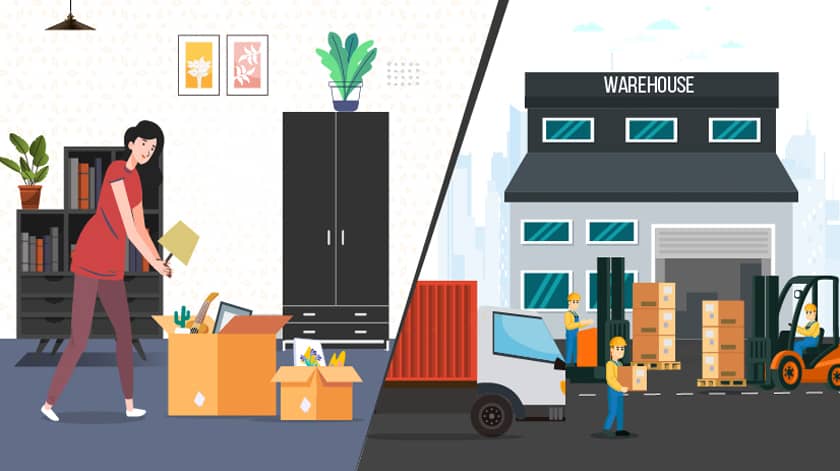 Storing your household items safely in a warehouse can be a daunting task. In this blog, we will provide you with essential tips for warehouse storage and help you find the perfect storage space for household items.
Finding the perfect warehouse storage solution for your household items can be a daunting task, especially if you are not familiar with the process. In this comprehensive guide, we will discuss the crucial aspects of household storage services and provide useful tips to help you find the ideal storage space for household items.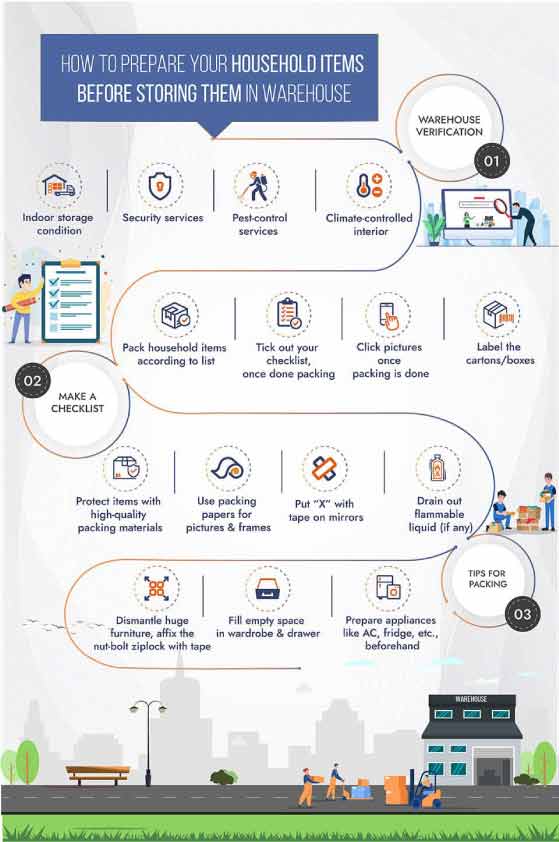 Choose the Right Household Storage Services
To ensure the safety of your belongings, it's crucial to select the right household storage services. Research and compare different companies to find the one that offers secure and affordable storage for household items. Look for features such as 24/7 security, climate control, and easy access to your belongings. You can find more information on selecting the best packer and movers.
Organize Your Storage Space
Before moving your items into a warehouse for keeping household items, create an inventory list to keep track of your belongings. Organize your items by category, and label boxes clearly to make it easier to locate them later.
Also read: How to make a moving inventory list.
Pack Items Properly for Storage of Goods in Warehouse
Proper packing is crucial for the safe storage of goods in warehouse. Use quality packing materials, such as sturdy boxes, bubble wrap, and packing tape. Ensure fragile items are well-protected by wrapping them in bubble wrap or using packing peanuts.
Optimize Storage Space in Your Household Goods Storage Unit
To protect your belongings in a warehouse for household items, consider purchasing insurance coverage. Many household warehouse providers offer insurance plans, or you can choose a third-party insurance provider.
Keep Your Items Safe in Warehouse Household Items Storage
Ensure the safety of your warehouse household items by choosing a storage facility with 24/7 security, CCTV monitoring, and access control systems. It's also essential to keep your belongings in a clean and pest-free environment. 
Schedule Regular Visits to Your Household Goods Warehouse
To keep an eye on the condition of your household goods warehouse, schedule regular visits. This way, you can ensure your belongings are safe, clean, and in good condition. If you need to retrieve any items from your storage unit, it's essential to plan your visit in advance.
Benefits of Household Storage Services
Security: Storage facilities are equipped with modern security systems to ensure the safety of your belongings.
Space-saving: Storing items in a warehouse frees up space in your home, making it more organized and clutter-free.
Flexible storage duration: Most storage facilities offer both short-term and long-term storage options, allowing you to choose the duration that best suits your needs.
Accessibility: Many storage facilities provide 24/7 access to your items, ensuring you can retrieve them whenever needed.
Tips for Efficient Storage of Goods in a Warehouse
Use sturdy, uniform-sized boxes: This ensures easy stacking and reduces the risk of damage to your belongings.
Label boxes clearly: Mark each box with its contents and the room it belongs to for easy identification.
Create an inventory list: Document all items being stored and their location in the warehouse to easily find and retrieve them when needed.
Store items strategically: Place frequently used items near the front of the storage unit and rarely used items in the back.
Important Considerations for Household Goods Storage
Insurance: Check if your homeowner's or renter's insurance covers your items while in storage. If not, consider purchasing additional insurance coverage from the storage facility.
Understand the rental law governing storage units in your area.
Check for any restrictions on items that cannot be stored in the facility, such as hazardous materials or perishable goods.
Conclusion
Opting for a warehouse storage solution for your household items can significantly simplify your life and provide additional space in your home. By following the tips and considerations outlined in this guide, you can ensure a seamless and secure household warehouse experience. For more information on the moving process, be sure to check out our comprehensive packing and moving tips and guide to local home shifting.