How to Make a Moving Inventory List in 5 Simple Steps
A step-by-step guide to making a moving inventory list.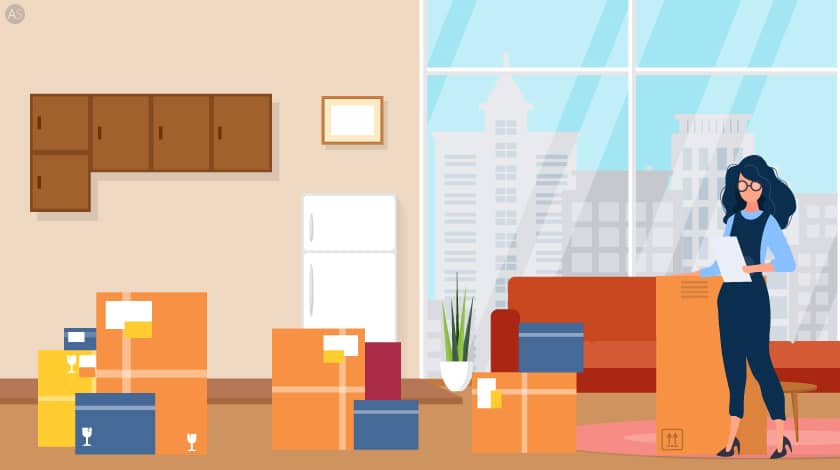 Moving is an extremely tiresome and laborious task. You need to prepare and pack and contact several people. Moving things on your own and handling numerous tasks in a short span of time is not an easy task, or one that anyone would look forward to. Even if you are hiring professional movers for the job, there is still too much to be done by yourself.
So it is easy to overlook a couple of things or miss out on an item or two during the chaotic episode that is moving. There are, however, several ways to make it easier for yourself to be in control and in the know of what is done and what is not during a move. One of them is the moving inventory list.
What is a Moving Inventory?
A moving inventory, in the simplest terms, is a list of all the items you are moving. The most basic inventory lists contain the items and their quantity. Of course, there are more complicated lists that contain a lot more information like the make and type of the item, their original value, their current value, year of purchase and other things. 
Why is an Inventory Checklist Important?
A moving inventory has lots of uses. The most important one is that it helps you stay organised. You know exactly what household goods you have to move and check them off when they are done, giving you better control over the entire situation. 
There are other reasons as well.
Helps in estimating the moving costs more accurately.
You can claim insurance easily if you have the price and purchase details of the goods.
It can help you downsize and declutter unwanted and unnecessary items by making it easy to identify them.
Keep track of possessions.
File for damage or loss of property from the movers.
How to Make an Inventory Checklist
Making an inventory list might seem like a herculean task, with every item in the house waiting to be inspected. If you go about it in a structured manner, it isn't that difficult at all. Before we do get to creating the list, you should know what to include in the moving inventory list.
Things to Include in the Inventory List
A description of the Item and its current condition(new, broken etc.)
Date of purchase and marked price 
The current value of the item, if possible
Receipt and Warranty numbers (If you still have them)
The label of the Box in which it is packed( you will know more about this in the step-by-step guide to making an inventory)
The room in which the item was kept and the room it will be kept in at the new house.
Step-by-Step Guide: Before Packing
Step1: Outline the order and Structure of the List
Before creating the list, make an outline and create a structure for the list. Decide on the details you want on the inventory list and also how you are going to place them.
Step 2: Select and Mark Priority Items
Once you have created a basic structure with all the details, you can then start filling it up. Start with the important items that you give priority to. They may be valuable electronics or some necessary items that you cannot do without. You can also include household goods that are easy to overlook.
Step 3: Go Room by Room and Enter the Items
Next, you will want to start entering all the items that you want moved. For this, go room by room and mention the room in your inventory list. This will help you identify the item and cross-check it easily later.
Step-by-Step Guide: Post Packing
Step 1: Cross-Check and Add Box Names to the List
Once you are done packing all of your possessions, enter the name of the boxes into the inventory list. For this, you must label every box and consequently note down the label of the box in the column adjacent to the item. This will help you find it easily after the move, saving you precious time.
Step 2: Back up Your Inventory into a Digital Copy
If you have created a physical inventory list on paper, create a digital backup for it. Even if you lose the original, you have a copy to refer to. If you started off with a digital copy, then make a duplicate of it, in case of loss of data.
When to Start making an Inventory list?
While I do recommend every homeowner to have an inventory list of their possessions, that is almost impossible to adhere to. So if you are creating an inventory list from scratch, then it is better to do it at least a month before the move. That will give you enough time to figure out how much is actually there for the move and how much it will all cost and then prepare accordingly. Final word? It should be among the first things you do!
Home Inventory Apps
If you want to make it easier for yourself while making an inventory, make use of technology. There are several apps that are designed to make inventory lists for your move. Make use of one of them and it can streamline the entire process for you. Here are some apps that you can use for this.
Smart Inventory System
Nest Egg
Sortly
My Stuff
Momento Database
Magic Home Inventory App
---
Making an inventory is extremely important for having a smooth move, whether you are hiring a mover or doing it on your own. They help you cut down on stress, work and lost goods. While noting down all your possessions and listing them sounds like a near-impossible task, it really is not if you follow the right steps. With this step-by-step guide to making an inventory, you can get done in no time and complete your move