Standard Charges for Household Shifting in India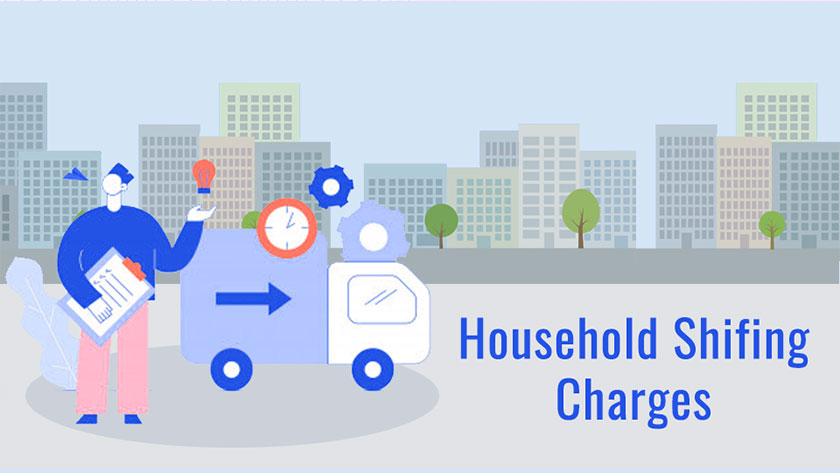 Your new home awaits you, and the easiest way to get there is with the help of a professional. Whether you're moving just a few Kms away or to a completely different city, it's always a good idea to know the estimated packers and movers' charges. You can avoid paying high charges, and you'll be able to understand if the mover is trying to scam you. Packers and movers charges depend on various factors and could vary up to 2x from one mover to another. Here we will discuss the cost affecting factors, what the standard home shifting charges are and how you can reduce your moving expenses.
Packers and Movers charges vary from city to city in India, because of the different living standards of each city. This approximate rate list is made according to a medium standard metro city so it may not be a 100% fit for your city. If you're living in one of the top expensive cities in India, these rates could increase by 1.2x; however, if you're living in smaller cities, these charges could reduce by 0.8x. The brand of the moving company and quality of service provided by them can also make a big difference in their rates. Continue reading below to know how to get more accurate packers and movers rate list for your specific shifting requirements.
Factors affecting Packers and Movers charges
The movers consider some factors before providing you with the cost estimate to transport household goods. Prices for relocating locally within the city and outside the city are different due to the distance traveled and the extent of safety measures of your goods.
Factors affecting the cost of shifting house within your City
Every Indian city has a different standard of living, and the moving charges will vary accordingly. Here, we will discuss some of the factors that are specific to Local Shifting and how the costs vary due to them.
Contrary to popular belief, Distance does not affect your shifting charges while moving within the city. Hence, the price will mainly depend on other factors like:
Volume of household goods: Moving more goods or big house à bigger truck required à higher shifting charges.
Types of items: Packing, moving and handling delicate and sophisticated items will increase moving charges as they need more care and attention.
Packing of items: Only the delicate, electronic and kitchen items are packed carefully as goods have to travel a short distance and chances of damage are low.
Vehicle Type: If you want a bigger vehicle to accommodate and move all your household items comfortably without stacking, the prices may go up.
Factors affecting the cost to transport household goods to a different City
While moving outside your current city of residence, the safety of the household items during the long distance travel needs to be ensured to a great extent. During a domestic relocation, some specific factors that play a role in deciding the price list of moving your household items are:
Distance: The prices will increase according to the distance that the goods have to travel from one city to another and fuel prices in different cities.
Packing of Items: Prices will differ according to the amount and quality of packing material used for maximum safety of the goods.
Additional Services: Services for unpacking and re-assembling furniture at the destination will be provided at additional costs if requested by you.
Vehicle Type:
Shared vehicle – your goods will be transported along with other's items; charges are lesser but delivery time may be longer.
Dedicated vehicle – you can opt for transporting your goods in a single truck; delivery time will be quicker, but the prices are higher.
Company's Presence in Origin and Destination: You get best and reliable services at lower rates when the moving company has an office branch in the destination as well as origin cities.
Insurance: You can claim compensation from the movers against damaged or missing items; it will cost about 3% of the total moving charges.
Storage Warehouse: The movers offer storage warehouse, at additional costs charged per day for the number of days you require the storage.
Additional Taxes: Vehicles crossing city or state borders have to pay a toll tax which will be collected from you along with GST tax for the services.
Standard Packers and Movers Charges in India
Packers and movers maintain an approximate range of prices for shifting household goods for each city, which will change for every moving scenario. Your shifting charges will depend on your exact requirements and the factors that will be considered for your moving. Mentioned below are the standard Packers and Movers charges in India:
Approximate Movers and Packers Charges for Local Shifting
Mentioned below is the average cost to transport household goods within your city. To get a better idea of how much it will cost to move your house, you can share your shifting requirements with us, and we will get the packers movers charges of 3 best-matched movers near you. You can choose the moving company that provides good quality services within your budget after careful consideration.
Size of House

Distance

Up to 12 Km

13 – 30 Km

Above 31 Km

1BHK

3,000 - 7,000

4,000 - 8,000

5,000 - 9,000

2 BHK

4,000 - 8,000

5,000 - 10,000

6,000 - 12,000

2 – 3 BHK

5,000 - 12,000

6,000 - 12,000

7,000 - 14,000

3 BHK

6,000 - 14,000

8,000 - 16,000

9,000 - 18,000

4 BHK

8,000 - 16,000

10,000 - 20,000

12,000 - 20,000
Approximate Packers and Movers Rate List for Domestic Shifting
Below are the average home shifting charges from your city to anywhere in the country. To get a better idea, you can give us your shifting requirements and get estimated shifting charges from 3 best and reliable packers and movers. You can compare them quickly and hire the moving company that provides the best services within your budget.
| | | | | |
| --- | --- | --- | --- | --- |
| Moving Items / Distance | Up to 400 Km | 400-800Km | 800-1300Km | 1300-1900Km |
| Few Household Goods | 5,000 - 10,000 | 7,000 - 12,000 | 8,000 - 15,000 | 9,000 - 18,000 |
| Complete Home Shifting | 12,000 - 22,000 | 13,000 - 25,000 | 14,000 - 26,000 | 15,000 - 30,000 |
| 1BHK House | 8,000 - 15,000 | 10,000 - 20,000 | 11,000 - 22,000 | 12,000 - 24,000 |
| 2BHK House | 10,000 - 18,000 | 12,000 - 25,000 | 14,000 - 24,000 | 15,000 - 28,000 |
| 2-3BHK House | 12,000 - 22,000 | 13,000 - 25,000 | 15,000 - 28,000 | 18,000 - 30,000 |
| 3BHK House | 15,000 - 25,000 | 17,000 - 30,000 | 19,000 - 28,000 | 22,000 - 34,000 |
| 4BHK House | 17,000 - 28,000 | 18,000 - 32,000 | 18,000 - 32,000 | 28,000 - 42,000 |
| 5BHK or Villa | 20,000 - 30,000 | 25,000 - 40,000 | 24,000 - 38,000 | 36,000 - 48,000 |
| Complete Home + Vehicle | 14,000 - 26,000 | 15,000 - 30,000 | 18,000 - 38,000 | 20,000 - 42,000 |
| Vehicle Only | 3,000 - 5,000 | 4,000 - 7,000 | 5,000 - 9,000 | 6,000 - 10,000 |
| Few Office Items | 8,000 - 15,000 | 10,000 - 20,000 | 12,000 - 24,000 | 14,000 - 28,000 |
| Complete Office | 12,000 - 26,000 | 15,000 - 30,000 | 17,000 - 32,000 | 20,000 - 40,000 |
Packers and Movers Charges per km
The cost of shifting house depends on the size and type of the vehicle used to transport your items from origin to destination. During the pre-move survey, the mover has a clear idea of the volume of movable items and will be able to decide the type of transport vehicle adequate for your move.
Generally, your items will be transported in a shared vehicle along with some other's household items. In this case, the charges per km will be calculated according to the volume of your goods and the amount of space occupied in the vehicle.
When you have many things and you require a complete vehicle to shift all of them, then the charges per km will be calculated based on the weight and volume of the goods.
Below, we have given the approximate packers and movers' charges per km for shifting your household items, according to the different truck sizes:
How to get accurate cost of moving?
The standard home shifting charges discussed above give you a general idea of how much your relocation might cost. It is advisable first to collect at least 2 – 3 packers and movers cost estimates before choosing the best service provider within your budget. To know more actual charges you can discuss your exact shifting requirements with the movers and request for an 'in-home' Pre-Move Survey.
What is a Pre-Move Survey? Why is it important?
A Pre-Move Survey is conducted by the moving company during which the mover will visit your home to take inventory of all the items you want to move and provides a more accurate moving rates. It's the perfect opportunity to meet the mover in person and discuss your requirements in detail as well as understand the people you will be dealing with.
Here's how a Pre-Move Survey will take place:
On a pre-arranged date and time, the mover will visit your home and make a note of all the items you want to move.
During the walkthrough, you have to inform him about the things you'll be leaving behind.
You can discuss the particulars such as date of moving, time, duration, quality of packing required, any additional services needed, insurance details, and storage requirements (if any).
Depending on the number of movable items and the services requested by you, after including the applicable taxes and additional charges if any, the mover will give you a total price for the entire move.
You'll be doing yourself a huge favour by requesting a Pre-Move Survey, because:
You get exact pricing of the entire move.
You can ensure that there are no hidden charges.
You can get the cost of moving and all other details in writing.
You can negotiate with the mover in person and reach an understanding straightaway.
You can meet the mover in person and understand who you'll be dealing with.
You can ensure that he completely understands your packing, handling and loading-unloading requirements.
You can eliminate the chances of communication gaps, which could become bigger problems on moving day.
Both of you can ensure proper understanding and successful coordination.
Note:
Pre –Move Survey is free of cost and conducted by all Packers and Movers as part of the relocation process.
You can get written invoices from all the companies.
You can get a Pre-Move Survey done by any number of packers you shortlisted.
Getting a Pre-Move survey does not mean that you are obligated to choose that particular company's services.
After careful consideration about each company and comparing the different packers and movers price lists, you can choose the mover that best fits your requirements and budget.

Tips for reducing your home shifting charges
There are a couple of things you can do to reduce your moving charges, like:
Sort and de-clutter: Sort through your household items and take only what is necessary; you may sell or donate the rest of the things.
Select the right day to move: Moving on a weekday in the middle of the month will help with lower shifting prices than weekends or month-end.
Plan your move in advance: With more time on your hands, you can easily find the best mover who provides services at reasonable prices.
Get cost estimates from multiple movers: and negotiate with them to see whose services fit your budget.
Be ready for the movers on moving day: so that you don't waste precious time and have your charges increased.
When you are planning to move your home, no matter how near or far it is, remember to get cost estimates from at least 2 – 3 packers and movers. For a more accurate price list, request the mover to conduct a Pre-Move Survey and use the opportunity to discuss your specific packing and handling requirements and all the other details of the move. Compare different packers and movers charges and choose the best suitable mover fulfilling your needs within your budget.
Before wrapping up, we would like to remind you: Sort and Purge – it's the easiest way to reduce your moving charges since the number of items to be packed, handled, loaded, transported, unloaded and unpacked is the most important deciding factor of the packers and movers' price. Carry a lesser load into your new home and make your wallet happy as well.
At the end of it, remember to tip the moving staff as a way of appreciating their efforts. Have an enjoyable home shifting!