11 Things To Know Before Renting A House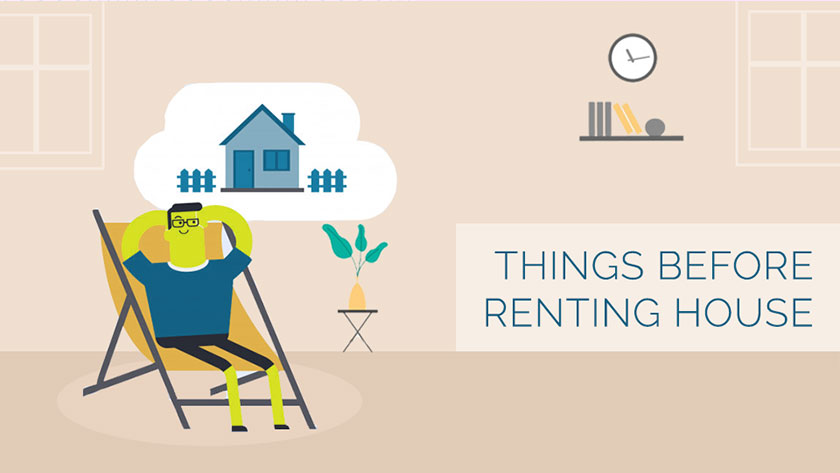 If you can't afford to buy a house now, no need to worry; the best solution is to rent a suitable place where you can have a peaceful time with your dear ones. Shifting to a new flat can be exciting as you are going to start life in a new community with new friends and lots of new experiences.
However, finding a suitable residence to rent is a big decision as it directly affects your lifestyle. You will have to hunt for the perfect house, find out about the safety and other details of the locality, negotiate the rent, live by the landlord's rules, be ready to relocate whenever your homeowner wants you to, and many other things which can make you feel stressed out if you are not aware of everything beforehand.
We agree that life as a tenant is not easy; but with proper planning and complete verification, you can find out the complete information which will help clear all your doubts before renting a place. That way, you can start your tenant-landlord bond on the right foot.
Landlords are of two types: good ones, and not-so-nice ones. No matter what kind of landlord you get, there are certain things you must know as a tenant which will help you maintain a good relationship with your landowners to avoid problems. And don't forget to discuss all the essential questions to ask your landowner before relocating to your new home to stay safe from any unexpected difficulties.
Get quick free quote from top packers and movers for easy relocation.
Ask for a Written Agreement
It's essential to ask the landlord for a written contract signed by both parties to be safe from any misunderstandings after moving in; your owner must keep the original form, and give you a duplicate copy. In case they do not provide a written agreement, or if the contract is still in process, it's recommended not to pay the rent since they can ask you to leave at any time. So, be smart and take the written agreement at the beginning so that you can move in without facing any problems.
Visit the Place Before Signing the Lease
Before renting a new flat, it's essential that you do a physical inspection of the site before signing the agreement.
Remember to cross-check the furniture, electrical outlets, sanitary fittings, and every corner of the house to inform your landlord if any repairs are needed. A physical visit helps avoid any confusion that might take place later between you and your landowners. You can also visit the locality to check how close the house is to your workplace, market, schools and colleges, hospital, bank, etc.
Get full information about your landlord
It's essential to have complete details about your new landlord. You should check the previous records of the owners were with their old tenants, find out if they are strict on their principles, and identify if it will be hard to negotiate with them.
It's essential to know how to deal with the house owner so that you can have a peaceful stay in the new place.
Be careful while discussing Rent and Due Dates
Before renting, determine whether the monthly rental fits your budget; confirm the new apartment only if the rent fits your monthly budget. Most property owners will ask you to pay the first month's rent as advance before you move in, so consider it while checking the affordability of the house. You can also try to negotiate to make it more affordable.
Remember to ask about the security deposit and how it should be paid; also, discuss clearly what date the rent should be paid, and the accepted types of payment methods – online or offline (cash) so that you can pay at the right time.
Know what will be included in your Rent
Ask your owner which utilities will be added to the rent and who will be responsible for paying your utility bills because some landowners pay all the utility bills while others allow the tenants to pay.
Verify the details earlier, so that you can prepare the monthly budget accordingly, talk smartly with your landholder to see who is responsible for maintenance and repairs, parking fees, laundry, etc. Having complete knowledge of your monthly rent in advance will help you to have a clear idea about your monthly expense needed to spend on your rent.
Check the Installed Security Systems
Ask your landlord what type of security systems they have so that your residence is safe, such as employing a security guard, having CCTV cameras, alarm systems, double door locks, etc.
You can also ask them or do some investigation by yourself about your neighborhood, the safety of the locality, and make sure you choose a secure residence for your beloved ones.
Check if They Allow Pets
Pets are a part of your family too; that's why it's essential to make sure your new apartment is pet-friendly. Find out if your landlord has any pet restrictions as well as limitations on the number or type of pets you have with you. For example, some landlords will allow dogs but not small puppies, and others will not allow you to keep more than 1 or 2 pets in the house.
That's why it's a good idea to check beforehand if pets are allowed in your new home to avoid any arguments with your owners on the day of moving in.
Check if They Allow Roommates and/or Visitors
If you are a bachelor and you want to live with friends, you will have to find out if the landlord allows it and take their permission. Not all landlords will allow you to have roommates; which is why you must discuss whether they will allow such a scenario, and only then should you find roommates to live with you. That way even if one of your roommates moves out for any reason, you'll easily be able to find another one to balance your monthly rent.
Keep the Property Well-maintained
As a renter, you will always be expected to keep your unit clean and well-maintained. The walls should not be dirtied with hand marks or oil stains since the paint will look old, the walls should not have nails drilled into it since it will spoil the look of the house, and the structure should have no leaking roofs or cracking walls.
Maintain a Good Relationship with the Owner
While you don't need to be best friends with the owner, you must aim to have a kind and respectful relationship with them.
Your small step will not only make it easy to communicate with them about any issues on the property, but also make them feel good to help you in any situation. Experts suggest that maintaining a good relationship with your owner can make your experience in the new home a happy and memorable time.
Remember to Take Security Deposit Back When Moving Out
Never forget to take your security deposit back a few days before you move out since landlords are well-known for not returning the money on time.
To speed up this process, ask them to have a walk-through of the house as this smart step will have your owners measure any damage done by you to their property, they can deduct your money from your deposit amount for maintenance to the damage done by you or your family.
---
We hope the guidelines discussed above will help you to get a complete idea of how you should look for rental property and what you should know before signing the lease and moving in. To make your upcoming relocation more relaxed, we will like to suggest that you compare and hire professional Packers and Movers who can take full responsibility for your move without disturbing you at any point.
Have a safe and happy move!