Office Packing And Moving Tips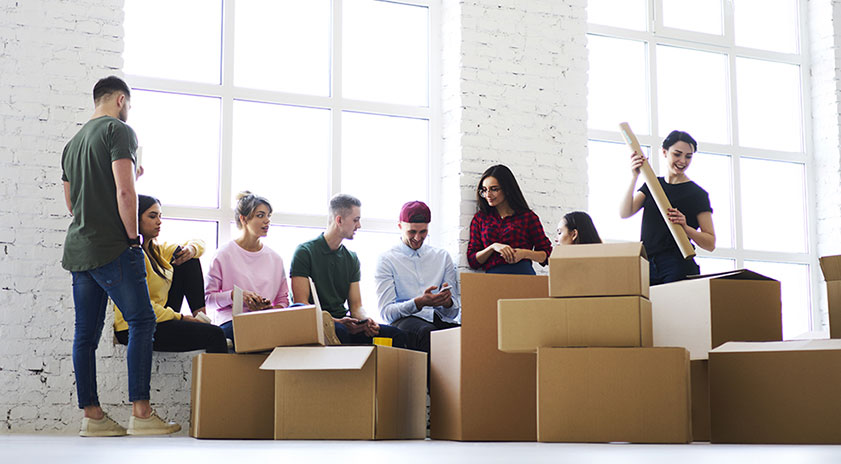 When you are running a rented office or business space, situations could make you shift to a new office space in a different location. The process of moving your office space is almost similar to shifting your home. A poor office moving plan can make you get more stressed, and similarly, it could even be troublesome for your employees and clients as well.
There are many chances of forgetting or missing some essential files, documents, and other official properties while shifting. So, you have to do a lot of preparations before your relocation day, no matter whether your office space is big or small.
However, by planning in advance, providing security to your office, and arranging an expert commercial moving company, you can execute your office shifting task quickly.
Are you thinking about moving your office? No worries!
Through this article, we give you many helpful tips to handle your office relocation smooth and safe.
Things to do before you prepare to move
Make your moving plan as early as possible and it is good to start doing these things at least sixth month before the move. First things to do are:
Review your current lease agreement, if you plan to move soon and you might be responsible for any damages or breakages that might have occurred when running your office. Hence, it may affect your security deposit.
Organize a planning team to assign tasks and to be responsible for the relocation together.
Get accurate moving estimates by contacting some professional commercial movers and get many relocation quotes to find out the best mover in your city.
Check that you require any transit insurance for shifting your essential office machinery and equipment.
Plan on your budget to avoid spending more.
---
Perform internal and external communication
When you have confirmed your relocation date, it is essential to make a notification about your upcoming moving to the internal and external departments of your business. Communicate to:
Inform and provide official notice to the present owner or property manager of your office space.
Notify your team members regarding the shifting date and new office space address.
Prepare the first list of contacts to mail the change of address.
Prepare an up to date list of employees, clients, and service providers.
Inform your team members about what their responsibilities would be in the future.
Book the top relocation company in your city.
Inform your IT department regarding the move and talk about the tech modifications wanted for the day.
Inform your local affiliates, partners, and suppliers regarding your relocation.
---
Prepare for the move
It's time to move all your office goods and equipment from your current office space to your new office space. Prepare to:
Arrange or book for a storage unit to store old or rarely used files and documents if you are downsizing your business to a smaller office space.
Have a complete floor plan for your new office space.
Calculate your new office space and make out a plan to place the items.
Prepare an inventory on office furniture.
Arrange renovators or interior designers if you need any space alterations at your new office.
Consult with a furniture company and place orders if you require new furniture.
Order for your stationery needs.
Set-up external storage facilities, if required.
Allot color codes and work on the floor plan to distribute color-coded stickers to every department.
Allot an employee number and attach it to their work desk and office equipment.
Name all the common spaces on your new floor plan.
Sign the licenses, paperwork, and permits.
Make prior bookings for the elevators and parking space at both offices.
Organize the cleaning services for your current and new office spaces.
Arrange securities and access codes for your new space.
Provide a detailed floor plan to your moving company.
Prepare a complete shifting day plan for your employees to follow.
Create a list of emergency contact details for all involved in the relocation. Also, inform your building and elevator maintenance personals at both office spaces.
Hire vendors for records management, artwork, IT assets, furniture, vending, landscaping, painting, audio & visuals, cabling, security, electrician, network, general contractor, etc.
---
Things your planning team should discuss on
Your planning team should have an official meeting and talk about things they should be performing before and on the relocation day. They should discuss on things like:
Ordering all employees to purge or clean up the old data and the personal data can be erased by using a proper consumer electronics guide for laptops, computers, and tablets.
Recycling your old electronic items and buying new ones by using disposal or buy-back programs conducted by online companies.
Choosing a member form each team to supervise the packing tasks of their departments.
Determining about packing process and layout.
Planning the best route to your new office location along with parking and public transport instructions.
Providing a moving pack to each employee with their desk number, information, and color code about the new office.
Plan on labeling all the laptops, hard drives, keyboards, and screens.
Make your employees to take their devices and personal belongings to their home.
Determine that who will be present at the old office space until the final moving vehicle has left and who will be taking care of their new office.
Ordering each department to empty their filing cabinets and to pack them safely.
Make sure desk numbers and color-coded stickers are applied or marked clearly in the new office space.
Ensure that access codes, tags, security information, and keys are all available.
---
Executing the relocation
When the relocation day arrives, you should be well-prepared, and the below given are few points to assure that everything goes fine on the shifting day.
Be prepared and keep your old office ready for the movers to do their job smoothly without any trouble on the relocation day.
Have the emergency contact numbers with you.
Shift your non-essentials if possible, by dividing your office items as essentials and non-essentials.
Allocate a budget for refreshments for internal staff and the relocation team.
Make sure all computers, tech equipment, phones, etc., are shifted initially.
Ensure that all representatives have placed color-coded goods and desks at proper spaces with numbered boxes.
Plan a date for systems and telephone lines to become unfunctional at the old office and functional at your new office.
---
Things to do after your office move
When your extensive shifting process is done successfully, it's time to finally set up things so that you can return to your business or office work very soon. Things to do are:
Arrange all your tech equipment and computers.
Set-up the systems and telephone lines.
Update your official website with new contact details.
Create a new official contact list and distribute it to all the departments.
Report to the relocation company about any damages or losses that might have occurred during the move on office goods.
Ensure your insurance has been transferred.
Make sure regarding the expiry of your old leases.
Affirm any remaining deposits have got from the old office.
Gather all keys, keycards, and passes of the old office to give them back and provide ones for your new office.
Verify all payments and invoices.
Organize new IT systems and install them.
Publish a press release regarding your change of address.
Form a planning committee to organize an office-warming party.
Leave a welcome pack on each staff desk and offer some treats to make them happy in a new office environment.
---
Don't forget to notify the address change
Just updating the new address details on your website and search engine is not enough as search engines fetch information from more sources like Yellow Pages, LinkedIn, Facebook, and other business listings. Inform your change of address and update the new digital contact information finally to:
Partners and clients
Known professional organizations
Stationery services
Financial institutions and banks
Foodservice providers
Water companies
Mobile and telephone companies
Printer or photocopy service companies
Insurance companies
Accounts departments
Internet service providers
To execute small or local office relocation, planning can be done at least before six months of your move, whereas to make a huge office or domestic moving, it can start before two years of your shift. Hire top moving companies for smooth office shifting.