Movers and Packers Lucknow Charges – Instant Price Quotations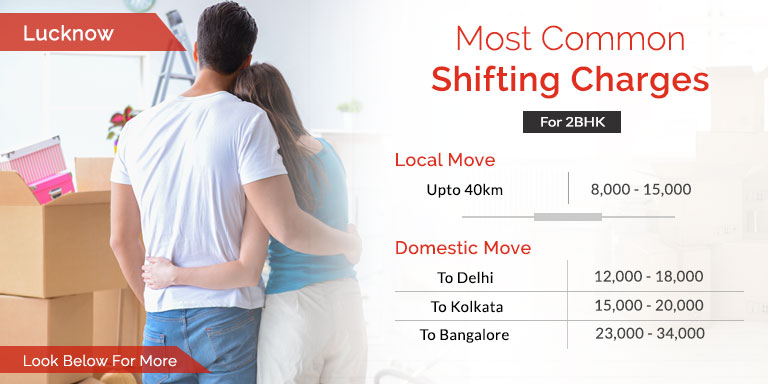 Experts suggest that hiring professionals to pack and move your belongings is one of the safest ways to move your things. You can save time and money, and complete other pending tasks while shifting to a new place within or outside Lucknow.
While hiring Movers and Packers Lucknow, it's better to look for cheap and best movers nearby who can provide perfect moving and packing services at affordable prices. However, due to the presence of too many moving companies in Lucknow, the movers and packers Lucknow charges vary significantly and you may get confused as to which is the most suited option.
However, it can help if you know the approximate rate of packers and movers charges in Lucknow beforehand; if you are not aware of standard relocation charges, you'll end up accepting high quotes. Also, if you're moving for the first time, you can be cheated if you get in touch with fake Movers.
You can go through the table to find out the average packers and movers Lucknow price and the various factors which your moving packers and loaders will consider while calculating your home relocation charges in Lucknow.
Table of Content
Packers and movers Lucknow charges will vary based on several requirements like the number of goods, packing costs, transport facilities, labor, etc. Local moving companies in Lucknow will charge approximately Rs 7000 – Rs 9000 for a regular 1 BHK; whereas Domestic movers and packers Lucknow price will be precisely calculated based on your requirements and depending on your destination city.
| | | |
| --- | --- | --- |
| Shifting size | Few Items | All Items |
| 1 BHK | Rs 2500 – 5000 | Rs 7000 – 9000 |
| 2 BHK | Rs 3500 – 7000 | Rs 8000 – 15000 |
| 3 BHK | Rs 6000 – 10000 | Rs 13000 – 21000 |
| 4 BHK | Rs 8000 – 12000 | Rs 18000 – 26000 |
1. Quantity of goods – Transportation charges
The main cost-influencing factor of the short distance packers and movers charges in Lucknow is the number of belongings to be packed and moved because everything from packing material, size of the truck, and manpower required will be determined based on the number of goods.
Trucks are available in a range of sizes starting from the mini Tata Ace to the large 19 feet vehicles, and local packers and movers Lucknow charges per km range from Rs 2500 – Rs 10000.
2. Quality of goods – Packing Charges
Since the chances of damage are low during local shifting in Lucknow, careful packing is done only for the essential and fragile items like electronics and antiques, so that they are unmoved and undamaged during transit. Normal or standard packing is followed for all the regular domestic items like appliances, furniture, kitchenware, clothes, etc.
Depending on the sophistication of items and the quality of packing supplies required, the price for packing material in Lucknow will vary accordingly. Packers and movers in Lucknow typically charge around Rs 1000 – Rs 5000 according to the size of the house.
3. Men required – Labor charges
The total members of staff needed to perform your entire relocation task like packing, loading, unloading and unpacking the complete household belongings will be determined by the size of the house, and the quantity of items. These labor charges will be calculated at Rs 500 – Rs 600 per person and will be included in the packers and movers in Lucknow price list.
4. Additional services – Optional
The providers of home shifting services in Lucknow usually do not perform disassembly and re-assembly of items; however, if you want your items to be dismantled before packing and shifting them, you can request your hired mover crew for the same. The moving companies will make alternative preparations to provide these services, but you will have to pay additional prices according to the items needed to be packed and moved.
5. Physical Effort – Additional charges
The charges for the amount of hard work done by the moving guys during the loading and unloading will be added in the Lucknow packers and movers cost estimate if:
the total distance from the door to the truck is more than 100 meters;
the elevator is unavailable in the building, and packed containers have to be shifted from the 1st floor or above;
roping is required to move certain items which can't be carried through the lift or staircase;
In such cases, additional charges of Rs 500 – Rs 1500 will be added depending on the extent of physical activity carried out.
6. Tip to Labors – Optional
Tipping the packers and movers team at the end of the move is a sign of appreciating their hard work, especially if you were satisfied with the service provided. A decent tip would be Rs 100 – Rs 150 per mover and can even be higher if you are comfortable with it and if they did an excellent job. You can also read our complete blog about How Much Should You Tip packers and movers
Note:
Distance is not considered while calculating the moving prices for Local shifting services in Lucknow since the entire move can be completed within one day and the overall distance to be covered will be <50 Km. Also, whether you relocate 5 Kms away or 25 Kms, the fuel consumption is not that different, and the Lucknow packers and movers rates won't differ much. Remember to cross-check the complete profile of the moving company before hiring them, to have a secure relocation.
While shifting to any new your city from Lucknow, it's always the best choice to compare and hire intercity professional packers and movers Lucknow, who can provide standard service at competitive prices. Not required to look for the top movers, but if you want ultimate and safe relocation service with full peace of mind, then you must choose the best full-service movers and packers in Lucknow. However, while hiring trustworthy Movers you must have precise knowledge about how much they will cost to perform your move as packers and movers Lucknow price for domestic shifting is slightly higher compared to short distance packers and movers who provide services only within Lucknow.
That's why we are here to assist you from beginning to end; tell us your relocation requirement, and we will help you know movers and packers Lucknow charges within minutes, or you can invest your time to checkout standard domestic moving rates mentioned below:
| | | | | |
| --- | --- | --- | --- | --- |
| From Lucknow/ House size | 1 BHK | 2 BHK | 3 BHK | Few Goods |
| Bangalore | Rs 18000 – 26000 | Rs 23000 – 34000 | Rs 29000 – 39000 | Rs 10000 – 13000 |
| Hyderabad | Rs 14000 – 19000 | Rs 17000 – 24000 | Rs 21000 – 28000 | Rs 7000 – 10000 |
| Chennai | Rs 13000 – 18000 | Rs 16000 – 23000 | Rs 20000 – 27000 | Rs 7000 – 9000 |
| Pune | Rs 18000 – 26000 | Rs 24000 – 34000 | Rs 29000 – 39000 | Rs 10000 – 13000 |
| Lucknow | Rs 9000 – 12000 | Rs 11000 – 15000 | Rs 13000 – 18000 | Rs 5000 – 7000 |
1. Distance
One of the main factors affecting the long-distance movers and packers charges in Lucknow depends upon the distance over which the belongings have to be delivered. The longer will be the new distance, the higher the cost.
Your shifting expenses can also increase depending on the city to which you are moving.
2. Vehicle type – Transportation charges
Inter-city household goods shipping rates Lucknow will also depend on the kind of transport you selected to move your goods:
Shared truck: If you want to save money while relocating your items, you can share the vehicle between 2 – 3 other households. Although the delivery time may be much later, the prices will be lesser and reasonable. The shifting service provider Lucknow charges per km will be planned according to the volume occupied by your things in the truck.
Dedicated truck: But, if you want to move your belongings with complete safety and quickly, you can opt for a single vehicle for only your household items in which the delivery time will be much faster. The added cost for a single truck will be around Rs 5000 – Rs 15000, based on the size of the residence you are shifting and the total distance to be covered.
3. Packing material – Packing charges
The Lucknow movers and packers cost estimate will include the price of packing material according to the quantity and volume of goods.
Regular packing of household items will cost Rs 5000 – Rs 12000; and, packing of the fragile items can add up to Rs 10000.
4. Labor charges
Depending on the staffs and amount of effort involved to complete your entire packing and moving process for shifting outside city, the labor charges will be counted on the average cost of packing and moving your home goods to provide more protection of your stuff.
The minimal price that genuine moving service providers Lucknow charges are Rs 700 – Rs 800 per person for packing, loading, and unloading your possessions at your new destination.
5. Unpacking – Additional charges
During domestic shifting, unpacking and organizing service of the delivered items at the destination is not done by the moving company, but you can avail the unpacking services by paying extra charges. The additional services like disassembly, unpacking, reassembly, and rearrangement of all the belongings will add to the average moving costs.
According to the size of the house and the number of labors needed to do the job, the charges for unpacking your items will range from Rs 1000 – Rs 3000.
6. Insurance – Optional charges
Although it's not enforced, if you purchase insurance for your belongings, you can ensure complete safety while relocating them in and out of the abode, and during transit to avoid any loss due to damage of your possessions. Even if you don't want to purchase insurance for your entire home goods but purchasing insurance or your valuable items or delicate things is highly advisable by experts to have a hassle-free relocation.
The cost of insurance will be 3% of the total declared price of your belongings.
7. Storage/Warehouse – Optional charges
Your things can be stored in the warehouse provided by the moving and storage companies Lucknow for as long as required, but you will have to pay for the storage service in Lucknow on a daily basis. They will make sure that a complete inventory of the items in storage is maintained and they will complete protection so that you can remain calm as your possessions are in safe hand and you can get it back at any moment as per your requirement.
Note:
Before hiring any reputable long-distance movers in Lucknow, make sure that the relocation service providers have all essential qualities and can be trusted to pack and move your goods efficiently.
Shifting service providers in Lucknow are expert in packing and moving your precious bike or car with complete safety at your new desired destination within your discussed time and budget. However, you must know how much your movers will charge to pack and relocate your bike/car within or outside Lucknow.
| | | |
| --- | --- | --- |
| From Lucknow/ Moving items | 2-Wheeler | 4-Wheeler |
| Bangalore | Rs 6000 – 10000 | Rs 10000 – 13000 |
| Chennai | Rs 4000 – 7000 | Rs 7000 – 10000 |
| Lucknow | Rs 4000 – 6000 | Rs 7000 – 9000 |
| Hyderabad | Rs 6000 – 10000 | Rs 10000 – 13000 |
| Delhi | Rs 2000 – 4000 | Rs 5000 – 7000 |
Factors affecting car/bike shifting rates
Size of the vehicle: Bike and car transport services in Lucknow to pack and move a regular-sized bike or car will be charged at nominal rates, but for bigger car or a heavy sports bike Moving Companies Lucknow will charge quite higher prices as they use superior protective packing supplies and vehicle carriers to relocate them safely at new destination.
Insurance: You can easily claim a reimbursement in case the car or bike gets damaged during relocation process by purchasing insurance on the vehicle even though they may increase the overall Lucknow movers and packers rates to shift your precious vehicle.
Distance: The distance from the origin to destination to which the vehicle must be relocated, is one of the main factors which will increase charges of bike/car movers and packers Lucknow price.
Packing and moving the entire office from one location to another within or outside Lucknow needs extra care from beginning to endpoint, which is only possible if you compare wisely and hire top commercial office movers in Lucknow as they are trained enough to take care of entire moving task efficiently at quite a reasonable price. The quantity and quality of items and office capacity are taken into consideration while calculating office relocation charge in Lucknow.
| | |
| --- | --- |
| Office Capacity | Charges |
| Micro Office (6 people capacity) | Rs 10000 – 15000 |
| Small Office (20 people capacity) | Rs 13000 – 21000 |
| Medium Office (50 people capacity) | Rs 25000 – 40000 |
| Standard Office (100 people capacity) | Rs 59000 – 95000 |
| Corporate Office (>100 people capacity) | Contact for pricing |
From Lucknow/ Office Capacity

Micro Office

(6 people capacity)

Small Office

(20 people capacity)

Up to 400 km

Rs 10000 – 15000

Rs 15000 – 25000

Up to 800 km

Rs 14000 – 18000

Rs 21000 – 35000

Up to 1200 km

Rs 22000 – 28000

Rs 33000 – 55000

Up to 1600 km

Rs 39000 – 50000

Rs 59000 – 99000

Up to 2000 km

Contact for pricing

Contact for pricing
Factors Affecting Corporate Shifting Charges in Lucknow
Quantity of office goods.
Type of office items to be shifted like office furniture, CPUs, network equipment, pantry items, etc.
The distance over which the working system is to be shifted
Packing supplies required to pack entire items securely
Scheduling move during peak season
Floor and lift availability
Selected transportation services
Insurance
Early Planning: Prepare a moving strategy at least one month earlier from your exact relocation day is always the best option as you will have enough time to search for low-cost packers and movers in Lucknow. So, you can complete other essential tasks at the right time before shifting in your new abode like how to assist your kids to adjust in the new school, taking care of your health during a move, etc.
Get rid of unwanted stuff: As we have mentioned above that quantity of your things is one of the main determining factors which can speedily upsurge your moving charges in Lucknow, so declutter all your unnecessary things and carry only essential into the new place to cut down your shifting cost.
Hire the cheap and best moving company: you will have to do more and more research while hiring Movers and Packers in Lucknow, and find who can provide affordable and trusted packers and movers in Lucknow and save the cost of buying lots of packing supplies and hiring 2 men and a truck to pack and relocate your things.
Negotiate the quotes for better deals: Instead of accepting the cost estimate blindly provided by your Moving service provider, you must negotiate the price to grab cheap and best movers and packers charges in Lucknow.
1. Quickly get in touch with best-matched Packers and Movers
You can easily have a look at the list of top-rated packers and movers in Lucknow and compare the top movers working near your locality. You can compare individual profiles of all the relocation companies, packers and movers Lucknow reviews, to have complete information about their creditability. So, that you can quickly compare and contact them to get pricing quotes without investing your extra time, energy as well as money to hire genuine Movers in Lucknow.
2. Tell us your requirements and get references within a few seconds
It's evident that due to shifting strain, you might forget to discuss your entire requirements while speaking with moving companies, as you will have to deal with multiple tedious tasks at the same time. Therefore, you can simply tell us your entire shifting requirements, and we will recommend you the 3 best-rated shifting service providers in Lucknow who can fulfill your requirements efficiently at reasonable charges.
Our recommended full-service movers and packers will contact you within a few minutes, and you can discuss your entire shifting requirements and projected budget more clearly. Once you compare the necessary details and the movers and packers Lucknow charges, you can hire the best-suited mover to have a safe and secure moving experience.