Hire Best Packers And Movers in Lucknow - Get 3 Quotes in 1 Min
271
Lucknow
Hire verified and reliable packers and movers in Lucknow for safe and affordable relocation process. Explore list of professional packers and movers Lucknow, shortlist 3-5 companies, and ask for shifting charges. Get cost estimates in your budget from 3 best-match movers and packers in Lucknow for any relocation need like house shifting, car & bike transport, or office moving by our trusted Lucknow packers and movers.
Get Quote From
3 Nearby Movers
Quickly Compare
& Save Min 25%
Guide to Hire Packers and Movers in Lucknow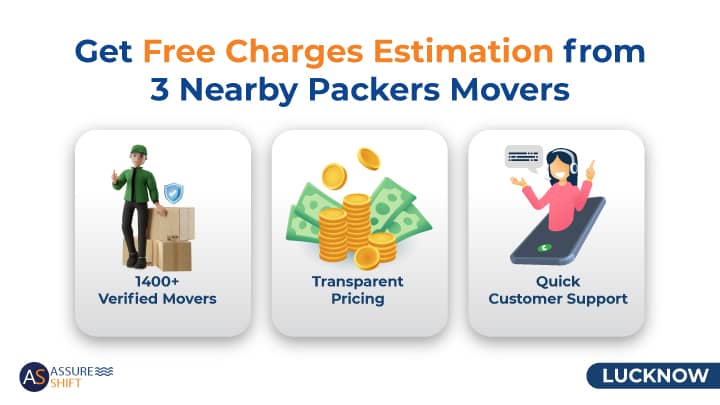 Welcome to AssureShift, your one-stop shop to find reliable packers and movers in Lucknow for all your moving needs. With a network of more than 1200 verified packers and movers in 26 of India's major tier-1 and tier-2 cities, we aim to make the process of moving easy and smooth for you.
AssureShift works hard to find the best and most reliable movers and packers in Lucknow for you. All the Lucknow moving companies mentioned on the AssureShift platform have been certified by our own expert verification team. They verify the moving company registration, owner details, and office location, to make sure they are trustworthy, experienced, and professional.
Top packers and movers Lucknow offer a wide range of packing and moving services at affordable shifting prices to meet every relocation need. Our professionals can handle start-to-end local, domestic, and international house moving. Lucknow packers and mover's services also include car transportation services, bike transport,office shifting, fine art and antique moving, storage and warehousing services, and pet moving services, among various others.
Our professional movers and packers take charge of your entire move, from the first pick-up to disassembling, packing, loading, transporting, unloading, unpacking, and reassembling the goods at your new location on time.
We also help you all throughout the moving process, from the first time we get in touch during the hiring process, until your belongings are delivered safely to your destination.
With AssureShift, it's easy to find the right Lucknow movers and packers for your needs and budget in just a few minutes. Follow these simple steps to hire the best moving company from AssureShift in minutes:
Submit Your Requirements: Fill out a brief form with your relocation details, such as the origin and destination, type of move, and tentative moving date.

Get Instant Quotes: Based on your requirements and the date of moving, we will connect you with 3 best packers and movers in Lucknow as per your requirements who will provide you the initial estimates.

Compare and Choose: Review and compare the quotes, services offered, ratings & customer reviews and select the relocation company that best fit your needs and budget.
After evaluating all the factors, select the best packers company in Lucknow for your relocation. Book their services and confirm the moving date, pickup and delivery timelines, and any other specific requirements.
---
Why Choose AssureShift for Packers and Movers in Lucknow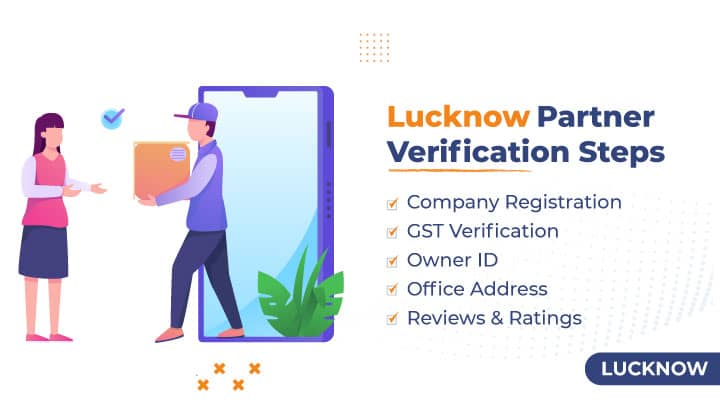 When it comes to moving services, AssureShift knows how important it is to be both reliable and affordable. Each moving company is carefully checked out by our team to make sure they meet our high quality standards. We also get you the best service quality at affordable shifting costs, so you can move without stress or breaking the bank.
Extensive Network of Trusted Packers and Movers: We verify each detail of moving companies who associate with us. We verify their business/GST registration, owner details, office presence, transport arrangements, and past performance history to list only 100% reliable packers and movers partners.

Commitment to quality and affordability: Our reliable packers and movers in Lucknow are dedicated to providing high-quality moving services at reasonable prices and our thorough screening process makes sure that all our partners meet our standards of service quality and professionalism.

Convenient booking: Our site is easy to use, and you can quickly browse through our list of moving companies, read reviews, request quotes, compare prices, and book your move all in one place. Our user-friendly platform makes it easy to request quotes in a few minutes, compare prices, and book your move, all in one place.

Support team: Our team is here to help from the moment you ask for a quote until your things are safely transferred to your new home. We offer full help from start to end of the move to make sure your relocation goes smoothly and without stress.
Choose AssureShift for your next move in Lucknow and experience the difference our quality services and dedicated support can make!
---
Charges Overview for Movers and Packers Lucknow
Hiring packers and movers in Lucknow for a normal 1BHK local move can cost between ₹ 3,000 and ₹ 8,000. Domestic packers and movers services for moving 1BHK outisde Lucknow can cost anywhere from ₹10,700 to ₹23,700. The exact cost will vary based on the exact distance of the move and various other factors.
| From/Move size | 1BHK | 2BHK | 3BHK | 4BHK/Villa | 2-Wheeler | 4-Wheeler |
| --- | --- | --- | --- | --- | --- | --- |
| Local Moving | ₹ 3200-8000 | ₹ 4400-12000 | ₹ 5700-15500 | ₹ 6400-20100 | ₹ 1700-4200 | ₹ 2200-6500 |
| Lucknow to Bangalore | ₹ 15150-23665 | ₹ 19100-32550 | ₹ 22325-37200 | ₹ 24150-38750 | ₹ 4600-9650 | ₹ 7700-12850 |
| Lucknow to Delhi | ₹ 10700-19050 | ₹ 14650-25600 | ₹ 17450-30675 | ₹ 19250-32550 | ₹ 2900-5550 | ₹ 5450-8950 |
| Lucknow to Pune | ₹ 12800-20915 | ₹ 16750-28850 | ₹ 20000-33925 | ₹ 22050-35500 | ₹ 3650-7500 | ₹ 6400-10900 |
| Lucknow to Gurgaon | ₹ 10700-19050 | ₹ 14650-25600 | ₹ 17450-30675 | ₹ 19250-32550 | ₹ 29000-5550 | ₹ 5450-8950 |
| Lucknow to Kolkata | ₹ 12800-20915 | ₹ 16750-28850 | ₹ 20000-33925 | ₹ 22050-35500 | ₹ 3650-7500 | ₹ 6400-10900 |
| Lucknow to Hyderabad | ₹ 12800-20915 | ₹ 16750-28850 | ₹ 20000-33925 | ₹ 22050-35500 | ₹ 3650-7500 | ₹ 6400-10900 |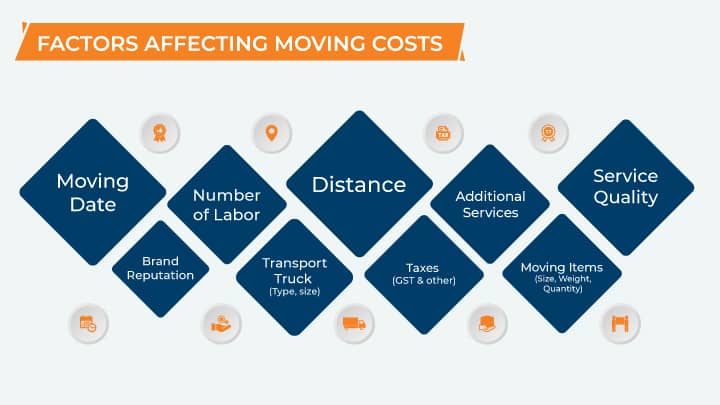 The key factors that can affect the cost of your move are distance and location of the new destination, the amount of belongings that needs to be relocated, required truck size, type of truck used, the type of packing carried out, relocation dates, storage facilities if required and additional services such as moving large appliances, or providing extra labor, insurance service.
---
How AssureShift Supports you in Case of any Concerns
At AssureShift, we are committed to providing our customers with a moving experience that is free of worry from the very beginning to the very conclusion of the relocation process. We take preventative measures to alleviate any concerns you may have prior to, during, and after your relocation by addressing those concerns head-on.
Customer Satisfaction: We work with over 300 verified relocation businesses in the city who provide dependable, effective, and inexpensive moving services. Our sole responsibility is to satisfy our customers with all their moving requirements.

Transparency: We work to make the packing and moving business in India more open and honest. We check the qualifications of every moving company we work with.

Apt Response and Support: Our customer support team is accessible to address any relocation difficulties. We will work with you and the moving company to rapidly resolve any difficulties during or after your move.

Solving your problems and queries: If you have any problems during or after your move, you can call, email, or use WhatsApp to get in touch with us. Our dedicated customer support team will take care of all your problems quickly and effectively.

Review and Feedback: We encourage customers to share their feedback and rate our partner companies after their move, which will helps us review and maintain the quality of our network and packers and movers service.
---
Frequently Asked Questions (FAQs)
What is the average cost of hiring packers and movers in Lucknow?
The average cost of hiring movers services in Lucknow is between ₹1,700- 20,0100 it can vary depending on several factors, such as distance, volume of belongings, and additional services required. To get an accurate estimate, it's best to request quotes from multiple packers movers and compare their prices and best house shifting services.
How can I find a reliable professional movers company in Lucknow?
To find a reliable packers movers Lucknow, consider using a platform like AssureShift, which verifies and partners with reputable moving companies. Additionally, you can ask for recommendations from friends and family, read online reviews, and compare quotes from multiple providers before making a decision about Lucknow packers movers.
What should I look for when comparing quotes from different movers and packers in Lucknow?
When comparing quotes from different moving companies, consider factors such as the services offered, the company's reputation, their experience, and their insurance coverage. Don't solely focus on the price; instead, look for the best combination of quality and affordability to ensure a smooth relocation experience.
What items are prohibited from transporting in Packers and Movers Lucknow?
Packers and movers are typically prohibited from transporting hazardous materials, perishable goods, pets, plants, and valuable personal items such as cash, jewelry, important documents, etc. It's best to transport these items personally.
How are fragile items are handled during the move?
Professional packers and movers use high-quality packing materials and employ careful handling techniques to ensure fragile items are well-protected during the move. Fragile items are typically wrapped in bubble wrap, placed in sturdy boxes, and clearly labeled to ensure extra caution.
Do Movers and Packers Lucknow provide insurance coverage for my belongings during the move?
Most professional packers and movers in Lucknow offer insurance coverage options for your belongings during the move. It's essential to discuss the available insurance options with your chosen service provider to ensure that your items are adequately protected in case of any damage or loss during transit.
How far in advance should I schedule my move with moving companies in Lucknow?
It's recommended to schedule your move with moving companies in Lucknow at least 3-4 weeks in advance. This will give you enough time to prepare for your domestic relocation and also ensure the availability of your best packers and movers Lucknow service provider on your desired moving date.
Are there any items that house shifting services in Lucknow will not move?
Generally, moving companies in Lucknow will not move hazardous materials, perishable goods, valuable documents, or personal items. It's essential to discuss any specific items or restrictions with your best packers movers company before your moving day to avoid any issues during the relocation process.
What is the best time to move in Lucknow to save on moving costs?
To save on movers companies costs in Lucknow, consider scheduling your move during weekdays or off-peak seasons, as moving during peak seasons or weekends can result in higher charges due to increased demand for moving companies. Professional assistance can also be provided for local shifting with the help of packers movers service provider in Lucknow.
---
Lucknow Packers and Movers Reviews
Professional packers and movers have the skills and knowledge to make sure that your belongings are packed and moved safely. Our professional packers and movers in Lucknow know how to pack your things in a certain way. For example, we use plastic wrap, bubble wrap, packing paper, packing peanuts and foam, sturdy boxes, etc. to keep your home items safe. To make sure nothing goes wrong, heavy household things are first taken apart and then wrapped properly with the right packing materials. In the same way, other high-quality things are also packed in the right way.
By hiring the right shifting service providers, you can save valuable time and effort, allowing you to focus on other important aspects of your relocation. Create a moving timeline, listing all the tasks that need to be completed before your moving day. Go through your belongings and decide what you want to keep, donate, or discard. Label your boxes clearly, indicating their contents and the room they belong to. Pack an essentials box containing items you'll need immediately after your move, such as toiletries, clothes, medications, important documents, office goods and basic kitchen supplies.
The tools that packers movers use to carefully load and unload items include appliance dollies, hand trucks, furniture sliders, panel movers, moving blankets and pads, moving straps and ropes, etc. Lucknow relocation companies and local movers agency chooses the right car to make sure your local shifting shipment gets to you on time and safely.
Moving can be expensive, but there are several things to do to lower packing moving costs. For example, you can get rid of unwanted things in your home, plan your move far in advance, pack your own things, use free or cheap packing materials, move when it's not as busy, bargain with packers and movers, and get insurance.
Find reliable "packers and movers near me in Lucknow" to get the best services when moving your home within Lucknow. But before you choose the best interstate packers and movers in Lucknow, make sure they have a branch office in the place you're moving to. So, when you get to your new house, it won't be hard to unpack and put things back together. (If you are moving from Lucknow to Hyderabad, for example, make sure to hire Lucknow moving companies having a branch office of their packers movers in Hyderabad too, so that it will be easier to find doorstep relocation services when you get to your new house in Hyderabad.)
With AssureShift, you can find pre-verified and trusted professional moving companies in Lucknow, they provide services such as house shifting, office relocation, car transportation, bike relocation, room shifting, furniture shifting, international relocation, warehouse services, domestic relocation/intercity shifting, luggage shifting, and any other packing and moving services in Lucknow.
Go through our list of movers and packers in Lucknow and pick 4-5 that fit your budget and moving needs. You can also quickly fill out the form and tell us that you are moving. Depending on what you need, we'll put you in touch with three of Lucknow's best and least expensive packers and movers. You can pick a professional packers and movers Lucknow by comparing their costs, list of home shifting services, reviews and ratings, and company profiles.