How To Reduce Your Shifting Charges For Home Relocation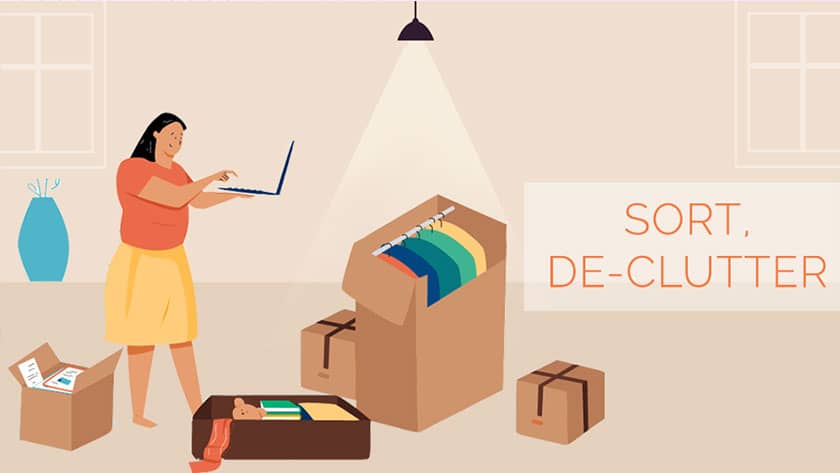 Moving to a new home can be a costly event, especially if you haven't planned it out properly. Moreover, sometimes, even if you have it all planned out correctly, you may face unexpected expenses during your move. Trying to save money during the move is not just about reducing costs, but also about avoiding unnecessary extra expenditures. Here you'll get the complete details on how to save money on your move.
Tips for Reducing Home Shifting Charges

​
One of the smartest ways to cut moving costs is to organize your move and save time in the process. As soon as you get to know you have to move, put down the pen to paper and make a list of all the things you're supposed to do. They say "Time is Money"; the sooner you plan your move, the more money you'll save by the time it's over because you have things worked out.
With more time on your hands, you can sort through your things better to reduce your load and eventually pay less to move a lesser number of things. Also, you have enough time to find the best movers and negotiate with them to avail their services at affordable costs. Never wait until the last minute to look for packers and movers, as you'll end up accepting any price they quote due to being in a hurry.
One of the primary things to do when planning to move is sort through your belongings and separate the things you don't require anymore. The rule to remember is – the fewer things you have to take along with you, the lesser you'll have to pay. So, the easiest way to reduce shifting charges is to get rid of things that you haven't used in a long time or might not use in the future.
De-cluttering not only helps you cut down on moving charges but also makes way for new things to come by reducing the load you'll be carrying into your new home. While you're at it, you can consider selling some of the things that you have no use for, for a little extra pocket money. Alternatively, you could also donate the usable items to the needy and feel good about doing a kind deed.
Selecting the right day and time to move will also help you cut down immensely on your relocation costs. During weekends and month-ends, the movers quote high prices due to high demand as many people move in this period due to off from work and end of lease or rent contracts.
Scheduling your move during weekdays in the middle of the month will be your best bet as it's much easier to find reliable movers during this time and you don't need to pay unnecessarily high charges. Also, they will be able to give their complete focus on your relocation job without being in a hurry to move onto the next one.
Another simple way to avoid unnecessary expenditure is to disconnect the utility services at your old home before you move out. This is one of the main tasks that people quickly forget to do; they don't realize until the bills arrive and they need to pay for services which they never used.
Set aside a day before your move, to contact all utility departments like gas connection, electricity, water connection, telephone and internet, cable TV connection, newspaper, milk vendor, etc.; inform them of your move and tell them a specific date on which you need these services to cease or be transferred to your new location. For utilities that can't be transferred, make sure you contact those services at your new home and request for them to begin on the day of your move in.
Availing the services of a moving company may seem expensive at first look. However, in reality, you'll be saving more money than you thought. By taking the help of a mover, you can save money on packing supplies, transportation costs, security of your items, and a whole lot of time and effort.
However, all of this is possible only if you hire the right moving company which offers good services at affordable prices. It would be best if you did the proper research about the reliability of each mover before hiring them. No two movers quote similar prices, so you need to get cost estimates from at least three companies. After comparing their company profiles and cost estimations, and based on who provides the best services, you can select the right mover who fulfills your budget and shifting requirements.
Every Indian household runs on a budget. That's the basic principle, and that's where we learn how to save money and spend only wherever necessary. Applying the same rule during your move will help you control your expenses and avoid unnecessary expenditure. However, you could be a little flexible because it's not always possible to find a mover who provides good quality relocation services precisely within your budget.
You can do a couple of things to make sure you don't spend unnecessarily like exercise caution while moving your items to avoid damaging your property; be careful about not moving too many things that are not useful anymore; avoid moving during peak-hour traffic so that you don't pay for the extra time spent on the road. Planning out such details in advance will help you stick to your budget.
Preparing your devices before moving day is also a way to save on the shifting charges. Packers and movers may charge additional prices to dismantle appliances, like fridge or AC. Also, they will charge slightly extra to handle leaking appliances which aren't cleaned up before moving.
If you have the right knowledge and skills, you could reduce the disassembling costs by doing it yourself. However, if you're not sure how to do this in the right way, its better left to the professionals who use the necessary tools and follow proper guidelines to avoid any damages.
One day before moving, you need to defrost the refrigerator, clean all the shelves and wipe it inside out. By doing this, you can avoid the chances of spoiling and damaging your other goods due to a leaking appliance.
Before you pack all your things into boxes, you need to prepare a bag with all your essentials which you will require to survive the first few days at your new home. Your survival kit will hold all the necessary toiletries, clothes, cleaning supplies, and most importantly your valuables and important documents.
You must never leave your documents and valuables like a laptop, jewelry, ornaments, etc. with your regular household goods to be sent with the movers. These items are worth so much more than money and cannot be replaced in any way. Always be cautious about what you are sending with the movers and keep such irreplaceable items close to yourself.