Budget-Friendly Moving: Tips to Reduce Home Relocation Charges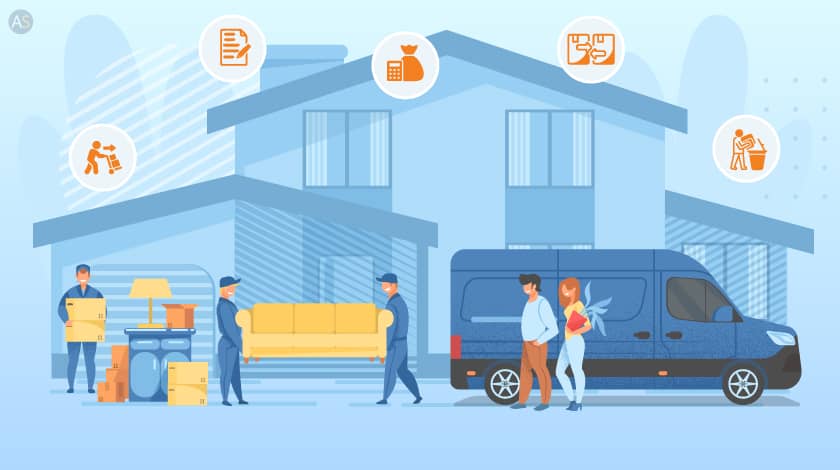 Moving to a new home can be a costly event, especially if you haven't planned it out properly. Moreover, sometimes, even if you have it all planned out correctly, you may face unexpected expenses during your move. Trying to save money during the move is not just about reducing costs, but also about avoiding unnecessary extra expenditures. Here you'll get the complete details on how to save money on your move.
#1 Choosing the Right Time to Move
Movers often charge higher rates during peak moving seasons, which typically include the summer months and holidays. To reduce your shifting charges, select the right day to move:
Winter (December to February): The demand for moving services tends to be lower during the colder months, making it simpler to negotiate better rates.

Monsoon (June to September): Although the weather may be less favorable, the monsoon season is another period when moving services are less in demand. You can take advantage of this by negotiating lower rates.

Weekdays: Weekends are generally busier for packers and movers, resulting in higher moving costs. If possible, plan your move on a weekday to benefit from lower rates and greater availability of services.
#2 Plan Early
Planning ahead is another way to secure early-bird discounts, avoid last-minute expenses, and negotiate with the movers.
Book services early: Secure better deals and early-bird discounts by booking packers and movers well in advance.

Avoid last-minute expenses: With ample time to plan and organise, you can avoid additional costs that may arise due to last-minute changes or delays.

Negotiate effectively: When you have more time to research and compare different service providers, you can negotiate better rates and conditions.
#3 Set a Budget to Control Your Expenses
Creating a budget for your home relocation can help you keep track of your expenses, prioritise your spending, and ensure you stay within your financial limits. Establishing a budget for your move can provide several benefits:
Financial control: A budget helps you identify and control your moving expenses, ensuring you don't overspend or incur unexpected costs.

Prioritisation: Budgeting allows you to prioritise your spending, allocating funds to the most critical aspects of your move.

Reduced stress: Knowing you have a financial plan in place can alleviate some of the stress associated with relocating.
#4 Research and Compare Packers and Movers
Collecting Quotations from Multiple Companies
To get the best deal on your home relocation, it's essential to collect quotations from multiple packers and movers. This will allow you to compare their rates, services, and terms before making a decision. Here's how you can approach this process:
Make a list of potential packers and movers: Search online or ask for recommendations from friends, family, or colleagues.

Request quotations: Contact the shortlisted companies and ask for detailed quotations, including a breakdown of services and their corresponding costs.

Compare the quotations: Analyse the quotations to identify the most cost-effective options, while keeping in mind the quality of services offered.

Verifying credentials and checking reviews: Before finalising a packer and mover, it's essential to verify their credentials and check reviews from previous clients. This will ensure that you're hiring a trustworthy and reliable service provider. 
Negotiating with Packers and Movers
Once you've shortlisted a few packers and movers based on their quotations and credibility, it's time to negotiate to further reduce your shifting charges. Here are some negotiation tips:
Highlight the competition: Inform the packers and movers about the lower rates offered by their competitors. This may encourage them to provide a better deal.

Discuss discounts and promotions: Ask about any ongoing discounts, promotions, or special offers that may not have been included in the initial quotation.

Be flexible with dates: If you have some flexibility with your moving dates, you may be able to negotiate a better rate during a less busy period.
#5 Declutter and Organise Your Belongings
Decluttering and organising your belongings prior to the relocation may greatly lower your moving costs by:
Lower moving costs: The fewer items you have, the less you'll need to pack and transport, resulting in lower shifting charges.

Easier packing and unpacking: With fewer belongings, packing and unpacking becomes a more manageable task.

Less clutter in the new home: Decluttering helps ensure that you only bring items you genuinely need or want to your new home, creating a more organised and clutter-free living space.
Organizing and Labelling Belongings
Once you've decluttered, it's essential to organise and label your belongings to make the packing, moving, and unpacking process more efficient. Here are some tips:
Sort items by category: Group similar items together, such as clothing, kitchenware, electronics, and books.

Use clear labels: Label boxes and containers with the contents and the room they belong to in your new home (e.g., "Kitchen - Pots and Pans").

Colour-code: Assign a specific colour to each room and use coloured labels, stickers, or tape to easily identify the boxes' destinations.

Create an inventory: Make a list of all the boxes and their contents to keep track of your belongings and simplify the unpacking process.
#6 DIY Packing and Unpacking
Choosing to pack and unpack your belongings yourself, rather than hiring professionals, can significantly reduce your shifting charges for short distance moves. There are several advantages to packing your belongings yourself:
Cost savings: By doing the packing yourself, you can save money on professional packing services.

Personalised care: You can ensure that your items are packed with the utmost care and attention, as you understand their value and fragility better than anyone else.

Flexibility: Packing at your own pace allows you to start early and spread the task over several days or weeks, reducing stress and last-minute pressure.
#7 Opt for Shared Transportation
Choosing shared transportation for your home relocation can be a cost-effective way to reduce your shifting charges. Opting for shared transportation during your move offers several advantages:
Reduced costs: Sharing the moving truck with another party can significantly lower transportation costs, as you will be splitting the expense.

Environmentally friendly: Sharing a truck reduces the overall number of vehicles on the road, resulting in lower carbon emissions.

Availability: In peak seasons, when trucks are in high demand, sharing transportation can increase the likelihood of securing a truck for your preferred moving date.
#8 Disconnect Utilities at Old Home
Another simple way to avoid unnecessary expenditure is to disconnect the utility services at your old home before you move out. This is one of the main tasks that people quickly forget to do; they don't realise until the bills arrive and they need to pay for services which they never used.
Process of Disconnecting Utilities
Follow these steps to disconnect utilities at your old home:
Make a list of utility providers: Create a list of all the utility providers servicing your old home, including electricity, water, gas, internet, cable, and telephone.

Check your contracts: Review your utility contracts to determine any notice requirements or penalties for early termination.

Schedule disconnections: Contact each utility provider and arrange for the disconnection of services on or shortly after your moving day. Make sure to provide the required notice to avoid any penalties.

Pay outstanding bills: Ensure all outstanding bills are paid before you move out. Request final bills or confirm the payment methods with your providers.
#9 Make Appliances Ready to Move
Preparing your devices before moving day is also a way to save on the shifting charges. Packers and movers may charge additional prices to dismantle appliances, like fridge or AC. Also, they will charge slightly extra to handle leaking appliances which aren't cleaned up before moving.
If you have the right knowledge and skills, you could reduce the disassembling costs by doing it yourself. However, if you're not sure how to do this in the right way, its better left to the professionals who use the necessary tools and follow proper guidelines to avoid any damages.
One day before moving, you need to defrost the refrigerator, clean all the shelves and wipe it inside out. By doing this, you can avoid the chances of spoiling and damaging your other goods due to a leaking appliance.
#10 Keep Valuables and Necessities Close By
Before you pack all your things into boxes, you need to prepare a bag with all your essentials which you will require to survive the first few days at your new home. Your survival kit will hold all the necessary toiletries, clothes, cleaning supplies, and most importantly your valuables and important documents.
You must never leave your documents and valuables like a laptop, jewellery, ornaments, etc. with your regular household goods to be sent with the movers. These items are worth so much more than money and cannot be replaced in any way. Always be cautious about what you are sending with the movers and keep such irreplaceable items close to yourself.

Conclusion
Relocating to a new home can be an exciting, yet daunting experience. However, by taking the right steps and following the tips outlined in this guide, you can significantly reduce your shifting charges and enjoy a more affordable and stress-free move paving the way for a fresh start in your new home.