Adapting in A New City After Marriage: Relocation tips for Newlyweds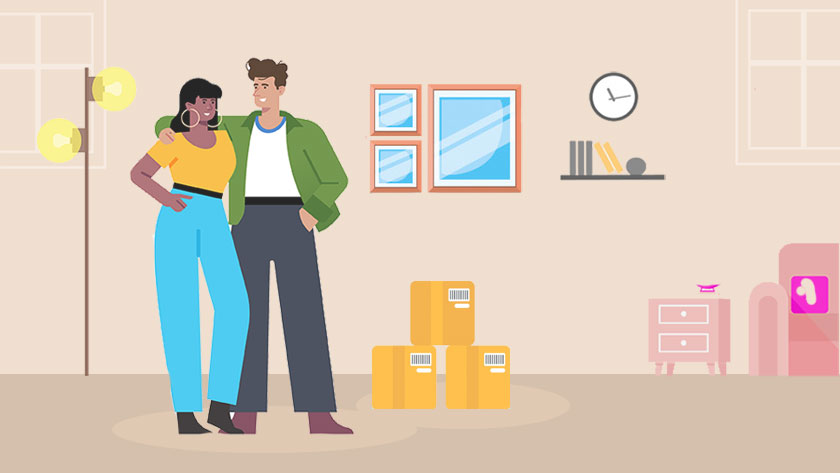 Congratulations on your marriage, it's one of the most significant turning point in your life, as you should normally move to a new place to lead a happy and peaceful life with your new spouse and family.
In India, people normally move to a new city or town, soon after they get married to start their new life due to any job change or due to any other reasons. This will be more painful for a person who leaves his or her family, pets, house, friends, relatives, hometown, etc.
It is not so easy to start a new life with a new person in a new city, you should know some basic things about the new city. Adapting with the new place, environment and people would be a very hardest experience for anyone, and it would be good if you face all these challenges by yourself without anybody's support. You don't have to completely depend on your spouse for all the things you do, and you need.
So, you have to prepare yourself to adjust with your new married life by following these below-given ideas.
Search for a new home and don't forget to change your address
When you have moving plans to any city or town after your marriage, it is good to start searching for a new home at your new place, at least two months before the day of your marriage. Try to look for a spacious home or a flat with all basic facilities and amenities. The rooms at your new house should be comfortable for you both and your households so that you can occupy peacefully without any trouble.
Before moving, do not forget to change your address at your postal department to direct all your future emails to your new address. You can do this by sending an e-mail or mentioning your new address on social media networks and sharing it with your friends and relatives. It's also very important to intimate your new address details and contact information to your banks, ration department, credit card department, etc.
Clear your old things before you pack and relocate
When you plan to relocate your household belongings to your new city, it is better to de-clutter your household things at least a month before your moving day. It is brilliant to prepare a checklist on what things you want to carry and what items you should leave behind at your home. Before packing your household items, you have to get all the packing necessities to pack your things well and move safely. Then, you should pack your belongings based on that checklist you have already prepared.
When you start packing your things, try to clean and sort out items that you are not going to use them again in the future. Keep individual boxes for items, that you want to throw away, that you want to donate and items that you want to sell during a garage sale. After packing all your important belongings, give away your unwanted items before you make your move to your new city, and preplan things to do before moving into a new home.
Try to arrange a moving vehicle or a truck by yourself and ask your friends or relatives to help you move your things to your new city. When you try to perform your moving task on your own, you should take full responsibility to do all things. This task would become more hard and stressful for you to do it by yourself. If you are not interested in moving on your own, you can hire professional packers and movers as well, by using friend referrals, search engines or by using any relocation reference portal.
Try to do your work yourself and learn to be independent
After shifting your household belongings, remove your items from packages, arrange your items according to your taste and settle down at your new home in your new city. Try to do your homework on your own such as cleaning the house, washing the clothes, preparing for your bedding and cooking for the family, when your partner is not with you or your spouse is at work.
Try to manage your financial expenses independently by saving some money from your household expenses so that you don't have to always depend on your spouse for small things. Try to be physically strong and control your emotions as it takes some time to get involved with your new partner, family, city, people, culture and sometimes even food.
Plan a time table and make yourself busy all day
Create a timetable for performing and balancing your day to day activities such as going for a walk, going for your gym workout, cleaning your home, cooking, etc. Make yourself engaged with some kind of activities to make your whole day busy.
Try to travel alone and explore the new city
Make use of public transport facilities like a bus, the city metro train or hire a cab with the help of your mobile phone, when you want to travel alone in your new city. If you don't know to drive a two or a four-wheeler, try to go for a driving school and learn driving skills as soon as you can. But, do not forget to take your driving license and your helmet along with you whenever you go for a ride within your new city.
Explore your new city by visiting the local places like markets, grocery shops, shopping malls, banks, etc, using the google map. You can also visit some places like historical monuments, museums, movie theatres, and coffee shops alone without anyone's help.
Try to spend time with your new partner and family
Find or allocate some free time to spend and relax with your partner. When you both are free during weekends, plan for one or two day trip to nearby places and plan to stay in hotels or resorts to make your travel wonderful. You can also pass your time with your spouse by taking him or her to any restaurant, movie, function and an event.
It is essential to get mingled with your new in-laws and their relatives. Whenever you find the time, spend some time with your in-laws by going for a walk, shopping, religious places, etc. Try to gather with in-laws for breakfast, dinner and sometimes for lunch along with your spouse. By doing such kind of activities, you can gain a better understanding with your partner and your in-laws.
Make new friends and learn new things
People you meet in your new city will be entirely different from the people whom you have met in your city. They will have different opinions, ideas, experiences, etc., on various things they know. In this digital era, it's easy to find new friends through social media channels like Facebook, Twitter, Instagram, etc.
You can also make new friends by talking to your neighbors, attending some social events or parties and participating in some organizational activities. Try to learn about some new things by attending some courses and involving in some special activities that your spouse have never tried before and made him or her attracted to you.
Know about various social practices and the new lifestyle
Visit many places to meet new people and to find out the different social forms practiced in your new city. If your new city belongs to a new state or a new country, you will see different people, new adventures, new culture, and a new lifestyle. Try to adjust with your new lifestyle and your different culture when you go to live a fresh life out of your state or country.
Join some clubs and get involved in other activities
If possible, join some clubs in your new city and become a member. Already, if you are a member of any club, renew your membership by making a small payment. You can also get involved in other activities such as attending a book exhibition or any job fair, joining any sports or indoor games club, attending a religious gathering, etc.
Return to your job
When you want to go for a job in your new city, join the work field in which you already have a good experience or join any field you are very much interested in. If you have a long period gap in your career, try to join some training classes to get back on track. You can also learn about doing some online business over the internet and earn money working from your home.