How To Prepare Yourself for International Moving in 11 Easy Steps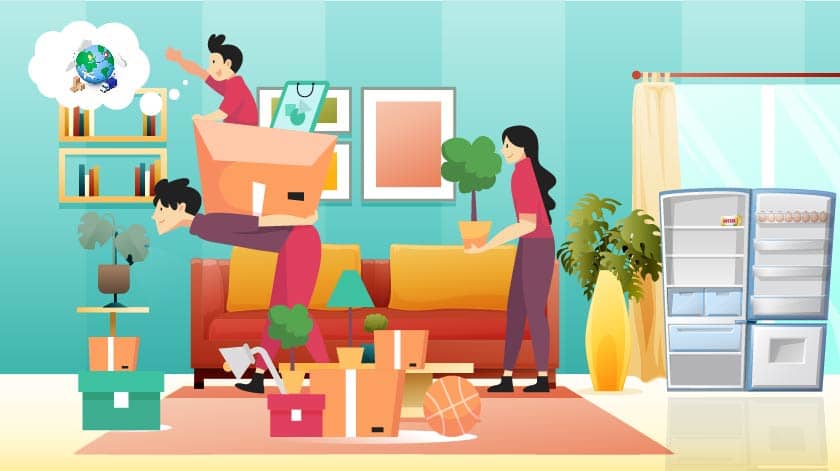 It is said that moving is one of the most stressful experiences. The tension can be amplified when the step is for work. It's also essential to bear in mind that you're not the only one going through a major life transition here. Moving abroad would certainly have a major impact on your family as well.
It's easy to get overwhelmed when you consider what you'll need to plan for your new location before you can travel. You'll be relieved to learn that you're not alone; virtually almost every eager migrant looking to move out of India or ex-pat looking to return back to India encounters similar issues from time to time, be it whether it's not knowing where to begin or missing out on important tasks that should have been done much before relocation. The excellent news is that you can prevent most of these problems before flying off to another country.
Easy Steps to Get Ready for Relocating Overseas
Take note of the below-mentioned points and start planning accordingly to avoid getting into a messy situation once you arrive at your new place in a completely different country.
Tip #1 Make a list and double-check it
Before you begin preparing for the move, you need to make a list of all the tasks to take care of so that you can easily keep track of the work and never miss out on anything important!
Make a note of everything irrespective of importance starting from when to research about the destination city and locality, when to start looking for a place, when to inform your friends or plan a meetup, and various other small tasks like updating your new address on shopping sites, deciding which furniture to move/sell, when to book your tickets, and so on. To make things easier, consider assigning each task to a particular day with reminders so that you never have to miss out on completing it and it is always better to a make a moving checklist so that you don't me anything
Come back and review your list at least 1 week before your move to ensure you have completed all necessary tasks and also have enough time to complete any pending ones before D-day.
Tip #2 Research your intended destination
Take the time to study your destination before going to work abroad. This research will assist you at every stage of the process, as being well-informed will enable you to be more comfortable during the remainder of the procedure.
You could also speak with people who may have visited your chosen country before you, as first-hand knowledge is priceless, and you may probably get an idea of what you can expect and how much you need to prepare.
Tip #3 Save your money before moving
One of the most attractive factors for an overseas move is the high-paying package. Aside from travel expenses, you'll almost certainly need to pay at least one month's rent and a security deposit upfront. You will also need to buy a few things for your new home, such as furniture. You will even have to wait a month or longer for the first paycheck in certain professions.
Therefore, it will be best to save up before moving abroad more importantly to enjoy a comfortable life after arriving there. Set aside a fund to assist you throughout the first few months.
Tip #4 Look for a good place to live
Some abroad services provide accommodation as part of the package, but this might not apply to all. However, if you have to find yourself accommodations, be careful about the locality you choose and make sure you get the complete details about the place before making any commitments.
If you prefer to search for a place after arriving there, make sure you have booked a safe and affordable lodging in a hotel at least a few nights prior to your move; make the booking for an average of at least 7-10 days and check their cancellation policy in case you need to move out a few days early on finding a good house.
Tip #5 Take care of your responsibilities
Unfortunately, going abroad isn't as easy as throwing on your flip-flops and boarding a plane. You'll need to take care of business in your home country in addition to planning for your new destination.
Make sure you're familiar with the bureaucratic procedures that come with traveling. Is there anything you need to tell your bank or insurance company? If you're subletting or selling your home, make sure you keep track of your utility bills. Will you need to put your vehicle in storage or sell it, as well as cancel or downgrade your auto insurance? Don't forget about the smaller expenses, such as subscriptions and gym memberships.
Tip #6 Decide which items to move or sell
It all depends on how much stuff you have and whether you plan to keep your home or move everything with you. Relocation overseas is an excellent opportunity to go through all of your possessions and downsize. Decluttering is liberating, and you'll appreciate having fewer things to worry about.
Tip #7 Organize your paperwork
Any step abroad entails a significant amount of paperwork. Make sure you start researching visas, work permits, taxes, and benefits as soon as possible, as getting everything approved and set up can take a long time.
Tip #8 Plan required packing materials
You may think the packaging is the last thing in your mind, but a lack of planning can lead to a lot of panic and headaches before your big move. Make a list of what to bring, what luggage you need, and consider moving your belongings one or two boxes in advance so you don't need to worry about checking multiple boxes.
Tip #9 Prepare yourself for a culture shock
Moving to a foreign country is often a life-changing event, regardless of how well prepared you are before your journey. After the initial excitement wears off, you'll notice how different everything is, and you may even feel homesick.
It's perfectly natural, and you shouldn't be embarrassed or discouraged by it. Since they are unprepared, many people change their minds and return home. But, as long as you remember that this is just part of the process, you'll be able to get through it and get back to enjoying your stay abroad.
Tip #10 Start forming a network
Arriving in a new location and knowing someone who can show you around is always a plus. Establish contact with people you may meet in your new place. Make a social media announcement to see if any of your mates know someone who lives there.
If you have a hobby, look for local groups that share your interests and that you can enter once you arrive.
Tip #11 Make an effort to learn the language
Try to learn the language before moving to any country so that you will neither feel embarrassed nor completely helpless in a dire situation.
At the very least, learn the fundamentals and consider enrolling in a crash course to help you feel more at ease when you arrive. A smart way to avoid culture shock is to speak a little of the local language.
---
Though there are many things to consider and plan for before traveling and working abroad, we hope that this comprehensive list will make the process more enjoyable for you. While you would already be so caught up with preparing for the overseas move that you may not even get time to ensure everything is ready, set, to go for relocation.
To avoid any stress of relocating while trying to get control of your feelings as well as arrange to gather your things, it's best to hire professional moving companies who are well experienced in providing safe and secure international shifting services. They will take care of not only the safety of your goods during relocation but also determine the right materials & transport options which will make sure your move remains cost-effective.