Top 10 Most Beautiful Cities in India to Live, Work, and Raise a Family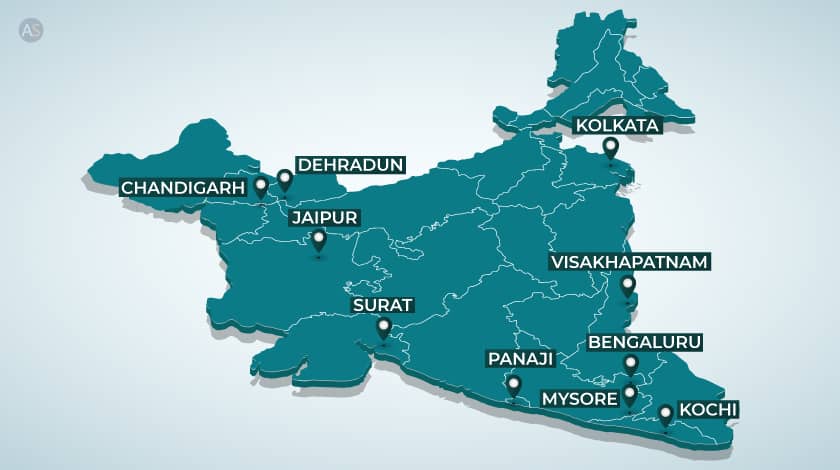 India is beautiful. Some parts of the subcontinent are mesmeric and as varied as they come on this earth. Sometimes, this beauty may just be the missing piece of our lives. If it is the same for you, and you are looking for some of the most damningly beautiful cities in India to live in, then you aren't short of options!
There are some truly magnificent cities in the country that either has a rich history and cultural heritage that is signified by monuments or are just simply scenic. Some of them are a marriage between natural beauty and historical ones. Intrigued?
If you are looking for the most beautiful cities to live in India, this list might just be it:
Jaipur - The Pink City Royal Residency
Jaipur is the capital of India's Rajasthan state. It evokes the royal family that once ruled the region and is home to some of the most beautiful structures in the world. It was the first planned city in India and to this day is among the best administered in the country.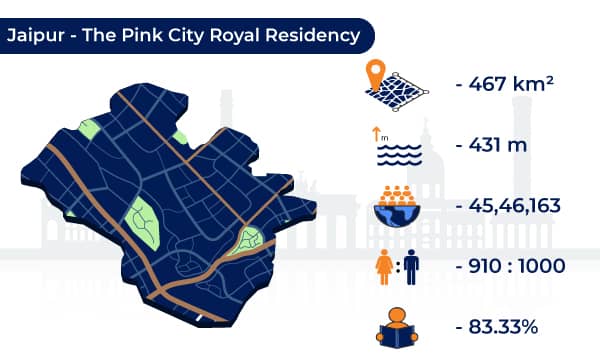 Area: 467 km²  |  Elevation: 431 m  |  Population: 45,46,163  |  Sex Ratio: 910  |  Literacy: 83.33%
At the centre of its stately street grid (notable in India) stands the opulent, colonnaded City Palace complex. With gardens, courtyards and museums, part of it is still a royal residence. With beauty that is other-worldly and facilities that rival modern metros, it is definitely among the most beautiful cities to live in India.
Chandigarh - Modern Architecture and Urban Design
Chandigarh, the capital of the northern Indian states of Punjab and Haryana, was designed by modernist architect Le Corbusier. His modernist buildings include the Capitol Complex with its High Court, Secretariat and Legislative Assembly, plus the giant Open Hand Monument. The nearby Rock Garden is a park featuring sculptures made of stones, recycled ceramics and industrial relics.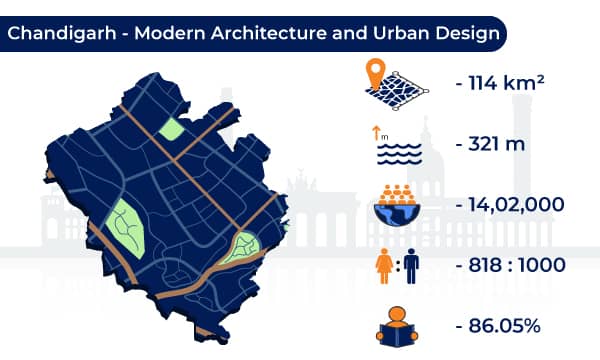 Area: 114 km²  |  Elevation: 321 m  |  Population: 14,02,000   |  Sex Ratio: 818  |  Literacy: 86.05%
Chandigarh also boasts of some of the best schools and facilities in the country and is among the best cities in India for both raising a family and enjoying a retired life. That speaks volumes about the city.
Click here to Hire Moving Companies for safe & affordable shifting.
Kochi - At South West Coast Enriched with Colours
Kochi (also known as Cochin and nicknamed the queen of the Arabian Sea) is a city in southwest India's coastal Kerala state.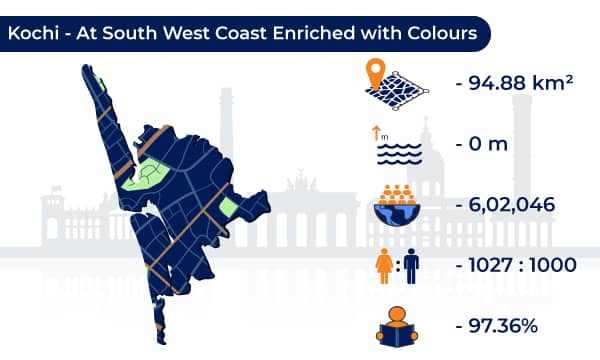 Area: 94.88 km²  |  Elevation: 0 m  |  Population: 6,02,046   |  Sex Ratio: 1027  |  Literacy: 97.36%
Fort Kochi, a settlement with tiled colonial bungalows and diverse houses of worship is a famous historical sight and a sight to behold. It also houses various other historical buildings that reflect the Portuguese, Chinese and Dutch influences that built this little fishing village into a bustling port town.
Visakhapatnam - An Eastern Beach Side City
Visakhapatnam is a port city and industrial centre in the Indian state of Andhra Pradesh, on the Bay of Bengal. It also ranks high in the ease of living index and has world-class medical and civilian infrastructure.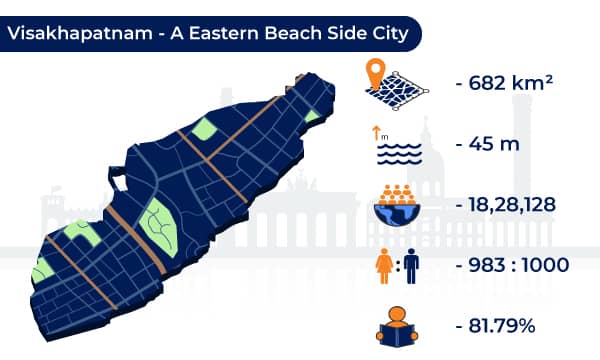 Area: 682 km²  |  Elevation: 45 m  |  Population: 18,28,128   |  Sex Ratio: 983  |  Literacy: 81.79%
It's known for its many beaches, including Ramakrishna Beach, home to a preserved submarine at the Kursura Submarine Museum. Nearby are the elaborate Kali Temple and the Visakha Museum, an old Dutch bungalow housing local maritime and historical exhibits.
Also Read: 7 Best and Affordable Places to Live in Mumbai
Dehradun - City of Holy Mountain Rivers and Temples
Dehradun is the capital of the Indian state of Uttarakhand, near the Himalayan foothills. Dehradun is the de-facto city of schools in India. Many of the Indian elites send their children to the schools here. The city also has all the infra required to live a comfortable life.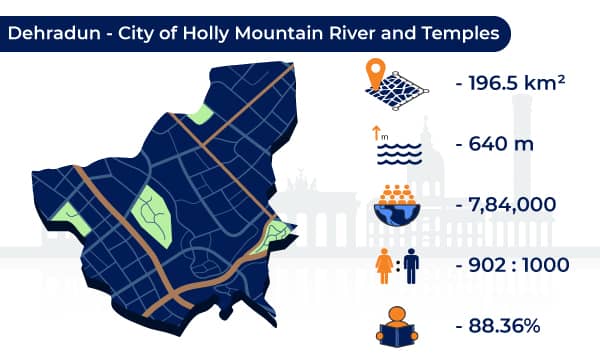 Area: 196.5 km²  |  Elevation: 640 m  |  Population: 7,84,000   |  Sex Ratio: 902  |  Literacy: 88.36%
At its core is the 6-sided Ghanta Ghar clock tower. To the southwest is Paltan Bazaar, a busy shopping area. Just east is the Sikh temple Gurdwara Nanaksar, topped with ornate white and golden domes. In Clement Town to the city's southwest, Mindrolling Monastery is a Tibetan Buddhist centre with shrine rooms in its Great Stupa.
Surat - City of Sun and Beautiful Port
Located in the state of Gujarat is Surat, a hub of textile traders and diamond merchants that was once a quaint little town. It is a city with great historical significance both real and mythical.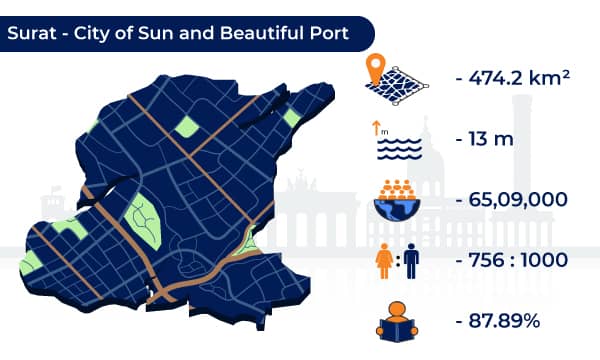 Area: 474.2 km²  |  Elevation: 13 m  |  Population: 65,09,000   |  Sex Ratio: 756  |  Literacy: 87.89%
It houses some amazing buildings of the Mughal era and is also part of the lore of Mahabharata in which the city went by the name Suryapur.
Surat is now a modern city with world-class infrastructure and amenities. It is also among the safest cities in India and is completely free of alcohol.
Bangalore - The Garden City
Bangalore is one of the most beautiful cities in India. Lakes, gardens and endless green cover characterizes the city's soul while silicon valley and its thousands of corporates characterize the city's landscape.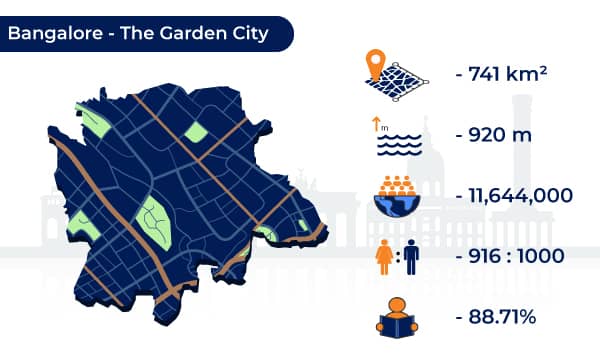 Area: 741 km²  |  Elevation: 920 m  |  Population: 11,644,000  |  Sex Ratio: 916 |  Literacy: 88.71%
Nature trails are abundant on the outskirts of the city while job opportunities, amenities and education are abundant within. It has the perfect combination of everything.
Mysore - The Heritage City
Mysore, a city sitting just 160 km from the bustling hub of IT, is somewhat of a hidden gem. While many know it for being the legacy of the Mysore Maharajas, very few know it for what it is, an amazingly well-run city with rich history, heritage and beauty.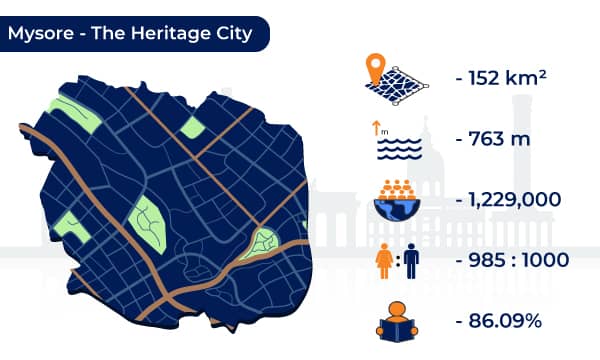 Area: 152 km²  |  Elevation: 763 m  |  Population: 1,229,000  |  Sex Ratio: 985 |  Literacy: 86.09%
There are tons of historical buildings and ruins to visit, mountains to hike and lush green landscapes to enjoy. The best part? All of this takes nothing of the modern, cosmopolitan vibe of the city or the immaculate health, transport and educational facilities that dot Mysore.
Panaji - India's Beach Paradise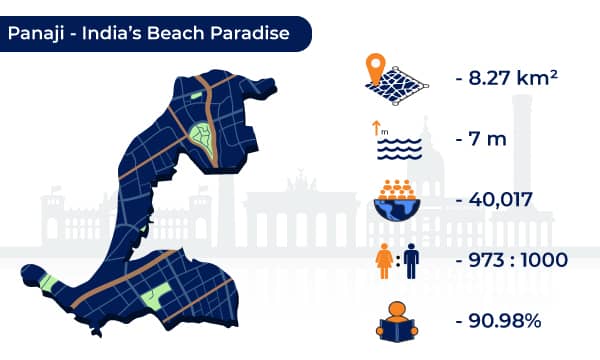 Area: 8.27 km²  |  Elevation: 7 m  |  Population: 40,017  |  Sex Ratio: 973 |  Literacy: 90.98%
Sunny days, golden sands and a slow and an almost lazy vibe hanging in the air. What is not to like about Panaji? The capital city of Goa, the vacation state in India, is one of the most beautiful cities in the country. Wide open spaces, beautiful beaches, and ruined forts make it mesmeric. The city also is a hub of tourism, IT and trade and has world-class facilities and infrastructure, making it one of the most desirable destinations in the country.
Kolkata - The City of Joy Friendly Culture
Kolkata is known for its grand colonial architecture, art galleries and cultural festivals. Due to its colonial history, there is some phenomenal architecture to take a look at.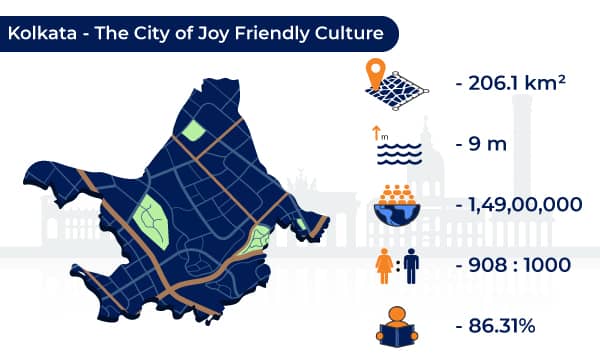 Area: 206.1 km²  |  Elevation: 9 m  |  Population: 1,49,00,000   |  Sex Ratio: 908  |  Literacy: 86.31%
It's also home to Mother House, the headquarters of the Missionaries of Charity, founded by Mother Teresa, whose tomb is on site. While the city may lack in some aspects compared to the other cities on this list, in terms of beauty, it more than makes up for it.
Here are some other cities you can move to for raising a family.
Conclusion
So if you are looking for the most beautiful city to live in India, you really are spoilt for choice. In reality, this is a shortened list that takes many aspects of a city into consideration in addition to its beauty.
There are many other places and towns in the country that are as beautiful as, if not more, than the ones mentioned in this list. Now that you have what you came here for, get packing!
Share your shifting requirements and Get quote from Top 3 professional Packers and Movers for your easy relocation.