Top 5 Most Ideal Places to live in Chandigarh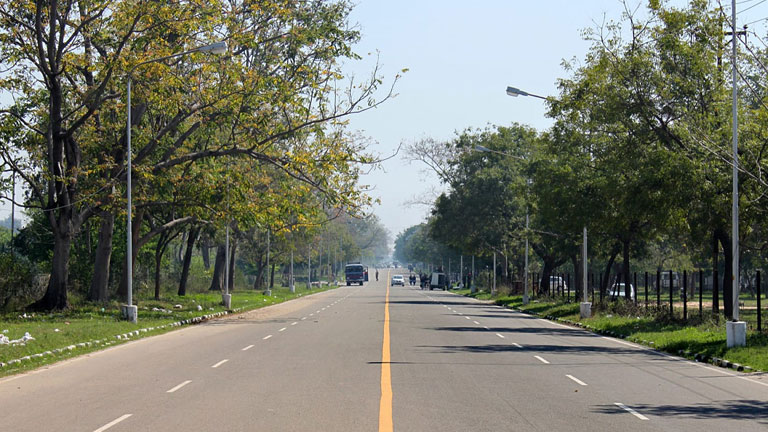 Wuhoo! Congrats on deciding to move to one of the happiest & cleanest city named as Chandigarh! This city is more than just a Union Territory, and it has a story, a potential that is united with the people already living or planning to reside in future. The Openhand landmark is the official symbol of Chandigarh, which endures as the view of openness of souls, friendship, and unity. If you have never visited Chandigarh in the past you may sit stressed due to unawareness about the city culture and languages spoken there, places where you can get your daily life essentials, and many more. That's why we are available at this point to make you aware of the important facts about this beautiful city, so that you can have a happy life with your loved ones.
Chandigarh is a wonderful city, and it is well-known for its well-intended infrastructure, with less population as compared to other cities of India. The most exciting facts about this city is you can find green cover everywhere which makes it more attractive, especially for the people who loves to live in the lap of nature, Chandigarh is the first and best planned city, and it was the dream city of our first Prime Minister Jawaharlal Nehru. This charming city is said to have several cross-roads that help in the smooth flow of traffic, which also adds extra beauty everywhere. Chandigarh has a population of over 2 million and is the first smoke-free city of India. Chandigarh is also identified as one of the safest cities of India.
The city experiences continental climate with hot and cold weather and uneven distribution of rainfall. English is used as the official language; other than this, Punjabi & Hindi are spoken here as the main language. Mountains are located close by, which takes only 30 minutes to drive to go across the slopes of Himachal Pradesh; Shimla and other hill stations are best options for an exciting weekend getaway. You can enjoy driving on a wide road with trees on both sides; it is an exceptional sight in any other metro urban communities. You will be surprised to known every sector in Chandigarh has a private park, which lets you know that it is undeniably a green city. The parks and gardens are cleaned and well-maintained, and several of them include musical fountains and swings for children.
Other than this exciting fact this city always welcomes everyone with open hands with suitable job opportunities in well-reputed companies as well as higher education in some of the top-performing universities like Indira Gandhi Institute of Aeronautics, Chitkara University, Chandigarh University, and many more. You can get various varieties when it comes to food, maybe veg or non-veg lover, but you have got thousands of choices here of mouth-watering dishes. Overall you can get all the modern life facilities available in this city, but when moving to a new city, one of the most significant challenges waiting for you is select the best residential areas to start a new journey of your life. We understand that finalizing a new residential community totally depends upon on your daily life requirement, like if you are an office-goer, then you must look an ideal residential locality nearby your workplace, or if you are retired, then you can must quiet city areas full with greenery, so that you can have a relaxed stay and enjoy your time with refreshment all around.
Finding an ideal residential locality is not an easy task as it sounds to be, that's why we are here to guide you with some of the ideal residential areas in Chandigarh, where you can get all the daily life survival nearby. As it will help you to make a clear idea which residential community will be more suitable for you and your dear ones.
---
5 Best Places to live in Chandigarh
Sector 8
Sector 8 of is one of the best residential areas of Chandigarh. It is also famous for out of the box cafes in the central market, which provides a great hub for commercial brands and fantastic restaurants of the city. You can find grand houses with beautiful little courtyard in the front architecturally designed for stylish living. So, if you have a good budget and love to live in a well-furnished house, you must go with Sector 8.
Everyday needs available near Sector 8
Schools: Government Model Senior Secondary School, D.A.V. Senior Secondary School, First Step School, Chartered School Of Business, etc.
Companies: Matrix Solutions, Codnostic, Shalimar Infonet, Triam Systems, and many more.
Hospitals: Apollo Clinic, Dr Sarwal's Heart Surgery, Chd City Hospital, Dedicated Healthcare Services India Private Limited, etc.
Shopping: Decasa Products India Private Limited, XC Diva Worldwide Pvt.Ltd, etc.
Visiting: Kasauli, Barog, Bhawani Amba Temple, etc.
Recreation: Barnala park sector 8c, 8C Park, Tinna & Heena Park, etc.
Sector 10
Sector 10 is one of the preferred residential areas due to the most trendy houses. It has become no 1 residential choice, especially for families as it is safe in terms of thefts, crimes, etc. Relocation demands have increased a lot in Sector 10 due to huge houses with lush green private lawns in the front porch. Sector 10 has the top of cafes, including Casa Bella Vista, Hotel Mount View, Willow Bank,  and many more.
Everyday needs available near Sector 10
Schools: Sanawar Montessori School, Carmel Convent School, Toddlers Ashiana School, etc.
Companies: Raj Steel Industries, Netlink Business Services, I.T. Researches, and many more.
Hospitals: Civil hospital, Apollo Clinic, Khandelwal Lab, etc.
Shopping: Budhiraja Store, Waga Showroom, Naya Gaon empire, etc.
Visiting: Leisure Valley, Chandigarh Architecture Museum, Shree Sanatan Dharam Temple, etc.
Refreshment: Public Park, M C Park, Park - Sector 10C, etc.
Sector 5
Sector 5 is another prominent residential community, and it is also known as the posh city area in Chandigarh as you can find many beautiful bungalows with 24*7 security guards. Sector 5, offers you dream home for many, as many V.I.P. Sector of Chandigarh, ministers, lives in this area. This sector possesses of being one of its kinds in the city. So, if you are looking for an ideal residential locality with all the top-quality modern life facilities, then you must definitely go with Sector 5 to have the best accommodation.
Everyday needs available near Sector 5
Schools: Guru Sagar International Public School, Government Primary School, KB DAV Senior Secondary Public School, etc.
Companies: Sassy Puma Pvt Ltd, Code Brew Labs, Geek Informatic & Technologies Private Limited, etc.
Hospitals: Happy Family Hospital, Paras Bliss Hospital Panchkula, etc.
Shopping: Elante Mall, Tdi mall, Shopping Center, HI5 Mall, etc.
Visiting: Garden of Silence, Escape n fly, National Cactus and Succulent Botanical Garden and Research Centre, etc.
Recreation: Public Park, 5C Park, and many more.
Zirakpur
Zirakpur is one of the most beautiful residential as well as called hub of real estate, where you can live peaceably,  as you can perfect environment with all the modern life amenities available here at the best rate. Zirakpur is located close by to Chandigarh and other major city areas, that's the reason it has become of the favorite residential choice for working professions.
Everyday needs available near Zirakpur
Schools: Dikshant International School, Shemrock World Zirakpur, Delhi World Public School, Tender Steps Foundation School, etc.​
Hospitals: Amcare Hospital, Osmed Healthcare Multispecialty Hospital, J.P Hospital, Matsya Hospital
Shopping: Cosmo Mall, Zirakpur Shopping Centre, Chandigarh Citi Center, etc.
Visiting: Mahendra Chaudhary Zoological Park, Dhillon Plaza, Kali Mata Temple, Durga Mata Temple, etc.
Refreshment: Municipal Park, Park Baltana, Village Bhabat Park, Defence Enclave Park, etc.
Sector 16
Sector 16 is one of the modern and fast developing city areas in Chandigarh.  It is known as ideal structured as non-commercial places in Chandigarh city and with highly maintained and high-rise buildings available at the best price. This area is also known as an excellent place where lots of shopping malls, restaurants, Movie theatres, where you can experience your best time with your dear ones.
Everyday needs available near Sector 16
Schools: Nursery School, Government Model School, Govt Model Senior Secondary School, etc.
Companies: SnehTech, Kalia Printing Press, Anand Trading Company, etc.
Hospitals: Ortho O.P.D. Govt Hospital, Genl Hospital, Emergency Govt. Hospital, E.S.I. Dispensary, etc.
Shopping: Sahni Center, The Brand Shop, and many more.
Visiting: Zakir hussain rose garden, amusement parks, cineplexes, food streets, etc.
Recreation: Sector 16 – Park, Public Park 3, Shanti Kunj Park, Zakir Hussain Rose Garden, etc.
---
Chandigarh is an awesome city; you can get all the essential services here in the city. Before you relocate to this city, its always better to do some prior research, but you can be free from all these tensions as we have done in-depth verification and found some of the ideal residential areas in Chandigarh, where you can reside safely and happily with your family. After finalizing your abode in a suitable locality in Chandigarh, you will be quite stressed by the complete task of packing and moving your home items; however, there's no need to worry as we offer list of reliable packers and movers nearby on our portal at AssureShift, and you can shortlist by yourself after careful consideration or simply tell us your shifting requirements and get references of 3 best moving companies offering your required services at most affordable rates.
We hope you will have a satisfying life in The Dream City!