10 Best Places to Live in Hyderabad for Working Professionals, Families & Bachelors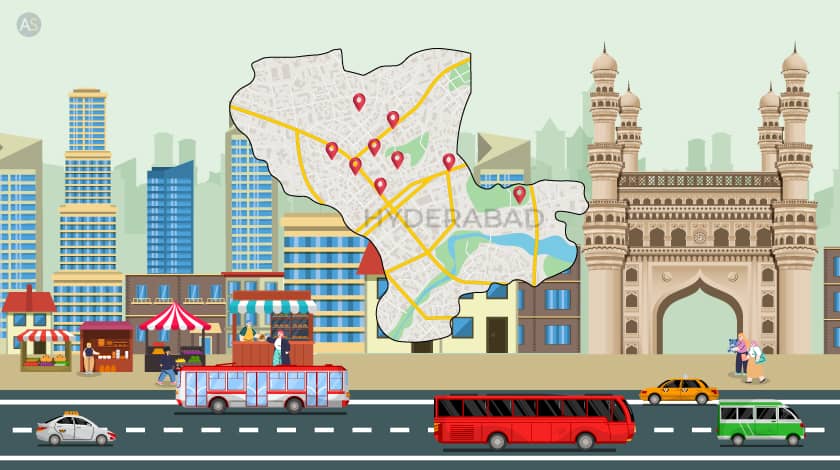 Hyderabad, also known as the city of pearls, is known for its rich cultural heritage, delicious cuisine, and thriving IT industry. The city is a perfect blend of modernity and tradition, making it an ideal place to live for people of all ages and backgrounds. With its friendly people, comfortable climate, and affordable living costs, Hyderabad is quickly becoming one of the most sought-after cities to live in India.
If you are considering relocating to the City of Nizams, you must know a few things about Hyderabad before moving there. You will find that the city has a lot to offer in terms of lifestyle, entertainment, and career opportunities. However, with so many neighbourhoods to choose from, it can be challenging to determine the best place to call home. In this blog post, we will highlight some of the best places to live in Hyderabad, based on factors such as accessibility, safety, amenities, and quality of life. So, let's dive in and explore the best places to live in Hyderabad.
Madhapur
Madhapur is situated in the middle of Hyderabad and is surrounded not only by all the basic facilities needed for modern life such as top schools, universities, banks, hospitals, etc., but also by IT companies and supermarkets. It is well-connected to all significant parts of the city without facing heavy traffic, making it an increasingly desirable place to live.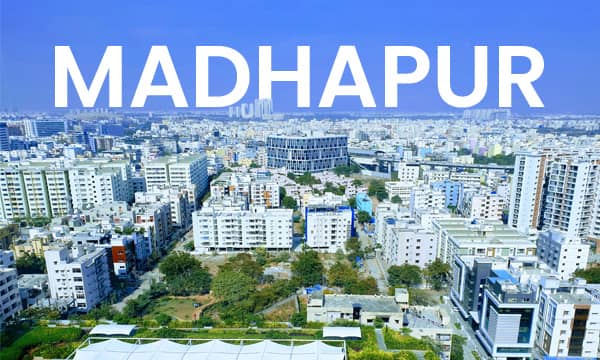 Attractive Places: Shilparamam, Golconda Fort, Ntr Gardens, etc
Schools: Green Gables International School, Delhi Public Sec. School, Global Edge School, etc.
Parks: Ayyapa Society Park, Sri Kotla Vijaya Bhaskar Reddy Botanical Garden, etc.
Malls: Inorbit Mall, Alcazar Mall, etc.
---
Miyapur
Miyapur has many opportunities for people who want reasonable-budget houses to restart their life in Hyderabad. Even many prominent constructors have taken interest in developing this locality to set up mid-segment residential schemes. Miyapur is also well-known for its proximity to all major office locations in Hyderabad, making it a lucrative destination for property buyers. Here are some other affordable places you can live in Hyderabad.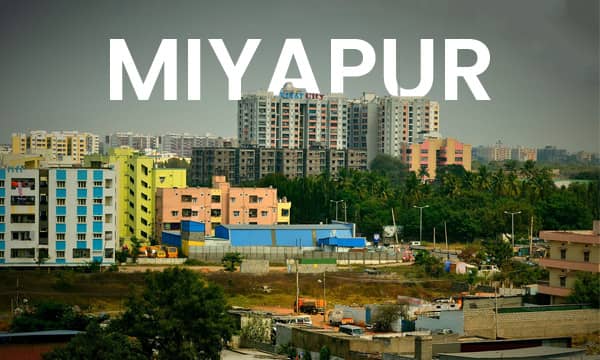 Famous Places: Kakatiya Musical Garden, Warangal Fort, Thousand Pillar Temple, etc.
Schools: Visakha Central School, F S Academy of Excellence, Pupils Public School, etc.
Parks: Deepthisree Community Park, A S Raju Nagar Children's Park, MIG HUDA Park, etc.
Malls: GSM Mall, Swayamvar, etc.
---
Kondapur
Kondapur is one of the favourite areas for people working in IT companies as it is situated in the IT zone of Hyderabad. Over the past two decades, Kondapur has developed significantly in both the commercial and real estate fields. This area is entirely safe and family-friendly, with well-reputed universities, hospitals, famous restaurants, malls, and cuisines to fulfil all essential and entertainment requirements of modern life. Although Kondapur is situated 30 km away from the international airport, you can easily reach the airport via the outer ring road without facing too much heavy traffic.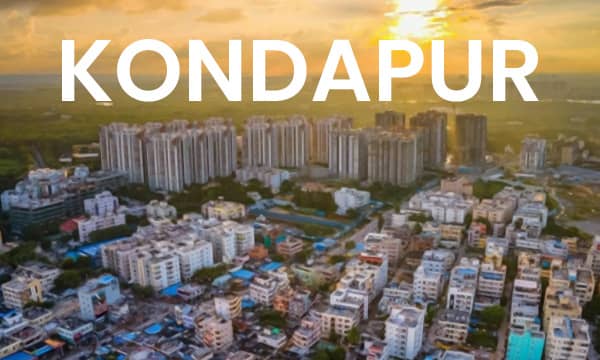 Attractive Places: Charminar Fort, Treasure Island Gandipet, Ramoji film city, etc.
Schools: Sanskriti School, GVR Global Erudite School, Mount Carmel Global School, etc.
Malls: Sarath City Capital Mall, Mytri Square, Laxmi Bell Metal Handicrafts
Parks: GHMC Public Park, Kondapur Park, Green hamlet park 5.
---
Nallagandla
Nallagandla is mostly known for its residential houses, colleges, restaurants, health care, and supermarkets. This area of Hyderabad is becoming famous among people who come for a temporary purpose or profession as it provides facilities at competitive budget prices. Nallangandla is also famous for those who always wish to live in the lap of green nature as it is situated near HITEC City and the global tech park in Hyderabad.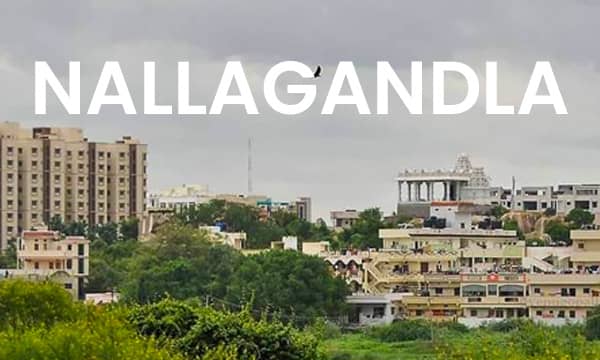 Famous Places: Ranganadhaswami Temple, Sri Ram Temple, Aparna Sarovar Grande, etc.
Schools: Kidzee Preschool Nallagandla, Sahiti Vidya Niketan High School, Sadhana Infinity International School, etc.
Parks: Nallagandla Green Fields Park, Rock Garden, Dr. BR Ambedkar Park, and many more.
Malls: P.B.N.R PLAZA, Venkata Sai Arcade, etc.
---
Manikonda
Manikonda is another residential area of Hyderabad that is better known for its growth in the commercial and suburban sectors. Many IT firms have their head offices in the Lanco hills and Chitrapuri colony of Manikonda. As more commercial centres, well-furnished apartments, and shopping centres open up in Manikonda, it is becoming the perfect residential location.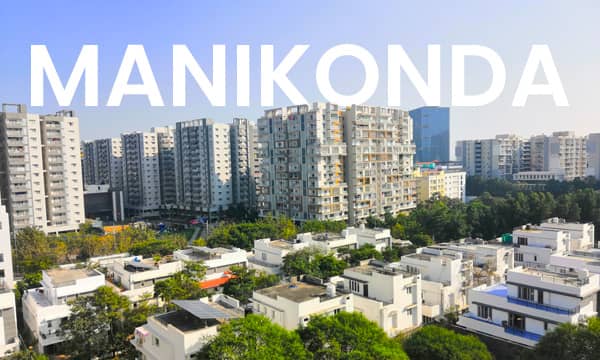 Attractive Places: Qutb Shahi Tombs, Anantha Padmanabha Swamy Temple, VenuGopala Swamy Temple, etc.
Schools: Mount Litera Zee School Manikonda, Delhi School of Excellence, SR Digi School, and many more.
Parks: Riddhis Park, Panchavati Park, etc.
Malls: Sri Swastik Pooja, Lalit Mall, Sree Nilayam, etc.
---
Begumpet
Begumpet is known for both its residential and commercial areas. Although it was once considered unimportant, over the past few years, Begumpet has undergone a huge transformation with the development of many governmental agencies and other MNCs in the area. Begumpet is great for its residential location, where you can start living with all the necessities of life on a reasonable budget.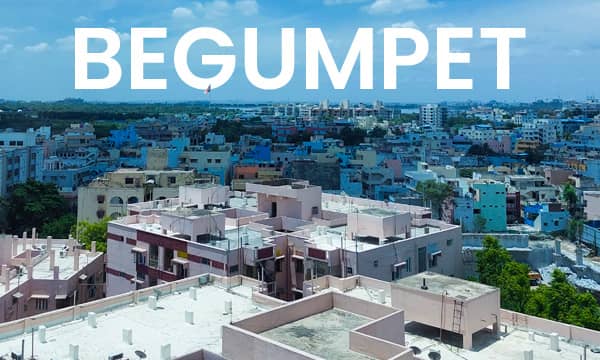 Famous Place: Peddamma Temple, Ramalingeswara Temple, Spanish Mosque, etc.
Schools: The Hyderabad Public School, Begumpet, Smartkidz Play School, Gitanjali Primary School, etc.
Malls: China Bazar, I NOx mall, Babukhan Mall, etc.
Parks:  GHMC Park, NEEM Park, Chikodi Garden, etc.
---
Gachibowli
Gachibowli is situated 5 km away from HITEC City, which is known as an IT tech park in Hyderabad. It is the centre for software professionals as it is well-connected with all major areas of Hyderabad, making it easier to travel if you haven't bought your automobile just yet. Many well-reputed hospitals and malls, such as Apollo Hospital, Mindspace IT Park, KIMS Hospital, Forum Mall, SLN Terminus Mall, and Galleria Mall, are located nearby. Gachibowli also has its own Athletic Field for a perfect morning walk on all days, making it one of the best places to live in Hyderabad with all facilities available near your doorstep.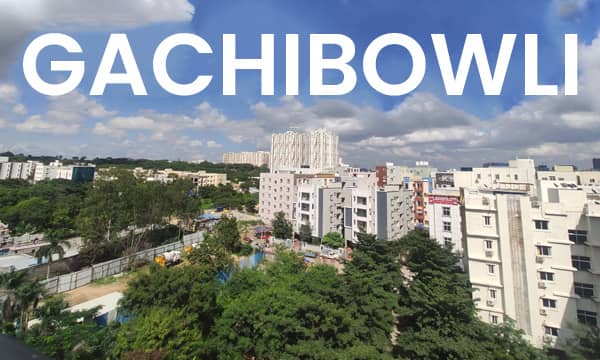 Famous Places: Chilkur Balaji Temple, Playstreat, etc.
Schools: Prerana Waldorf School, Euro School, Howard Lake View School, etc.
Parks: Biodiversity Park, Hyderabad, Telecom Nagar Park 2, GPRA Children's Park, etc.
Malls: Atrium Mall, Terminus Adda, Gachibowli Central, etc.
---
Uppal
Uppal is known as the most prominent place in Hyderabad to live because of its calm and quick connectivity with the rest of Hyderabad, and the metro construction has also started here. So, if you are thinking of living here, then go ahead without any hesitation.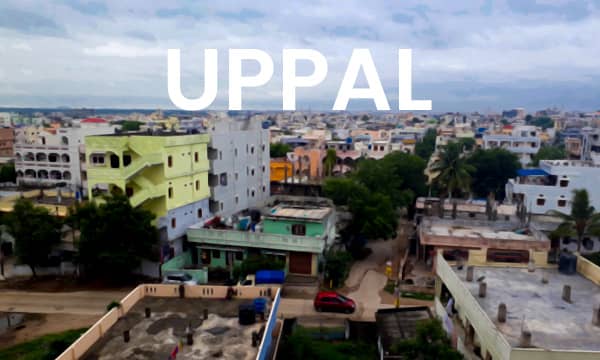 Famous Temples: Sri Karigiri Venkateshwara Swamy Devasthanam, Hanuman Temple, Santhoshi Matha Temple, etc.
Schools: Nalanda Public School, Sri Sai Techno School, St. Marks High School, etc.
Parks: Pedda Cheruvu Park, CINAGRO, etc.
Malls: Maha Laxmi Shopping Center, Sree Hemadurga Mall, etc.
---
Kukatpally
Kukatpally is a leading residential and commercial area in Hyderabad with well-developed roads that are connected with all other areas in Hyderabad. The buildings here are also well-furnished and sky-high, making Hyderabad a dream city to live in. The metro construction is under construction here, and you would not face any problems due to its well-spread connectivity as everything is well-managed here.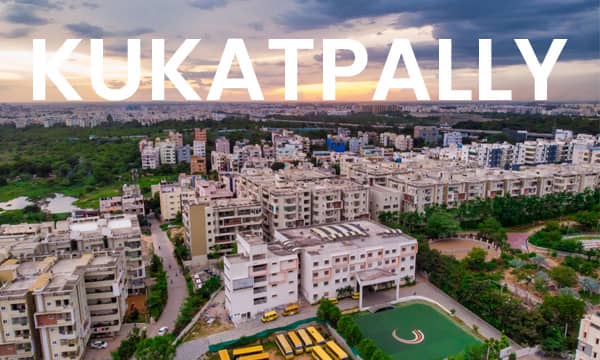 Attractive Places: Hanuman Temple, Fliminog Fish World, Venugopalaswamy Temple, etc.
Schools: New Era High School, Sparsh Special School, D A V Public School, etc.
Malls: Forum Sujana Mall, Manjeera Mall, South India Shopping Mall, etc.
Parks: PV Narsimha Rao Park, KPHB Colony Park IX, APJ Abdul Kalam Park, etc.
Not only this, Kukatpally is one of the most nature-friendly localities of Hyderabad you can live in. Read this blog to know about some other areas in Hyderabad that are close to nature.
Conclusion
Hyderabad is a dynamic and thriving city with modern amenities and a clean environment. If you are considering moving to Hyderabad, it is crucial to research the area you plan to call home. Your chosen location should provide easy access to all essential necessities, allowing you to live comfortably and make the most of your new life in the city.
The areas highlighted above offer some of the best options to start a new chapter of your life in Hyderabad. We believe that you will find the perfect place to suit your needs and make the most of all that Hyderabad has to offer. We wish you all the best for your new adventure in this vibrant city!