7 Best and Affordable Places to Live in Mumbai (and Navi Mumbai)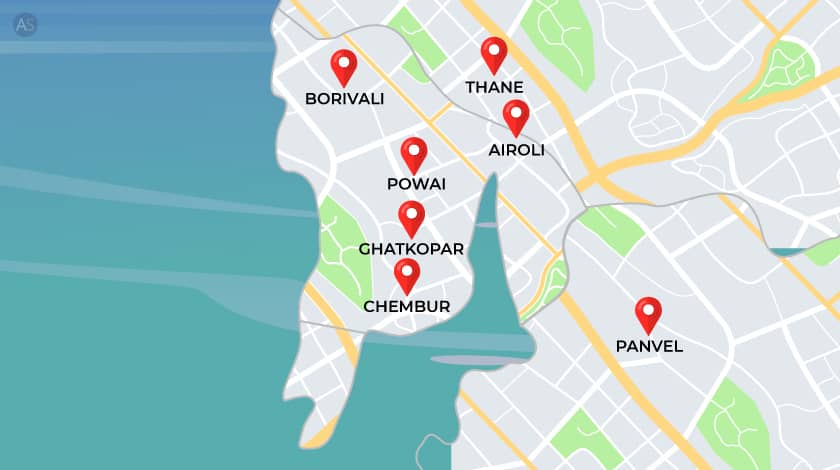 Finding the perfect place to live in any city can be a daunting task, but in a city like Mumbai, where space is at a premium, it can be particularly challenging.
With its bustling streets, high rents, and crowded localities, finding an affordable and comfortable place to call home in Mumbai can seem like an impossible feat. However, with a little effort and research, you can find some of the best and affordable residential areas in the city.
If you are planning to move to Mumbai soon, check out this blog to know all about moving to Mumbai and what to expect!
In this article, we have compiled a list of some of the top cheap places to live in Mumbai, where you can find everything you need for a comfortable life right at your doorstep. Read on to discover the best affordable neighborhoods in Mumbai that can make your life in the city more comfortable and enjoyable.
Borivali
Borivali without a doubt is one of the cheapest places to live in Mumbai. It is called the suburb of gardens and is located bang in the Muddle of Mumbai and Navi Mumbai.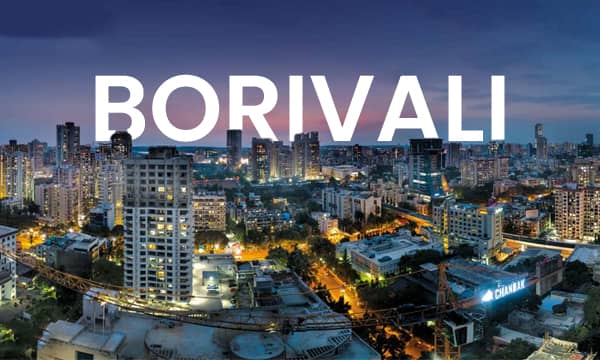 Although it is well developed and well connected to the rest of the city, especially by train since Borivali station is a starting point to head north to BKC and Andheri, the cost of accommodation is surprisingly low. It has a number of gardens, schools and great hospitals to serve your basic necessities.
Essential requirements in Borivali
Nearby parks: Sanjay Gandhi national park, Veer Savarkar Udyan.
Entertainment: Fish Park, Kanhere caves.
Malls: V Star Mall and Indraprastha, Zone Mall.
Schools: St. Francis Institute of Technology, The International School, JBCN International School, Namdar Gopal Krishna Gokhale High School, Don Bosco High School, M.J. Junior College of Science in Borivali West.
---
Airoli
Airoli is one of the well-reputed residential as well as commercial spaces in Mumbai and is well-connected with Thane by Kalwa bridge to Mulund via Mulund-Airoli bridge which helps to go from one place to another very quickly.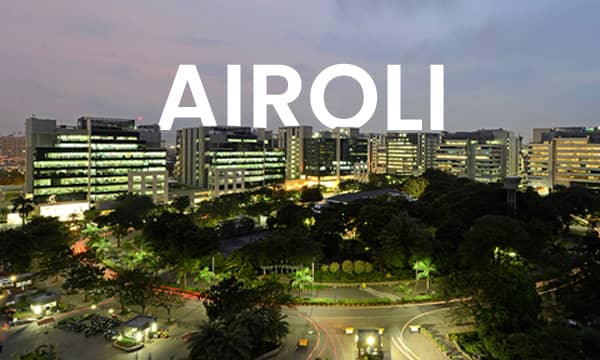 Airoli is a preferred residential area for middle-class families and students as you can rent or buy a home at quite reasonable rates which makes it one of the cheapest areas to live in Mumbai. Another benefit of this area is that it is an educational hub and has all the necessities of modern life located close by.
Essential requirements in Airoli
Nearby parks: Rajiv Gandhi Garden, NMMC Park, Newa Garden Park, Yashwant Rao Chavan Garden, etc.
Entertainment: Pub G game place Airoli Sec 5, Thane Creek Flamingo Sanctuary, The Mint Leaf, Chinchawali Garden, etc.
Malls: Oerlikon Trade place Private Limited, Rock Point, etc.
Schools: Dayanand Anglo Vedic Public School, Datta Meghe World Academy, Vibgyor High School, etc.
---
Read this blog to know how much would be the average cost per month to live in Mumbai.
---
Chembur
Chembur is no doubt one of the largest and most famous residential areas in Mumbai, as it is also known as the home of commerce and trade outlets.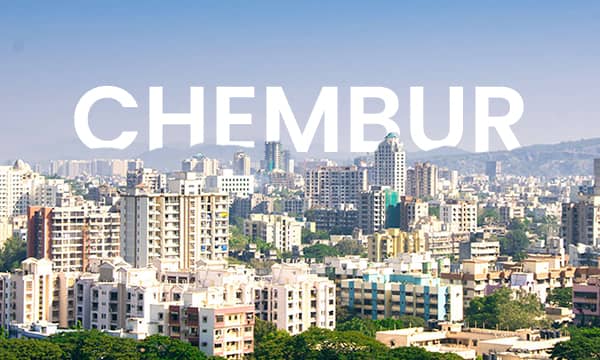 The locality is well-connected with the main areas of Mumbai with the help of Chembur Railway Station which helps people to go to the Chembur market area where you can get goods and services ranging from clothing, food, and vegetables at quite reasonable prices as compared to other places. 
Chembur is also known for its mouthwatering dishes like Misal Pav, Vada Pav, Pav Bhaji, sweets, etc., and it also has fitness hubs and gyms, municipal swimming pools, libraries, and a Sports club, which will help you to stay fit and relaxed.
Essential requirements in Chembur
Parks for recreation: Ambedkar Garden, Chimni Garden Chembur, R H Shisode garden, etc.
Entertainment: Bombay Kali Bari, Kingdom of Fun, Prakruti Resorts Private Limited, etc.
Malls: K Star Mall, the Central, Cubic Mall, RNA Complex, etc.
Schools: St. Gregorios High School, Sadhu Vaswani High School, Loreto Convent School, Swami Vivekanand High School, and Junior College, etc.
---
Thane
Thane is one of the upcoming, well-developed residential areas undergoing multiple changes every day and has several well-reputed schools, shopping complexes, hospitals, entertainment setups, etc.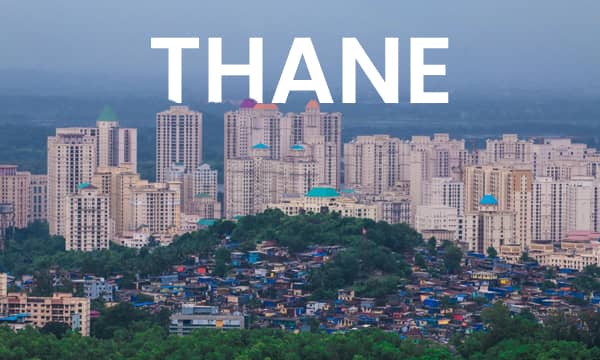 Thane is well-connected with other parts of the city with the help of local bus, train and metro services. Thane is more popular for being home to many beautiful and attractive places which you can visit in your free time.
Essential requirements in Thane
Nearby parks: Thane Grand Central Park, Community Park, Thane Mahanagar Palika, etc.
Entertainment: Datiwali Lake, Hariyali Lake, Suraj Water Park, Sanjay Gandhi National Park, etc.
Malls: Korum Mall, Amrapali Shopping Center, Infinity Shopping Arcade, etc.
Schools: Smt. Sulochanadevi Singhania School, D.A.V. Public School, Hiranandani Foundation School, N. L. Dalmia High School, etc.
---
Unsure about whether you should move to Mumbai or not? Consider these pros and cons of living in Mumbai before deciding.
---
Panvel
Panvel is one of the most popular and preferred residential areas in Navi Mumbai for working people, due to the presence of many small cottage industries.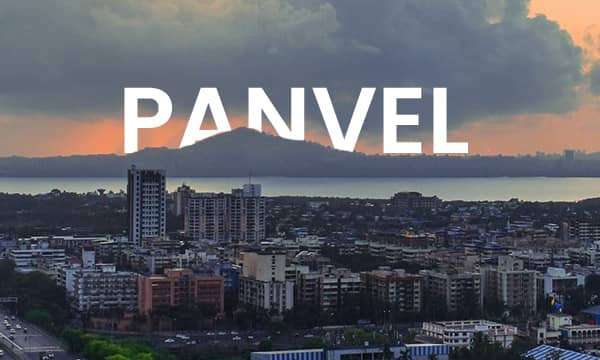 Panvel is also connected with all the main parts of the city with the help of local bus service, autorickshaws, etc. This locality is going towards becoming wealthier soon. Panvel is also the best place to live especially for those who love living in the lap of nature and has many vacation exploration opportunities such as Karnala Fort, Adai Waterfalls, Bird Sanctuary and Camping in Kalavantin Pinnacle.
Essential requirements in Panvel
Parks for refreshment: Cidco Park, Kamothe Park, Govind Sagar, etc.
Entertainment: Karnala Fort, ISKCON Kharghar, Adai Waterfalls, Wonders Park, etc.
Malls: Orion Mall, Mahalaxmi Mall, Glomax Mall, etc.
Schools: K.E.S. English Medium High School, Shantiniketan Public School, New Horizon Public School & Penguin Kids, etc.
Also Read: Bangalore's Best Budget-Friendly Residential Areas
---
Powai / Vikhroli
The list of cheap places to live in Mumbai is not complete without Powai. Powai is located on the banks of Powai Lake and surrounded by the hills of the Vikhroli Parksite area. This area is the best choice for students and office-goers to live in because of its many well-reputed educational institutes and companies.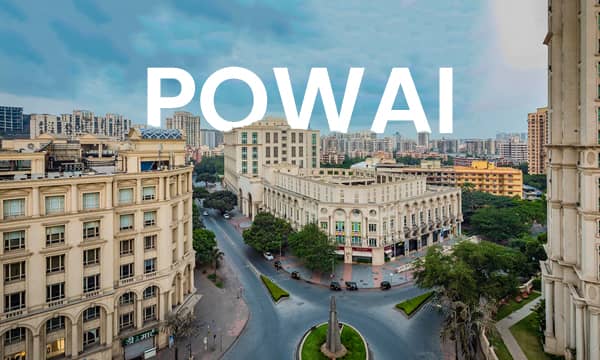 Powai also sees a crowd of more than thousands of devotees every year during the Ganesh Chaturthi for the 'Visarjan.' This area also connects to other parts of Mumbai, with the help of autorickshaws and local bus service; you can also visit many historical temples and lakes in your free time.
Essential requirements in Powai
Nearby parks: M.C.G.M. Nirvana Park, Heritage Garden, Deer Park, Raheja Vihar Jogging Park, etc.
Entertainment: Powai Lake, Devi Vageshwari Mata Temple, Suvarna Temple, Forest Park, etc.
Malls: Heera Panna Shopping Centre, Galleria Shopping Mall, Powai Plaza, Classic Super Store, etc.
Schools: Smiles Fun School, Bombay Scottish School, S. M. Shetty High School, Happy Minds International, etc.
---
Ghatkopar
Ghatkopar is also one of the cheapest places to live in Mumbai but is well located within the city, barely minutes from the airport, BKC and Central Mumbai.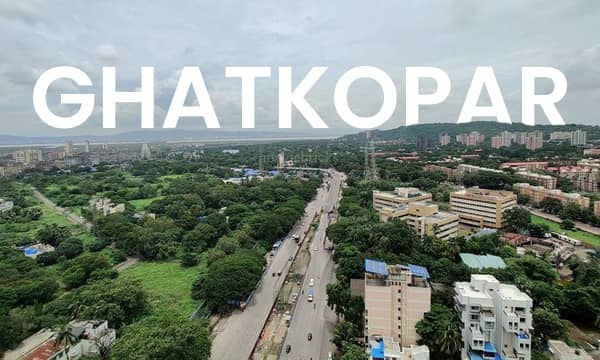 It is connected by railways and metros and is extremely well-developed. It is home to some great educational institutions and commercial hubs as well.
Essential requirements in Ghatkopar
Nearby parks: Lions Park, Rajwadi Garden, Circus Ground Municipal Park.
Entertainment: Khau Galli, Snow World, Prime Time.
Malls: R City, R Odeon Mall.
Schools: Kendriya Vidyalaya, Bombay Scottish School, Garodia School, Pawar Public School, St. Greforious High School, Prime Academy,
---
Want to know about the other best places to live in Mumbai? Click on the link and check out the blog.
---
Conclusion
Mumbai is quite a busy and well-developed city; if you are planning to shift in Mumbai, you need to make a proper inquiry about the place in which you are planning to start the next phase of your life. While it is not easy to find cheap places to live in Mumbai, due to the abhorrent lack of space in the city, it isn't impossible.
On top of being cheap, the location should be close to daily necessities so that you have a comfortable and relaxed living. The areas mentioned above are the best in terms of affordability and accessibility to live a happy life in a good neighborhood in Mumbai.
Hire the best packers and movers Mumbai and plan your move soon!