What is the Average Monthly Cost of Living in Mumbai?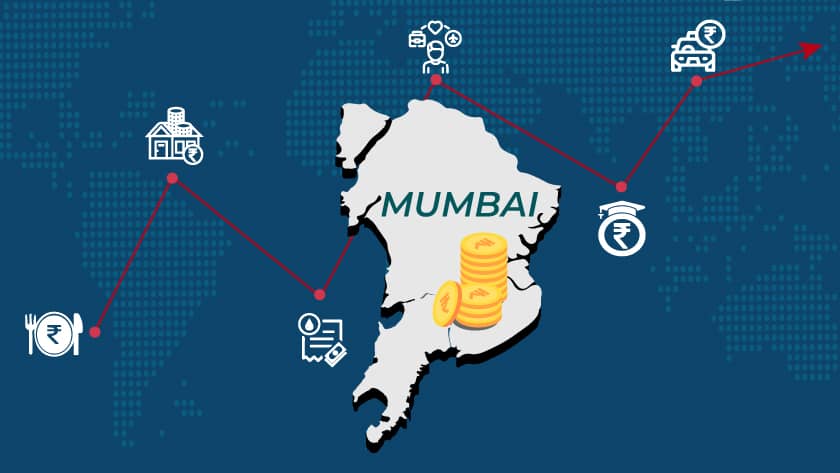 Mumbai, the city of dreams or the fashion capital of India, is not an easy city to live in. You need to have a good bank balance to make it through the city's expenses because Mumbai tops the charts as being the most expensive city in India, 19th in Asia and 60th in the world.
In this blog, we will share a calculated estimate of the average cost of living in Mumbai and the factors impacting the Mumbai cost of living, which will be useful if you are planning to relocate to Mumbai.
Hire reliable moving companies within a few minutes for your upcoming relocation!
Factors Influencing Monthly Cost of Living in Mumbai
1. Accommodation
Land prices are considerably high, as are rental prices. Rents vary depending on where you live. 
The average living expenses in Mumbai for accommodation can range between Rs 30,000 to Rs 80,000 per month.
| | | |
| --- | --- | --- |
| House Size | Rent per Month | Property Prices |
| 1 BHK | Rs 30,000 | Rs 1.5 crores |
| 2 BHK | Rs 50,000 | Rs 2.5 crores |
| 3 BHK | Rs 80,000 | Rs 4 crores |
To find the most affordable places to live in Mumbai, read our blog.
2. Transport Costs
Mumbai's local transportation is far superior and more affordable than that of other India's major cities. Due to its good connectivity and economic effectiveness, public transportation is preferred by the majority of Mumbai residents over private transportation.
The average monthly transport expenditure.
Private transport: Rs 5000 - Rs 6000 per month 
Public transport: Rs 1000 - Rs 2000 per month 
3. Grocery Expenses
Almost every neighbourhood in the city has easy access to all of your daily necessities, including milk, bread, rice, poultry, fruits, etc., at MRP prices. You shouldn't have trouble finding groceries nearby because Mumbai's streets are crowded with numerous small businesses and street sellers. 
The average monthly grocery expenditure ranges between Rs 2000 to Rs 20000.
| | |
| --- | --- |
| Standard of Lifestyle | Monthly Grocery Expenses |
| Low-range | Rs 1,500 - Rs 4,000 |
| Mid-range | Rs 4,000 - Rs 10,000 |
| High-range | Rs 10,000 - Rs 25,000 |
Note: Depending on the size of your family or the consumption of each individual, the average estimate can fluctuate.
4. Food - Cooking/Eating Out
Cooking for yourself or hiring a cook is the most cost-effective way to save money on food expenditures. Dabbas or Tiffins services are popular in Mumbai for students and working people. Many restaurants and hotels offering various cuisines and fast delivery services such as Zomato and Swiggy are available in Mumbai.
The average expenditure on food can vary between Rs 2000 and Rs 6000.
| | |
| --- | --- |
| Type | Average Cost (INR) |
| Hired Cook | Rs 1,000 - Rs 10,000 per month |
| Tiffin Service | Rs 2,000 - Rs 3,000 per month |
5. Utility Services
The money spent on utilities such as electricity, internet, gas, TV, DTH, cable, etc., adds up to a significant amount in your monthly budget. However, this amount depends on the area where you live and the usage.
The average expenditure on utilities can vary between Rs 3000 and Rs 6500.
| | |
| --- | --- |
| Type of Utilities | Average monthly Cost |
| Electricity, cooling, heating, water, garbage | Rs 3,950 |
| Mobile tariff  | Rs 500 |
| Unlimited internet package | Rs 1000 |
6. Entertainment and shopping
Every individual deserves time to unwind and rest after a hard day of study or work.
From walking around Marina Drive to hopping in various pubs and bars, Mumbai has a lot to offer. Places like Colaba Causeway, Pali Hill, and Linking Road in Bandra offer good-quality, trendy apparel and accessories at affordable prices.
Entertainment and shopping expenditure vary depending on an individual's lifestyle and spending habits.
| | |
| --- | --- |
| Expenditure Type | Monthly cost for 1 Adult |
| Gym  | Starting from Rs 800/- |
| Shopping | Starting from Rs 1,500/- |
| Beauty care/Salon | Starting from Rs 1,000/- |
| Movie (PVR) | Starting from Rs 300/- |
7. Education
For families living in Mumbai, there are several well-known first-class schools and colleges for education. The money spent on school tuition fees is a significant factor in determining the cost of living in Mumbai for a family.
Education in a private school can range from Rs 5000 to Rs 15,000 per month.
Education in an international school can range from Rs 10,000 to Rs 25,000 per month.
Summary
Mumbai is India's financial centre and a key hub for commerce, trade, and exchange, giving a wide range of possibilities to its residents amidst being India's most crowded and expensive city!
The cost of living index Mumbai is expected to be 27.57. This blog can help you comprehend the typical monthly expenditure by breaking down living expenses and presenting an average estimate based on the Mumbai cost of living index.
FAQs
What is the average cost of living in Mumbai?
The average living cost of Mumbai varies between Rs 25,000 and Rs 60,000. This varies depending on the lifestyle and spending habits of every individual.
Why is Mumbai so costly?
The primary reason why Mumbai is expensive is due to the high land costs. Residential and commercial spaces in Mumbai cost of living can come at a high price.
How much money do you need to live comfortably in Mumbai?
The typical price range is influenced by your lifestyle and spending habits. In general, if your monthly income is between Rs. 40,000 and Rs. 80,000, you may live comfortably in Mumbai.
How much is the minimum cost of living in Mumbai?
To maintain an average living standard in Mumbai, the average monthly salary needs to be around Rs. 40,000.
Can I buy a house in Mumbai?
You certainly can. However, expect to pay between Rs 1.5 crore and Rs 2 crore for a 2 BHK flat in the suburbs. This figure might rise to 5 crores in South Mumbai.
Where is it best for students to stay?
Andheri, Goregaon, Versova, Juhu, Vile Parle, Powai, Parel, Bandra West, and Malad-Kandivali are some of the places students occupy in Mumbai.
What is the average salary in Mumbai?
 This average salary in Mumbai can range between 4.4 lakh to Rs 8.5 lakh per annum depending on the field of work you choose.
What are some popular hangout spots in Mumbai?
Hanging Garden, Juhu Beach, Link Road, Sanjay Gandhi National Park, and Film City are all nearby locations.
What are some of the best colleges in Mumbai?
Mumbai is home to several colleges and institutions, including some of the best in the country, like IIT-Bombay, St. Xaviers, NMIMS, Amity University, Jai Hind, and KC.
Is Mumbai good for ex-pats?
According to Mercer's 2021 Cost of Living Survey, Mumbai is the most expensive city for ex-pats in India and one of the top 20 in Asia. Given the best healthcare facilities, well-developed infrastructure, and cosmopolitan culture, India's financial capital is a popular location for many foreigners.