Schools, Parks and Safety: The Best Cities to Move to for Raising a Family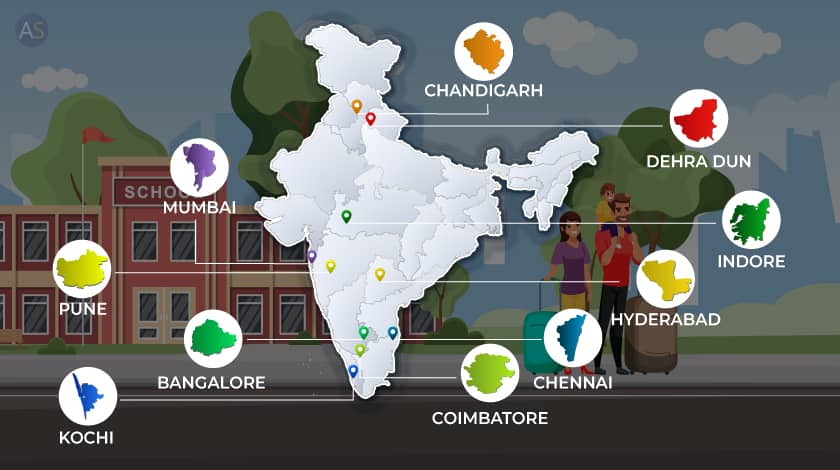 Raising a family isn't easy. It is perhaps the toughest job in the world. You need to reprioritise everything, reconsider your lifestyle, find the right environment to raise the child and above all the right place to raise your child in.
Even choosing the right place or city is difficult. It isn't the same as choosing a city for your career, it involves different metrics. You need to consider a lot of things like whether the atmosphere is right, if the city can accommodate both your career and your ambitions for the child, if the city is safe and clean, does it provide the right exposure and above all, if the city has the schools to nurture your child.
Fortunately, we have done our research on all of this to give you the 10 best cities in India you can move to for raising a family.
Bangalore
Bangalore is perhaps the best city for anybody to raise a family in India. The city has everything; great educational institutions, a plethora of job opportunities for you and your partner, a great environment and atmosphere, parks and recreation for the kids, and a great cosmopolitan crowd that gives your children the exposure they need.
Bangalore is filled with great schools and colleges and other institutes of learning which provide holistic development for children. The city is also safe, has great private healthcare infrastructure and amazing climate. It is a complete package. Arguably, no other city, except for Pune and Chennai come close. It also has some great neighbourhoods for raising a family.
Best Schools in the City: Indus International School Bangalore, The Valley School Bangalore, Inventure Academy, Jain International Residential School, The International School Bangalore, St. Josephs Boys High School.
Also read: Best Places to Live in Bangalore for a Family
Chennai
Chennai is another city that is very education oriented, making it one of the best cities to move to for raising a family. The capital of Tamil Nadu also has a booming IT and manufacturing industry that ensures no shortage of job opportunities for you and your partner.
The city is home to some of the best schools and colleges in the country and also has a cosmopolitan atmosphere that can give your kids the exposure they need. It is also one of the safest cities in India, especially for women and children.
Best Schools in the City: Delhi Public School, Ryan International School, Chinmaya Academy, Maharishi Vidya Mandir, Chettinad Vidyashram.
Pune
The only city that can hold a candle to Bangalore in this list, in my opinion at least, is Pune. It is a quaint little city that has a cosmopolitan feel and big-city vibes to it. It has the feel of a small town but the exposure of a big metropolitan city. It is called the Oxford of the East due to the existence of some great educational institutions.
If you are worried about job opportunities, don't be, Pune has them in abundance as well. It hosts the biggest automotive manufacturing facilities in the country which provides thousands of jobs. It also has an array of IT and fintech companies that are gaining a foothold in the city.
Best Schools in the City: VIBGYOR High School, The Orbis School, St.Mary's School, Sinhgad Spring Dale Public Schools, Symbiosis International School.
Hyderabad
From this point onwards, the cities are listed in no particular order since all of them are quite close when it comes to our particular metrics. Hyderabad, another city in South India, is a great city to raise a family. It has pretty much everything you can ask for, tons of job opportunities due to its booming IT sector, great schools for your children, amazing civil and transport infrastructure, and safety and it has amazing food to boot.
Best Schools in the City: Chirec International School, Oakridge International School, Aga Khan Academy, The International School Hyderabad, Sloka The Hyderabad Waldorf School, Glendale Academy, Delhi Public School.
Also read: Places to Live in Hyderabad for Working Professionals
Chandigarh
Chandigarh, while not a big metropolitan like many others on this list, has made its name as a favoured destination for raising a family. It is one of the cleanest and most well-organised cities in India with some great neighbourhoods to live in, it possesses a great atmosphere for raising your kids and above all is home to some great schools.
Best Schools in the City: Carmel Convent School, St Johns High School, Government Model Senior Secondary School, St Stephen School, Chitkara International School, Vivek High School, Saint Kabir Public School, St Anne's Convent School.
Mumbai
This list cannot be complete without mentioning Mumbai, the de facto go-to city for pretty much anything in this country unless you are a retiree. The city has everything you need for raising a family, except for space. This, however, is solved by the new suburbs that have sprung up in Thane and Navi Mumbai which have good neighbourhoods to raise children. While it is going to be expensive living in Mumbai, it is going to be totally worth it.
We don't even have to talk about the potential job opportunities and the sheer number of schools and colleges that dot the city. It should always be a consideration when talking about cities to move to for raising a family. The glaring diversity, its cosmopolitan culture and the sheer number of people provide exposure that you will seldom receive elsewhere.
Best Schools in the City: Dhirubhai Ambani International School, Apeejay School, Bombay Scottish School, Oberoi International School, Singapore International School, Aditya Birla World Academy, Campion School, Podar International School.
Also read: Average Cost of Living in Mumbai
Indore
Indore is seen as a bright spot in Madhya Pradesh, a state which is often known for all the wrong reasons. Indore is one of the cleanest cities in India and has a high quality of education. It is the only city in the country that houses both IIT and IIM giving it a special place among all the educational cities in the subcontinent.
Best Schools in the City: The Emerald Heights International School, Delhi Public School, Choitram School, New Digamber Public School, Daly College, Sri Satya Sai Vidya Vihar.
Coimbatore
Coimbatore is the fastest-growing tier II city in India and for good reason. It is a major IT hub in Tamil Nadu and has a frankly insane number of business and service establishments for a city of its size.
It also houses some amazing schools and the people, in general, are very education oriented, creating the right atmosphere to raise a child in. It has world-class infrastructure and facilities with no issues cropping up in the background. Whether it is pollution or power they have it in check.
Best Schools in the City: Delhi Public School, Stanes School, Chinmaya Vidyalaya, Vidya Nikethan School.
Kochi
The Queen of the Deccan, as it is often known as, Kochi is the perfect place to live in if you are looking for that elusive work-life balance in your career. It has the ambience of a quaint town but the infrastructure, job opportunities and educational institutions that rival that of big cities.
Kerala in general is seen as a favourable destination for raising kids as it does well in metrics like infrastructure, growth of industries, the opportunity for further growth and potential for further education.
Best Schools in the City: Global Public School, The Village International School, CET International School, Cochin Public School, Rajagiri Public School, St Xaviers Public School, Kendriya Vidyalaya, St. Alberts Higher Secondary School.
Also read: Average Monthly Cost of Living in Kochi
Dehradun
The city known as the school capital of India must make for a great destination for raising a family. That is exactly what Dehradun is; the school capital of India. It has numerous reputed learning institutions and is often the destination in the country for children of affluent families to complete higher education.
Although it has been known for its tourism and hospitality industry, it is fast growing into an IT hub that can soon rival other cities in the North such as Noida or Delhi.
Best Schools in the City: The Indian Military Academy, The Doon School, Welham Girls School, St. Joseph's Academy, Asian School Dehradun, The TonsBridge School, Hopetown Girls' School, Ecole Globale International School, Welham Boys' School.
Conclusion
It isn't easy raising a family and choosing the right city isn't either. We have gone through dozens of cities to shortlist these 10. They have everything you need to raise a family. Settling down in any of these 10 cities will not only ensure your child has the right atmosphere and resources but also that you have the career you need to support them. So, pick a destination and get moving!
Hire movers in your city for a safe and stress-free relocation!