Pune Packers and Movers Charges
Within Pune Shifting Charges
Get approx estimation of complete door to door packing and moving rates. For accurate costing please give us your moving details, and get quote from 3 best match service providers.
General Consideration
Few Goods
Bed, Fridge or Washing Machine, Few Kitchen Items, and Cloths
1 BHK
Bed, Fridge, Washing Machine, TV, Kitchen Items, Small Table, Few Chairs, and Cloths
2 BHK
2 Beds, Fridge, Washing Machine, TV, Dining Table, Sofa, Study Table, Few Chairs, Wardrobe, Almirah, 1 AC or Cooler, Kitchen Items, and Cloths
3 BHK
2 Double Beds, 1 Single Bed, Fridge, Washing Machine, TV, Dining Table, Sofa Set, Study Table, Computer Table, Chairs, 2 Wardrobes, 2 Almirahs, 2 AC, Dressing table, Kitchen Items, and Cloths
4 BHK
2 Double Beds, 2 Single Bed, Fridge, Washing Machine, TV, Dining Table, Sofa Set, Center Table, Study Table, Computer Table, Chairs, Dressing Table, 3 Wardrobes, 3 AC, Aquarium or Show pices, Kitchen Items, and Cloths
Pune Relocation Guide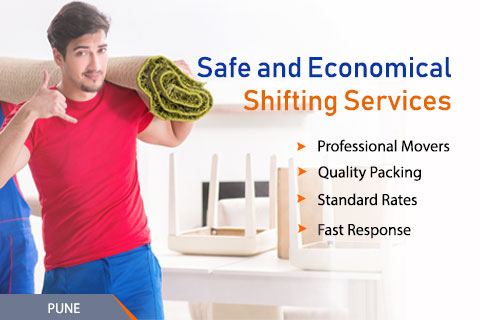 Amazing people like you deserve a fantastic home like the one you've found! Congrats, and welcome to the world of packing, moving and cleaning. We're sure you're excited and in a hurry to get to your new home, and for that you need Good Packers and Movers on whom you can rely on. If you are hiring any Packers and Movers in Pune without proper verification, just believing on your luck, I tell you my friend "there are many un-professional and fake movers and packers in Pune roaming around on internet and all over the city to cheat you and just make money in easiest possible way". But don't worry AssureShift can help you to find the Best Packers and Movers Pune, quickly and easily than any other available option.
If you're planning to pack your entire household by yourself and hire a truck to move your goods, you'll not only be stressing yourself out and wasting so much time, but also spending a lot of money in the process. You'll need to buy plenty of packing material, tools for disassembling and reassembling your furniture, AC, TV, and other such items, hiring helpers to dismantle correctly, and to lift and move your stuff. You may also end up spending a lot of money if your goods or premises get damaged, or for possibly injuring yourself.
Taking the help of Professional Packers and Movers Pune will help you have a safe and smooth relocation as they have years of experience, and know the best ways to save time and money for packing and moving your things. Top movers and packers Pune have the necessary tools and skilled crew members who make the process of relocation seem effortless. Finding the best match packers and movers Pune is a major challenge that you'll have to face because the type of mover you hire can decide the fate of your move. You could get a list of packers and movers in Pune by asking your trusted circle of family/friends for recommendations; or, you could take help from search engines like Google or a directory website. However, the main problem with searching for packers and movers in Pune in this way is that you can never know for sure which of the listed companies are legitimate and which ones are not. Therefore, you'll have to carry out a thorough investigation of every little detail of the Pune packers and movers to check if they are genuine and provide good services.
Instead of going through all this trouble, you can directly hire through a reliable reference portal like AssureShift, where you'll find a list of top professional movers and packers in Pune. We perform extensive background check of the moving company's documents to verify authenticity and regularly take feedback from the customers who used their services to check the standard of services provided in real time. Share your shifting requirements, and we will refer three best movers and packers in Pune near you within your budget. Through AssureShift, you'll be able to get in touch with trustworthy packer and movers in Pune within just a few minutes, as compared to spending hours on the internet researching the list of packers and movers in Pune which you find in search engines. Our partner packers movers Pune provide many relocation services like complete home shifting, office relocation, within city shifting, moving outside the city, bike shifting services, car transportation services, storage/warehousing, cargo shipping, and logistics services, among many others.
If you're moving within the city, you can directly hire local packers and movers in Pune; and, if you're shifting outside the city, AssureShift has the best packers and movers Pune who provide excellent domestic relocation services at affordable rates. Also, if you're shifting into Pune, finding a mover who has a branch office located here will be more economical as they'll be able to provide the required destination services easily. You're going to love living in the city known as 'Queen of the Deccan' for its heavenly climate and enjoy the beautiful, forever-pleasant weather. Pune is a foodie-hub where you can find amazing lip-smacking food and places to hang out at every 100 meters, and it's the best shopping destination for anyone who loves to buy awesome clothes at low prices. Not to forget, you get to experience some amazing and unforgettable events in Pune, that happen throughout the year, especially the grand Ganesh Utsav celebrations.
Advantages of hiring professional Packers and Movers Pune
They are relocation experts: Professional Pune packers and movers have accomplished numerous relocations over the years and have the technical know-how to perform a perfect relocation. Packers movers in Pune are expert in packing your things with good quality material and they use the necessary tools and pieces of equipment to lift and move your heavy furniture and appliances with zero damage.
They use the best packing and moving supplies: Movers packers Pune bring along with them the bubble wrap, carton boxes, packing tape, label maker, and other necessary packing supplies on the day of the move. They pack the goods appropriately following different methods to wrap different household items. They use suitable tools and follow proper guidelines while dismantling your furniture (bed, sofa, chairs and tables, etc.) and appliances (AC, TV, satellite dish, fridge, etc.). Pune movers and packers wrap and handle all your antiques and art pieces with the utmost care.
They proceed with caution when loading and unloading: The packer and movers in Pune are extra cautious while loading and unloading your things to avoid the slightest scratches or damages. They use moving equipment like furniture dolly to move heavy furniture and electronic items like TV, satellite dish, etc.; hand truck to move refrigerator or other tall standing items; ropes to secure the items while moving them; dismantling tools and other essential equipment that ensures safe and easy moving.
They transport your things safely: The movers & packers in Pune know precisely what type of truck will be sufficient to move your household goods comfortably. They will place and arrange all the items in the truck such that they do not rub against each other during transit and get damaged. They will stack and place your goods in the truck according to your specific requirements. The primary focus of Pune movers and packers is to protect your assets in the best way possible before they reach the destination.
They provide an economic shifting solution: The packers and movers Pune rates are affordable and you can save the time and money of buying packing supplies, wrapping your whole household, wasting the remaining supplies and hiring a truck separately to move your things. The packers and movers Pune charges are mainly based on the number of items you move and the vehicle required. They ensure there are no damages to your goods or wastage of supplies, so you end up saving a lot more money by hiring the best packers and movers in Pune.
They relieve most of your stress: You can sit back, relax and let go of all your worries as the packers & movers in Pune will take the responsibility of moving your stuff into your new home in a safe and timely manner. They even help you unpack and arrange your items in your new home so that you don't have to do it all alone. The movers packers in Pune are skilled, and know the best shortcuts to ensure a smooth and successful move.
How to identify good quality movers and packers Pune?
The relocation industry in India is highly disorganized, and there's no proper setup to verify a moving company's authenticity before they start their business. Because of this, there are many packer and movers in Pune who prey on individuals and families that are planning to shift, by offering relocation services at the lowest cost with no intention of providing them. Such fraudulent moving companies will either try to exploit money from you or vanish with your goods altogether.
Therefore, it's essential that you verify the genuineness and reliability of the movers packers in Pune before hiring them to move your household goods. Here are six ways in which you can check the credibility of a moving company before deciding to hire them:
Is the moving company licensed and insured?
Before hiring any movers & packers in Pune, make sure to check their license and company registration documents to ensure their business is registered with the Govt. of India. You also need to ask them what kind of insurance services they provide and the procedure for insurance claims in case of damaged or missing items. If they do not have an answer to any of the above-mentioned documents or insurance services, you must avoid them at all costs.
How long has the mover been in business?
Try to get information about how long the moving company has been in the relocation business and also how experienced they are in performing your kind of move. All packer and movers Pune may boast of being able to carry out various types of services, but they may not have the necessary skill or expertise to deliver these services. You need to ensure they have the appropriate experience, staff and right resources to carry out your move properly.
What do the customer reviews and ratings say about the mover?
Check the reviews and ratings written by the customers who used the mover's relocation services; you can find detailed customer reviews about any moving company on popular review websites like MouthShut, Glassdoor, and others. You could also ask your family and friends for their feedback about any mover and packers Pune. Reading reviews is one of the easiest ways to learn about any complaints against the mover or if there were any significant issues faced by the customer as a result of hiring that company.
Did the movers seem professional when you met them?
Best packers and movers Pune will have a crew that's professional in behaviour as well as communication. Check if they have a valid office space by paying a visit to the address provided on their website and make a note of the manner in which they communicate with you, and also check the quality of packing material and other tools they use. If you see any signs of unprofessional behaviour, suspicious office space or any other red flag that convinces you these are the wrong guys, start looking for a better mover and research more thoroughly about the next one.
Did the mover see your items before providing you with the charges?
All packers movers Pune will first survey the items that need to be moved over the telephone and later conduct an in-home survey, especially if you are moving a large number of things. Some may directly agree to move your things at incredibly low prices, without seeing them in person. Beware of such offers as the mover may be doing so with other intentions that may cause you more harm than good. Reliable and trustworthy movers in Pune will visit your home in person and take inventory of all your movable items. The movers and packers Pune rates will be confirmed only after discussing all particulars of the move including packing quality, vehicle required, and destination details among others.
Did you check if their charges have hidden costs?
Before accepting the estimate provided by them, find out if that is the final price or if there will be any additional prices during the move; also, check for hidden costs in the packers and movers Pune charges which they provide. In case you receive an estimate from a mover charging you lowest prices, know that it's a trap and deny their services immediately. Always get everything from the movers packers Pune in written so that you can be safe in case of any changes they make later.
Services provided by packers and movers Pune
Local or intra-city shifting – local packers and movers Pune help you move to a new locality within your current city. It involves packing, transporting and unpacking your goods; the packers and movers Pune charges to move locally depend on the number of items and time taken to complete the entire process. When you are looking for movers and packers in Pune for local shifting you must check for a company with good reputation providing good-quality services at average and affordable prices.
Domestic or inter-city relocation – mover and packers Pune help you have a hassle-free and safe relocation to a new city. They are experienced in using the correct packing supplies and moving equipment to ensure full protection of your items while transporting them in a container over the long distance. We have some of the most proficient and top service providers if you're looking for packers and movers Pune to Bangalore, packers and movers Pune to Mumbai, packers and movers Pune to Hyderabad, and similarly while moving to other popular metro cities.
Complete household shifting – all packers movers Pune are highly experienced in moving household items; they provide all services from packing your things to unpacking and arranging them in your new home. They even perform disassembly and re-assembly of furniture and appliances by following proper guidelines and using the right tools.
Office relocation – moving an entire office should be done quickly and efficiently and the best packers and movers Pune are perfect for this job. Office items like desktop computers, projectors, conference room items, office furniture, and pantry items among other things should be packed appropriately to ensure safety. The professional packers and movers Pune use good quality packing supplies to wrap the objects carefully, and shift each device and instrument ensuring 100% protection.
Corporate shifting – moving your business in case of expansion or completely setting up in a new location becomes more comfortable and secure with professionals who take care of every minute detail while moving your entire working system. The best movers and packers in Pune are well-experienced and equipped to shift everything from basic furniture to a large number of personal possessions using the best techniques while maintaining safety and security of your goods.
Bike relocation – moving companies help in shifting your bike from one place to another without a single scratch. They pack your two-wheeler using bubble wrap and corrugated sheets before transporting them in specialised bike carriers. Packers and movers Pune rates to shift your bike are reasonable, and they ensure safe and timely door-to-door delivery.
Car transportation services – four-wheelers are shifted from one city to another through specific car carriers or trailers. The packer and movers in Pune are capable of adequately packing and transporting your car to any part of India while keeping your requirements in mind.
IT Equipment Shifting – the task of moving computer hardware, servers, printers, network equipment and other IT equipment of a corporate workplace must be done securely and efficiently. Pune packers and movers will package all the components of your IT equipment in secure box crates which are labelled individually for safe handling; they are even capable of setting up the machines in the new location following proper guidelines.
Data Centre Migration – relocating a data centre is a sensitive and risky operation that must be carried out with technical and organisational expertise. Taking the help of professional packers and movers Pune is a necessity as there is valuable and critical information at stake which can result in a company's loss of productivity and revenue.
Antique relocation – shifting antiques and vintage items is much more difficult than moving regular household goods. Special care must be taken while packing and handling them so that they are not damaged the slightest bit. The movers packers Pune understand that your antiques are valuable to you and guarantee their safety further by providing insurance coverage.
Storage/warehousing – you can store your goods in a warehouse provided by the packers & movers in Pune for as long as you require. Products in storage may be either household items or commercial goods for which inventory is taken, and insurance and security arrangements are provided.
Logistics Services – many Pune movers and packers also offer logistic services to businesses that involve shipping merchandise and coordinate to ensure items are delivered to the right place. Logistics providers oversee the entire process of picking up things from the warehouse to delivering them correctly. They are also capable of handling the various challenges that come with transporting items without delay.
Cargo Shipping – any parcel or cargo goods can be shifted from one place to another via different modes of transport namely road, rail, air or sea. Safe packing and shipping of your cargo goods in a cost-effective manner can be ensured with the help of best movers and packers in Pune.
Air Freight Cargo Shipping – the movers & packers in Pune can ship and deliver your parcel or cargo goods via an air carrier. The process of shipping goods via air freight has become one of the most efficient delivery options in export and import. They calculate the charges of air freight shipments based on the measurements, weight and volume of the goods.
Why hire from AssureShift?
As the industry of packers and movers in India is not well-organised, many companies are not entirely genuine and have just entered the market to prey on innocent individuals and families to make easy money. AssureShift is the change this industry is looking for, as we mainly work towards eliminating such unprofessional and fake movers so that people can shift safely and with the least amount of stress. We're an online reference portal where you can quickly find reliable and top packers and movers in Pune for your specific relocation.
Before we provide you with a list of packers and movers in Pune, we do the following things:
We perform a thorough background check of the packers movers in Pune, through telephone as well as in-person verification;
We check their company registration certificate, owner documents, office setup, and their past service records to ensure they are legitimate and capable of providing useful services;
We take regular and instant feedback from customers when they use the services of any movers packers in Pune to understand if they are keeping up with their promised level of service standard;
We take immediate action against our associated packers movers in Pune if we find out that they behaved wrongly or there are any complaints about them from the customers;
By hiring through AssureShift, you'll get reliable and professional movers and packers Pune, who provide you with the best relocation services at affordable prices. Finding and hiring moving companies through AssureShift is a straightforward procedure, where you need to fill out a simple form.
All you need to do is, spend two minutes of your time to share your shifting requirements, whether you are searching for movers and packers in Pune for local shifting or domestic shifting, and we will connect you to three best packers and movers in Pune near you, who fulfil your budget and relocation needs.
Some of the benefits of hiring packers movers in Pune through AssureShift are:
Our partner packer and movers Pune are experienced in a wide range of relocation services and provide you with the required level of quality and reasonable prices;
You can get in touch with top professional packers and movers in Pune and get the cost estimations within just a few minutes;
You can easily compare the different packers and movers Pune rates, company profiles, list of services provided, and reviews and ratings before hiring them;
Sit back and relax knowing that you have appointed the right company who will ensure complete safety of your things. You can start planning how you want to decorate your new home, and throwing an awesome house-warming party, while the expert packers and movers Pune prepare to get you moving!
FAQs
Why are the packers and movers near me in Pune quoting different prices for weekends and weekdays?

The weekends are usually a busy time for packers and movers Pune, and they are in high demand, which is why they will charge higher prices.
If you move during weekdays, you will have to pay a lower amount, as the movers in Pune are not that busy.
The movers and packers in Pune for local shifting charges you almost 2x regular prices during weekends and the same is the case with their domestic relocation costs. So, schedule the best time to move to save money.

Should I take insurance for shifting my household goods through packer and movers Pune?

Yes, taking insurance will guarantee double safety of your items, and you'll be able to claim compensation in case of damaged or missing items.
Especially if you're moving outside of Pune, it's a better option to take insurance since your goods are travelling over a longer distance and chances of damage may be slightly high.

Are the reviews and ratings listed on AssureShift about packers movers in Pune genuine?

Yes, the customer writes reviews about the moving company, whose relocation services they used after they move into their new home.
Alternatively, we will also call up the customer and take the feedback about their satisfaction with the house shifting services in Pune, or if they have any complaints.

Do the packers & movers in Pune provide bike and car transport services?

Yes, movers in Pune provide car transport services in Pune by shifting your car in specialised car carriers to your destination city. They even help in bike transportation in Pune to other cities.
They take all the necessary precautions and use high-quality packing material to pack various parts of the car or bike and provide timely delivery.

Who are the most popular packers and movers in Pune?

Agarwal Packers and Movers : Aundh Road, Opposite Body Gate Police Station, Aundh, Pune – 411007
Balaji Cargo Packers and Movers: Datta Mandir Road, Wakad, Pune, Maharashtra – 411057
Safe Packers and Movers: Raje Shivaji Nagar, Chinchwad Opposite Tata Motors, Pune – 411019
Bharat Packers and Movers: Omkar Plaza, Sambhaji Nagar, Chinchwad, Pune – 411019
OMX Packers and Movers: Shiv Sai Apartment, Sector No:16 Chikhali, Pimpri-Chinchwad, Pune – 411019
Southern Express Packers and Movers: Near Swagat Hotel Transport Nagar, Nigdi, Pune – 411044
Leo Packers and Movers: Pisoli, Taluka Haveli, Pune – 411 002
DHL Packers and Movers: Hinjewadi Main Road, Thergaon, Pune – 411033
Orange Packers and Movers: Shree Niwas, Vishwa Shanti Colony No. 3, Pimple Saudagar, Pune – 411027
Maruti Packers and Movers: Raje Shivajinagar, Pune, Maharashtra – 411019
DSL Packers and Movers: Supreme House, Sector No. 23 Transport Nagar, Nigdi, Pune – 411044
Allied Movers and Packers: Jadhav Wasti, Tathawade, Pune, Maharashtra – 41103

Why its hard to find Reliable Moving Company in Budget?
As there are many unprofessional and non-reliable packers & movers, which can only make the promise but never perform. There are many reasons why you find difficulty in finding right mover and packer. There is top 3 Reasons:

Every packers and movers have not been able to make proper online presence.
Many companies claims, much more than their capacity and take work they don't know much about.
Approach to in-appropriate company, which has different are of expertise.
We have been able to successfully bring old and trusted relocation companies in Pune from almost every locality. Our partner movers and packers Pune have a good reputation among Top Residential Areas In Pune like Koregaon Park, Kalyani Nagar, Boat Club Road, Hadapsar, Wagholi, Kothrud, Wakad, Kharadi, Bavdhan, Viman Nagar, Pashan, Aundh, Sahkar Nagar , Prabhat Road, and Pimple Saugar. Hire cheap and best professionals for home shifting, men and truck rental, furniture removals, IT equipment migration, Car Transport and other packing and moving services. Our reliable packers and movers in Pune will help you in every step from packing, loading, transport, unloading, and unpacking of your valuable goods. Book now and get right movers and packers Pune recommendations of best performing packers and movers Pune.
9 Important Relocation FAQs
When should I start looking for packers movers?
It depends upon the type of shifting, for local shifting within the same city ideally you should start looking 4-8 days ago. Where as for shifting outside city ideally start looking 7-14 days ago. If your moving date is month end, or weekend you should begin your search little earlier.
How to find best packers and movers?
Share your shifting requirements with us and we will refer you 3 best match verified and trusted moving companies near to your locality. Talk to them, know charges estimation, compare their profile, ratings, and reviews and finalize the best option for you. Happy Shifting!
How can I reduce my shifting charges?
One of the primary factors that affect your relocation expenses is the quantity of goods you are moving. If you reduce the number of items by decluttering, your relocation charges can be reduced. You should also make sure that you plan the move well in advance and schedule the move on the right day.
It's best to take quotations from at least 3 movers so that you can easily compare the estimated charges and company profiles, and hire the most relevant moving company.
What are the things packers movers will take care off?
Our relocation experts will take care of all the process from beginning to end (Dis-assembly, packing, loading, transportation, un-loading, un-packing, assembly, and final placement). Generally, for domestic relocation outside city un-packing, assembly, and final placements are not included, and if you require those have demand.
How much time it will take to complete the move?
Local relocation from one locality to another can be completed within a single day depending on the number of items and the floor of the house it could take from 5-10 hours. For shifting outside city it depends upon the distance and from origin city to destination route transport availability, normally it takes from 4-8 days.
What is pre-move survey, and how much time it takes?
In pre-move survey packers and movers do a proper analysis of your relocation requirements like quantity of goods, type of goods, pickup and delivery demands. Survey inspector comes at your place and it takes around 10-20 minutes, whereas for shifting few items it can also be done over the phone call.
What items I should not shift with packers and movers?
The packers and movers will not shift certain items which may cause damage to the other household items or to the transport vehicle. The relocation service providers will not move these goods:
Valuable items like laptops, jewellery, important documents, etc.;
Essential items like toiletries, medications, extra pair of clothes, cleaning supplies, etc.;
Perishable food items which may get spoilt and ruin the other goods too;
Hazardous liquids like fuel, motor oil, kerosene or other flammable liquids, paints, paint diluter, batteries, etc.;
Explosive and corrosive items, etc.;
How to identify unprofessional or fake moving companies?
Fake moving companies will not have valid documents for GST registration, owner identification proofs, and so on.
They will not have a proper company website or online profiles in social media.
They will not have their own office workspace or may not have an office at all, and they may use rented transportation.
Fake packers and movers will not have professional behavior when you meet them, or they may be friendly in the beginning and change entirely during the relocation.
How much should I tip shifting labors?
In one word Yes, in India labor wages are very low and as a human being we should understand this. If they have done satisfactory job, you should appreciate that with your tip, consider tipping Rs.25 – Rs.50/Labor/Hour.
Note: In local shifting same labours will be picking up and delivering your goods, whereas in outside-city relocation there will be different labours at origin and destination and you should tip them accordingly.