Best Packers and Movers in Guwahati | 100% Safe & Affordable Shifting
175
Guwahati
Hire verified & best Packers and Movers in Guwahati in just four easy steps. Fill the form and Compare charges, services, reviews and photos of Guwahati packers and movers and choose one that is the best for your shifting and budget needs.
Get Quote From
3 Nearby Movers
Quickly Compare
& Save Min 25%
Guide to Hire Best Packers and Movers Guwahati with AssureShift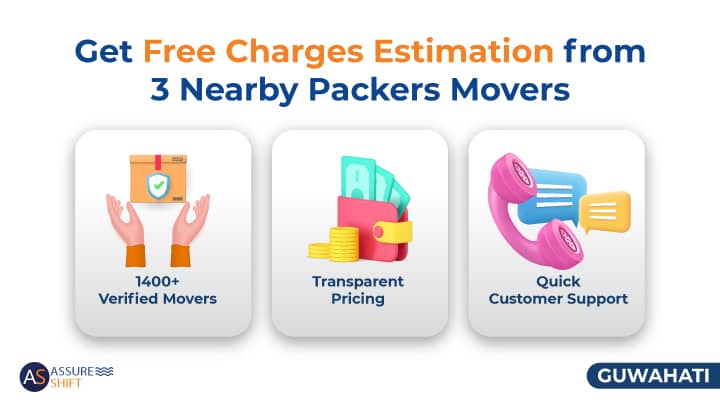 Welcome to AssureShift, your trusted partner to hire genuine and professional packers and movers Guwahati Assam.
AssureShift is a leading packers movers hiring platform, dedicated to making your home shifting process as seamless as possible eliminating the uncertainties of the safety of your belongings, logistics management, and stress of the entire moving process.
With our widespread network of more than 1200 trustworthy relocation service providers across India, we have a dedicated presence of our partnered packers and movers in Guwahati, where we connect customers with the best professional packers movers companies to cater to different shifting needs at affordable packing and moving rates.
Our Guwahati packers and movers offer top quality relocation services with specialized tools, equipment, and complete know-how to ensure all your fragile and bulky goods are transported safely. They also offer insurance on your goods, ensuring they reach the destination in pristine condition. With a professional team handling the entire process, you save a significant amount of time which you can invest in other pre-move tasks like updating your address, notifying utility service providers for disconnection or transfer of utilities, etc.
Our top priority is to ensure that every customer enjoys a hassle-free relocation experience with top movers and packers in Guwahati to whom they can entrust their belongings. That's why every packers movers company associated with AssureShift goes through a stringent verification process:
Business Authenticity Check: We confirm and validate the company's business/GST registration.
Physical Office Verification: We ascertain the company's office presence and location in Guwahati Assam.
Owner Background Check: Before collaboration, we ensure the authenticity of the moving company owner's details who will be the main point of contact in case any issues arise.
Performance Analysis: We dive into their past performance history, ensuring they are capable of consistently providing top-notch services.
Moving is not just about transporting goods from one place to another. Different individuals may have different shifting needs, and we make sure our partnered movers services can cater to all of them whether it is Home Shifting services, Bike shifting services, Car Transportation services, Office Relocation services, Fine Art and Antique Moving services, Plant Relocation, Pet Moving, Storage and Warehousing Services, Cargo Shipping, Corporate Relocation services, Logistics Services, International Packing and Moving services, and so on.
To quickly hire movers and packers Guwahati from AssureShift, follow these simple steps and sit back and relax while our professionals handle everything for you!
Step 1: Fill the enquiry form with details about your relocation needs like origin, destination, tentative moving date, type and size of move, list of items to be relocated, and so on.
Step 2: Within a few minutes, you will receive referrals of 3 best packers and movers in Guwahati along with the initial cost quotes customized to your request.
Step 3: Schedule a pre-move survey to discuss the specific packing and moving requirements in more detail and get accurate price estimations along with details of the services provided and pickup and delivery timelines.
Step 4: Compare the movers charges, services offered, company profiles, and read the previous customer reviews and check ratings, to choose the service provider that aligns with your requirements.
Finalize your deal with the most reliable packers and movers Guwahati Assam who best match your relocation needs and offering services within your budget bracket.
With AssureShift, you're not just moving possessions—you're moving with peace of mind. Get your quick charge estimation from the top packers movers in Guwahati today!
---
Why Choose AssureShift When Hiring Movers and Packers in Guwahati?
AssureShift has a strong network of more than 1200 relocation companies across the country, having partnered with top moving companies in Kolkata, Chandigarh, Nagpur, Delhi, Bangalore, Pune, Ahmedabad, and 20+ other cities.
We work with the mission to eliminate fraud packers movers service providers in every city of India so that customers experience smooth transition with a dependable moving company offering hassle-free relocation services.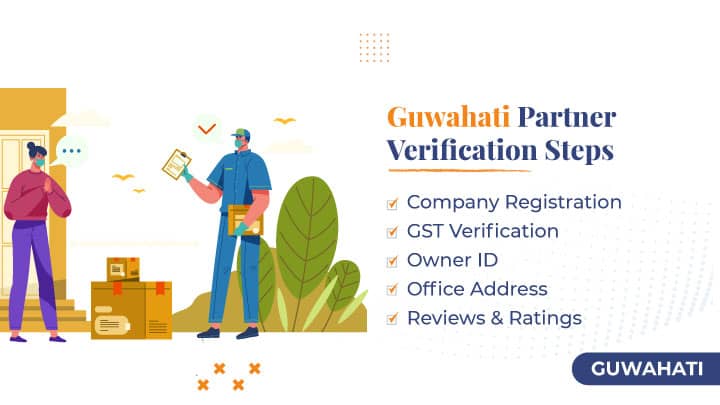 Here's why AssureShift should be your top choice when considering hiring packers and movers in Guwahati:
Comprehensive Listings at Your Fingertips: Our platform boasts a carefully constructed directory of packers movers companies, ensuring you always find the most suitable, credible, and efficient movers and packers in Guwahati without having the need to go through endless list of companies. We have organized the list of Guwahati packers and movers according to their reviews and ratings, services offered, and affordability factor, which you can easily filter out to identify the best packers movers company for your needs.
Ensuring Trust through Thorough Screening: At AssureShift, we go beyond merely listing companies. Every professional service provider goes through a rigorous verification process and background check of their business registration, physical office presence, and past service quality. Only the movers and packers Guwahati, or any other city, who successfully passes the verification process is allowed to partner with AssureShift and offer their services to customers, assuring peace of mind from start to end of the relocation.
Perfect Blend of Quality and Honest Pricing: We believe in making relocation budget-friendly for everyone while offering premium quality services in an affordable manner that suit your budget. We ensure our competitive pricing gives you the best value for money without any hidden charges. Our Guwahati movers and packers provide detailed straightforward estimates of the charges for the exact services provided so that you know that you pay for what you see.
Customized Solutions for Unique Moves: We understand that not every relocation is the same. Whether you are planning a local shifting, domestic relocation, or simply need logistic services, for moving your household goods, office equipment, or transporting vehicles, we connect you with the right packers movers that cater to your exact requirements providing complete solutions to your relocation problems.
Customer Satisfaction at Every Step: Our outstanding customer service makes us stand out from the competition as we believe customer support is the main aspect of fulfilling the promise to provide hassle-free relocation experience. No matter whether you have a few queries, required guidance during the hiring or relocation process, or even if you are facing any issues with the moving company, our dedicated customer support team is always available to help you out at every step of your move.
Your move deserves the perfection and precision that AssureShift brings to the table. Hire packers and movers in Guwahati from AssureShift for a seamless relocation experience within or outside Guwahati.
---
Packers and Movers Guwahati Charges
The Guwahati movers and packers charges for shifting a standard 2BHK within the city can range from ₹4,000 to ₹13,000. For intercity relocation services provided by our outside-city packers and movers in Guwahati, they will charge around ₹16,000 to ₹32,000 for relocating a standard 2 BHK to different cities, with the exact costs depending on the specific factors considered for the move.
| Move type/ Distance | 1 BHK | 2 BHK | 3 BHK | 4-Wheeler | 2-Wheeler |
| --- | --- | --- | --- | --- | --- |
| Local Shifting | ₹ 3,250 - 8,500 | ₹ 4,300 - 13,200 | ₹ 5,900 - 17,000 | -NA- | -NA- |
| Guwahati to Bangalore | ₹ 14,400 - 24,600 | ₹ 18,000 - 30,250 | ₹ 21,600 - 36,900 | ₹ 7,200 - 16,100 | ₹ 4,100 - 9,500 |
| Guwahati to Mumbai | ₹ 13,500 - 25,500 | ₹ 16,200 - 26,500 | ₹ 18,650 - 30,200 | ₹ 4,950 - 10,400 | ₹ 2,700 - 5,200 |
| Guwahati to Hyderabad | ₹ 12,600 - 21,700 | ₹ 16,200 - 28,350 | ₹ 18,900 - 34,000 | ₹ 6,300 - 13,200 | ₹ 3,600 - 7,110 |
| Guwahati to Pune | ₹ 15,300 - 25,500 | ₹ 18,900 - 31,200 | ₹ 22,500 - 36,900 | ₹ 7,650 - 16,600 | ₹ 4,950 - 9,900 |
| Guwahati to Delhi | ₹ 13,500 - 22,700 | ₹ 17,100 - 29,300 | ₹ 19,800 - 35,900 | ₹ 6,750 - 14,100 | ₹ 3,600 - 6,600 |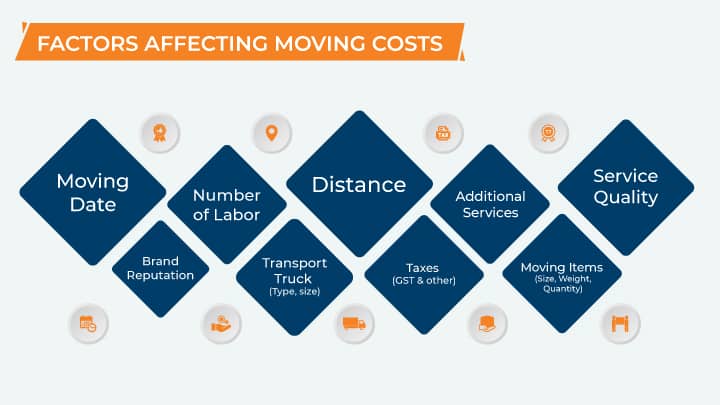 The exact packers movers charges in Guwahati can vary greatly depending on a number of factors like distance from source to destination, quantity of goods to be relocated, size and type of truck used for transport, special handling or packing requirements, type of services you opt for, scheduled moving date, and if any additional services are requested, like insurance, temporary storage services, etc.
---
How will AssureShift Assist You in Addressing Concerns?
Moving often comes with its set of challenges and apprehensions. With AssureShift, you're never alone in this journey. We take pride in ensuring a smooth relocation for you, and our commitment doesn't weaken even if any problems arise. Here's how we ensure you are always supported:
Perfect Matches Every Time:

We work to ensure every customer gets in touch with the best matched packer mover based on the specific requirements submitted.
In the unlikely event that you're not satisfied with the referrals you received, you can always contact our support team for guidance on the selection.
Alternately, you can request for additional options of referrals and our team will swiftly provide alternate references to better fulfill your requirements.
Guided Support from the Get-Go:
Our relationship with you doesn't conclude once we provide you the references. We are on standby every step of the way until you and your belongings have safely arrived at the destination:
From initial inquiries to post-move queries, our team is available to assist you with any query.
We make sure any challenges you face during the relocation process are addressed promptly.
Maintaining the Gold Standard:
Quality is paramount, and we continuously strive to uphold it. We encourage each of our customers to share feedback of their packing moving experience with our partner relocation company along with details of any issues they came across during or after the move.
Using this feedback, we routinely monitor and review the performance of our listed packers and movers in Guwahati and our other operational cities across the country.
We make sure that the service quality is always at its peak or at least in line with our set standards.
Accountability in Action:
We understand the significance of trust in the packing and moving industry. Thus, any moving company falling short of our set standards or engaging in inappropriate behavior faces consequences:
We take swift and appropriate action against movers who violate our terms, fail to provide satisfactory services, or receive multiple negative feedback from customers.
This not only ensures that every customer gets the best service but also maintains the integrity of the AssureShift platform.
Your peace of mind is our utmost priority. With AssureShift, you're not just hiring a service, but you're gaining a partner committed to making your move as seamless and stress-free as possible.
---
Frequently Asked Questions (FAQs)
How much are the packers and movers in Guwahati charges for local shifting?
The charges for movers and packers in Guwahati range from ₹ 3,000 - 8,500 for shifting a 1BHK, ₹ 4,000 - 13,000 to relocate a standard 2BHK, and ₹ 5,500 - 17,000 for packing and moving 3BHK. The exact costs vary depending on various factors like distance, volume of goods, packing materials used, and labor charges.
Do packers and movers in Guwahati offer insurance cover?
Most packers and movers in Guwahati offer insurance coverage for your belongings during transit, providing you with added peace of mind. It's important to check with your chosen moving company about their insurance policy before hiring them.
How to minimize the cost of packers and movers in Guwahati?
You can reduce the cost of packers and movers in Guwahati by decluttering your belongings, comparing quotations from multiple moving companies, booking the services in advance, and scheduling your move during weekdays or off-peak seasons.
What services do packers and movers in Guwahati provide?
Moving service providers in Guwahati offer a wide range of services, including house shifting, car shifting, bike transport, office shifting, storage services, and international relocation.
How much time do packers and movers in Guwahati take for a local move?
The time taken by packers movers in Guwahati for a local move depends on various factors such as the size of the move, distance, and the number of items to be relocated. Generally, a local move can be completed within a day, but it may take longer for larger moves or during peak seasons.
Can packers and movers Guwahati provide packing services for fragile items?
Yes, movers and packers in Guwahati have the expertise and packing materials needed to safely pack fragile items, such as glassware, electronics, and artwork. They use high-quality packing materials and specialized techniques to ensure your fragile items are well protected during transit.
---
Guwahati Packers and Movers Reviews
Relocating can be both thrilling and challenging. Hiring packers and movers ensure you get professional expertise for packing services, loading and unloading, safe transport, and timely pickup an delivery to ensure hassle free shifting, saving you both time and potential damage to your possessions.
AssureShift meticulously screens moving companies to guarantee 100% reliability of our partner movers packers in Guwahati. Our verification process includes checking the company's business/GST registration, office presence, owner details, and past performance history.
Our leading packing moving companies in Guwahati offer an array of services including House Shifting services, Office Shifting, Vehicle shifting like Car and Bike Transportation services, Corporate Relocation, Fine Art and Antique Moving services, Plant Relocation, Pet Moving, Warehouse Solutions, guaranteed Storage availability, Cargo Shipping, and International relocation, among many others.
Guwahati packers and movers ensure secure household packing with quality packing material like bubble wrap, corrugated boxes, and sealable plastic bags, etc. They use modern moving equipment and tools like appliance dollies, hand trucks, panel movers, furniture dollies, and so on to load and unload goods with utmost care. For safe transportation of goods from origin to the destination, specialized trucks like flatbeds, enclosed trucks, and furniture vans, of varying sizes are used for all goods that have to be relocated locally with the city or intercity shifting.
To hire the best and most reliable packers movers, it's crucial to verify the moving company credentials, examine past reviews and ratings, and check the moving companies experience. Make sure to compare multiple cost quotes and discuss your specific packing and handling requirements in detail. Also ask them important questions like "What's included in the quote?", "Do you offer insurance?", "How much experience do you have with my type of move?".
For local shifting, search for best local movers and packers in Guwahati nearest to you so that you get quick and safe home relocation within Guwahati in just a few hours. For domestic relocation, make sure to look for professional packers and movers Guwahati Assam who have a branch in the destination city as well. This will help you avail doorstep unpacking and reassembly services after arriving at your desired destination. (For example, if you are moving from Guwahati to Faridabad, hire moving company in Guwahati who has a branch of their packers movers in Faridabad.)
During the pre-move survey, find out more about the movers team, how much training they undergo, if there are any hidden costs in the movers charge quotes, and what could be the expected timelines for pickup and delivery. On moving day, maintain open communication for seamless coordination during the entire home shifting process. Also remember to ask about their issue-resolution process if you come across any problems during or after moving.
Preparing for the house relocation is key to make sure it goes smoothly. Start planning the relocation at least 2-4 weeks before the moving date, and spend a good amount of time to research and finalize a good packer mover company. To reduce the moving charges, declutter unwanted items, schedule the move during off-peak times like weekdays or middle of the month, and compare multiple cost estimates to identify the service provider offering services at the most affordable rates.
With AssureShift, getting an instant cost estimate from the best packers and movers Guwahati is quick and easy. Simply tell us your relocation details and we will quickly refer top 3 reliable movers along with their contact details and cost estimates, matching your requirements and budget needs. Compare the cost estimates obtained, services offered, and reviews and ratings to identify the right moving company in Guwahati for your needs.
We are proud to serve various localities in Guwahati including Deochutal, Beltola, Khanapara, Sonaighuli, and Sarusajai.
Remember, if any concerns arise, our dedicated customer support is here to assist you and ensure you're entirely satisfied with the relocation experience. Choose AssureShift to hire best packers and movers Guwahati and enjoy safe and seamless transition to your new location.