Hire Best Packers and Movers in Kolkata - Compare 3 Free Quotes
265
Kolkata
Hire verified Packers and Movers in Kolkata in just four easy steps. Fill the form and Compare charges, services, reviews and photos of 3 best Kolkata packers and movers and choose one that is the best for your shifting and budget needs.
Get Quote From
3 Nearby Movers
Quickly Compare
& Save Min 25%
Guide to Hire Best Packers and Movers Kolkata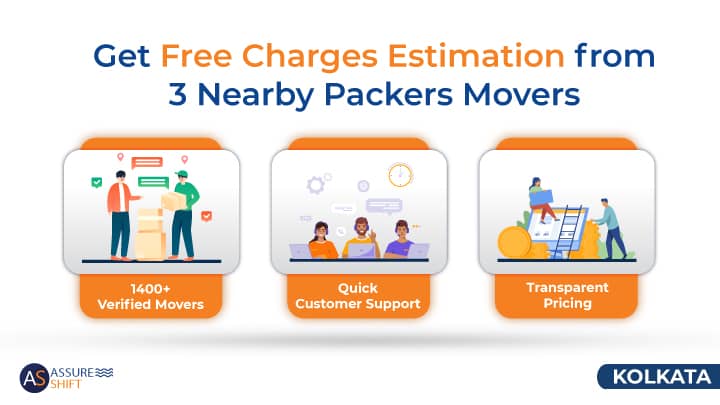 At AssureShift, we understand the challenges involved in finding reliable packers and movers Kolkata, but we're here to simplify the process for you. As a premier platform for hiring moving services in India, we strive to provide the best assistance and make your move stress-free
With a vast network of over 1200 verified moving companies operating in 26 major cities, including Kolkata, Gurgaon, Bangalore, Chennai, Hyderabad, and various other tier-I and tier-II cities, AssureShift ensures you have access to experienced and reliable shifting service providers.
Whether you're moving within Kolkata or from Kolkata to another city, we have you covered. Our carefully curated list of movers Kolkata packers is ready to accommodate all aspects of your moving process, be it household items, office goods, bike or car transportation, and more.
Every relocation company featured on our platform has undergone thorough screening and verification, ensuring they meet top-quality standards and affordable pricing for local and domestic relocation.
Our packers and movers Kolkata offer a comprehensive range of moving services, including packing, transportation, loading unloading, and unpacking, among others. Using quality packaging materials such as plastic wrap and bubble wrap, our partnered packers Kolkata securely pack your furniture, appliances, and fragile items. These packed goods are then loaded onto appropriately equipped moving carriers using advanced handling tools like sliders, furniture dollies, and ramps to ensure safe transport.
Finding packers and movers Kolkata is made simpler in 4 easy steps:
Fill in the online form with your moving details, which includes your current city, destination city, the size of your house (1BHK, 2BHK, etc.), moving date, etc.
Receive multiple quotes from various service providers. These quotes will give you an idea of the costs involved in your move.
Compare the quotes with the services offered, reviews and rating and select a suitable mover.
Sit back and relax while the mover takes care of everything.
Our dedicated customer support team is readily available to assist you throughout the move. Whether you need help choosing a movers service or have any concerns or queries, we're here to make your experience as seamless and stress-free as possible.
With AssureShift on your side, avail yourself of a very good service of moving from our movers and packers in Kolkata and bid farewell to all your worries.
Why Choose AssureShift for Hiring Kolkata Packers and Movers
AssureShift has established itself as a trusted platform for finding verified packers and movers in Kolkata, experiencing remarkable growth in the city. Our commitment to eliminating fraud packing moving companies who dupe customers and ensuring 100% customer satisfaction have contributed to our success.
We take pride in our extensive network of over 1200 verified movers service providers throughout the country. Through strong partnerships with these reputable packers and movers, we offer access to a diverse range of relocation services, each excelling in their specific areas of expertise. Rest assured, we have carefully screened and verified each partner to ensure their professionalism and competence. Here are some reasons to hire packers movers Kolkata from AssureShift.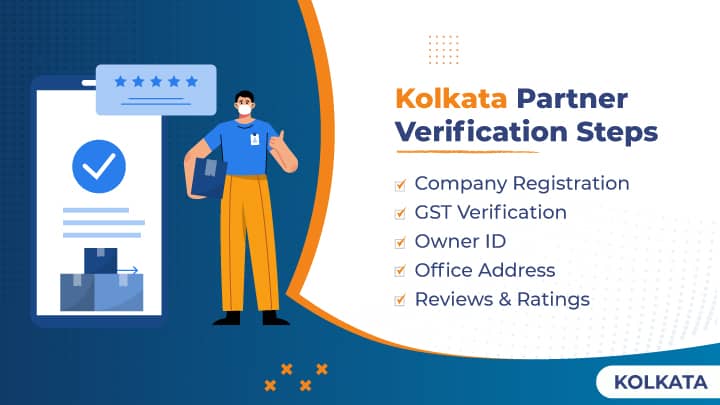 Quality and Affordability: AssureShift understands the importance of both quality and affordability and is committed to providing best moving service at competitive prices. You can easily compare quotes from multiple movers packers and find the best deal for your relocation needs.
Wide Network of Verified Packers Movers: Our vast network of verified local shifting and domestic relocation companies spans across India, including metro cities like Delhi, Chennai, Bangalore, Mumbai, and so on. We also have trusted packers and movers in Jaipur, Lucknow, Ahmedabad, and many other tier-2 cities. This ensures that you have access to a wide selection of experienced relocation service providers who are well-equipped to handle your specific requirements.
Seamless Booking Process: With AssureShift, booking a reliable movers company in Kolkata is a breeze. Our user-friendly platform allows you to browse through profiles, get cost estimates from top packers and movers, compare their charges and reviews, and finalize your deal that fits your needs and budget.
---
Packers and Movers Charges in Kolkata
The packers and movers charges in Kolkata for moving a standard 1 BHK within the city can range between ₹ 3,600 to ₹ 9,500. Intercity packers and movers services for relocating a 1 BHK from Kolkata to another city can range from ₹ 16,000 to ₹ 29,000 depending on the exact distance of relocation among various other factors.
| Move type/ Distance | 1 BHK | 2 BHK | 3 BHK | 4-Wheeler | 2-Wheeler |
| --- | --- | --- | --- | --- | --- |
| Local Shifting | ₹ 3,600 - 9,450 | ₹ 4,800 – 14,700 | ₹ 6,500 – 18,900 | -NA- | -NA- |
| Kolkata to Bangalore | ₹ 16,000 – 27,300 | ₹ 20,000 – 33,600 | ₹ 24,000 – 40,950 | ₹ 8,000 – 17,850 | ₹ 4,500 – 10,500 |
| Kolkata to Hyderabad | ₹ 14,000 – 24,150 | ₹ 18,000 – 31,500 | ₹ 21,000 – 37,800 | ₹ 7,000 – 14,700 | ₹ 4,000 – 7,900 |
| Kolkata to Pune | ₹ 17,000 – 28,350 | ₹ 21,000 – 34,650 | ₹ 25,000 – 40,950 | ₹ 8,500 – 18,400 | ₹ 5,500 – 11,000 |
| Kolkata to Delhi | ₹ 15,000 – 25,200 | ₹ 19,000 – 32,550 | ₹ 22,000 – 39,900 | ₹ 7,500 – 15,700 | ₹ 4,000 – 7,350 |
| Kolkata to Mumbai | ₹ 18,000 – 29,400 | ₹ 15,000 – 28,350 | ₹ 18,500 – 33,600 | ₹ 5,500 – 11,550 | ₹ 3,000 – 5,800 |
| Kolkata to Siliguri | ₹ 12,000 – 23,100 | ₹ 15,000 – 28,350 | ₹ 18,500 – 33,600 | ₹ 5,500 – 11,550 | ₹ 3,000 – 5,800 |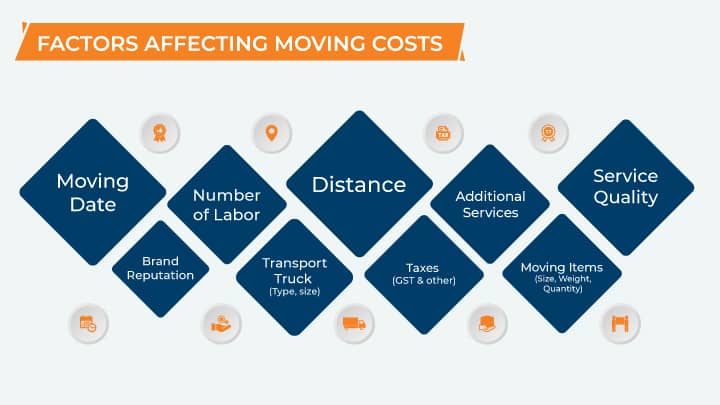 The price of Kolkata packers and movers depends on factors like the volume of your belongings, residing floor level, quality of packing material utilised, labour duration and costs, truck transport charges, distance from origin to destination, and the additional services required.
---
How AssureShift Supports You in Case of Any Concerns
Moving can be a complex process, filled with unexpected hurdles. But fear not! AssureShift is here to simplify your moving experience. We understand that challenges may arise during the relocation process, and we stand ready to support you through it all. Here's how we support you:
Transparency: We ensure complete transparency throughout your relocation process. From providing clear cost estimations to sharing details about our packers and movers, we keep you informed every step of the way. If there are any changes or issues, you'll be the first to know.
Quality Maintenance: We uphold high standards of service quality by partnering with only verified and reliable packers and movers. We conduct regular audits and inspections to ensure these standards are consistently met. If any service quality issues arise, we act swiftly to rectify them.
Resolving Issues: Should any issues or concerns come up during your relocation, we have a dedicated customer support team ready to assist. We work diligently to resolve any problems you might face, ensuring your satisfaction is our top priority.
Appropriate Action: In case of any issues with our partnered packers and movers, we take appropriate actions to rectify the situation. This could involve helping with compensation claims for damages, addressing service quality concerns, or even terminating partnerships with providers who do not meet our quality standards.
Feedback and Ratings: AssureShift provides genuine customer feedback and ratings for each service provider. This will help you make an informed decision when choosing the best packers and movers in Kolkata.
Remember, AssureShift is more than just a platform, it's your reliable partner in ensuring a smooth and hassle-free relocation. Choose AssureShift, choose peace of mind.
---
Frequently Asked Questions (FAQs)
Here are some common questions and their answers related to packers and movers in Kolkata:
What services do packers and movers in Kolkata offer?
Packers and movers Kolkata offer a wide range of services, including packing, loading, transportation, unloading, unpacking, and sometimes additional services like storage, vehicle transportation, and insurance coverage.
How do I find reliable packers and movers Kolkata?
To find reliable packers and movers in Kolkata, you can rely on recommendations from friends or family, search online directories, read customer reviews and ratings, and use platforms like AssureShift that verify and screen moving service providers.
How much do packers and movers in Kolkata charge?
The cost of packers and movers in Kolkata varies based on factors such as the volume of goods, distance to be covered, services required, and any additional features like packing materials or insurance. It's best to request quotations from multiple companies to get an accurate estimate.
How long in advance should I book packers and movers in Kolkata?
It's advisable to book packers and movers in Kolkata as early as possible, preferably at least 2-4 weeks before your desired moving date. This allows the moving company to plan and allocate resources accordingly.
Are my belongings insured during the move?
Most packers and movers provide basic transit insurance for your belongings. However, it's recommended to clarify the coverage details and consider opting for additional insurance if needed.
How do I ensure the safety of my belongings during the move?
Choose a reputable packers and movers in Kolkata that employs proper packing techniques, uses quality packing materials, and handles goods with care. Additionally, ensure that the moving firm has experienced staff and suitable transportation vehicles to minimize the risk of damage.
Can I track the status of my move with packers and movers in Kolkata?
Some packers and movers in Kolkata offer tracking facilities that allow you to monitor the progress of your move. You can inquire about this feature when discussing the services with the company.
How do I prepare for the packers and movers arrival?
To prepare for the packers and movers arrival, you can start by decluttering and organizing your belongings, packing personal and valuable items separately, and creating an inventory list. You can also discuss any specific instructions or requirements with the moving company in advance.
What happens if there is a delay in the delivery of my goods?
Delays can sometimes occur due to unforeseen circumstances like weather conditions or traffic. In case of a delay, it's recommended to communicate with your Kolkata packers and movers to get updates on the delivery status and any necessary rescheduling
How do I handle fragile or valuable items during the move?
Inform the moving company about any fragile or valuable items that require special care. They can provide appropriate packing materials and handling techniques to ensure the safety of these items during transportation.
---
AssureShift is your trusted platform for finding professional and reliable packers and movers in Kolkata. Our extensive network of verified moving service providers ensures top-notch services for all your shifting needs.
Our partner companies offer a wide range of relocation services, including home shifting services, car transportation, office moving, cargo shipping, and international shifting. Whether you require local shifting within Kolkata or domestic relocation, our service providers offer quality services at affordable prices.
Our professional and affordable movers packers in Kolkata use high-quality packaging materials like foam, bubble wraps, and plastic foam sheets to ensure the utmost care for your belongings. They employ advanced logistics services and use equipment like forklifts and dollies to ensure safe and timely delivery without any damage.
Before partnering with any moving company across the country, we thoroughly verify each packers and movers before partnering with them, i.e., every moving company in Gurgaon, Bangalore, Chennai, Hyderabad, Mumbai, Kolkata, Noida, Navi Mumbai, Thane, Ahmedabad, and all the other cities undergo a thorough telephonic as well as physical verification. This ensures 100% reliability, credibility, experience, and professionalism. With AssureShift, you can be confident that you're dealing with trustworthy and genuine packers and movers.
Hiring packers and movers is easy with AssureShift. Simply fill out the enquiry form with your house shifting requirements, and you'll receive instant quotes from the three best movers Kolkata list that cater to your specific domestic or international relocation needs.
To facilitate an accurate cost estimate, we offer a free pre-move survey. You can review the profiles of different moving companies, including the services they provide, charges, customer reviews, and ratings. This makes it convenient to compare and select the packers that best packers and movers match your requirements.
When hiring packers and movers, always verify their credentials and check for proper licensing and if they offer insurance. It's also crucial to read customer reviews and ratings to gain insights into their reliability and service quality. Compare quotes from different movers for a balanced perspective on cost and services offered. Always ensure clear communication regarding all terms and conditions before finalising your choice. Examine their contact methods, such as phone, email, or chat support, to verify you can reach them quickly when required.
Here are several cost-effective ways to relocate and keep the budget in check. Start by decluttering your space, research and compare multiple quotes, choose an off-peak season, carry valuables with you, utilise other alternative packing materials like towels, blankets, etc., for packing fragile items. To reduce moving costs, ask friends and family for assistance.
Our dedicated customer support team is available to assist you throughout the entire process. If you encounter any issues during your shifting process, feel free to reach out to us. We are committed to ensuring a smooth and hassle-free shifting experience for all our customers.
Professional movers and packers can make sure your things are safe and secure, save you money, and make sure they have the right tools and equipment. This gives you more time and energy to focus on other important parts of your move and relax.
Relocation Services in Kolkata
Domestic Packers and Movers in Kolkata
Packers and Movers in Kolkata City Areas