Bike Shifting Services
Hire end-to-end Bike shifting services that take care of every aspect of the move. Whether you need domestic or international bike transportation, our partners have the expertise to ensure a smooth move. With AssureShift, you can hire a Bike Shifting Service in four easy steps and get quality services at the best prices and complete customer support from start to end until the move is completed.
Get Quote From
3 Best Match
Where to Move?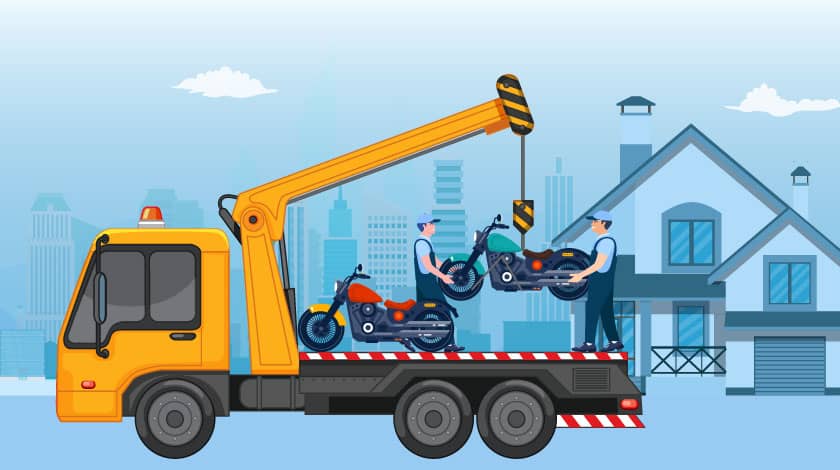 We understand that your bike is more than just a bike for you. Our partners take utmost care while transporting your bike to its destination. Our partners use packaging materials of supreme quality and the latest equipment to ensure a smooth move.
Our Bike Shifting services offer extensive end-to-end bike transport that takes care of the entire shifting process from the inspection, in the beginning, the packing, loading, transport, unloading, and unpacking to the final inspection.
Our affiliate moving companies offer domestic Bike relocation services for transporting the bike within the country and international Bike moving services for transporting it worldwide. You can choose to have it transported by either trucks or trains.
Whatever your doubts are will be solved efficiently and quickly by our customer support team that is available throughout the day.
Bike Shifting Service Prices
| | |
| --- | --- |
| Distance of Relocation | Bike Transport Costs |
| Up to 450km | ₹ 3,000 – 5,000 |
| 450 - 899 km | ₹ 3,500 – 6,500 |
| 900 - 1499 km | ₹ 4,000 – 8,000 |
| 1500 - 2200 km | ₹ 6,500 – 11,000 |
Hiring Guide for Bike Shifting Services
Fill out the moving form with your requirement
Get Moving company references and estimates
Compare prices and reviews
Hire a company, and they will take care of the rest
The Bike Moving Service Process
Our partners offer end-to-end bike Relocation services that cover every aspect of the move.
They ensure no moving parts can cause damage or be damaged during the move by expertly disassembling them. You can then take note of existing scratches and dents, which you can crosscheck with an inspection after the move is completed.
Our Partnered bike shifting service providers ensure the bike is packed using high-quality packaging materials like bubble wraps, corrugated cardboard sheets and plastic foam sheets to ensure safety.
Once it is packed, the skilled professionals from the moving company load your bike with care using modern equipment like forklifts, small cranes, dollies and handmovers to ensure smooth loading. 
The transport itself is done with utmost care to ensure no damage is done during the move. You can have it moved by train, a shared truck or a standalone truck based on your budget and requirements. 
The bike will then be stored at a warehouse at the place of destination before it is delivered to you. It will be unloaded with care and unpacked, after which you can inspect it before clearing your dues.
Tips to Prepare the Bike Before Moving
Ensure you have the necessary documents in order. 

RTO form 27
RTO form 28
No Objection Certificate from the RTO, the Traffic Police and the Civic Police station if you are moving to a different state.
Bike registration certificate.
Valid Insurance policy papers of the Bike.
Valid Emission Test certificate of the Bike.

Clean the Bike before transport.
Check for loose parts and broken spares and remove them before the move.
Have normal pressures in the tyres.
Leave a quarter tank of fuel in the bike. Having anymore will result in the bike being heavier.
Make a note of all scratches and dents before the transport and crosscheck it once the bike has reached its destination.
Give specific instructions about your bike. For example: if the centre stand is loose or if the mirrors need specific care or anything else they need to take note of. You know your bike the best, and giving them specific info helps.
---
Bike transportation can be a messy affair if you attempt it on your own. Riding to your destination is one thing, but transporting it by hiring rental trucks or through trains over long distances is a difficult task. Hiring packers and movers who offer secure bike shifting services is your best bet for it. 
Our partners offer affordable and secure Bike services that take care of the entire moving process, whether it is an inspection at the beginning of the packing or loading, transport, unloading, or unpacking. You will be notified once the bike has reached the warehouse at the destination city, after which it will reach your new home.
Our partners will handle the bike with care while loading and unloading by using modern equipment like forklifts, mini cranes, dollies, handmovers etc. To ensure a damage-free move, they use packaging materials of the highest quality like bubble wraps, corrugated cardboard sheets and plastic foam sheets. Our partners will skillfully unload it and finish the final inspection before handing it over to you.
All you have to do is follow our four-step hiring process for the quickest and most efficient hiring and leave the rest to them.  
If you ever have any queries, you can reach out to us at any time through our customer support team, who will clear them quickly and efficiently.