Gurgaon Packers and Movers Charges
Within Gurgaon Shifting Charges
Get approx estimation of complete door to door packing and moving rates. For accurate costing please give us your moving details, and get quote from 3 best match service providers.
General Consideration
Few Goods
Bed, Fridge or Washing Machine, Few Kitchen Items, and Cloths
1 BHK
Bed, Fridge, Washing Machine, TV, Kitchen Items, Small Table, Few Chairs, and Cloths
2 BHK
2 Beds, Fridge, Washing Machine, TV, Dining Table, Sofa, Study Table, Few Chairs, Wardrobe, Almirah, 1 AC or Cooler, Kitchen Items, and Cloths
3 BHK
2 Double Beds, 1 Single Bed, Fridge, Washing Machine, TV, Dining Table, Sofa Set, Study Table, Computer Table, Chairs, 2 Wardrobes, 2 Almirahs, 2 AC, Dressing table, Kitchen Items, and Cloths
4 BHK
2 Double Beds, 2 Single Bed, Fridge, Washing Machine, TV, Dining Table, Sofa Set, Center Table, Study Table, Computer Table, Chairs, Dressing Table, 3 Wardrobes, 3 AC, Aquarium or Show pices, Kitchen Items, and Cloths
Outside Gurgaon Shifting Rates
Gurgaon Relocation Guide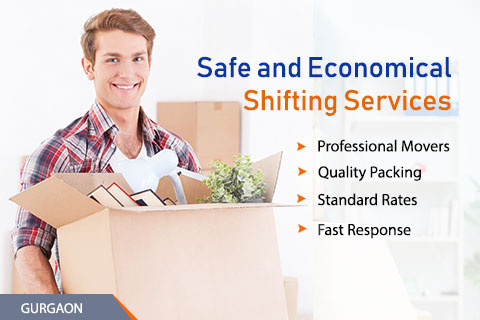 Moving homes is an exciting time thinking of the new memories that you're going to make in your new place. But, it can also be a tough and challenging situation to deal with, considering the time and effort which will go into packing and moving to reach there soon. However, you don't need to worry as packers and movers in Gurgaon provide you with the best and reliable shifting services. Before you begin searching for packers and movers near me, you should know that many fake and unprofessional movers in the market could make your moving experience a bad one. AssureShift will provide you with the most reliable packers and movers in Gurgaon list from which you can hire the best relocation company that can help you move with zero stress.
Planning for complete household shifting in Gurgaon by yourself may be a risky decision to take. You will have to buy packing supplies to wrap your items correctly, lift and move heavy furniture, hire a reliable transport option, and load and unload all the things by yourself. Since you have no prior experience in doing any of these tasks, not only are the chances of damaging your items and property high but also injuring yourself in the process. Eventually, you'll have to end up spending more money to fix damages and help yourself recover from injuries.
Best packers and movers in Gurgaon have years of experience and are fully equipped to carry out your relocation to perfection. They bring the necessary packing material to wrap all your items with complete protection and use appropriate moving equipment to lift and move your bulky furniture and appliances. To find the top packers and movers in Gurgaon, you can get trusted recommendation from your family and friends; or, you can search for movers and packers near me on the Google Search Engine. Even though you'll find a large list of packers and movers in Gurgaon, Google will not be able to guarantee the genuineness of any of the moving companies. Therefore, you'll have to spend hours of your time to thoroughly research the packers movers Gurgaon before you hire any particular one.
We know that you are already on a busy schedule, and researching is going to take up more of your time. That's why you can depend on AssureShift to give you a list of reliable options from which you can easily and quickly hire the cheap and best packers and movers in Gurgaon. We perform an extensive background check of all the moving companies in Gurgaon so that you don't have to take up the responsibility of verifying. We also do a routine inspection of the performance of the relocation service providers in Gurgaon by asking our customers for feedback at the end of their move about the quality of packing moving services that they received. In case of any reports of bad behavior or complaints, we ensure strict action is taken against the movers packers Gurgaon to prevent such incidents in the future. You can quickly share your requirements and get references of 3 best packers and movers in Gurgaon near you from our pre-verified list of packers and movers in Gurgaon for house shifting, vehicle transport in Gurgaon, office shifting in Gurgaon, local shifting in Gurgaon, domestic relocation, international relocation, car transport anywhere in India, cargo shipping, and storage services.
At AssureShift Packers and Movers Gurgaon, you will find 100% safe & verified moving companies who are best suited for local household shifting within Gurgaon, and domestic home relocation outside Gurgaon. If you are planning to move into Gurgaon, you can find best moving companies having a branch located in Gurgaon so that you'll get reliable relocation services in Gurgaon at your new destination. Welcome to Gurgaon, or officially known as Gurugram, the village of Guru Dronacharya during the time of the Mahabharata! This city has a continuing history since then and has become one of the top revenue earners of the country, contributing 40% of the revenue of the entire Haryana state. An interesting fact about Gurgaon, MG Road is not called Mahatma Gandhi Road but actually Mehrauli-Gurgaon Road; and, even the Chinese or Italian cuisine you may want to taste will be served with a 'Tandoori tadka.' Although Gurgaon boasts of its rapid metro, the traffic on the roads move at a snail's pace. We're sure you'll enjoy living in the busy city of Gurgaon where you'll find many more exciting things which will make you fall in love with its eccentricity.
How packers and movers in Gurgaon will help you relocate?
Shifting by yourself is not only a tough and stressful task to handle but also highly risky as you may end up damaging your goods or hurting yourself in the process. Therefore, by hiring professional packers and movers in Gurgaon to do your job, you can rest assured knowing that you've left the problematic tasks of relocating to the experts. Here are a couple of points to help you understand the benefits of taking the help of packers and movers in Gurgaon:
1.They do the end-to-end planning
The relocation companies in Gurgaon will plan your relocation from start to end including all details regarding the amount and quality of packing supplies needed, workforce required, type of truck suitable to fit all the household items and total duration of the move.
2.You can save your time and money
Since the packers and movers services in Gurgaon will take the complete responsibility of bringing the right quality and the required amount of packing material, you can save your time of buying these packing supplies. Also, you'll be spending much lesser since you will be paying at once for all the different services of packing, lifting, moving and loading-unloading, including transportation services.
3.They provide complete protection of your items
The Packers and movers Gurgaon use high-quality packing material and have years of experience in relocating households. So, they know the different methods that should be followed to pack various types of items to ensure they are safe and secure while moving.
4.You can remain stress-free throughout the move
The home shifting services in Gurgaon will handle your entire relocation process including all the difficult tasks of packing, moving and ensuring the complete safety of goods. You can be relaxed knowing that your household belongings are in safe hands and will reach your destination promptly and without any damages.
How to hire good packers and movers Gurgaon?
In India, the industry of packers and movers is not a very organized one as there's no proper authority to check and verify the genuineness of moving companies. Due to this, many relocation service providers have come up everywhere, who promise shifting services at lowest prices to prey on innocent victims like you. They know that by offering lowest shifting charges they can make you trust them, and they will end up cheating you or steal your precious belongings under the pretense of moving them.
Therefore, before you hire good packers and movers in Gurgaon, you should make sure that they are genuine and trustworthy. There are 3 ways in which you can find reliable packers & movers in Gurgaon:
1.Through Family/Friends
If you are getting references of packers and movers in Gurgaon through your family and friends, you do not need to bother about whether they are genuine or not; you can know for sure that they will suggest only reliable options to you. You can take at least 3 or more such references and compare the packers and movers prices along with the company profiles before hiring the best-suited one.
2.Through Google
Another method to find a list of packers and movers near me in Gurgaon is by searching on Google, where you'll get a long list of moving companies. However, since Google has not verified any of the listed moving companies, you will have to spend much of your time in doing so to ensure that the packers n movers in Gurgaon whom you hire are, in fact, genuine.
You should make sure to check the following details about each packer and movers in Gurgaon before hiring:
Relocation companies in Gurgaon listed on Google should have a valid website with precise information about their office address and phone numbers. Also, you can search for their company profile on various social media sites like Facebook, etc., where you may find some posts by previous customers on their wall. Moreover, if you see their company profile on a reference portal like AssureShift, it's a good sign that the moving company can be trusted.
Registration with Govt of India
All genuine Gurgaon movers and packers will be registered with the Govt. of India and will have the necessary documents to prove the same. As a customer who's thinking about entrusting your life's belongings in a stranger's hands, you have all the rights to ask the relocation service provider to show their registration documents. If any of the packers movers in Gurgaon refuse to do so or hesitate in any way, show documents which look unreal or have details that do not match, then it's better to start looking for a different moving company.
Another effective way to find out the reality about the relocation service provider is by reading the packers and movers Gurgaon review and ratings written by their previous customers. All moving companies may be perfectly good with you until you hire them, and then all of a sudden may start behaving differently. So, always make sure you know about how movers carry out themselves by reading the real experiences written by customers on MouthShut, Trustpilot, Facebook, AssureShift, etc.
3.Through a reference portal
Instead of going through the trouble of investigating, reading and checking about the moving companies, you can easily find and hire trustworthy and reliable packers and movers in Gurgaon through AssureShift.
Since there is no proper authority to check and verify the genuineness of a moving company, AssureShift has undertaken the responsibility of verifying the documents of the moving companies in Gurgaon. We want to make sure that people do not get into contracts with the wrong people and end up losing their life's belongings.
The process we follow before allowing any packers and movers in Gurugram to associate with us is as below:
Background verification – all the relocation companies in Gurgaon, have to submit their registration documents, and owner identification proofs and details to our verification team who thoroughly check and ensure the details are correct.
Office set up – the Gurgaon packers and movers office, and transport arrangements are also checked to ensure they are genuine and provide good relocation services.
Quality check – we regularly check the service quality provided by the moving companies by asking our customers, after they move, about the kind of service they received by the packers and mover in Gurgaon.
Necessary action – we take required and immediate action against the relocation service providers in Gurgaon if we get any reports of bad behavior or criminal activities; we may either temporarily suspend or permanently block their profiles.
After collecting complete details about the movers packers in Gurgaon and being 100% sure of their authenticity and capability to provide good packers and movers services in Gurgaon, we will list them on AssureShift. Within a couple of minutes, you can find and hire the cheap and best packers and movers in Gurgaon and forget about the stress of moving:
Once you share your shifting requirements, we will recommend the 3 top moving companies in Gurgaon who fulfill your shifting and budget needs.
Following our suggestion, the referred packers and movers will immediately contact you with a quick estimate of packers and movers charges in Gurgaon for completing your move.
You can request for a pre-move survey from the moving companies to discuss your specific shifting requirements and get an accurate price list of the movers and packers Gurgaon charges for your entire relocation process.
Finally, you can compare the different packers and movers Gurgaon rates and company profiles before hiring a particular moving company.
When is the right time to move?
The day on which you shift your household will decide whether your move will be an expensive or a cost-effective one. Packers and movers charges in Gurgaon will vary throughout the month due to peak times during which most people prefer to move. We've mentioned below about what days you should avoid and which days would be the ideal time to move during the month and the week.
Avoid moving during these times
Weekends – many people are off from work and prefer to move during the weekend so that they don't have to apply for leave and their kids and family will be available at home. Due to this, relocation companies in Gurgaon are fully booked and occupied during the weekends, and they tend to charge double the regular prices for relocating.
End of the month – lease contracts end and begin around the end of the month, typically between 25th of the current month to 5th of the next month. Therefore, many people have to move in and out of homes, because of which moving companies in Gurgaon are in high demand and the shifting charges are high.
Alternative and cheapest time to move
Weekdays – it's better to move during the weekdays, i.e., between Monday to Thursday, so that you do not have to face surge pricing of the packers and movers in Gurugram. Moreover, you will be able to find moving companies who have much less work in their hands and will be able to give their complete focus on your relocation requirements.
Middle of the month – although there may be a few more days for your lease to end, you can plan to move a couple of days before. Moving during the middle of the month, i.e., between 6th to 25th of the month, will help you save money and find a trustworthy relocation expert in Gurgaon who will not be in a hurry to complete one job after another.
Now that you know which is the best time of the week and month to move; begin planning your relocation accordingly. You may have to take about 2 days off from work, which is a good thing as you can utilize your paid leave provided by the office and also save the money of spending a huge amount for packers and movers charges in Gurgaon. Moreover, completing your relocation when the kids are safe at school will make sure that you're not distracted by them, and you can carry out your move smoothly.
Bonus Tip
Make sure you hit the road first thing in the morning (around 7:00 AM) so that you can avoid the peak-hour traffic. That way, you can make sure neither you nor your goods are stuck on the road for hours together, and you can get a move on unpacking and arranging your home as quickly as possible.
Home shifting process followed by Packers and Movers Gurgaon
Shifting homes have become a rising trend in India due to the ever-growing population who are looking for better job opportunities, higher studies, getting married, buying a new house in a different place, health reasons, or any other personal reasons. Just as reasons can vary from person to person, even the location to which people move can be to any part of the same city or within the country (and, sometimes even outside India).
To make your relocation much more comfortable and simple, packers and movers have a well-organized and efficient solution for household shifting services in Gurgaon. They provide you with the best packing and moving services for both Local shifting within the city as well as Domestic relocation from your city to a different one. However, the processes they follow for both kinds of relocation differ slightly according to the destination services they provide.
Local Shifting in Gurgaon
Intra-city or local shifting refers to moving into a new locality within the same city. During local relocation, your items will have to travel a short distance and may be completed approximately within a couple of hours to an entire day.
The local packers and movers in Gurgaon help you shift within your city with the following procedure:
Pre-move survey to discuss your specific shifting requirements and provide you with an accurate price list;
Disassembling furniture or appliances (if required) before packing them;
Packing all the household items at your old home;
Carefully loading goods into the vehicle according to your requirements;
Secure transportation of all the things to your new home;
Precisely unloading your assets into the house;
Unpacking and reassembly of the dismantled items;
The home relocation services in Gurgaon can even provide you with home-arrangement after unpacking all your goods so that you don't have to set up your home alone. However, you will have to request them for these services which will be provided at an additional cost.
Domestic relocation from Gurgaon
If you're shifting out of Gurgaon to a different city anywhere in India, then it's called an inter-city shifting or domestic relocation. Proper planning and a lot of time and effort will go into shifting from one city to another. Also, since your items will have to travel a long distance from Gurgaon to elsewhere, your goods will have to be packed with much more care.
The domestic packers and movers in Gurgaon will follow these steps to help you relocate outside Gurgaon:
Pre-move survey to collect all your requirements, take inventory of your goods and give you an exact cost of moving;
Disassembling all the furniture, appliances and other large items before packing them;
Good quality packing of all household items ensuring full protection;
Loading all goods into the truck with proper placement such that no damage occurs;
Transportation to the destination within the scheduled delivery time;
Unloading of all items at your doorstep and checking inventory;
The Packers and movers in Gurgaon do not provide unpacking and re-assembly services since the goods are transported with the help of transporters who are only capable of unloading the goods. However, if you require these services too at the destination, you can request them during the pre-move survey, so that they will be able to plan and make necessary arrangements for the provision of these destination services.
Services provided by Packers and Movers Gurgaon
Home Packers and movers in Gurgaon – Shift to your new home in the least amount of time and expense with our home shifting services in Gurgaon for local, domestic and international relocation. They will provide packing, loading, and transportation service at affordable prices in every area of Gurgaon.
Local household shifting within Gurgaon – our partner local packers and movers in Gurgaon will carry out the packing, loading, transporting, and unloading of your things at economical rates which depends on the number of items to move and the total time that is taken to complete the relocation.
Domestic Relocation from Gurgaon – domestic packers and movers in Gurgaon are reliable and use the best quality packing supplies and moving equipment to ensure full protection of your items during the relocation, and deliver your goods on time in your new city.
Commercial and industrial relocation in Gurgaon – Take reference of our expert commercial shifting and industrial relocation service providers in Gurgaon and take advantage of competitive charges by multiple top logistics companies from all over the country.
Car/bike/vehicle transportation from Gurgaon – Shift any automobile safely and ensure you have complete peace of mind. You can find dedicated automobile transporters for Car Transport in Gurgaon, Bike Shifting in Gurgaon, and Heavy Vehicle Shifting service at best rates.
Cargo moving/Shipping services from Gurgaon – Cargo services in Gurgaon specialize in inter-modal shipping by providing transportation for both domestic and international shipments. They ensure time sensitivity and maintain total transparency in dealing with our partners and clients.
Home Storage/warehouse storage in Gurgaon – Store your Home and Commercial Goods at better storage space rentals in Gurgaon. Warehouses are spacious, 100% safe, and spread all over India, wherever road transportation could be made available.
Logistics Services in Gurgaon – a logistic company in Gurgaon offer logistics services and Gurgaon transport to businesses that ship merchandise from one place to another. They pick-up goods from the warehouse and deliver to the right place on time.
Office relocation/Corporate Shifting in Gurgaon – Relocate your office IT equipment, Furniture, Vehicles, Machinery, and Appliances at better transportation charges. Get Professional and Reliable Office Shifting services in Gurgaon to any other city of India.
International relocation from Gurgaon – professional international packers and movers in Gurgaon will take care of planning your overseas relocation to move into or return from a different country so that you can be stress-free.
FAQs
On what will my shifting charges depend?
The movers and packers Gurgaon rates will depend on a couple of factors, which are considered while calculating your shifting charges:
Number of household items you're moving;
Scheduling your move on the right day;
Additional services which you require;
The necessary amount of workforce;
The physical effort needed to complete the process;
How can I reduce my shifting charges?
There are a few simple ways in which you can reduce the packers and movers Gurgaon charges quoted for your relocation. If you follow these steps effectively, you can successfully complete your relocation at affordable prices:
Plan your move in advance so that you find cheap and best packers and movers in Gurgaon;
Reduce the number of items you're planning to move by de-cluttering and removing unwanted and unused things;
Schedule your move on the weekdays or during the middle of the month so that the moving companies are not in high demand;
Make arrangements to ensure the amount of physical effort will be reduced;
Why should I take insurance for shifting my household goods?
Gurgaon packers and movers guarantee the safety of your goods by packing, handling and moving them with expertise. Apart from that, they will offer additional assurance and peace of mind by compensating you in case you face any losses or if your items get damaged. It's usually entirely up to you if you want to take insurance on your household items.
While insurance is not necessary for a local move, it's advisable to take insurance on your home items during a domestic relocation as the distance is more and chances of damage may be higher.
Who are the popular packers and movers in Gurgaon, Haryana?
Leo Packers and Movers Gurgaon – Narsimphur, Near Dhanuka Factory, Gurgaon – 122001
DHL Packers and Movers Gurgaon – Krisha Chock, Palam Vihar, Gurgaon – 122017
Interem Packers and Movers Gurgaon – Ashok Vihar, Palam Vihar Road, Gurgaon – 122001
Allied Packers and Movers Gurgaon – Satguru Farm, Old Delhi Road, Gurgaon – 122001
Transworld Packers and Movers Gurgaon – Bajgera Chowk, New Palam Vihar, Gurgaon – 122017
Om Packers and Movers Gurgaon – Sector 10, Gurgaon – 122001
Arya Packers and Movers Gurgaon – Dharam Colony Palam Vihar, Gurgaon – 122017
Aadhunik Packers and Movers – Civil Lines, Gurgaon – 122001
Vishal Packers and Movers – Bhagat Shing Chowk, Mata Road, Gurugram – 122001
It's a universally known fact that moving is an extremely stressful task, whether you are moving to the next road or to a completely different city, and doing it yourself is a huge challenge to take on. Therefore, the best options to ensure you have a smooth and safe move is with the help of professional packers and movers in Gurgaon.
However, before you hire relocation companies in Gurgaon, you should do thorough research and find out as many details as you can about the moving companies. Alternatively, you can save time by hiring suitable packers and movers services in Gurgaon through AssureShift, where you'll find pre-verified professional movers and packers Gurgaon, who will provide safe relocation services at low and affordable prices. Your requirements might differ and also it's actual pricing. It's better to get some idea, by asking for a free quote from at least 3 – 5 moving companies in Gurgaon. Assure Shift makes it quick and easy to find reliable packers and movers in Gurgaon.
9 Important Relocation FAQs
When should I start looking for packers movers?
It depends upon the type of shifting, for local shifting within the same city ideally you should start looking 4-8 days ago. Where as for shifting outside city ideally start looking 7-14 days ago. If your moving date is month end, or weekend you should begin your search little earlier.
How to find best packers and movers?
Share your shifting requirements with us and we will refer you 3 best match verified and trusted moving companies near to your locality. Talk to them, know charges estimation, compare their profile, ratings, and reviews and finalize the best option for you. Happy Shifting!
How can I reduce my shifting charges?
One of the primary factors that affect your relocation expenses is the quantity of goods you are moving. If you reduce the number of items by decluttering, your relocation charges can be reduced. You should also make sure that you plan the move well in advance and schedule the move on the right day.
It's best to take quotations from at least 3 movers so that you can easily compare the estimated charges and company profiles, and hire the most relevant moving company.
What are the things packers movers will take care off?
Our relocation experts will take care of all the process from beginning to end (Dis-assembly, packing, loading, transportation, un-loading, un-packing, assembly, and final placement). Generally, for domestic relocation outside city un-packing, assembly, and final placements are not included, and if you require those have demand.
How much time it will take to complete the move?
Local relocation from one locality to another can be completed within a single day depending on the number of items and the floor of the house it could take from 5-10 hours. For shifting outside city it depends upon the distance and from origin city to destination route transport availability, normally it takes from 4-8 days.
What is pre-move survey, and how much time it takes?
In pre-move survey packers and movers do a proper analysis of your relocation requirements like quantity of goods, type of goods, pickup and delivery demands. Survey inspector comes at your place and it takes around 10-20 minutes, whereas for shifting few items it can also be done over the phone call.
What items I should not shift with packers and movers?
The packers and movers will not shift certain items which may cause damage to the other household items or to the transport vehicle. The relocation service providers will not move these goods:
Valuable items like laptops, jewellery, important documents, etc.;
Essential items like toiletries, medications, extra pair of clothes, cleaning supplies, etc.;
Perishable food items which may get spoilt and ruin the other goods too;
Hazardous liquids like fuel, motor oil, kerosene or other flammable liquids, paints, paint diluter, batteries, etc.;
Explosive and corrosive items, etc.;
How to identify unprofessional or fake moving companies?
Fake moving companies will not have valid documents for GST registration, owner identification proofs, and so on.
They will not have a proper company website or online profiles in social media.
They will not have their own office workspace or may not have an office at all, and they may use rented transportation.
Fake packers and movers will not have professional behavior when you meet them, or they may be friendly in the beginning and change entirely during the relocation.
How much should I tip shifting labors?
In one word Yes, in India labor wages are very low and as a human being we should understand this. If they have done satisfactory job, you should appreciate that with your tip, consider tipping Rs.25 – Rs.50/Labor/Hour.
Note: In local shifting same labours will be picking up and delivering your goods, whereas in outside-city relocation there will be different labours at origin and destination and you should tip them accordingly.