Moving with a Disability: How to Plan, Pack, and Move with Ease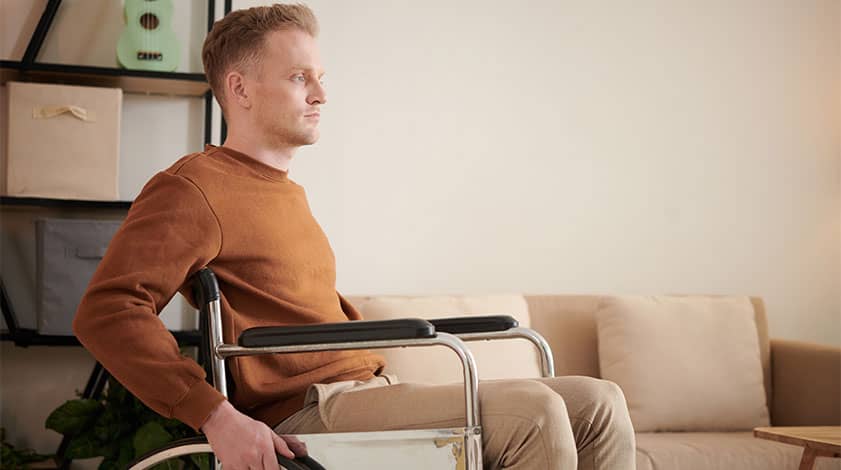 Moving to a new home can be a daunting task for anyone, but for people with disabilities, it can be an even more challenging experience. However, with proper planning and organization, moving with a disability can be made more manageable.
This ultimate guide will take you through the essential steps to make your move as smooth as possible, and help you choose the right storage unit size for your needs.
Step 1: Plan your move well in advance
Timing is crucial when it comes to moving, especially for people with disabilities. Consider the ideal time to move, and if possible, avoid moving during the holidays or on weekends. Planning in advance also allows you to verify packers and movers' qualifications and compare moving charges to find the best deal.
Step 2: Create a moving checklist and inventory list
Creating a moving day checklist and an inventory list will help you stay organized and ensure that nothing is forgotten during the moving process. These lists will also help you label your boxes and make unpacking easier.
Step 3: Choose the right packing materials
It's essential to use the appropriate packing materials to protect your belongings during the move. Consider using packing paper, bubble wrap, and sturdy boxes to secure your items. Don't forget to label your boxes clearly and include information about the contents and the room they belong to.
Step 4: Ask for help or hire professional movers
You can also ask friends or family members to help you with the move, but be sure to weigh the pros and cons of asking friends before making a decision.
Alternatively, hiring professional packers and movers can be a great help for people with disabilities, as they will handle the entire moving process, including packing, loading, unloading, and unpacking. 
Step 5: Consider accessibility and safety features in your new home
Before you move in, make sure your new home is accessible and ready to accommodate your needs. If you have mobility issues, make sure doorways and hallways are wide enough to accommodate your wheelchair or walker. You may also need to install grab bars or other assistive devices to help you move around safely.
Step 6: Choose the right storage unit size
Selecting the appropriate storage unit size is crucial for a successful move. If your new home does not have enough space for all your belongings or if you need temporary storage during the moving process, choosing the right storage unit size is essential.
Here are some tips to help you choose the appropriate storage unit:
Take inventory of your belongings, including furniture, appliances, and boxes.

Measure the dimensions of your larger items to determine the minimum storage unit size required.

Consider the layout of the storage unit and the accessibility of your items. If you have a disability, you may want to opt for a larger unit to provide ample space for comfortable movement.

If you have items that require specific storage conditions, such as temperature or humidity control, choose a storage unit that meets those needs.

Consult with storage unit providers and discuss your requirements. They can often provide guidance on selecting the right unit size for your needs.
Step 7: Prepare for moving day
As moving day approaches, make sure you are well-prepared to ensure a smooth transition. Here are some tips to help you prepare for the move:
Confirm the moving date and time with your packers and movers or helpers.

Gather essential items, such as medications, important documents, and a change of clothes, in a separate bag that you will keep with you during the move.

Disconnect and disassemble any large appliances, furniture, or equipment that need to be taken apart before moving.

If you have any special equipment, like a wheelchair or mobility scooter, make sure it is fully charged and in good working condition.

Prepare a folder with important information about your disability and emergency contacts to share with your movers or helpers.
Step 8: Settling into your new home
Once you have moved into your new home, take the time to settle in the new place and make the space comfortable and accessible for your needs. Some tips to help you settle in include:
Unpack essential items first, such as toiletries, medications, and kitchen supplies.

Organize your new home in a way that is most convenient and accessible for you, taking into consideration the layout and any mobility aids you may use.

Install any necessary accessibility features, like grab bars, ramps, or handrails, if they are not already in place.

Notify your new neighbors, local authorities, and utility providers about your disability, so they are aware and can provide assistance if needed.

Familiarize yourself with the surrounding area, including accessible public transportation, medical facilities, and nearby stores. 
Step 9: Update your personal information
Once you have settled in, don't forget to update your personal information with various entities, such as your employer, insurance provider, and government agencies. This includes updating your address, phone number, and any other relevant information.
Step 10: Seek support and connect with your new community
Moving to a new area can be challenging, but connecting with your new community can make the transition smoother. Seek out local disability support groups, community centers, or social clubs to meet new friends and find resources in your new neighborhood.
Conclusion
Moving with a disability can be a challenging and overwhelming process, but with the right preparation and support, it can also be a positive and rewarding experience. By following these tips and seeking help from family, friends, or professional movers, you can ensure a smooth and stress-free move to your new home.
Remember to take your time and prioritize your safety and comfort throughout the moving process. And don't forget to celebrate your new beginnings in your new home!