Pros and Cons of Asking Friends to Help You Move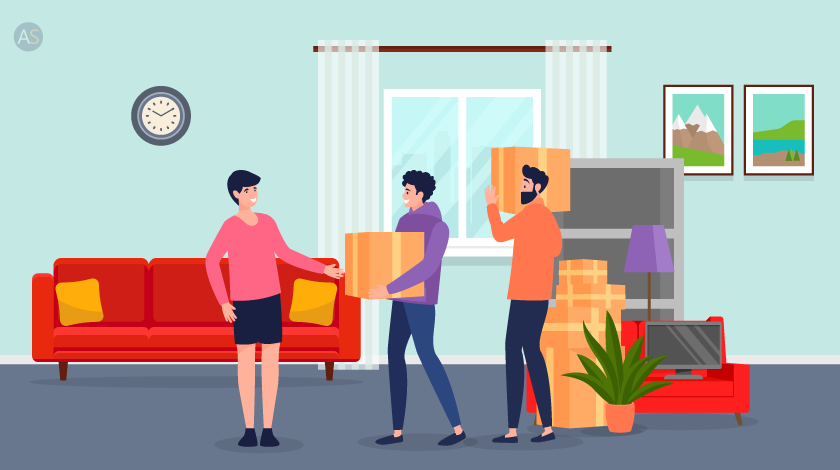 As the moving day approaches one of the common dilemmas to solve is whether you should ask your friends to help you move or hire professional help.
Many people prefer to turn to their friends for help with packing, transporting, and settling into their new space. While asking friends for assistance with a move can have its benefits, it also has several drawbacks. Therefore, it is important to make an informed decision. 
In this blog, we have listed the pros and cons of asking friends to help you with a move.
Pros of Asking Friends to Help You Move
#1 No Charging by the Hour
Most moving companies charge by the hour, so if you are expecting a long day or days, professional movers could get expensive.
Friends often have more flexibility, which is great because moves do not always go according to plan. So, friends typically can help you move for as long as they are willing to stick around.
#2 Lowers Your Moving Costs
Having your friends help you is unquestionably the most cost-effective approach to moving your belongings. Hiring a professional moving service will necessitate you to pay for a number of services, which might be pricey.
While asking your friends to assist you to move out, you can prepare some tasty snacks and pleasant beverages to treat your volunteers, which can be less expensive.
#3 Extra Time With Loved Ones
You'll be able to spend more time with your favourite people before moving if they help with the process. You can also get their help to babysit your children or pets while you pack or load.
#4 Friends Can Make Your Move Fun
It may be more comfortable to have your friends assist you than to have strangers handle your belongings. However, if carrying big furniture does not sound like fun to you or your buddies, you may want to engage those professional strangers.
#5 You Can Get Friendly Help After Working Hours
Another advantage of having friends assist you rather than hiring movers is convenience.
When you know you can rely on your friends throughout the relocation, you can ask for their assistance beyond work hours. Remember to be considerate of their time, but if your assistants don't mind, it's a huge plus that can't be overlooked.
Cons of Asking Friends to Help You Move
#1 No Insurance
When you have friends helping you out, you are not protected. That means that if something breaks, no one will give you any compensation. A professional moving company, however, offers moving insurance. It is unnecessary to worry about something breaking when you are fully protected. You can relax entirely. 
#2 Lack of Experience
Moving requires a great deal of experience. Your friends may lack the experience and understanding required to pack and move your possessions. Injuries are more likely when they lack knowledge, and this is something you should avoid.
While friends are a cheap and easily accessible resource, there are a few things you should think about before enlisting their help in a large move. 
#3 You Rely on Their Schedules
All you have to rely on is their word that they will be there to serve you, and there is no contract, no payment, just their volunteering. You may have agreed on a time and day, but if your friends do not show up, you may have to reschedule the move or have a backup plan. Professional movers will arrive on schedule and prepared to accomplish the work.
#4 You do All the Heavy Lifting
We understand that neither you nor your friends want to be the ones lifting and navigating a couch or dryer out of a house, up or downstairs, and through doorways. You are more prone to do harm to the goods and their surroundings. Professional movers will understand how to perform the relocation correctly.
#5 Time Consuming 
When your friends come over to help you, they will most likely try their best to assist you in any way they can. However, because your friends are not experienced movers, every activity will be accomplished considerably more slowly, frequently with several pauses that will just add unnecessary time to the move.
#6 The Risk of Damaging Items is Higher
You most likely will have fragile, heavy, or breakable items that necessitate special packaging and handling to minimise damage.
However, your friends, like you, have little to no moving experience. This implies that mistakes are likely to occur, resulting in unexpected damage to your valuable possessions and damage to property such as scuffed flooring or chipped walls etc.
#7 Risk of Injuries
There is a greater risk of causing personal injury since a single misstep may quickly lead to a tragedy, and all your attempts to save money by not employing professionals will be futile.
If you want to move large furniture pieces and your escape route includes flights of stairs, use a professional moving company to reduce danger for everyone's sake.
#8 You Will be Indebted to Your Friends
When you ask your friends to assist you with your relocation, you will be expected to repay the favour when the time comes.
If the concept of having the moral duty to respond to your friends' plea for assistance does not appeal to you, the best thing to do is to leave your friends alone and engage professional movers who will accomplish the task on their behalf.
Conclusion
Asking friends to help you move has both pros and cons. On the positive side, it can save you money on hiring professional movers, and it can be a good opportunity to strengthen friendships. 
However, it can also be stressful for both you and your friends, especially if they are not used to heavy lifting or if they have other commitments. It's important to weigh the potential benefits against the potential drawbacks and to be considerate of your friend's time and abilities and make an informed decision.