The Ultimate Guide for Moving to Bangalore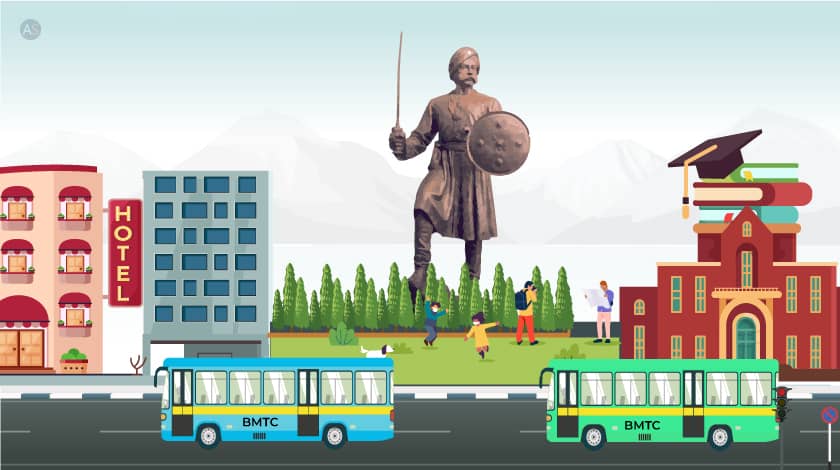 Moving to any new city can be daunting. There are a lot of unknowns, and it can drive you to the end of your wits.
"How is the local food? Is the language barrier going to be a problem? Are the people nice? How am I even going to survive"? These are some of the questions that will need answering before you move to a new city.
Bangalore, like any other city in question, is no different.
While the city itself, on the surface at least, is not different from any other metropolis in the country, with booming infrastructure, sprawling suburbs and tons of people. Underneath the skin, however, it is unlike any other city in the world.
You will need to know the various intricacies of the city that run seemingly unnoticed in the background. This will help you adapt faster and live a smoother life.
Of course, it is impossible to cover everything you need to know about Bangalore. Exploring is half the fun of moving into a new place, after all. But in this blog, you will gain all the essential information you need and some secrets too. With that in mind, here is your guide to Bangalore.
Jump to Read
- Relocation: Reaching Namma Bengaluru
- Accommodation: Location is Everything!
- Apps: The City at your Fingertips
- Traffic: Consistently Terrible
- Transport: Anytime, Anywhere (just later than usual!)
- Languages: It's Kannada, not Kannad!
- Food: Filter Coffees and Bisibelebaaths
- Affordable Places to Shop: It's a Steal!
- Education: Engineers, Fashion Designers and Rocket Scientists
- Parks and Lakes: Living up to its Sobriquet
- Games and Recreation: Perennially Entertaining
---
Relocation: Reaching Namma Bengaluru!
Moving into Bangalore is fairly easy. There are tons of great movers who can take care of the move for you. If you want the easiest way in, you can depend on AssureShift to get you in touch with a mover in your city that meets your requirements in a snap.
The city is quite large and if you are arriving in Bangalore for the first time using anything other than a personal mode of transport, check which part of Bangalore you need to go and make sure you get down in the right place, since the city has so many railway stations and bus stops, and you may end up spending half of your first day in the city, admiring the infamous Bangalore traffic.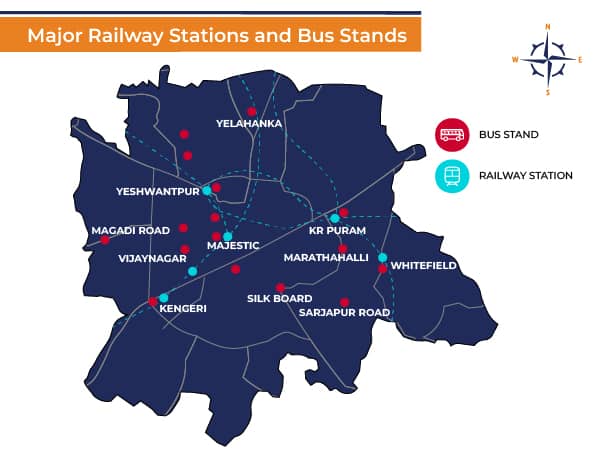 First Time Arrival By Train
North Bangalore: Yeshwantpur, KR Puram
South Bangalore: KSR Railway Station
East Bangalore: KR Puram, Whitefield
West Bangalore: Yeshwantpur, JnanaBharathi Station, Kengeri
First Time Arrival By Bus
North Bangalore: KR Puram, Yelahanka, Chikkabanavara
South Bangalore: Majestic, Jayanagar, Mysore Road Satellite Bus Stand, Kengeri Bus Stand
East Bangalore: Sarjapur Road, Silk Board Junction, Marathalli, Whitefield
West Bangalore: Yeshwantpur, Magadi Road, Vijaynagar, Rajajinagar, Malleshwaram, Chikkabanavara
Go Back to the Top
---
Accommodation: Location is Everything!
Finding the right accommodation in Bangalore can be hard without any help. Unless you have friends that stay here, you can find that help on apps like NoBroker or 99 acres.
Best Places to Live For Jobseekers and Employees: Sarjapur Road, KR Puram, Hebbal, BTM Layout, Mahadevpura, HSR Sector 1 and 2, Electronic City, Marathalli, Hoskote
Best Places to Live For Families: Malleshwaram, Uttarahalli, Banashankari, Kanakapura Road, Jalahalli, K R Puram, Kengeri, Mathikere, RR Nagar, Bannerghatta Road
Pro Tip: Make sure you consider the location of your workplace, your kids' schools, and other factors, before you pick a place. You definitely don't want to be lugging yourself halfway around the city every day.
---
Utilities: Water, Gas, Electricity
Interestingly, Bangalore has no source of water within the city. It was not built on the banks of a river, and its lakes will dry up in a fortnight if used as the water source. So the water is pumped uphill from the river Cauvery, miles away from the city.
But the city is blessed with great amounts of groundwater, so you can dig that up through borewells which are very popular in the city. You can even go as far as calling it the main source of water in the city.
If you are not so keen on hard water, buy an RO purifier or search for a place exclusively with a Cauvery supply.
Quenching your thirst isn't expensive in this city; you get 20lts of drinking water for ₹5 at the government water kiosks available in every locality.
As for gas and electricity, it is pretty standard nationwide. You can pay the bills either on Phonepe, Gpay or any other UPI apps using your consumer ID.
Go Back to the Top
---
Apps: The City at Your Fingertips
Bangalore is the IT and startup capital of India, and it comes as no surprise that, in this city, there is an app for everything.
Whether it is to order food or contact a plumber, an app can solve almost all your issues; they literally run this city. These can save the day or bail you out of difficult situations, so don't forget them!
Accommodation: NoBroker, MagicBricks, 99 Acres, Commonfloor, Nestaway
Furniture and Appliances Rental: Furlenco, Rentomojo, Renticles
Homecare and House Help: Urban Company
Food Delivery: Swiggy and Zomato
Groceries: Swiggy, Dunzo, BigBasket, Blinkit
Meat and Fish: Licious, Fresh to Home
Pharmacy: Pharmeasy, NetMeds, Practo
Courier Service: Swiggy and Dunzo
Cabs and Rickshaws: Uber, Ola, Rapido, Myn
Self-drive Bikes and Cars: Bounce, Zoomcars, Royal Brothers
Mobility: Yulu
Events and Movies: Bookmyshow
Go Back to the Top
---
Traffic: Consistently Terrible!
One thing you won't love is Bangalore's infamous traffic that plagues the city. It's a running joke in Bangalore that you spend half your life travelling, and the funny thing is, it's quite accurate.
It takes hours to travel from one part of the city to the other and peak hours are just terrible. You can have breakfast and leave and you'll reach your destination in time for lunch. That may have been an exaggeration, but you get the idea. This, among a few other things, can be a major disadvantage of living in Bangalore if you do decide to move here.
So, note down and avoid these places at the specified times and you'll be good to go.
Places with the heaviest traffic: Silk Board Junction, Bannerghatta Road, Tin Factory, KR Puram, St. John's Signal, Sarakki Junction, HMT Factory Jalahalli, KR Market.
Daily peak hours: 8:30 am to 11:30 am & 5:30 pm to 8 pm
Go Back to the Top
---
Transport: Anytime, Anywhere (just later than usual!)
The roads are also quite bad and contribute to the city's traffic woes. For a city of such high standing, the road infrastructure is quite lacking. So if you don't want to suffer on those roads, in that traffic, public transport is the answer.
Fortunately enough, Bangalore has a robust public transport system. BMTC buses reach way beyond city limits and are frequent, Metro lines are being built rapidly and Ubers and Olas are always in the offing. But be wary of depending on auto rickshaws as they tend to have minds and demands of their own.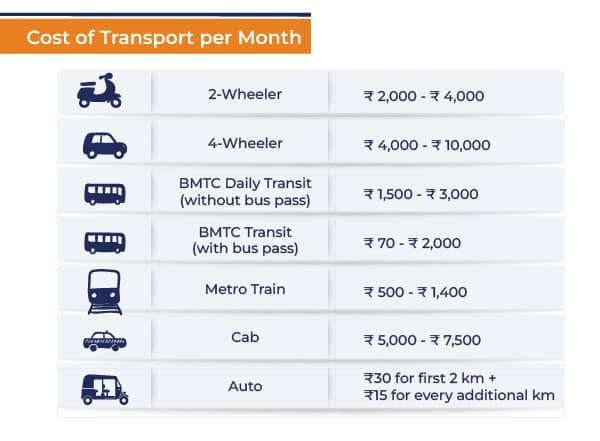 Modes of Public Transport: BMTC Buses, Metro, Intercity Railway line (limited)
Modes of Personal Transport: Ola and Uber cabs, Auto rickshaws, Yulu's, Bounce and Drivezy self-drive vehicles.
Cost of Transport per Month
| | |
| --- | --- |
| Type of Transport | Total Cost |
| 2-Wheeler (Personal Transport) | ₹ 2,000 - ₹ 4,000 |
| 4-Wheeler (Personal Transport) | ₹ 4,000 - ₹ 10,000 |
| BMTC Daily Transit (without bus pass) | ₹ 1,500 - ₹ 3,000 |
| BMTC Transit (with bus pass) | ₹ 70 - ₹ 2,000 |
| Metro Train | ₹ 500 - ₹ 1,400 |
| Cab | ₹ 5,000 - ₹ 7,500 |
| Auto | ₹30 for first 2 km + ₹15 for every additional km |
Pro Tip: Make sure you carry exact money for the bus ticket as conductors usually avoid giving back the change.
Go Back to the Top
---
BMTC Bus Passes
If you are planning to use the city's extensive public transport system, then applying for a bus pass is not a bad idea. It is extremely cost-effective for regular users and quite easy to obtain. You have daily and monthly passes for adults and special passes for students.
| | |
| --- | --- |
| Bus Pass Type | Cost |
| Non AC Bus Pass (Monthly) | less than ₹ 1,100 |
| AC Bus Pass (Monthly) | around ₹ 2,400 |
| Non AC Bus Pass (Daily) | ₹ 70 |
| AC Bus Pass (Daily) | ₹ 147 |
Where to get Bus Passes for Adults?
Passes for adults, whether it's daily or monthly passes can be brought at any bus stand, or major bus stands, across the city (Kengeri, Mysore Road, Majestic, Shanti Nagar etc.)
How can Students Apply for Bus Pass?
Under Graduate Students: Bus Pass Application - Start your online application at this link and proceed from there.
School Students up to 10th std: Bus Pass Application
Fill out the application form.
Gain approval from your institution.
Schedule a meeting at the Bangalore One centre nearest to you at a date and time of your choice.
Take the acknowledgement copy of the scheduling along with school/college ID card/ fee receipt/ attested copy of the Head of the Institution to the meeting at Bangalore One.
Timing for Student Pass Issue: 08.00 am to 06.30 pm on all working days.
Go Back to the Top
---
Autos: Always Present, Never Available
While they are not something unique to Bangalore but rather India in general, the attitude of Namma Bengaluru's auto drivers is something else.
Unless you are booking them from Ola or Uber, there is always the jeopardy about whether you will be able to hail one or not, and this has nothing to do with availability. There will be plenty available.
The question here is whether the drivers are willing or not.
It is common knowledge in Bangalore that you don't just get into a rickshaw and tell them where to go. There is a separate guide to hail rickshaws in Bangalore and it goes something like this:
You hail or call for an auto in the street.
You first tell them the destination and ask them if they are willing to take you.
If they are, then you can be on your way.
If not, well, you try to hail another one and repeat the process until someone shows remorse and actually takes you where you want to go.
Apart from this, rickshaw drivers in Bangalore are actually very friendly and accommodating. They are always willing to help out with anything and try their best to converse in your own language. Some may even strike up a conversation with you, even if you don't want them to.
Go Back to the Top
---
Bus Hubs for Intercity Travel
Bangalore has amazing bus connectivity, both public and private. You can catch a bus to pretty much anywhere in the country on any given day. You just need to know which bus stand you should go to.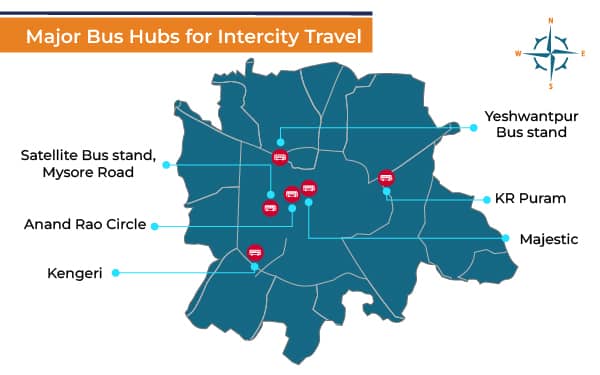 Major Bus Stands in the City
Majestic
KR Puram
Anand Rao Circle
Kengeri
Satellite Bus stand, Mysore Road
Yeshwantpur Bus stand
Go Back to the Top
---
The Airport Problem: So close, yet so far!
Here's the problem with the Airport alright, it's miles away!
The city's transport infrastructure is outdated, to say the least, to deal with the distance and traffic. I am in no manner talking about the infra at the airport itself which is state of the art, but the transport solutions to get there is a big issue.
Going in a cab gets you bogged down in traffic, and it takes hours from the heart of the city. Travelling in a bus is even worse, and the metro connectivity is almost a decade away (if not more) from becoming a reality.
So, as it stands, if you are planning to fly to or away from Bangalore, add three hours to your travel time just for travelling within the city.
Go Back to the Top
---
Languages: BTW, it's Kannada, not Kannad!
Emphasis on the phrase above! This is literally the singular most annoying thing for a Kannadiga to hear from non-Kannada speakers.
While they are extremely friendly and accommodating, and making the best effort to communicate in your own language and understand you, pronouncing Kannada as "Kannad" can drive a wedge in your relationship with them.
6 languages are predominantly spoken in the city, Kannada, Tamil, Telugu, Malayalam, Hindi and English. If you speak any one of these languages, you will get around just fine!
Just make sure to never pronounce the name of the language wrong; it drives the locals crazy!
If you are moving here from up North, and you're worried about how it will feel living in a completely different part of the country, read this blog to get an idea on how to adjust to South India.
Pro Tip: Beware of rickshaws as they are more likely to overcharge if you are not a native.
Go Back to the Top
---
Food: Filter Coffees and Bisibelebaaths
Bangalore's palette is a unique blend of traditional South Indian food and an array of multi-cuisine restaurants. It is a foody's dream. You can pretty much find any cuisine in the world.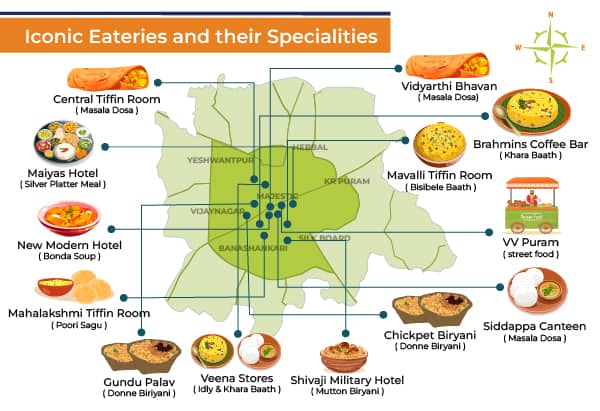 Even so, you will want to immerse yourself in the local food culture. Mouth-Watering Masala Dosa and soft idlis, accompanied by some crispy Vadas for breakfast would be the perfect start to your day.
And if you are talking about specialties of the city then, Bisibele Baath and Bonda Soup are a novelty that you must try as well.
If there's one thing that the city is known for it's Namma Filter Coffee. An iconic version of Coffee that has been the signature of the city from time immemorial.
Looking for something scrumptious? You can stroll down the food street in V. V. Puram for a bite of street food or hop into CTR in Malleshwaram for an all-consuming breakfast.
Pro Tip: Street food in Bangalore is relatively expensive, so take a mental note of that.
Iconic Eateries and their Specialities
Vidyarthi Bhavan: Masala Dosa and Sagu Masala Dosa
Brahmins Coffee Bar: Idly, Vada and Khara Baath
Central Tiffin Room: Masala Dosa
Maiyas Hotel: Silver Platter Meal
Mavalli Tiffin Room: Bisibele Baath
New Modern Hotel: Bonda Soup
Mahalakshmi Tiffin Room: Poori Sagu
Siddappa Canteen: Masala Dosa and Thatte Idli
Veena Stores: Idly, Vada and Khara Baath
Shivaji Military Hotel: Mutton Biryani
Gundu Palav: Donne Biriyani
Chickpet Biryani: Donne Biryani
VV Puram: A wide variety of street food and South Indian delicacies
Hotel Sagar (Rajajinagar): Mango Milkshake (24 hr availability)
Janatha Hotel: Idli and Masala Dosa
Iconic Bakeries and Cafes
Hard Rock Cafe, Koshy's Cafe and Bakery, Albert Bakery, O. G. Variar, VB Bakery, Fathima's Bakery, Excelsior Bakery.
Midnight Eateries for Late Night Hunger Pangs
Biriyani Knights, Tin Factory Bridge, Late Night, LSD Cafe, Anirams Knotty Cook, 1A cross Koramangala, VV Puram, Dharmaraj Temple Street, Sagar Hotel near Navrang Theatre, Murgeshpalya Signal.
Pubs and Nightlife: Of Bass, Beers and Breweries
Bangalore has a thriving pub culture. It is the pub capital of the country and is also home to a large number of microbreweries.
You will find one on every second street, and it is totally acceptable to walk into one at any point during the day and sip a pint of cold beer; nobody will judge you.
It is quite ironic that the city has a thriving pub culture when you think about the fact that it has next to nothing when it comes to nightlife.
Most establishments shut down by midnight, and legally you are not allowed to open them throughout the night.
While the rules have been relaxed gradually, don't expect to be partying past 12 am anytime soon!
Go Back to the Top
---
Affordable Places to Shop: It's a Steal!
While things can be expensive in Bangalore, there are certain places that are famous for their affordability.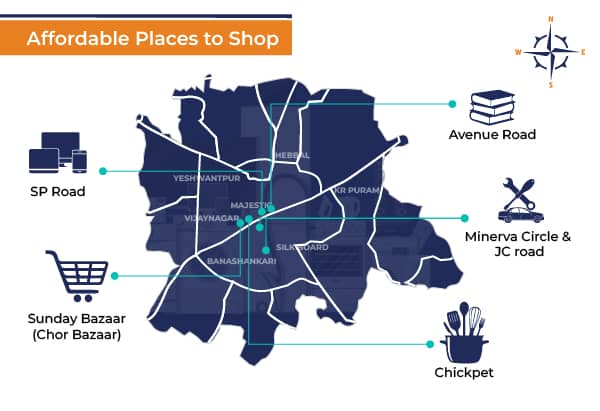 You can pretty much obtain every essential you need for your daily life.
Some of these places are well publicised, like Commercial Street and Gandhi Nagar for shopping, and KR Market for veggies and fruits. Some others, not so much.
Here are some places that you won't know about through regular means. Shop from these places, and you will save a ton of monthly expenditure!
Place

Items to Buy

SP Road

Electronic items and services

National Market

Electronic Items & Accessories (first copies at cheap prices)

Avenue Road

Books and Stationery (new and old)

Minerva Circle and JC road

Automobile spares, tyres and servicing

Chickpet

Textiles, Household items, plastic and metal items, kitchen items, spectacles. It is the wholesale distributors centre of Bangalore

Sunday Bazaar (Chor Bazaar)




Pretty much everything from household goods to footwear and clothes and decorative items is available.

Tip: Beware of authenticity and quality of goods you buy here because nobody knows where these items come from, but it is unbelievably cheap!
Pro Tip: If you are planning to shop in any of these places, polish up your haggling skills, you will need it! Head over to this blog to know the Average cost of living in Bangalore according to your preferred living style.
Go Back to the Top
---
Weather: It's complicated!
Bangaloreans have a love-hate relationship with the city's weather. It is great most of the time.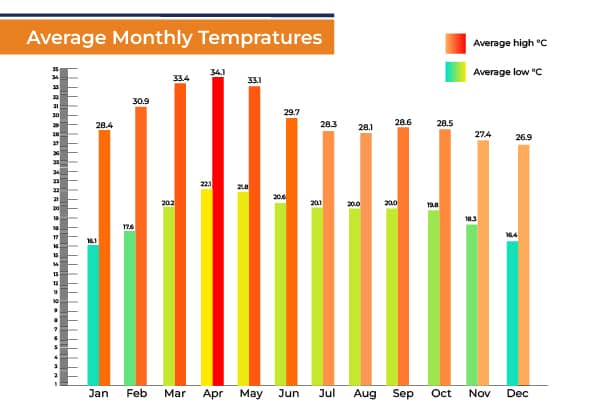 No, actually, it's great until it rains. Then, all hell breaks loose!
No, scratch that, it's great when it rains too, unless you are stuck in traffic while it's raining.
No, scratch that too...well, you basically get the idea. Bangaloreans really can't make up their minds about the weather.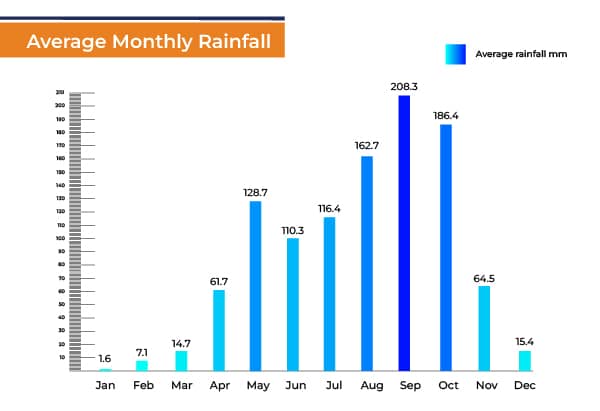 The weather in Bangalore is great, but the rains are unpredictable, and the road infrastructure can't keep up with it.
The result is a swamp. Impossible to walk across or ride over. Other than the rain, it is pleasant and cool most of the time.
Go Back to the Top
---
Education: Engineers, Fashion Designers and Rocket Scientists
Historically, Bangalore has been a city rooted in research and education. You have both government and private institutions with decades of history and great accomplishments. You find research facilities like ISRO, DRDO, HAL and NAL, great engineering colleges like BMS and RVCE and medical colleges like BMC and St.John's Medical College.
If you are looking to upskill yourself, then there are loads of educational institutes that offer skill-based courses for teeing off your career.
Well-known Institutes of Learning
Management: IIMB
Engineering: RVCE, BMSCE
Law: NLSIU
Fashion Design: NIFT
Medical: BMC, St. Johns Medical College
Commerce: SJCC, Christ College
Renowned Institutes of Research
IISC, Nimhans, ISRO, DRDO, HAL, NAL, Indian Institute of Astrophysics, Jawaharlal Nehru Centre For Advanced Scientific Research, Raman Research Institute.
Go Back to the Top
---
Parks and Lakes: Living up to its Sobriquet
One of Bangalore's sobriquets is the 'Garden City of India', and the city lives up to its name in that regard.
The city has a large green cover with trees lining almost every road in the city. The trees themselves are mostly of the tropical rainforest kind, towering over the rest of the landscape. You will also find a park or two in every locality, and some of them are mesmeric. There are also some amazing places to live in Bangalore for nature lovers.
Another thing abundantly found in the city, apart from traffic and trees, are lakes. There are hundreds of them, and that statement is factually correct.
There is, however, a downside to this. The green cover is dwindling day by day, and most of the lakes are either dying or barely recognisable as lakes. So don't expect to take a dip in any of them anytime soon.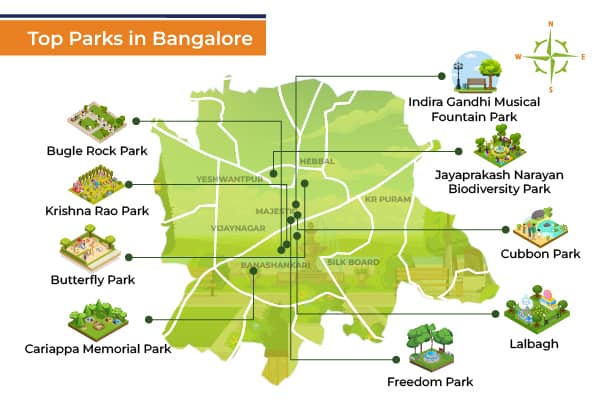 Best Parks to Enjoy Nature In
Lalbagh
Cubbon Park
Bugle Rock Park
Krishna Rao Park
Jayaprakash Narayan Biodiversity Park
Butterfly Park
Cariappa Memorial Park
Freedom Park
Indira Gandhi Musical Fountain Park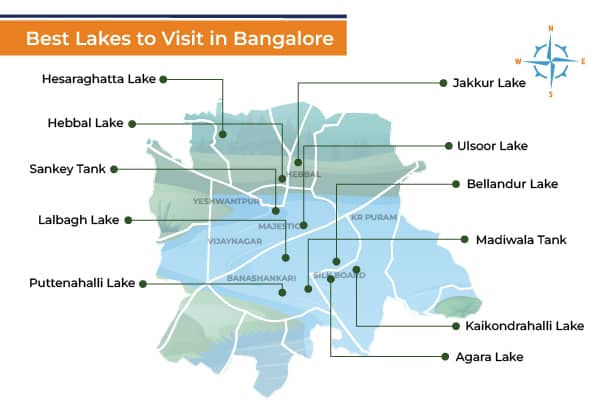 Best Lakes to Visit in the City
Ulsoor Lake
Bellandur Lake
Sankey Tank
Madiwala Tank
Agara Lake
Puttenahalli Lake
Lalbagh Lake
Hebbal Lake
Hesaraghatta Lake
Kaikondrahalli Lake
Jakkur Lake
Go Back to the Top
---
Games and Recreation: Perennially Entertaining
Bangalore is a great city for those looking to have fun and enjoy recreational activities.
The city offers plenty of options, from outdoor activities like hiking, biking, and bird watching to indoor entertainment such as bowling alleys, game centres, shopping malls, movie theatres and much more.
If you are into sports (I'm talking about playing them rather than watching them in your armchair), then there's plenty to do. Golf, cricket, football and tennis are all popular sports with many clubs and facilities available for people to use. You can book your own piece of turf and play into the night if you want to.
Recreational Activities
Theatre and Relaxation: Ranga Shankara, Ravindra Kalakshetra, Chowdaiah Memorial Hall,
Art, Music and Culture: Sunday Soul Sante, Kitsch Mandi, Karnataka Chitrakala Parishath, Hard Rock Cafe, Pecos
Amusement Parks: Wonderla, Fun World and Water World, Neeladri Amusement Park, Snow World
Higginbothams: Bangalore's oldest bookhouse
Museums and planetarium: Visvesvaraya Industrial and Technological Museum, The Government Museum, Kempegowda Museum, NIMHANS Brain Museum, HAL Heritage Centre and Aerospace Museum, National Gallery of Modern Art, Nehru Planetarium.
Adventure Sports
Parasailing and Microlight Flying: Jakkur Aerodrome, Jakkur
Power Paragliding: Nandi Hills
Trekking: Turahalli Forest, Nandi hills, Karishma Hills, Savandurga State Forest
Go Back to the Top
---
We have gone to great lengths to compile and create this guide. We may have missed a few important things and would like your feedback on them. So let us know if we have missed anything and if you want to see something added to this guide. Go to the link below and comment with your suggestions.
Planning your move to Bangalore soon? Tell us your requirements and get quotes now!