Live in Bangalore on a Budget: How to Reduce Cost of Living Effectively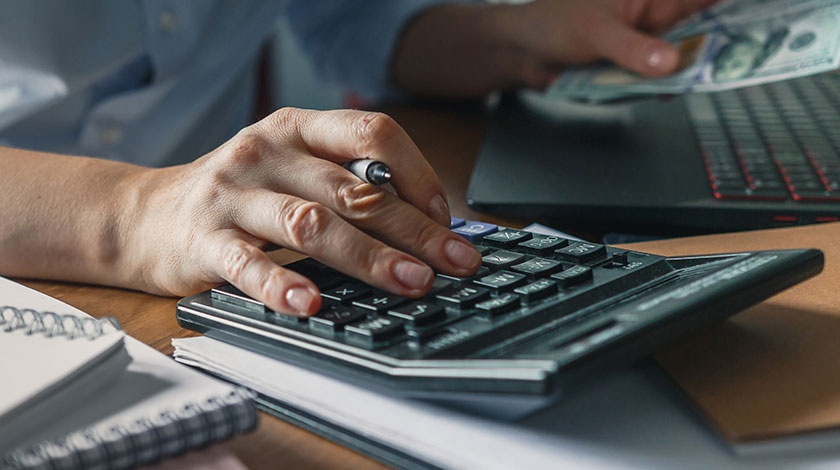 Bangalore is the Silicon Valley of India, a hub of knowledge, culture, and amazing possibilities. The city has seen a meteoric rise in the past few decades and has become a melting pot for students, professionals and entrepreneurs from all over the country and globe. While the city offers a plethora of opportunities and amenities, it has also led to an inevitable surge in the monthly living costs in Bangalore which begs the primary question for people starting their lives in Bangalore, "How to reduce my cost of living in Bangalore?"
Worry not; life in Bangalore doesn't necessarily mean emptying your pockets every day and at every turn. Beneath the mask of swanky malls and upscale eateries, there is an affordable and much more grounded Bangalore that is just as vibrant and charming. 
Read on to find out some useful tips and tricks of living economically in this fast-changing city without feeling left behind. From analysing the actual factors that affect one's cost of living in the city to the various tips to reduce the cost of living for major expenses as well how to work around saving on additional expenses, we will take a look at all the steps you can follow to live a comfortable life without spending lavishly.
Topics You can Read:
---
What are the Factors that Affect Cost of Living in Bangalore?
First, let's take a look at some of the major factors that influence your cost of living in Bangalore to understand which of them we can consciously work on.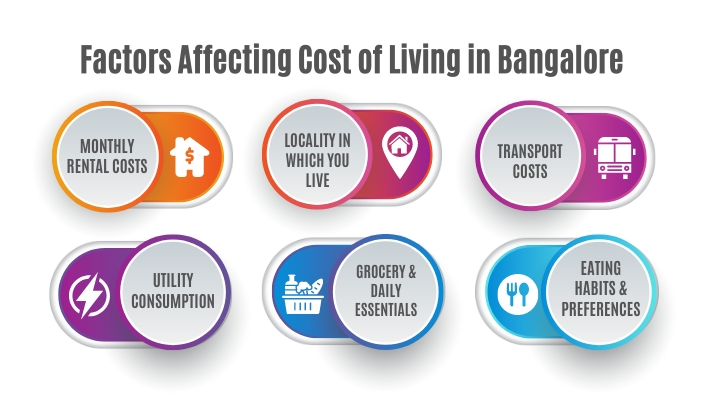 Some of the major and most common factors that can significantly affect cost of living in Bangalore, irrespective of your age, work, or marital status are: Monthly rent, Transport Costs, Utility Expenses, Lifestyle choices, and Daily Essentials.

Additional factors like Educational expenses, Medical care, Child care, etc., can affect the cost of living of families having kids or those living with elderly parents.
Whether you're a student looking to save on your pocket money, or a professional just starting out on your own, there are ways to navigate everyday life in this city without feeling burning a hole in your pocket. While the average cost of living for a bachelor in Bangalore can  be reduced quite easily with a few changes in lifestyle, it could be slightly harder for a family to do the same. Nevertheless, there are still enough solutions to ensure the cost of living for a family can also be quite easily reduced as well.
---
Tips to Reduce the Cost of Living in Bangalore (Major Expenses)
Yes, Bangalore may be an expensive city to live in, but there are a few ways to reduce your living costs without hampering your necessities.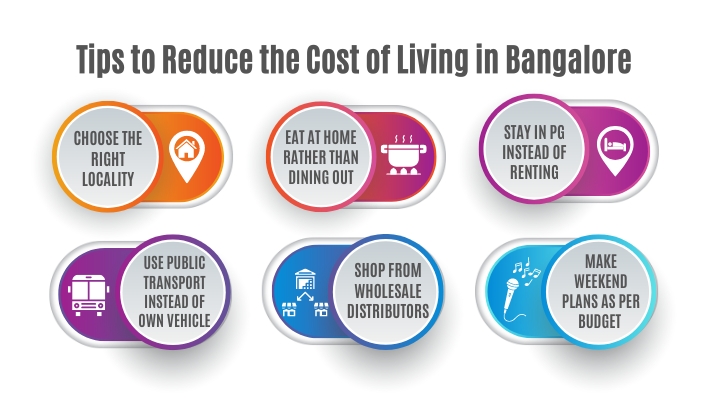 #1 Choose the Right Locality to Live in
The locality you choose can have a major impact on your cost of living as it determines your monthly rent, cost of transportation and commuting to your workplace or school/college, as well as the cost of monthly groceries and daily essentials to an extent.
Here are some examples of localities that can be categorized for different living standards:
Upmarket localities (Avg rent for 1BHK = ₹12,000 - 20,000+): Indra Nagar, Koramanagala, Sadashivnagar, Whitefield, etc.
Mid-Level Localities (Avg rent for 1BHK = ₹7,000 - 12,000): Malleshwaram, Rajajinagar, BTM layout, Marathalli, etc.
Cost-Effective Localities (Avg rent for 1BHK = ₹5,000 - 10,000): Uttarahalli, Kanakapura road, Rajarajeshwari Nagar, Kengeri, Peenya
However, if your work or education limits your choice of localities, you may consider downsizing other aspects of your lifestyle to increase your chances of saving on monthly expenses (as we have explained below).
Also Read: Budget-friendly places to live in Bangalore
#2 Eat at Home Rather than Dining out or Ordering in
Restaurants are quite expensive in Bangalore, irrespective of whether you are dining out or ordering in. A simple dinner meal can easily cost approx. ₹200 - 400 per person on any given day which adds up to around ₹6,000 - 12,000 per month.
Cooking can prove to be a much more budget-friendly option helping you save around 50-70% of the money you would otherwise be spending on restaurant food. Of course, cooking could be a tad bit more laborious, but a guaranteed way to reduce food expenses. Groceries are quite cheap in Bangalore, no matter where you live, and utensils are easy to find and also affordable.
Another cost-effective option if you don't want to go through the trouble of cooking food at the end of a long, hard day is to hire a cook which could cost around ₹2,000 - 4,000 max.
Also Read: Best, Inexpensive Places to Try out the Local Food & Cuisine of Bangalore
#3 Use PG for Accommodation Instead of Renting a House/Room
As we had seen earlier, renting out a 1BHK can cost quite expensive, especially if you have to live in an up-market or even in mid-level localities.
In such cases, the better option can be to opt for a PG for accommodation as it can be a great way to reduce the monthly rental costs while having access to a variety of basic amenities. This will cut down your costs massively when compared to renting a house or a room.
The rent for PGs in Bangalore are generally cheaper and offer free Wi-Fi, electricity, and laundry for your use. They also offer pre-cooked meals thrice a day, that may sometimes be chargeable (minimal cost of around ₹500-800 per month), depending on the particular PG you choose. 
Also Read: How to Find the Right PG in Bangalore
#4 Use Public Transport Instead of Driving Yourself / Private Transport
This is a no-brainer! We all know how testing the infamous Bangalore traffic can be; while it is time-consuming, it is also a major drain on the fuel of your vehicle. Although the fuel prices in Bangalore are not as high as they are in other cities, it will still increase your monthly expenditure significantly.
Using public transport like the Bangalore Metro and BMTC buses, will cost you much less when compared to using your car or bike, thus lowering the average monthly costs. Moreover, with public transport, you can lower your stress levels significantly than you would when stuck in the horrible traffic.
Also Read: Everything to Know about Public Transportation & their Costs in Bangalore
#5 Shop from the Source
This is a tip that barely anybody gives you, but it is perhaps the most important one and is one of the best-kept secrets in the city when it comes to non-natives. 
Also Read: All You Need to Know About Affordable Shopping in Bangalore
#6 Plan Your 'Unwinding' Routine According to Your Budget
If you prefer going out everyday or spending lavishly on every weekend to unwind from the stress of the previous week, you may end up spending a lot as these hangout places are quite expensive.
If you wish to save a lot more money at the end of the month, it is advisable to re-think your outings or weekend plans according to your budget.
Also Read: Places in Bangalore where You can Relax at the End of a Rough Week
---
Tips to Reduce Your Additional Monthly Expenses
Now that we found a workaround to reduce the main monthly living costs, let's move onto some of the additional expenses that could affect your monthly cost of living, but they are not necessarily the things you can have full control on, namely, utilities, health care, and education. As these are the basic necessities for everyone including the well-being of their family and kids, we will take a look at some of the things you can do to possible lower these expenses.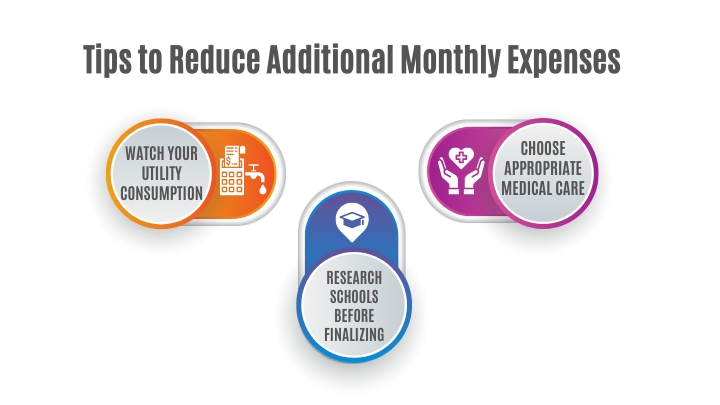 #1 Keep an Eye on Utility Consumption
The cost of basic utilities are reasonably cheap in Bangalore but they will vary based on your consumption and lifestyle choices.
Watch your monthly electricity and water consumption, especially when you live with family and kids. For drinking water, you can either fill a 20 liter can at the local government water kiosks or install a water purifier at home which could include bi-annual maintenance costs. Choose a budget-friendly Wi-Fi or internet plan that can fulfil the minimum needs of everyone in the house without skimping on usage.
Tip: The Government elected in 2023 is offering free electricity for all households whose total unit consumption is less than 200 units per month; register for the Gruha Jyoti Scheme and avail free electricity which will cut down a good amount of expenses from your monthly budget.
#2 Choose Appropriate Medical Care
Medical consultations and appointments are quite high in Bangalore, which can even touch the roof at renowned hospitals like Apollo, Fortis, Columbia Asia, etc.
When it comes to health, it's best to visit an expert in the field, irrespective of which hospital or how much it will cost. But, for common health issues like cold, fever, etc., it would be more pocket-friendly to visit a nearby clinic or hospital in your locality or opt for government hospitals which provide the same treatment at lower costs.
#3 Look into the Educational Expenses
Private education in Bangalore is quite expensive and can add significant expenses to your monthly budget, especially including the price of transportation to and from the school, tuition fees for additional tuition classes, uniform and books, and other essentials.
On the contrary, Government education in the city is inexpensive and much more easy to afford. So it's best to do a proper research of the best schools around your locality and preferably choose a school that is closer to home and save on the daily transport costs.
Also Read: Best Places to Live in Bangalore for a Family
---
To wrap it all up, it is easy to reduce the cost of living in Bangalore. People have done it before and will keep doing it going forward. Of course, it may be easier for bachelors when compared to families or couples. But it is possible to live a comfortable life while saving quite a bit of money and if they can do it, you can do it too!