Trees, Tech, and Traffic: What's Great About Bangalore and What's Not
The Pros and Cons of Moving to Bangalore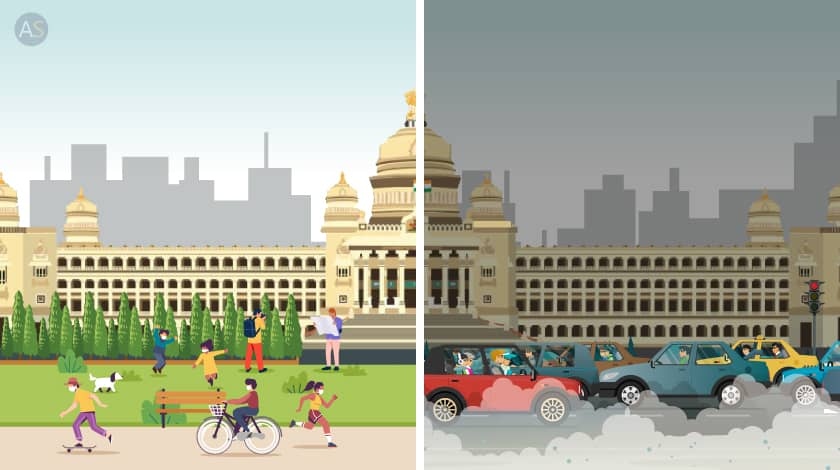 Bangalore is the ultimate destination for those trying to find the perfect balance between a pacey work life and a laid-back personal life. It is the silicon valley of India for some and a retirement home for others. 
If Mumbai has that vibe and energy of a city that never sleeps, Bangalore has the vibe of a city that always "chills". But it's not all chill and games, the city has some drawbacks that could turn out to be dealbreakers.
Like any other city, Bangalore is no stranger to problems and some major ones at that. So you need to know the pros and cons of moving into Bangalore if you actually move there, so you know you are making the right choice.
Also read: A Comprehensive Guide for Moving to Bangalore
Here are the great bits of the city and some bits that are not so great.
The Great Bits
Employment Opportunity
Bangalore goes by the sobriquet 'Silicon Valley of India,' and it lives up to its name. It has a massive startup culture that seems to spawn startups every hour. It has some big names from the tech world using it as their base. 
The number of job opportunities, especially if you are a techie is endless. It also has a ton of service-based industries, from digital marketing to education, so finding a job is easy if you are skilled enough.
Also Read: Best Places to Live for Job Seekers
Weather
The biggest reason why people move to Bangalore in droves is its exceptional climatic conditions. The weather is predominantly cool all year round, with rainfall from May to October. It never sees any extreme conditions with respect to weather.
Think of it as a hill station that has developed greatly and turned into a modern metropolitan city. You can enjoy lovely walks in the morning when the temperature is around 16 to 20 degrees. Not too cold, not warm, just perfect!
Green Spaces
Bangalore is known as the Garden City of India, and there is a good reason for this. It has thousands of parks, around four hundred lakes and endless, albeit dwindling, green cover for its roads. It is a part of the city's charm.
You can stroll around the parks and enjoy your evenings away from all the noise right in the middle of the city. Some of the parks are so gigantic that you could even forget that you are in the middle of the silicon valley of India.
Also Read: Best Places to Live in Bangalore for Nature Lovers
Cosmopolitan Crowd
The city has an affluent, cosmopolitan crowd. You find people from every corner of India from varying religious and economic backgrounds. You will find modern liberals, old-school conservatives, woke youngsters and hip grandparents. It really is a melting pot of the best and, at times, the worst crowd the country has to offer.
Great Education System
When it comes to educational standards, there are very few cities in India that can match up to Bangalore. It is home to some of the best schools, colleges, universities and research institutions in the subcontinent. Historically, the city has been a place of learning, research and development.
If the quality of education is one of your concerns while moving into Bangalore, you can set it aside right now. The city's educational institutes won't disappoint you.
Also read: Average Cost of Living in Bangalore
The Hangouts
The city has so much to offer. Great cafes, pizza parlours, Italian restaurants, and some exceptionally good pubs. Bangalore is rapidly becoming the microbrewery capital of India, with microbreweries springing up on every second street. To complement this, it also has an open pub culture. So popping into a brewery for lunch and having a pint or two is totally acceptable.
The Not So Great Bits
While the city is one of the best places to live in India, it is not without its own troubles. So we will start with what is perhaps the biggest problem, traffic.
Traffic
It's abominable! You could obviously argue that Mumbai perhaps sees worse traffic than Bangalore, but what irks you about Bangalore's traffic is that it can be unexpected and because it does not have a local train facility or comprehensive metro connectivity yet, travelling by road is pretty much your only option, and that takes a lot of time. So, keep a lot of buffer time when making plans to go out, especially on a Saturday. 
Inadequate Road Infrastructure
One of the biggest contributors to this Bangalore's traffic woes is its terrible road infrastructure. For a city that is dubbed the Silicon Valley of India, its roads are lacking quite a bit. You will find potholes in pretty much every road, and more often than not, roads and drains are dug up for repair work.
The quality of roads is quite bad, and the fact that most Bangaloreans have taken this for granted doesn't help. You also find a lot of civil infrastructure projects around the city that create a lot of dust. Having a dust allergy can lead to some serious problems.
High Accommodation and Food Costs
Although most basic necessities are inexpensive, whether it is transport or groceries, accommodation and street food are quite expensive. While accommodation costs are not as bad as in Mumbai, they are quite high in general. The street food and dining out, however, are the killer. Street food, in particular, is quite expensive compared to other parts of the country or even other metros like Delhi, Kolkata and Mumbai.
Also read: Affordable places to live in Bangalore
Nightlife
"Nightlife? I barely know her!"
Everything shuts down at 11 or at most at 12 AM, and I mean everything, except for hospitals, pharmacies and 24-hour petrol bunks. You are legally not allowed by the state government to run any establishment beyond that time, and the result is a non-existent nightlife. Quite the irony for a city that boasts about its amazing pub culture.
Conclusion
Bangalore is an amazing place to live in and it has some good affordable places to live too. While it does have its niggles and gremlins, like traffic and its roads, the things that are great about this city more than makeup for it. Being a resident of this city, my bias may have something to do with it, but after having lived in Delhi and Mumbai before moving to Bangalore, I can tell for a fact that I would choose to live here over those two, any day of the week.